So is that about the weirdest combination of ingredients you've ever heard of for a cookie!?? I sure thought so when my mom brought me the recipe.
So don't go running scared thinking Leigh Anne has lost it – salt AND pepper in a cookie!?!
Well, this particular cookie is an award winning cookie.  My mom loves the show Chew.  I haven't actually seen the show but this recipe was their Cookie Swap Winner.
I think my mom was too scared to try it herself so that's why she gave me the recipe.  So this week I was craving a cookie.  When that happens chocolate chip is usually my default winner.  But I was in the mood for something a little different, a little more exciting so I decided to give this recipe  a try.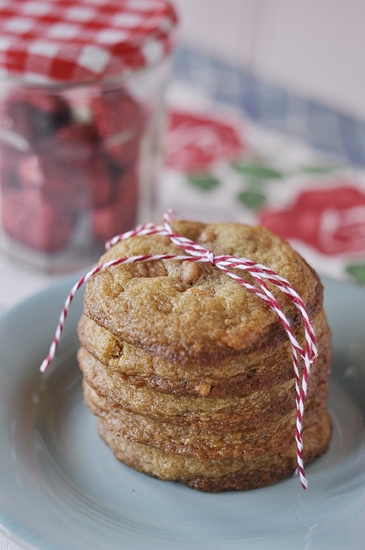 I was a little leary but I figured it won a contest, it had to be good.
I love butterscotch chips so that was no problem and I also like pine nuts.  Cookies always have salt in them so that was no issue either – it was the pepper that had me a little hung up.  When I posted on my Facebook Page that I had just put pepper into my cookies I had several comments assuring me I wasn't crazy but that you too had cookie recipes using black pepper.
The recipe calls for you to brown the pinenuts in butter – yum!
You keep stirring until the butter begins to brown and gets all foamy.  They will burn easily so watch them closely!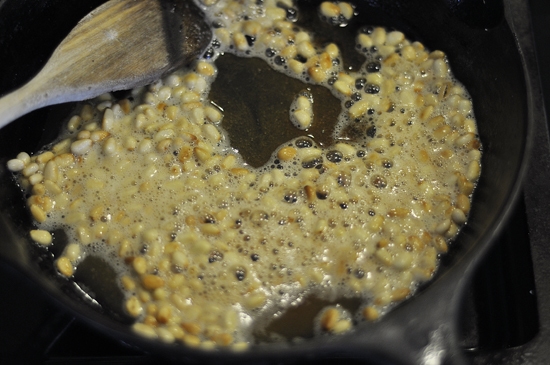 Keep cooking and stirring until the nuts are a nice golden brown color and your butter is brown too – I loved browned butter!!

Now it's time to add in that flaky sea salt and cracked black pepper.  I have both in little grinders that I got at Trader Joes.  You want flaky sea salt and  fresh ground pepper not the fine stuff you usually have in your salt and pepper shakers.
I was feeling a little better about things at this point because the nuts browned in butter with salt and pepper tasted amazing!  You let it cool a bit and then add it into your cookie dough.  Onto the cookie sheet they go.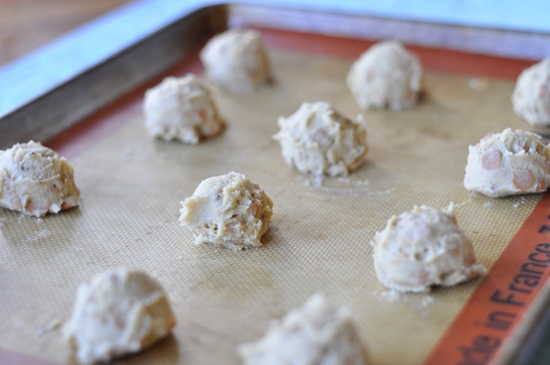 Bake until the edges are nice and golden brown – about 8 minutes.
So – the verdict.  They were delicious.  I loved all the different taste sensations going on in my mouth.  I always like a little bit of salt but the kick of the pepper was so fun to – it comes after the sweet and the salt.  I had to eat several of them just to see if they would react the same in my mouth – sweet, then salt and then the kick of the pepper!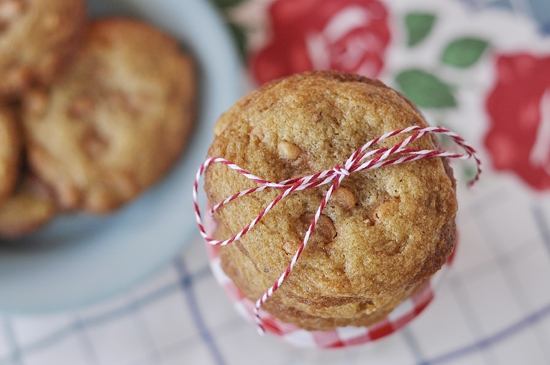 Pepper in a cookie – totally a good idea!!
Salt and Pepper Butterscotch Pine Nut Cookies
recipe from The Chew
2 C flour
1 tsp baking soda
1/4 tsp table salt
2 sticks (1 Cup) unsalted butter (if you use salted butter eliminate the 1/4 tsp salt above)
3/4 C brown sugar
3/4 C granulated sugar
1 tsp vanilla
2 eggs
1 bag butterscotch chips (11 oz.)
1 Tbsp unsalted butter
1/2 C pine nuts
1 Tbsp flaky sea salt
1 1/2 tsp cracked black pepper.
Mix together and cream butter, sugar and vanilla.  Beat until nice and soft (the consistency of butter cream frosting)  Add in eggs and beat for 10 seconds after each egg.  Add in flour, baking soda and salt.  Mix in butterscotch chips.
Melt the remaining tablespoon of butter in a small non stick pan ( I used my cast iron) Stirring as the nuts begin to toast and brown.  Use a wooden spoon.  Be careful as they will burn easily.  The butter will get nice and foamy as the nuts brown.  When the nuts are golden brown and the butter is browned, remove from the heat and allow to cool for a few minutes.  Add in the sea salt and cracked pepper.
Add into the cookie dough.
Place dough by the scoopful on to a parchment lined cookie sheet about 1 inch apart.  Bake in a  375 degree oven for about 8 minutes of until they are golden brown. Cool on a rack.  Makes about 3 dozen cookies.