Dreams do come true!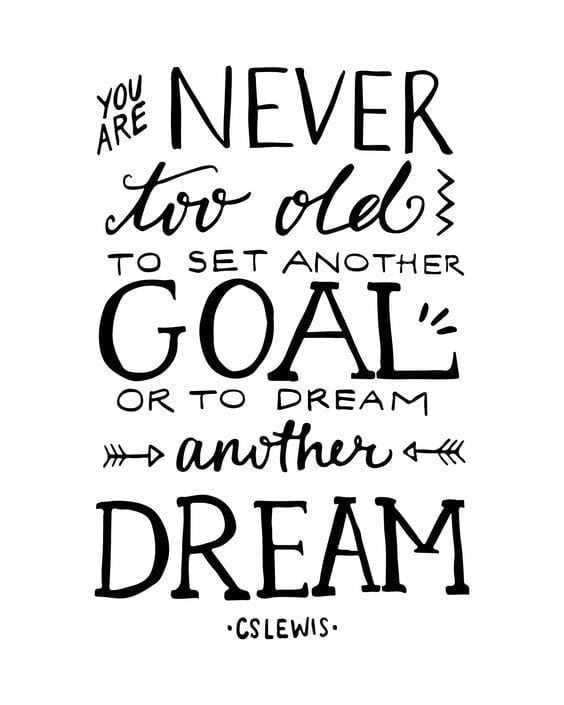 I am a dreamer.  I have always been a dreamer.  I think I got it from my father.
I have kept a list of goals and dreams since high school. One of my dreams for many years was to own a beach house.  I shared how that dream came true with you several years ago.
In my early 20's one of my dreams was to some day own my dream car – a red 450 SL Mercedes Convertible.  Pictures of this car appeared on every dream board and list I have put together for the last 30 plus years. (If you want to see how to put together a dream board tutorial go here.)  Today I want to share with you the story of this dream. Not to brag or boast but to helpfully inspire all of you to keep dreaming.  Even when you think the dream will never become a reality.   I posted a photo about this dream on Instagram the other day and one of you mentioned how when you read my post about my beach house dream several years ago, it inspired you and you set a goal to pay off your house in a year, you shared that dream with others and you did it!  I hope this story inspires one of you too.
When you get as old as me (ha!) you may decide that some dreams just aren't going to come true and that's o.k.  Half the fun of a dream is just having it and thinking about it.
But as CS Lewis so wisely said, "You are never to old to set another goal or dream another dream."  One of the most important parts of having a dream is writing it down and verbalizing it, letting others know you have a dream.  Because you see,  sometimes we don't make our own dreams come true, but when we talk about them and share with them others, others help make our dreams come true.  That is what happened to me.  You never know who is out there that can help you.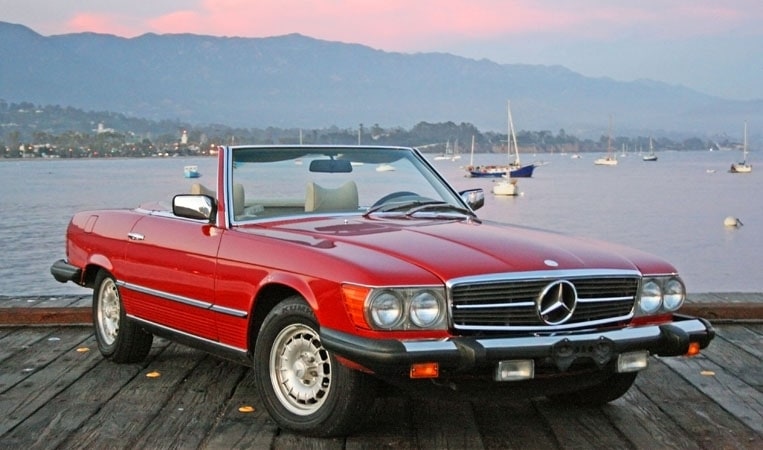 Well, I had pretty much given up on the dream of owning my Mercedes convertible but then this happened…..
Several months ago my husband decided to save a little money and hand deliver my son's wedding invitations to the neighbors.  When he walked by one of the neighbor's house he noticed an old Mercedes convertible in the garage.  He stopped and talked to the neighbor and found out he was selling it for an elderly friend of his mothers.  Jim told him about my dream and said he should drive it down to our house so I could see it.
Jim and I took it for a little ride and seriously thought about buying it.  It was an amazing price, way below Kelly Blue Book and was in pristine shape.  The car looked brand new and the engine was so clean you could eat off of it.  It was a 1985 and had only had one owner who took immaculate care of it and had never taken the top off of it!!  Who owns a convertible and never takes the top off!?!?!?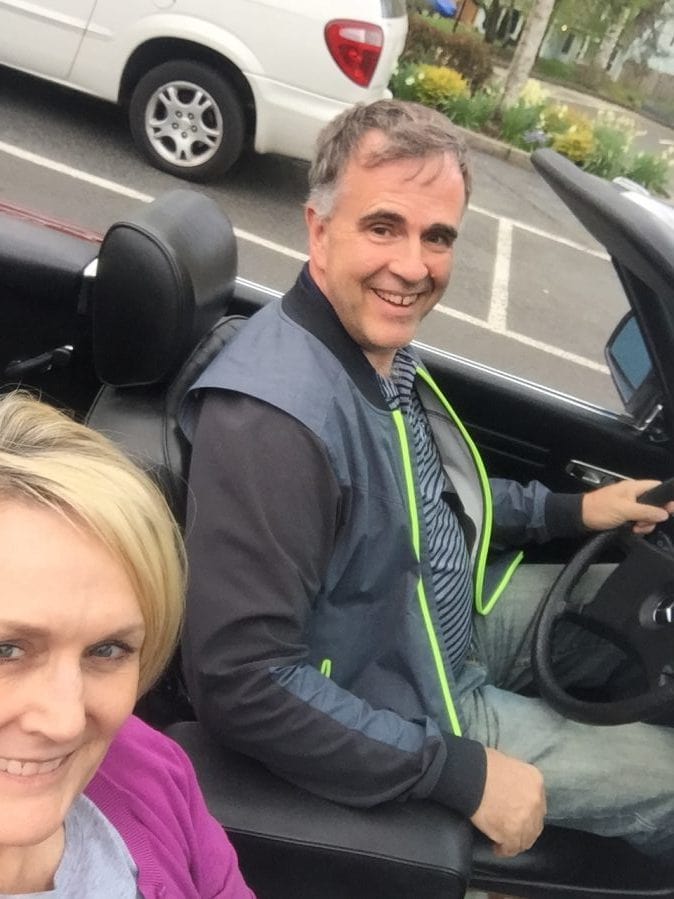 After some discussion we just decided that right now wasn't a good time, we had a wedding to pay for and other expenses right now so we passed on the opportunity and I pretty  much decided it was time to forget about that dream.
We took a few photos, texted the kids that we had bought a new car but them told them we were just kidding!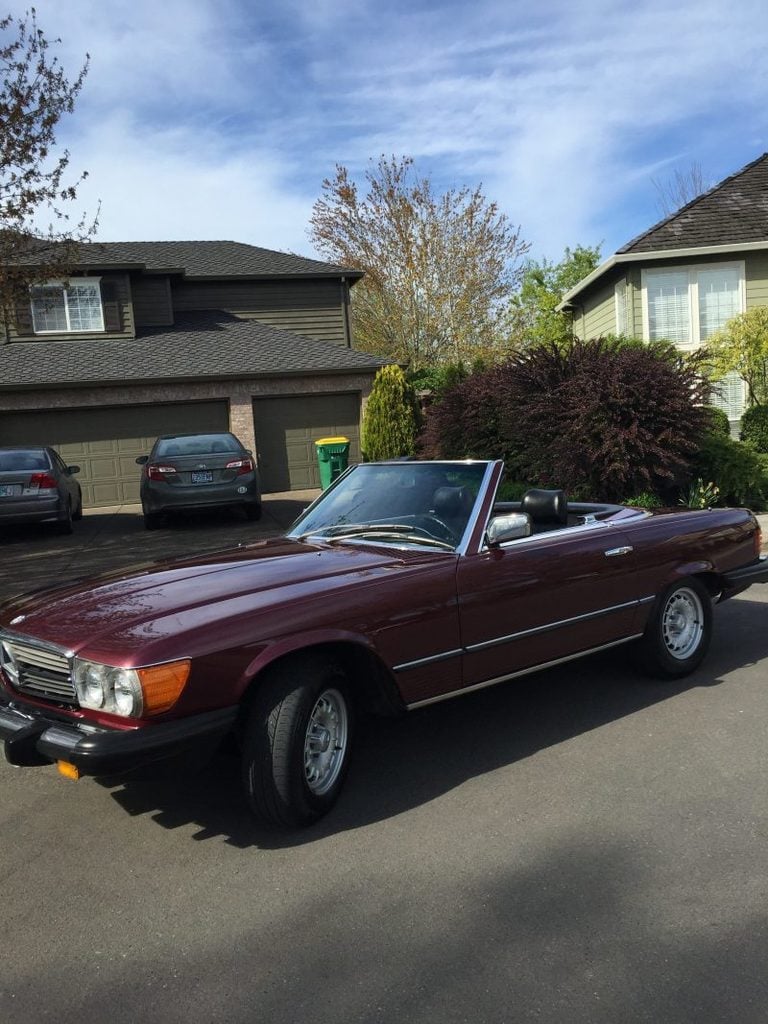 Several weeks later, I went to Utah to help my daughter and see her show. The day I came home a friend picked me up from the airport because Jim was on his way to the airport to fly out to Utah to see the show – we would be passing on the freeway.
When I arrived home I opened the carriage and this is what happened.
Yes, my crazy, sweet husband had bought the car for me.  He made my dream come true.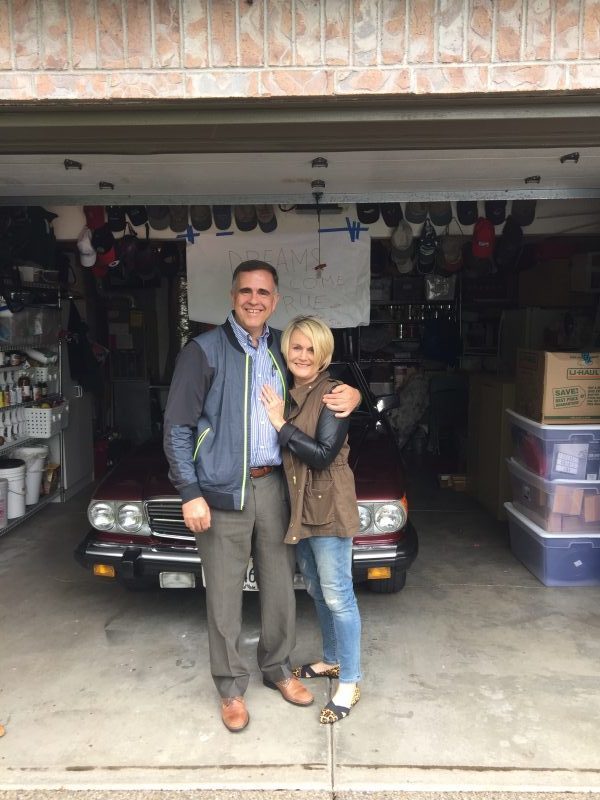 Don't you love the cute sign he made?!   Please excuse the messy garage.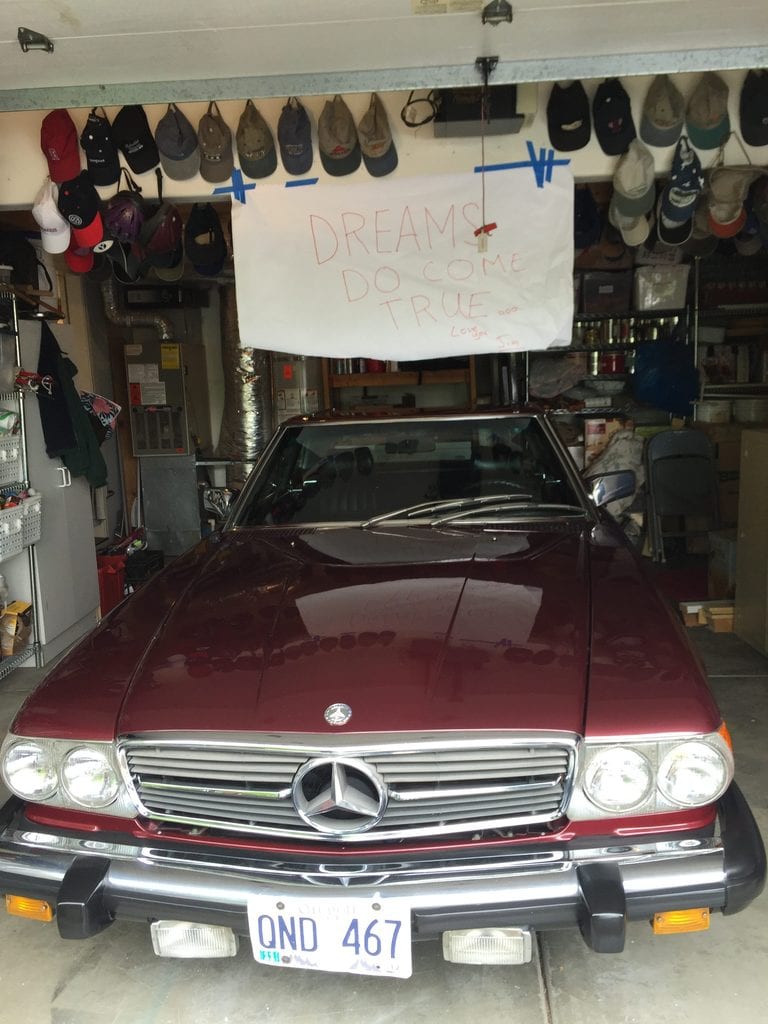 Every pretty car needs a name so I named her Ruby.  Ruby Red.  Ruby was born in 1985 and is a 380 SL – not the exact car on my dream board, but close enough!  She's mine and I love her!  Dreams Do Come True!
Ruby and I are going to have some fun adventures.  Anyone want to go for a ride?!