Hummus is a healthy go to snack at our house and this roasted red pepper hummus is a fun twist on an old favorite.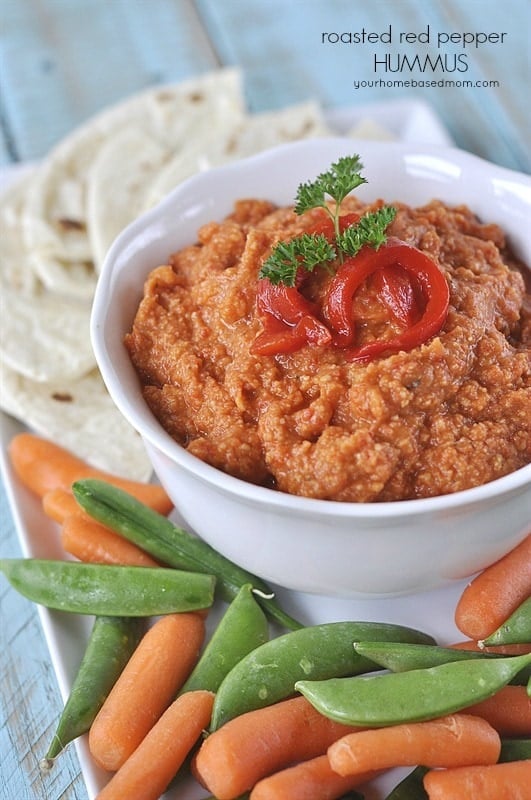 My husband gets home from work at about 3:00 pm (he starts at 6:00 am) so when he gets home he is ready for a snack. It's still several hours until dinner but he eats lunch early. I try to have some healthy snacks on hand for him when he gets home from work that will tide him over until dinner.. He is gluten free and dairy free so hummus it is perfect choice for him. He grabs some carrots or snowpeas and dips away. I prefer my hummus with pita bread or tortilla chips (not quite as low cal and not gluten free).
Hummus is traditionally made out of garbanzo beans and tahini which is sesame seed paste. Tahini can be really expensive and you only need a small amount for a batch of hummus so I found an easy and less expensive alternative – sesame oil. It's basically made out of the same thing, sesame seeds! You can find my traditional hummus recipe here. I also have a yummy black bean version here.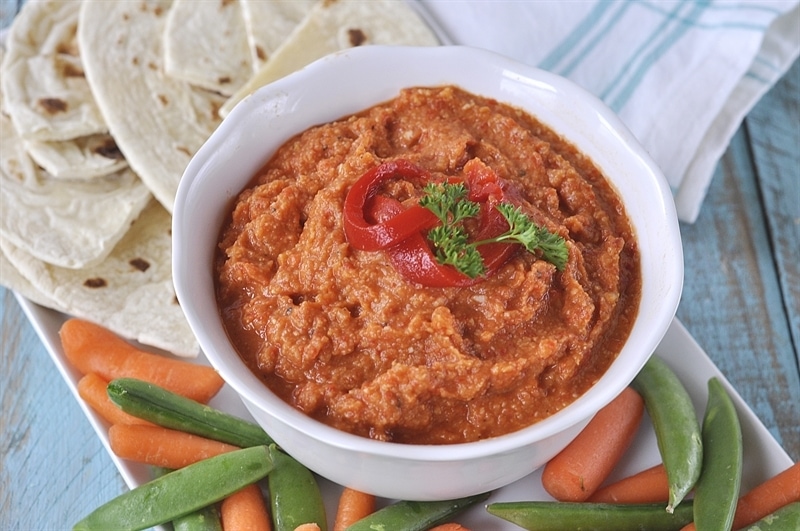 I love playing with different flavors and textures in my hummus. Today I have a roasted red pepper hummus recipe for you. I use canned garbanzo beans to make my hummus and there is a thin skin on the beans. You can leave it on or if you want a smoother texture to your hummus, it is easy to remove the skins. I just put a bunch of garbanzo beans in my hand and rub my hands together. The skins will come right off. But really, I like it just as well when I leave the skins on.
I make my hummus in the food processor. Just pop all the ingredients in and give it a few pulses until it reaches the consistency you like and you're done! It's easier, cheaper and yummier to make your own hummus at home.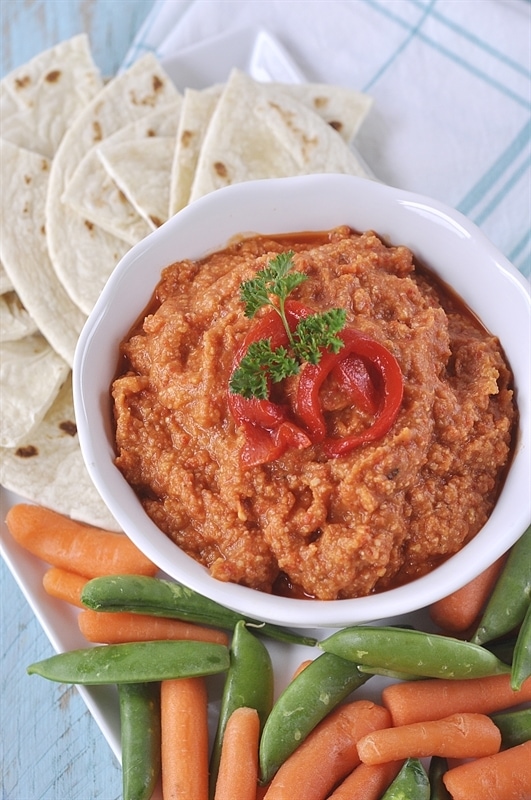 For today's version of hummus I used some roasted red peppers I had in my pantry (they came in a jar). It is also easy to roast your own red peppers by following my directions here. I also added in a head of roasted garlic. So yummy. If you've never roasted a head of garlic before it is easy to do and your house will smell amazing. The other day I was roasting some garlic and a neighbor boy walked into my house and said he wished his house smelled like mine! Just slice off the top of the head so that the cloves are exposed. Drizzle with some olive oil and then wrap up well in foil and put in a 350 degree oven for 30-40 minutes (depending on the size of your garlic head) until the garlic is fragrant and soft. You should be able to squeeze the garlic right out of the skin.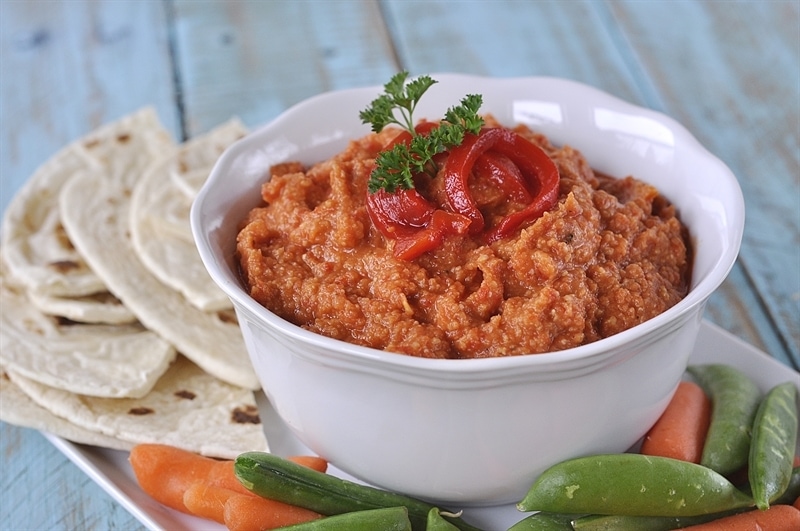 Just garnish your hummus with a bit more roasted red pepper, a little parsley for color and you are good to go.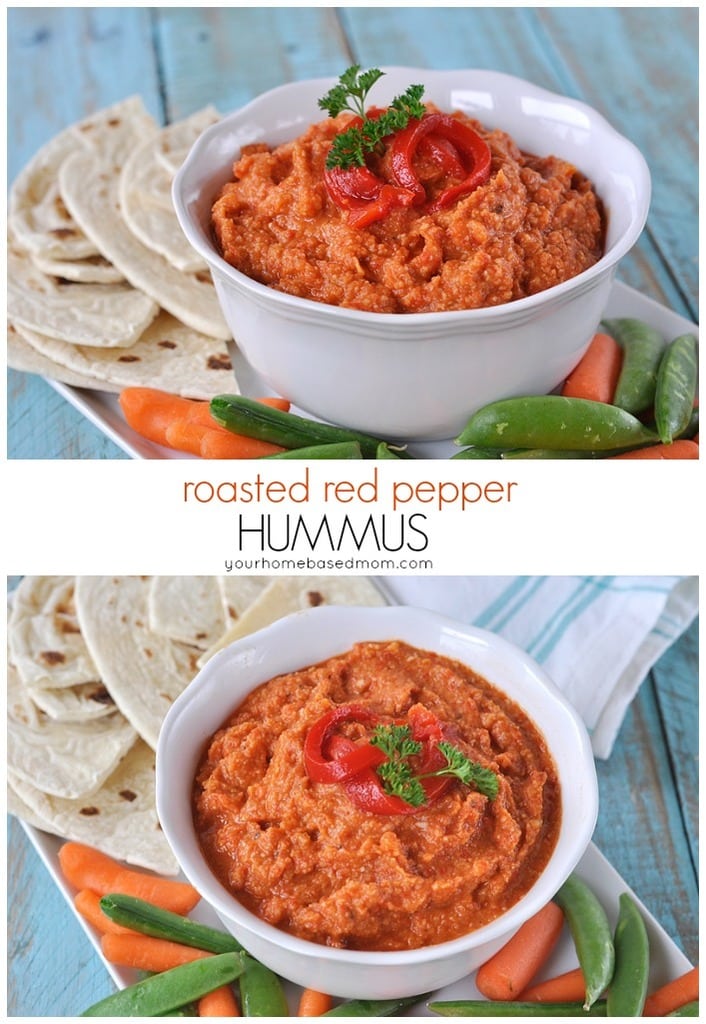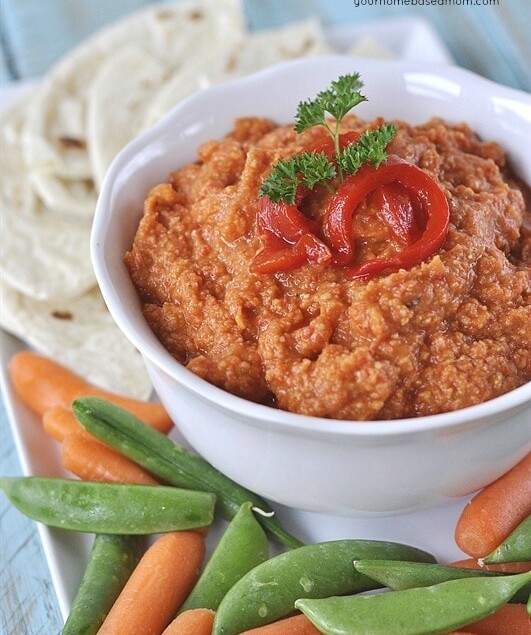 Roasted Red Pepper Hummus
Delicious roasted red pepper flavor in a creamy hummus dip.
Ingredients
1 16 oz. can garbanzo beans drained and rinsed
1 medium red pepper roasted and cut into pieces
1 head of garlic roasted and removed from skin
2 Tbsp lemon juice
1/2 tsp salt more to taste
1/4 tsp black pepper
1/2 tsp cumin
1 tsp sesame oil
Instructions
Place all ingredients except for red pepper into a food processor and pulse until smooth

Add in red pepper and process until desired consistency is reached.

Season with additional salt and pepper if needed.

Chill until ready to serve.
Tips & Notes:
Recipe makes 2 cups
Nutrition Facts:
Calories: 64kcal (3%) Carbohydrates: 10g (3%) Protein: 3g (6%) Fat: 2g (3%) Saturated Fat: 1g (6%) Polyunsaturated Fat: 1g Monounsaturated Fat: 1g Sodium: 314mg (14%) Potassium: 127mg (4%) Fiber: 3g (13%) Sugar: 1g (1%) Vitamin A: 477IU (10%) Vitamin C: 21mg (25%) Calcium: 25mg (3%) Iron: 1mg (6%)
* Disclaimer: All nutrition information are estimates only. Read full disclosure here.
This post was originally posted over at The NY Melrose Family.