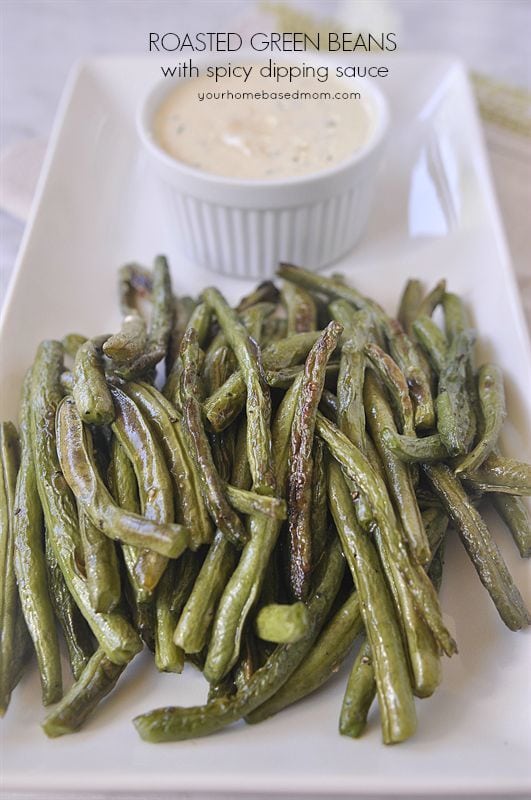 Green beans have always been my vegetable of choice. As a child it was the ONLY vegetable I would eat although it usually came out of a can, not the garden. Fortunately, as I have gotten older, I have learned to enjoy other green veggies but green beans are still my favorite.
Each year we plant green beans in our garden and each year it seems, all the green beans are ready at one time! No matter now hard we try to stagger the planting I always end up with more green beans than I can use. Jim will usually fill up bags of beans and walk up and down the neighborhood distributing them.
But thanks to this super easy and delicious recipe I think I'm going to be wishing I had more green beans.
I have one tip in regards to today's recipe. Make sure you have a clean oven before you roast them. (keep reading to find out why)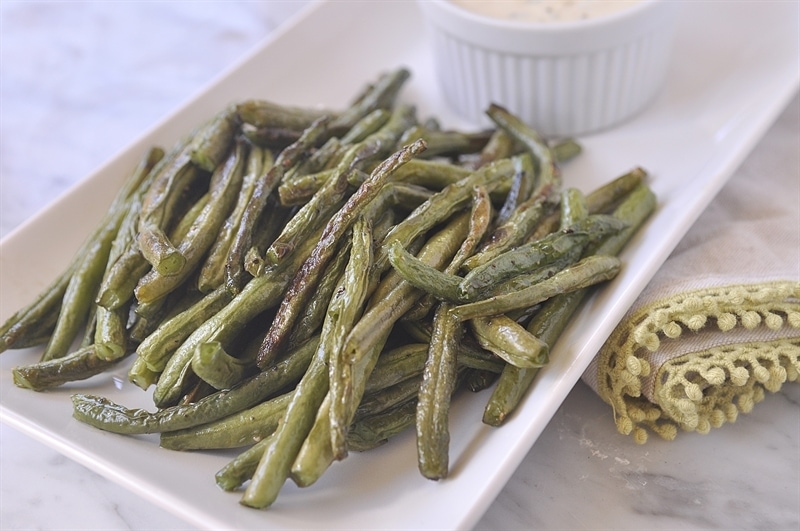 One of my favorite ways to fix the beans is also one of the easiest. It is so easy, it is almost a non-recipe. All I do is give them a nice coat of olive oil and a sprinkle of salt and pepper.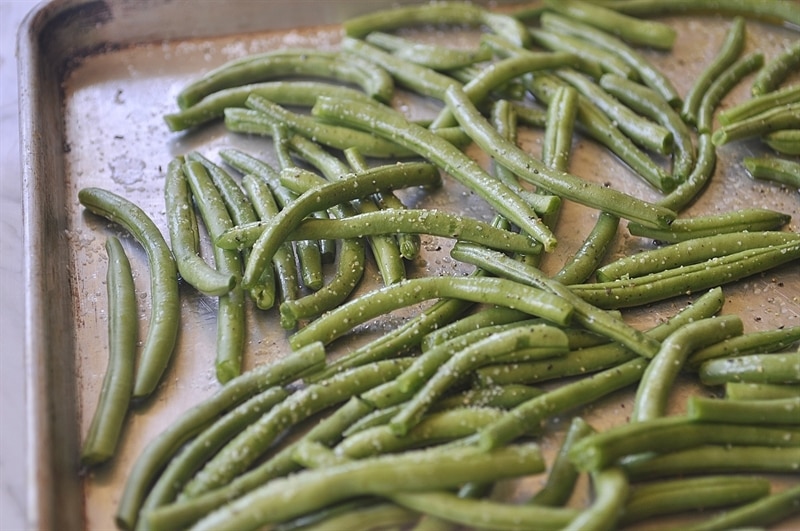 Then pop them into a 450 degree F oven for about 15 minutes. The trick is, make sure your oven is clean. When I made them last week my oven wasn't clean thanks to a cake that had leaked out the bottom of a springform pan. While they roast you are going to want to open the oven every five minutes or so and give the pan a shake to move the beans around a bit.
Well, when I opened my oven for the first time it released a HUGE cloud of smoke as a result of my oven not being clean. I had clouds of smoke billowing, yes, billowing through my kitchen and family room. About that same time a friend walked in and their first words were, "Wooo!" Yes, it was that bad. I'm surprised the fire department didn't show up. My usually super sensitive smoke alarm didn't go off though which alerted me to the fact that it was malfunctioning so the alarm company is paying us a visit. I guess I should be grateful for my dirty oven and all the smoke!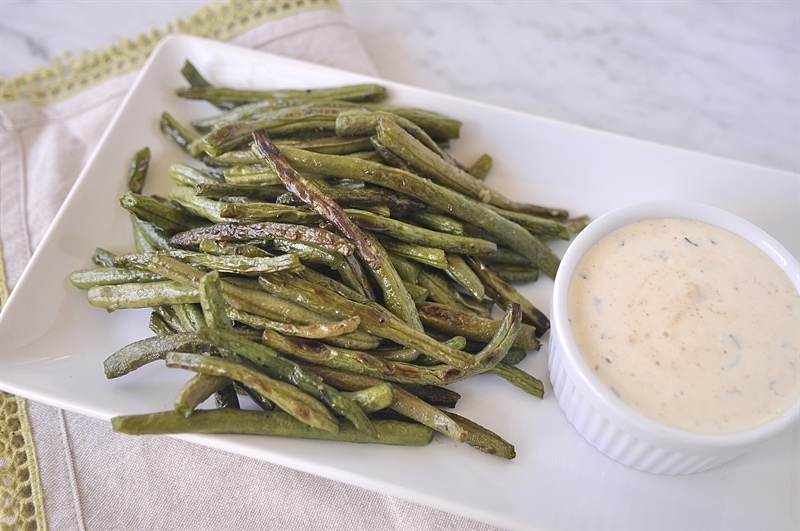 You want the beans to start turning brown and shrivel up. They are delicious to eat just the way they come off the pan but I like to serve them with a spicy dipping sauce.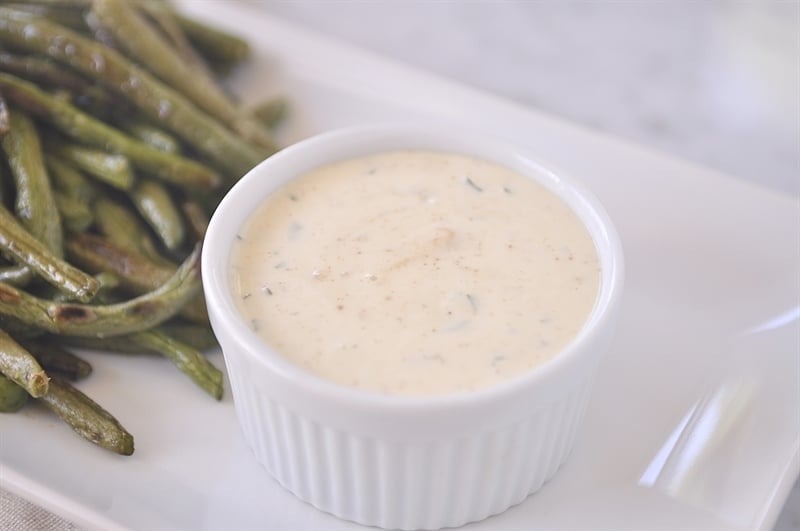 These greens are almost better than some greasy french fries, and so much better for you!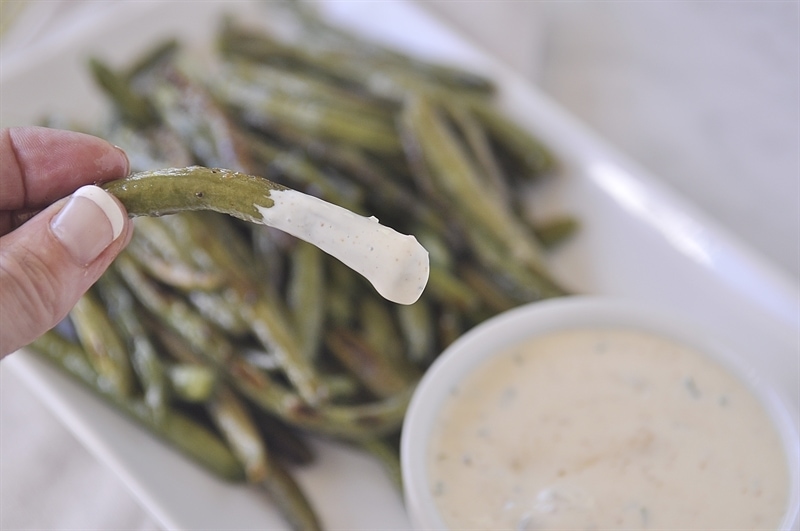 You can control the spicyness of the dipping sauce by the amount of cayenne pepper you add in.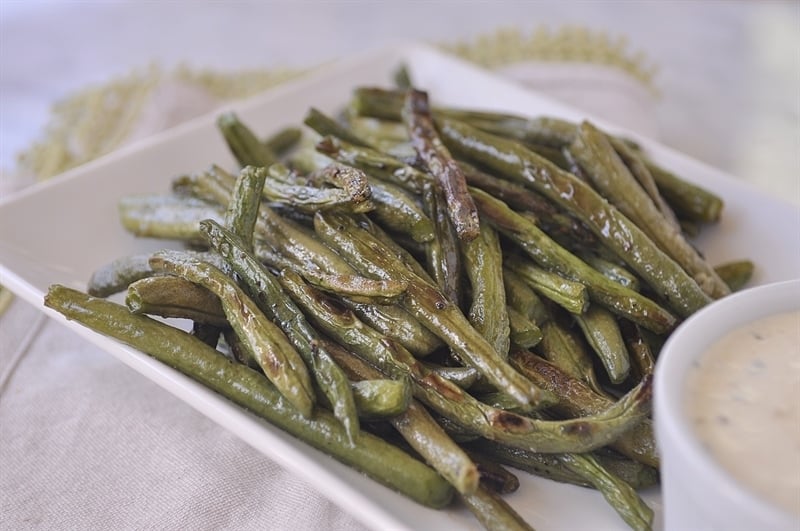 If you don't have green beans growing in your garden head to the grocery store or farmer's market and pick some up or you can hope a neighbor has a bumper crop this year!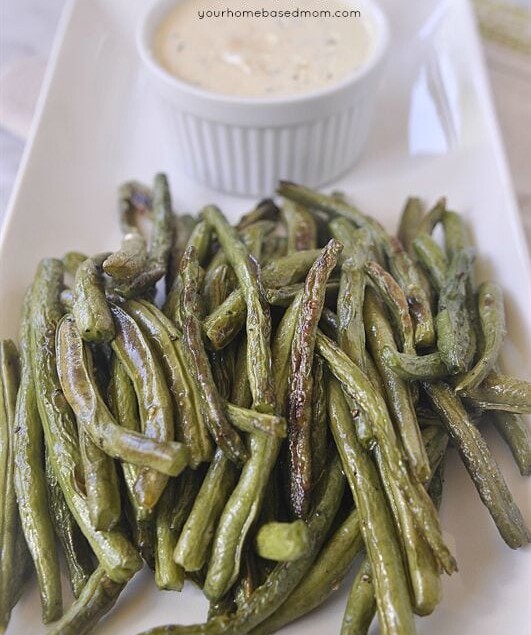 Roasted Green Beans
Crispy roasted green beans with a spicy garlic mustard dipping sauce.
Ingredients
1 pound green beans trimmed
1 Tbsp Dijon mustard
¼ tsp cayenne pepper
½ tsp paprika
1 tsp ground cumin
1 tsp chili powder
1 clove garlic minced
½ tsp salt
Spicy Dipping Sauce
½ cup mayonnaise
? tsp cayenne pepper
2 tsp Dijon mustard
1 tsp capers rinsed, drained and finely chopped
½ clove garlic minced
1 tsp minced fresh parsley
2 tsp freshly squeezed lemon juice
Instructions
In a large bowl combine green beans, mustard, cayenne pepper, paprika, cumin, chili powder, garlic and salt; toss to coat beans

Heat in a large skillet (preferably cast iron) over high heat until smoking

Add the beans, being careful not to crowd the pan too much (cook in two batches, if necessary). Cook beans, without disturbing, until charred patches appear, about 5 minutes.

Toss beans and cook 5 minutes or more.

Transfer to a bowl or plate and serve immediately with Spicy Dipping Sauce
Spicy Dipping Sauce
Mix mayonnaise, cayenne pepper, mustard, capers, garlic, parsley and lemon juice until combined

Cover and refrigerate until serving time
Nutrition Facts:
Calories: 236kcal (12%) Carbohydrates: 10g (3%) Protein: 3g (6%) Fat: 22g (34%) Saturated Fat: 3g (19%) Polyunsaturated Fat: 13g Monounsaturated Fat: 5g Trans Fat: 1g Cholesterol: 12mg (4%) Sodium: 570mg (25%) Potassium: 288mg (8%) Fiber: 4g (17%) Sugar: 4g (4%) Vitamin A: 1138IU (23%) Vitamin C: 15mg (18%) Calcium: 57mg (6%) Iron: 2mg (11%)
* Disclaimer: All nutrition information are estimates only. Read full disclosure here.