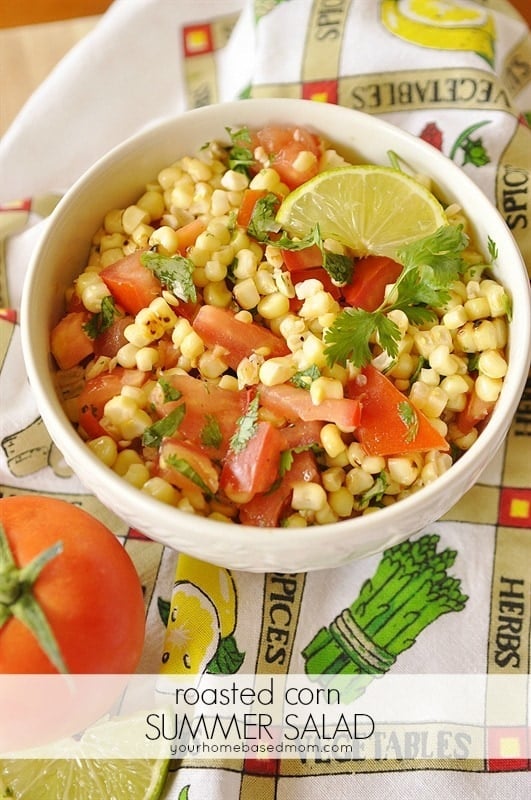 Today's recipe is the perfect side dish to just about any summertime meal.
Our weekly trips to the farmer's market become more exciting and more as more local produce comes in season. We don't have local corn yet but soon and today's recipe will be the perfect one to make when it does. In the meantime I'll use corn on the cob from somewhere else! As soon as my tomatoes are ripe I'll be using those too although they are calling this the "year of the green tomato" because of our lack of sun and too much rain!
Last week I enjoyed a lovely outdoor meal with some of my dearest friends as we celebrated a milestone birthday of one of the members of our group (not me.) We each brought part of the meal and my friend Shauna contributed this yummy side dish in addition to a few other delicious items.
I couldn't wait to make it myself a few days later. I could only find white corn at my market which worked great although I think it might be a bit prettier and more colorful with yellow corn. Regardless, it is yummy and so easy.
I boiled the corn as I usually do but only cooked it part way, about half the amount of time I usually do. You want it "al dente." After that I brushed it with some olive oil and a little salt and then put it on the grill to cook it a bit more and get those pretty grill lines on it.
Then I got Jim to cut the kernels off the cob. I added a chopped tomato, cilantro, lime juice and I had some chiptole peppers in adobe sauce in the fridge from another recipe so I put a teaspoon or so of that in to add a little heat. You could also add some jalapeno pepper or just leave it out! You can really just adjust the recipe to your personal taste – the main flavor comes from the corn, tomato and cilantro.
Quantities on this recipe are a little loose because you can just adjust it to your personal taste. You can't go wrong with it.
Here's a few other fun summer corn salad recipes you might enjoy:
Corn and Blueberry Salad (trust me on this one – it's wonderful!!)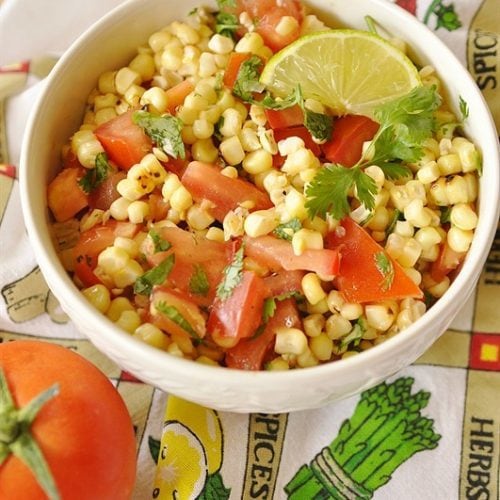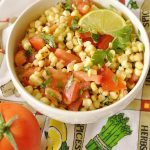 Print
Roasted Corn Summer Salad
Ingredients
4-5

ears of corn

boiled until "al dente"

olive oil

salt

1 -2 to

matoes

chopped

juice of one lime

1/4

C

cilantro

chopped

1

tsp.

or more to taste of chipotle pepper in adobe sauce

I just used the sauce part or you could use chopped jalapeno
Instructions
After boiling the corn, brush with olive oil and a little salt

Grill until warmed and has grill marks

Cut corn off the cob and combine with chopped tomato, cilantro, pepper, lime juice--Do to taste Enjoy!
Get my Weekly Menu Plan for FREE!
Receive my FREE "What's for Dinner?" Meal Planning Course, a copy of my FREE ebook that includes my most popular recipes and my FREE weekly Meal Plan.