We are not big "toy" people at our hoUpload/Insert
use.  We are not into having the latest technology.  My husband still loves his "dumb" phone.  We drive our cars until they die. We don't have a flat screen or plasma TV and our computers are ancient and we don't own an IPad (although I wish we did!).  Having said that there are a couple of toys that I really love.  One of them is my laminator.
When my  kids were little my laminator was in constant use.  We use to joke that I was going to laminate everything that wasn't bolted down – including the children!
I used that laminator so much I wore it out.  Recently, Fellowes sent me a new laminator to play with and I forgot how much I loved laminating.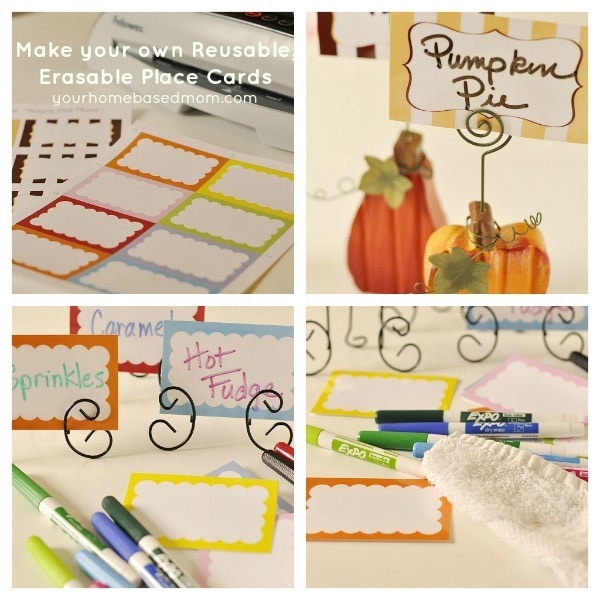 Once you start laminating your mind just kind of goes wild and you can come up with all kinds of ways to use it.  One of my favorite ways is to use it to make reusable, erasable place cards.
If you have read my blog for any length of time and enjoyed some of my party posts you know I am into signage on my party tables in a big way.  I love to have place cards to identify my food, especially on a buffet table.  I like to know what I'm eating.  Unfortunately though, the signage is usually the last thing I think about and I am rushing around to throw it together.  I decided that I needed some reusable, erasable place cards so that I could make them once and then just reuse them at the next party without having to recreate them from scratch each time.  Why didn't I think of this before!?

My new Fellowes laminator was just what I needed to get the job done.  I went online and found some free downloadable, printable place cards.  Pinterest is a great place to find them too.


I printed the cards out on my printer and then enclosed them in a laminating sheet (they come in lots of different sizes) and inserted it into the laminator.  The laminator gives you your choice of laminate thickness.  I used 3ML which was plenty thick for the reusable, erasable place cards.


If you haven't used a laminator before once you insert it into the machine, the machine takes over and it feeds right through to the other side.  It comes out laminated!

There is just something about a freshly laminated piece of paper – so pretty and shiny.


I then cut the placecards up and they are ready to use.

They are now ready to turn into place cards.  Be sure and use an Dry Erase Expo Erase Marker so that it comes off!  I just happen to have a nice collection of colors.

I also have a collection of different easels and various place card holders that I have collected from places like the Dollar Store, the craft store and Ebay.

To clean them off and use them for something else you just need a dry towel to wipe them off with.

They are ready for your next party!
Do you have a laminator? What's your favorite thing to laminate!?
Thanks to Fellowes for providing the laminator – all opinions are mine.
Printables from Tom Kat Studio and Tart Workshop