These paper lantern pumpkins are so easy to make with store bought paper lanterns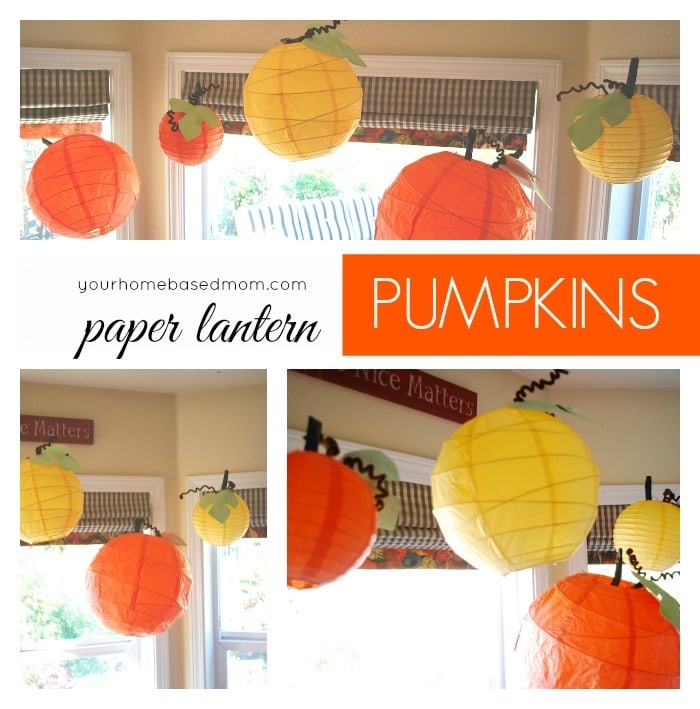 We are officially ready for Fall at the Wilkes' house.
The candy corn is bought and the Fall holiday decor is in place.
Now before you are too impressed let me inform you that in order to put the Fall decor up I had to take down my Easter decor.  Yes, those cute little Easter bunnies and baskets were still adorning my home until this weekend!
I could come up with a whole list of excuses for why they were still there but I'm not going to.  I am going to show you some photos of my fun Fall decor  instead.
I have to admit I love decorating for Fall/Halloween almost as much as for Christmas.  I tend to stay away from the scary, skeleton, bloody gore  Halloween stuff and stick to the fun, cute whimsical variety.
A few weeks ago I saw a cute idea for turning paper lanterns into pumpkins over at Martha Stewart and I fell in love with them.
I now have a pumpkin patch floating in my kitchen nook – how cute is this!
I have started myself a little collection of old painted chairs and they came in quite handy.
I went to great lengths to get this fun little orange chair home from my weekend trip to the beach because I knew it would be a great addition to my Halloween decor.
And my green chair is the perfect spot for my little skeleton – I know I said I didn't really go for the scary skeleton stuff but this guy is cute and besides that I made him!
Here is my front entry.
Even the little corner of my kitchen has some Halloween going on.
And in my family room I have some funky new pumpkins I bought at Tai Pan when I was in Utah last month.
For my mantle I wanted some black candle sticks.  I found some brown ones at TJ Maxx for about $3.00 a piece and with a quick coat of spray paint they are now black and the perfect spot for my little pumpkins to perch!
Thanks for taking the tour!  Are you ready for Fall?