I first made today's recipe a few years ago for a woman's event at church.  We made about 200 of these little pretties.
I had actually almost forgotten about them until I decided to clean out my massive recipe collection (pile) last week and I found it.  I knew immediately that they would be perfect for Valentine's Day.  I also decided to make them for my YHM101 Class I held this week at my home.  The women loved them and I promised the recipe!
The recipes uses a cake mix and you doctor it up with some vanilla and almond flavoring so it has a lovely flavor (if you are not an almond fan, just add more vanilla).
After baking, cool and remove the cupcake wrapper (this is a great time to use up all your left over and misc. cupcake liners) and then slice off the top of the cupcake – about a 1/2 inch down.
Put a dollop of the whip cream and raspberry mixture on the bottom half of the cupcake and add the top back on.  You can use fresh or frozen raspberries.  This time of year I always use frozen.
Next give it a nice dusting of powdered sugar.  Because of the whip cream filling you want to eat these soon after preparing or put them back in the refrigerator.  They will keep for a while but after a while the whip cream doesn't look quite as pretty.
To dress them up a bit for the party I added some chocolate garnishment that I made myself (tutorial at the end of post).  Who doesn't like a little love or a few hugs and kisses with their cupcake?!
These cupcakes are light and sweet.  The perfect combination and the perfect addition to any Valentine party or festivity.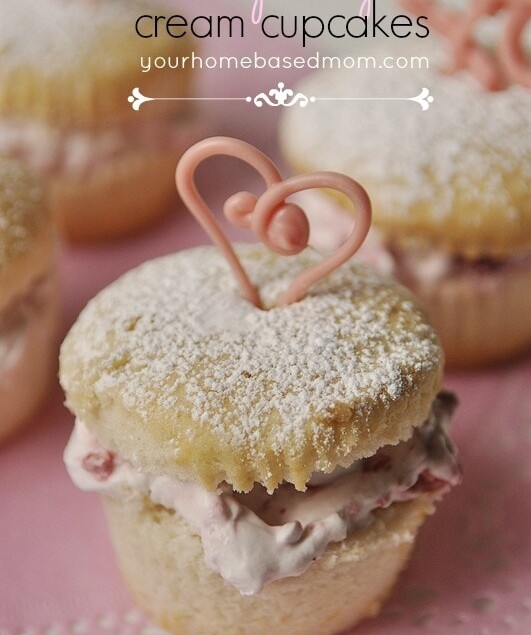 Raspbery Cream Cupcakes
Ingredients
1 white cake mix I like to use Duncan Hines Moist Deluxe
1 1/3 C water
3 large egg whites
2 TBSP unsalted butter melted
2 tsp almond extract
2 tsp vanilla extract
2 6-ounce containers fresh raspberries, or one bag of frozen raspberries, thawed and drained
1 C heavy whipping cream
1/3 C powdered sugar plus additional for dusting
Instructions
Makes between 18-20 cupcakes

Line muffin tins with liners

Preheat the oven to 350 degrees F

In your mixer beat the cake mix, water, egg whites, melted butter, and extracts in a large bowl for 2 minutes, or until the batter is well blended

Place about 1/3 C of batter in each cupcake liner

Should be about 2/3 full

Bake the cupcakes until they are very pale golden on top, about 15 minutes

Cool the cupcakes completely

Using a fork, coarsely mash 1 1/2 containers of raspberries in a medium bowl

In your mixer beat the cream and 1/3 cup of powdered sugar until firm peaks form

Fold the mashed raspberries into the whipped cream

Remove the muffin papers from the cupcakes and cut the tops off of each cupcake, about 1/2 inch down

Spoon the whipped cream mixture onto the cupcake bottoms

Place the cupcake tops on the cupcakes

Sprinkle with powdered sugar and serve with the remaining berries if using fresh
Chocolate Hearts
Melt chocolate or chocolate melts in the microwave and spoon into a piping bag with a small round tip.
Don't forget to close off the end or you will end up with a mess like I did because I forgot to close off the end!!
Line a cookie sheet with parchment paper or wax paper.
Hold the bag upright and at a slight angle and write.  Use a nice even pressure on the bag as you write.  Be sure that all of your letters are connected so they dry as one piece.  Write words or make shapes.  Use your imagination!
After you are done put them in the refrigerator to harden up and then remove from the wax paper and store in an airtight container.  I keep mine in the refrigerator until I am ready to use them.