These Raspberry Lemon Cheesecake Bars start with a layer of shortbread on the bottom and lemon cheesecake on the top with raspberry goodness in the middle!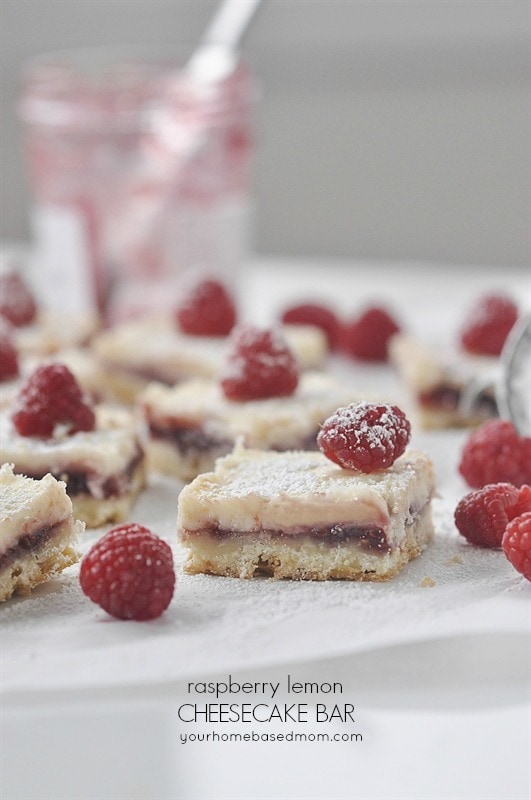 When I pulled these bars out of the oven I announced to my husband, they are not going on the blog.  When he asked why, seeing as I hadn't even tasted them yet, I told him that they were too ugly.  You know how I feel about pretty and delicious!  In my book, not only should something be delicious but it should be pretty too.  These bars were not pretty.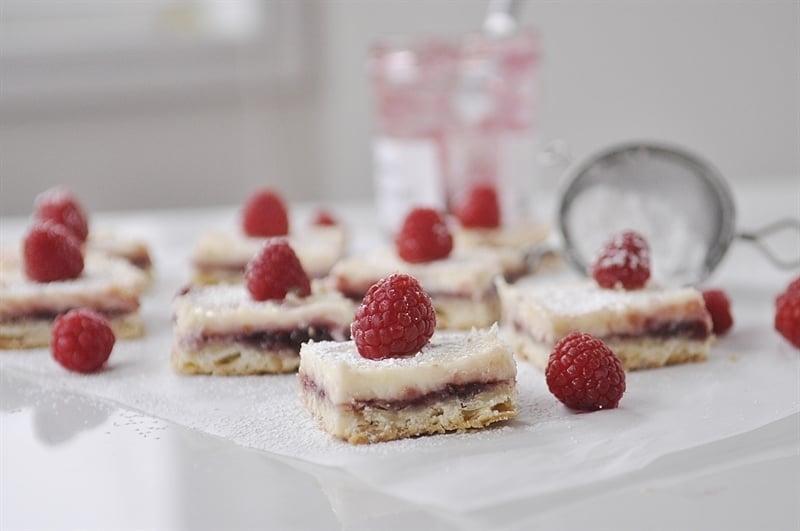 But then I tasted them and I knew they had to go on the blog.  They were delicious.  I decided pretty can be fixed and I got out the powdered sugar and ran to the store or some fresh raspberries.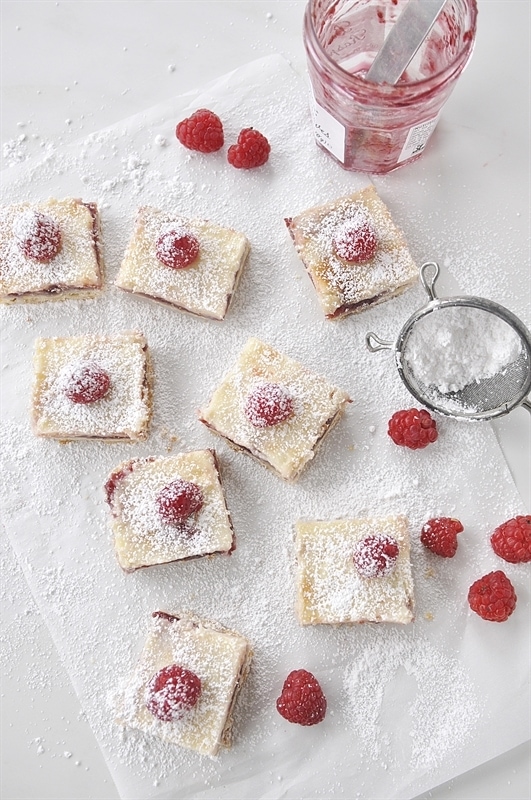 After a dusting of powdered sugar and a red raspberry on top I declared these chessecake bars not only delicious but pretty too.  It's amazing what a little bit of powdered sugar can do and it didn't hurt the delicious part either!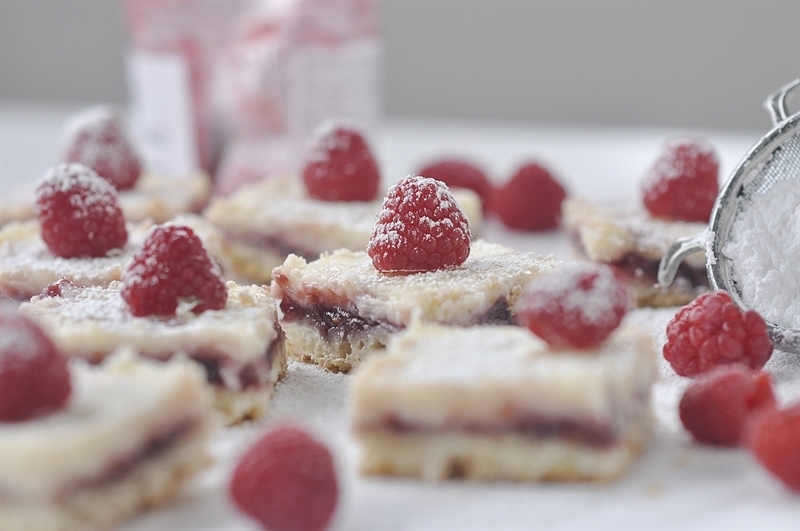 The shortbread bottom gives the bar a nice base on which to add a layer of raspberry jam, I used my favorite which is Bonne Maman, and then a layer of lovely lemon cheesecake.  I love the change in texture you get as you bite into the bar, soft on the top and a little crunchier on the bottom and just delicious sweetness in between.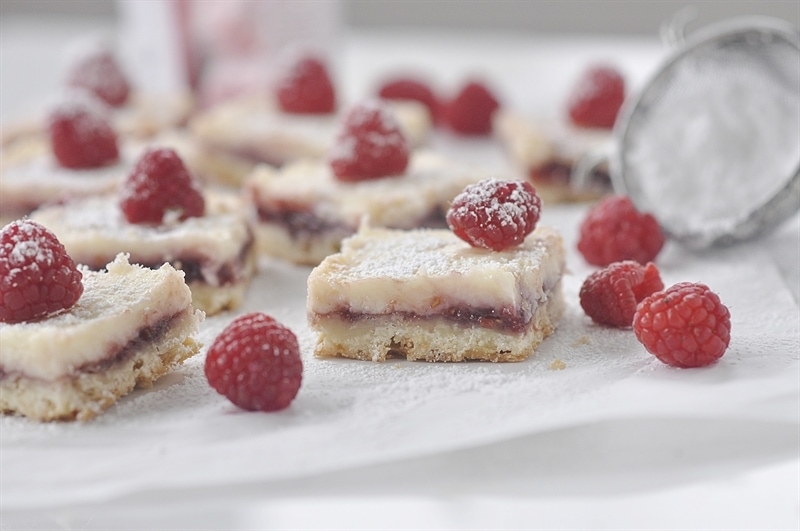 These sweet treats would make the perfect Valentine sweet for your sweetheart!!  And don't worry if they don't look too pretty when they come out of the oven,  just give them a sprinkle of powdered sugar and a fresh red raspberry on top!
Printable Recipe for Raspberry Lemon Cheesecake Bars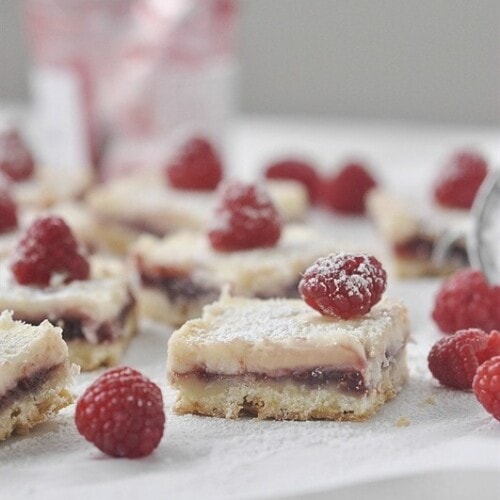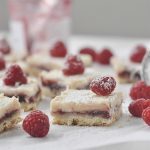 Print
Raspberry Lemon Cheescake Bars
Ingredients
1 1/2

cups

all purpose flour

1/2

cup

powdered sugar

1 1/2

tsp

lemon zest

divided

3/4

cup

butter

cold

2 8

oz.

packages of cream cheese

softened

3/4

cup

granulated sugar

2

eggs

2

Tbsp

fresh lemon juice

1

cup

raspberry jam

raspberries

for garnish

powdered sugar

for garnish
Instructions
Preheat oven to 350 degrees F.

Mix together flour, powdered sugar and 1 tsp lemon zest in a bowl.

Cut in butter with a pastry blender until crumbly.

Press mixtgure into the bottom of a 9 x 13 pan that has been lined with parchment paper or greased well.

Bake at 350 for 20 -22 minutes or until lightly browned.

Beat together cream cheese and granulated sugar in mixer. Add in eggs and beat until well blended.

Stir in lemon juice and remaining lemon zest, beat well.

Spread jam over baked shortbread with an offset spatula.

Pour cream over the top of jam and spread to edges.

Bake for 25-30 minutes or until set.

Cool for 1 hour on a wire rack and then cover and chill for 4-8 hours or overnight.

Cut into bars and garnish with powdered sugar and raspberries