Quinoa Black Bean Salad is delicious and good for you! if you have never tried quinoa before this is a great recipe to start with.
Quinoa is a nice change from rice or potatoes and can be enjoyed so many different ways. Some of our favorites are BBQ Chicken Quinoa Salad and Cranberry and Cilantro Quinoa Salad. It works as a side dish or as a main dish.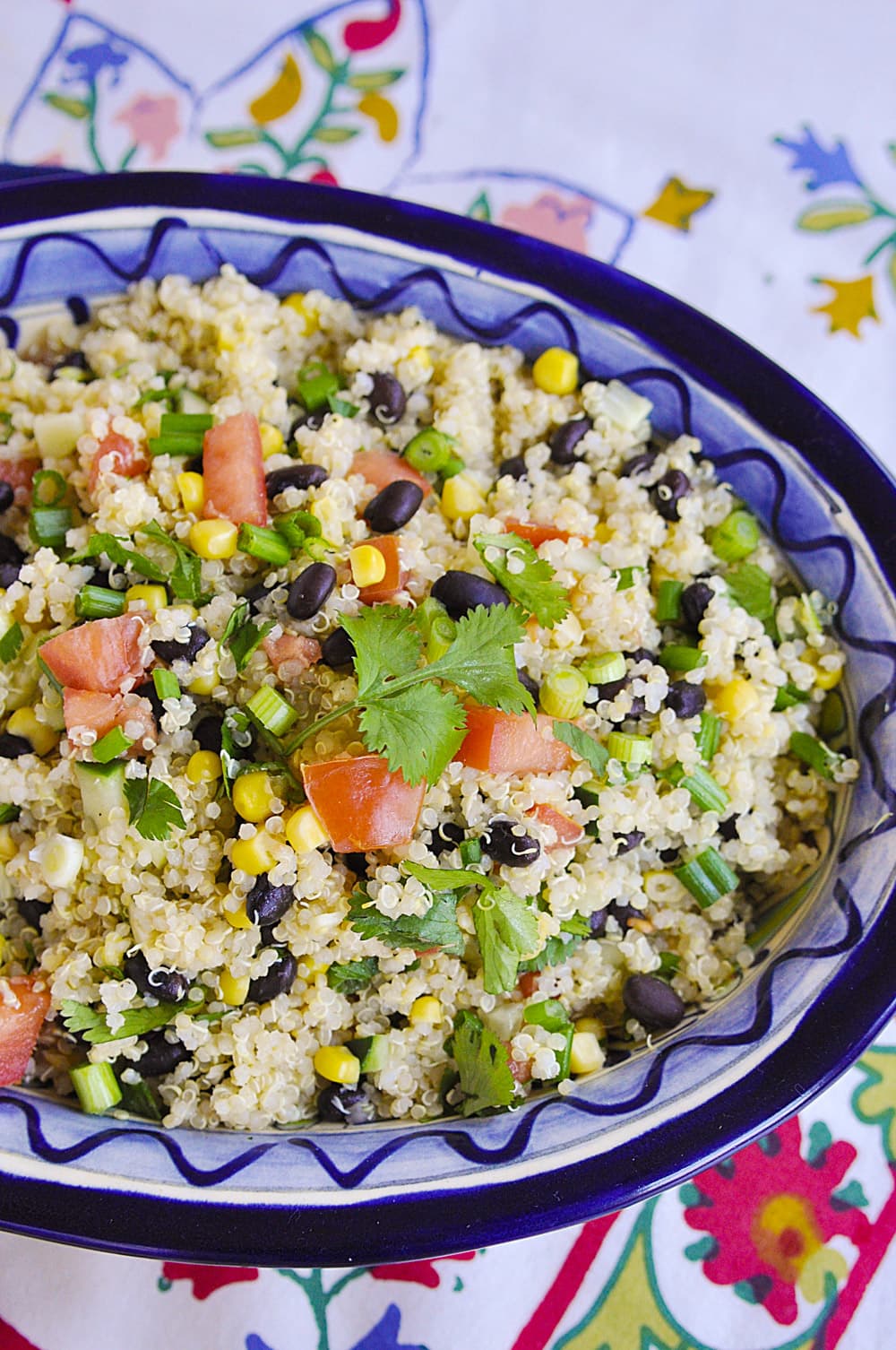 Several years ago, one of my daughter's was diagnosed with multiple food allergies. We discovered that she was allergic to wheat, dairy, red meat and a large selection of raw fruits and vegetables (oral allergy syndrome)
I spent several years learning about a whole world I didn't know existed, the world of gluten free, dairy free, vegan etc.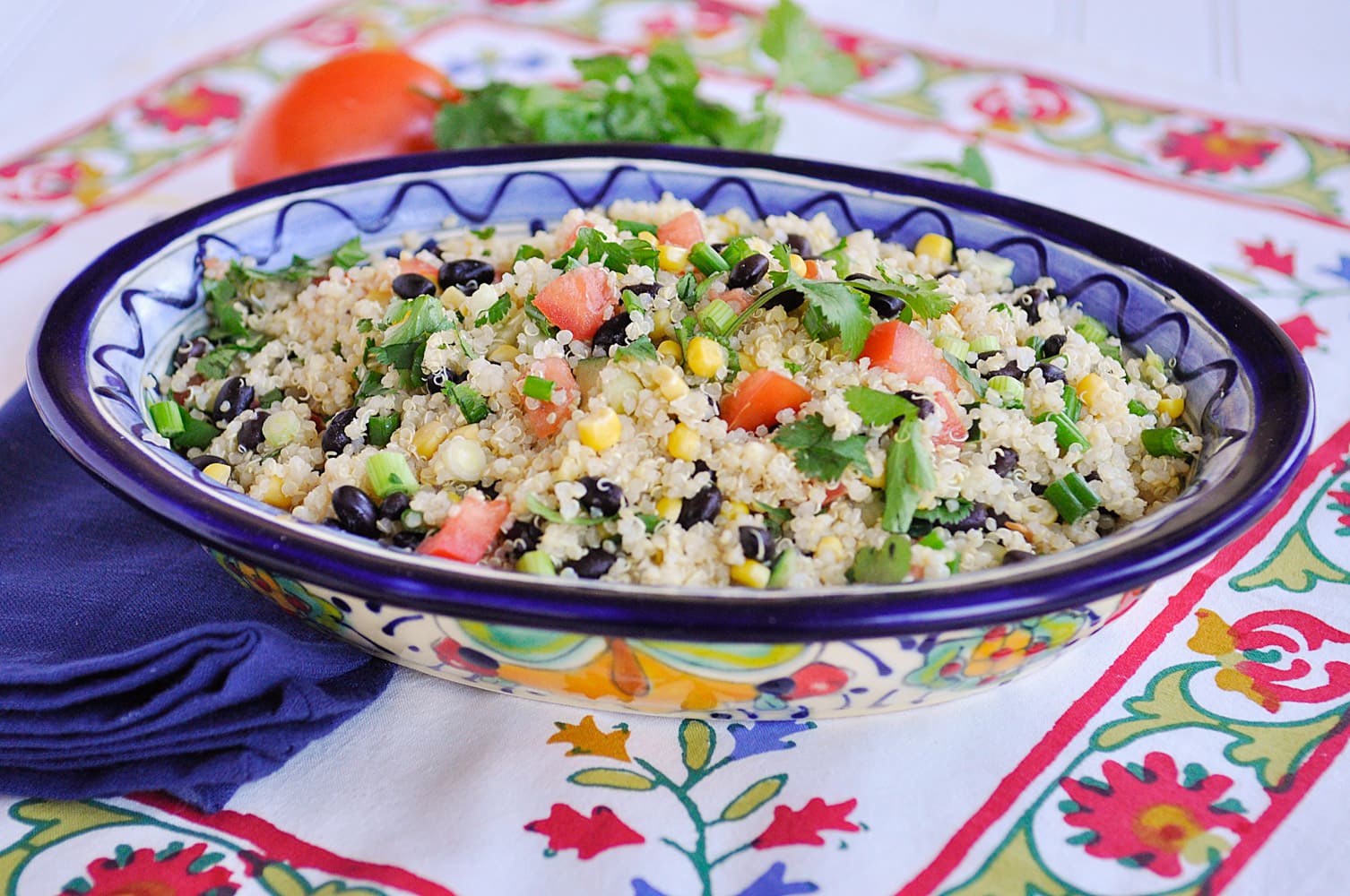 I made it my job to discover new and hopefully delicious recipes that she can eat and enjoy. Sometimes I have been successful, sometimes I haven't. One of the favorites things I came up with was this wonderful gluten free flour mix which I shared on my blog recently. One of the challenges with my daughter's diet is getting enough protein in her. She can eat chicken but but she really doesn't enjoy meat. One of the foods we discovered in this new food journey is quinoa.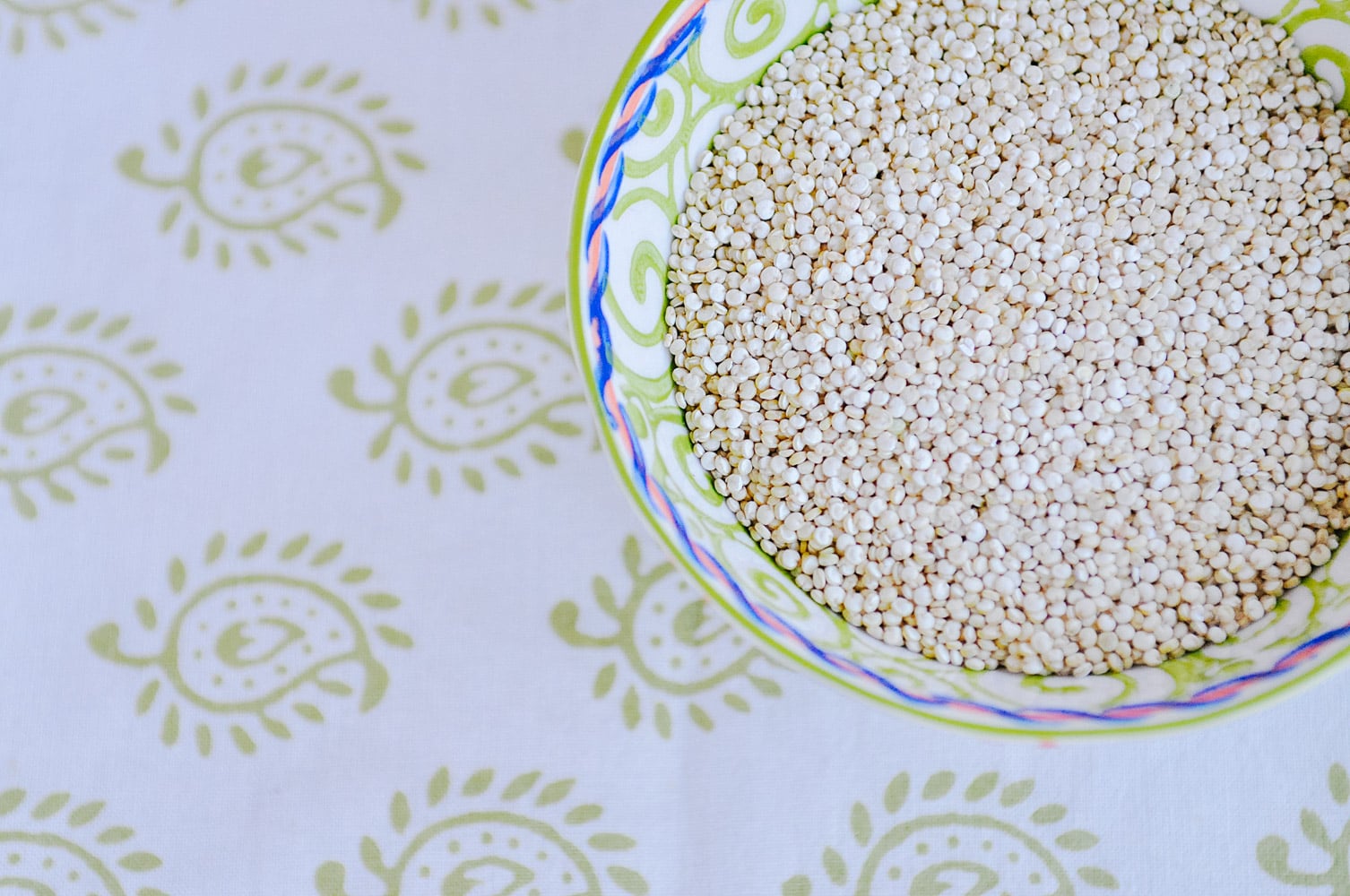 What is Quinoa?
Quinoa has been around for centuries and is actually a seed, not a grain as many people think. It is considered a complete protein and is also a good source of fiber and high in magnesium and iron.
I began cooking with quinoa and we have found it to be delicious and a wonderful "go to" food for my daughter. You make up a big batch, add in different vegetables and seasonings and create an amazing meal. It can be eaten warm or cold.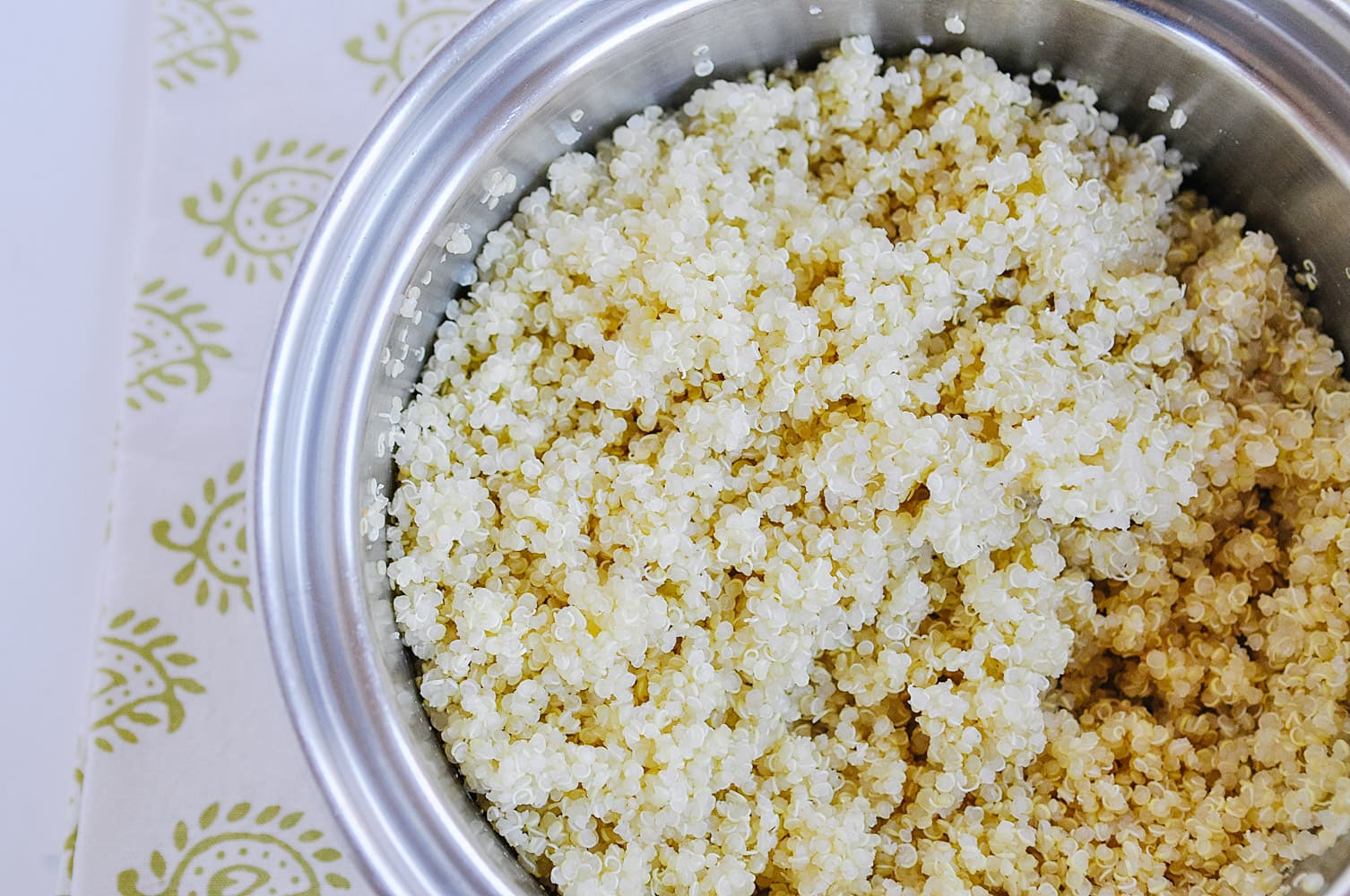 How to Make Quinoa
You cook it just like rice, in a pot with boiling water.
In a saucepan, bring 2 cups of water to a boil.
Add in 1 cup of quinoa and stir.
Cover, reduce heat and simmer for 15-20 minutes.
Remove lid and fluff with a fork.
You can also make quinoa in your Instant Pot.
How to Make Quinoa Black Bean Salad
After making the quinoa:
Combine fresh lime juice, melted butter, olive oil, sugar and garlic.
Pour over quinoa and stir to incorporate.
Add in any veggie or protein you like such as black beans, tomatoes, corn, cucumber, green onion, tomato, cilantro and red pepper.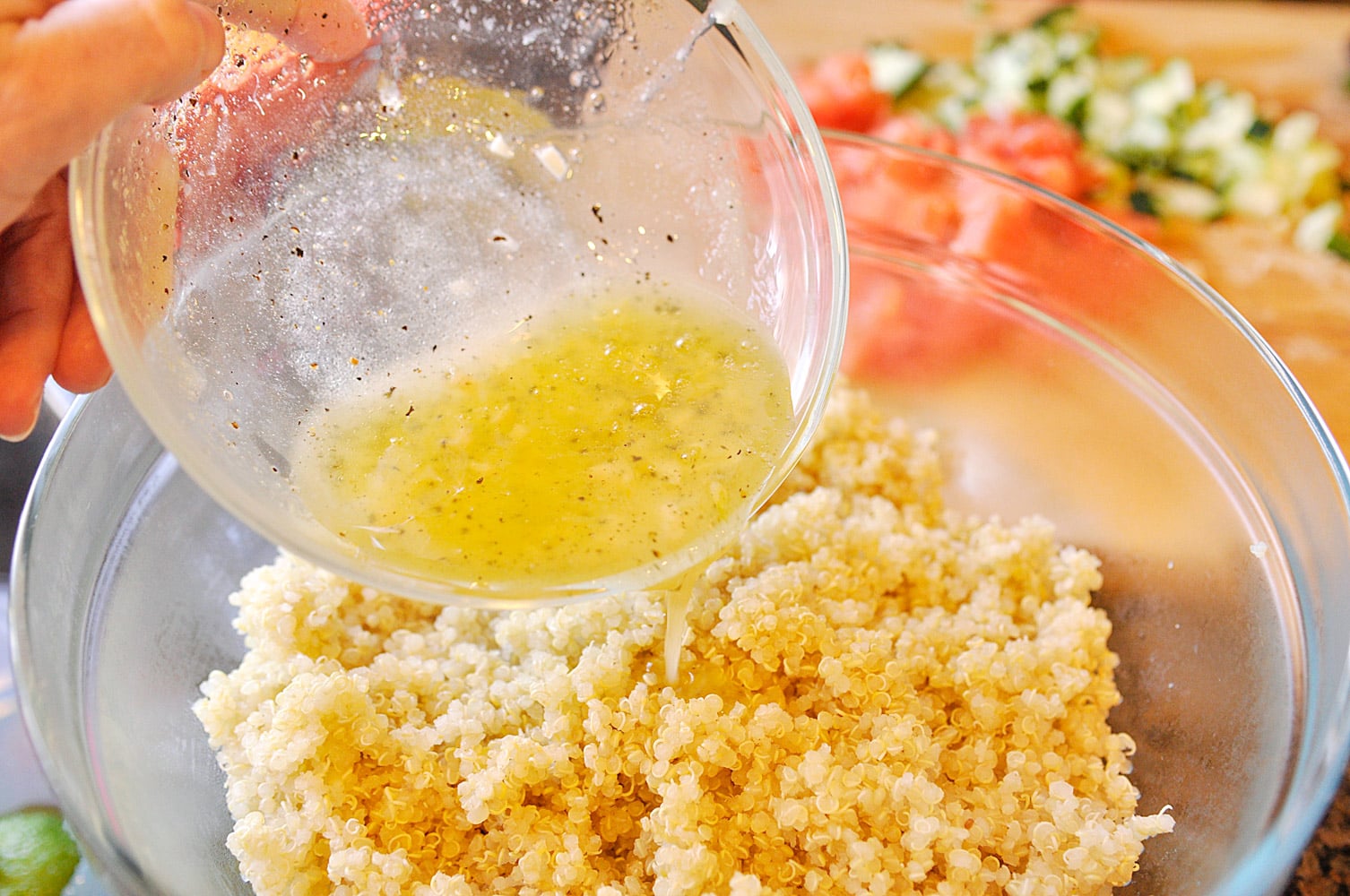 You could also add in some shredded chicken or other protein if you like.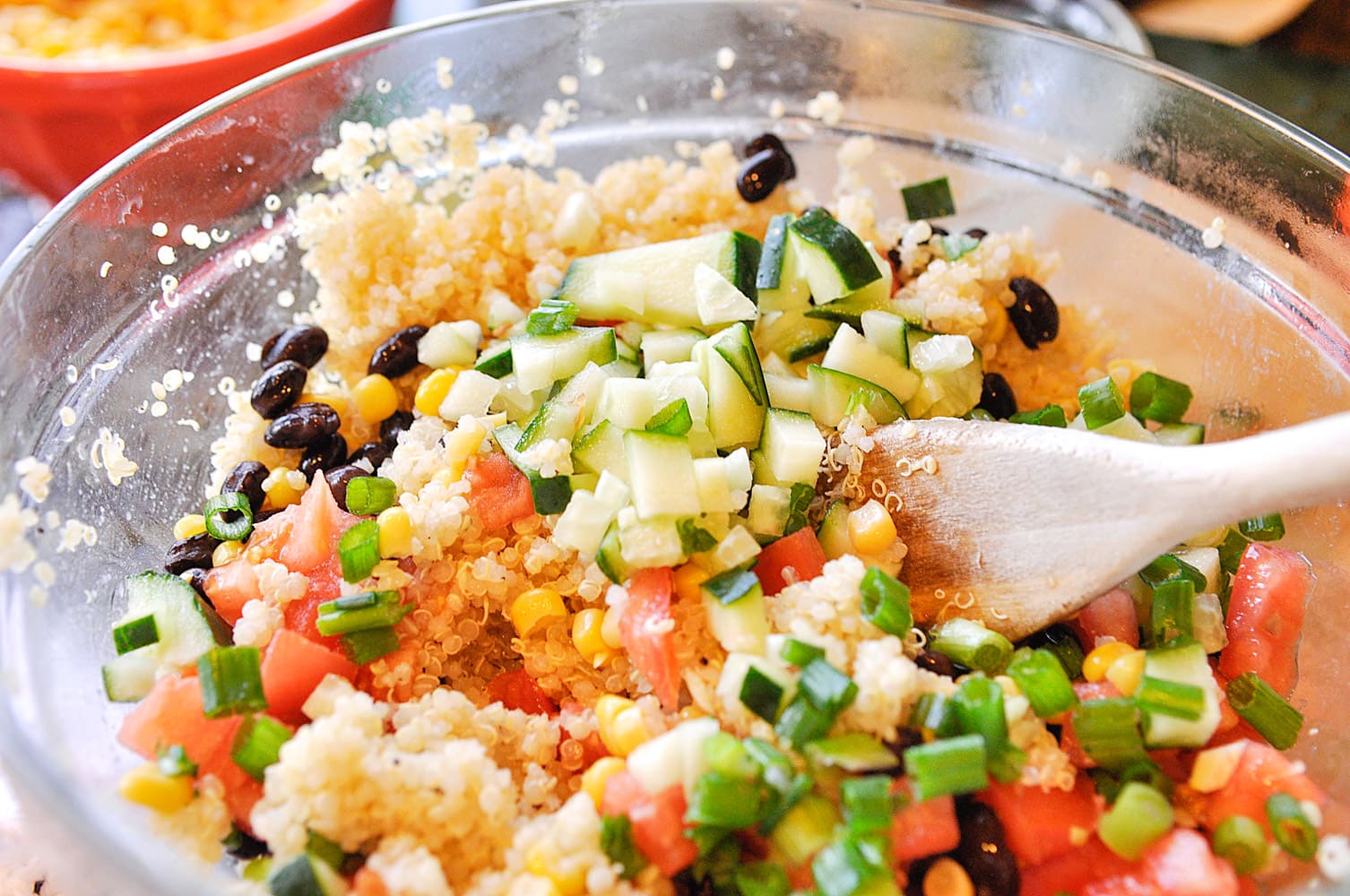 How Long Does Quinoa Black Bean Salad Last?
Stored in the refrigerator the salad will last 4-5 days. One of the things I love about quinoa is you can eat it warm, room temperature and cold.  It is the perfect choice for a potluck or a BBQ as the salad can sit at room temperature.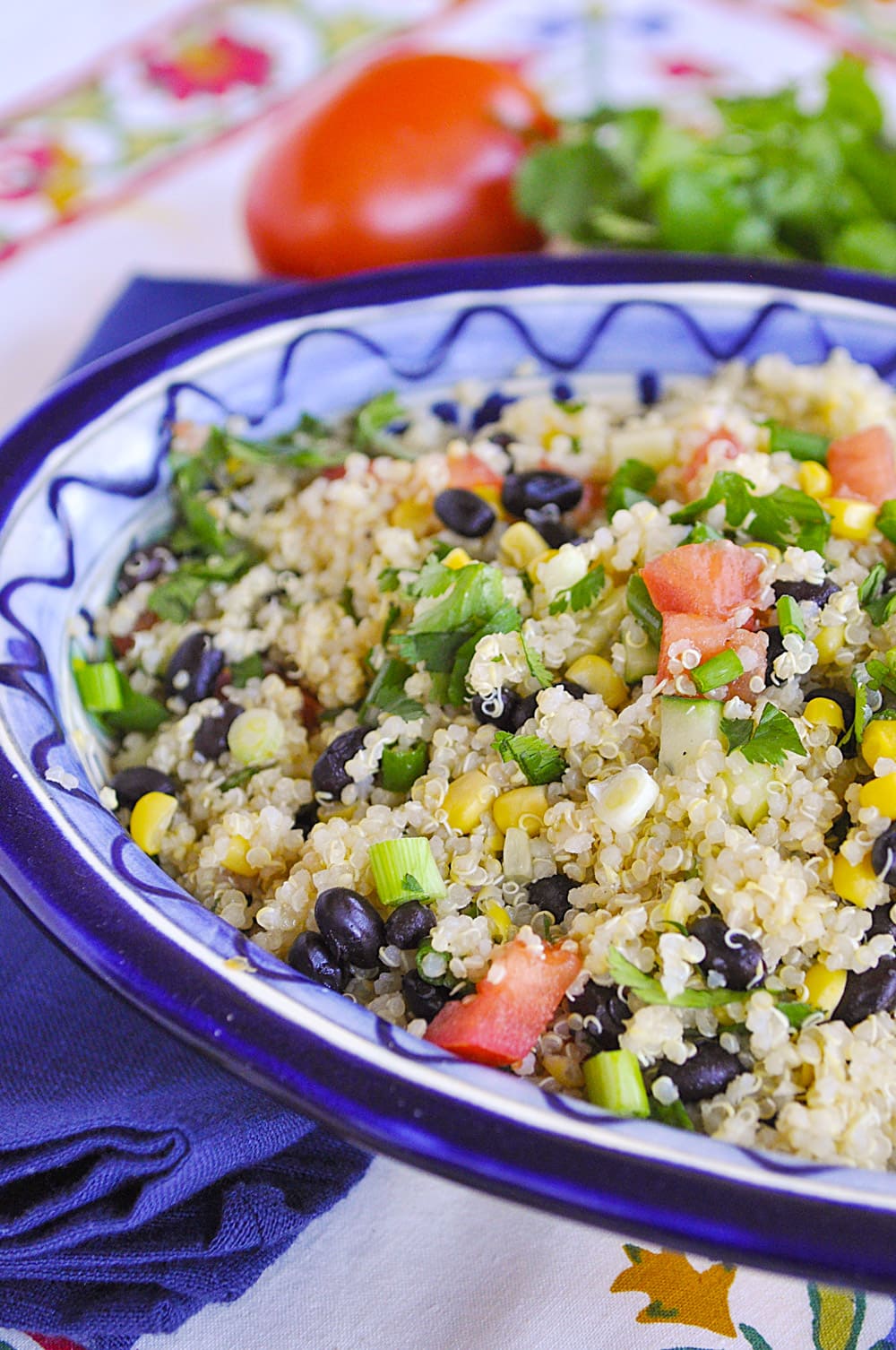 For some of my other favorite side dishes try these:
For all of my other favorite kitchen products and tools visit my Amazon Store. Did you know I wrote a cookbook?  Check out the Holiday Slow Cooker Cookbook for 100 delicious recipes
Quinoa Black Bean Salad Recipe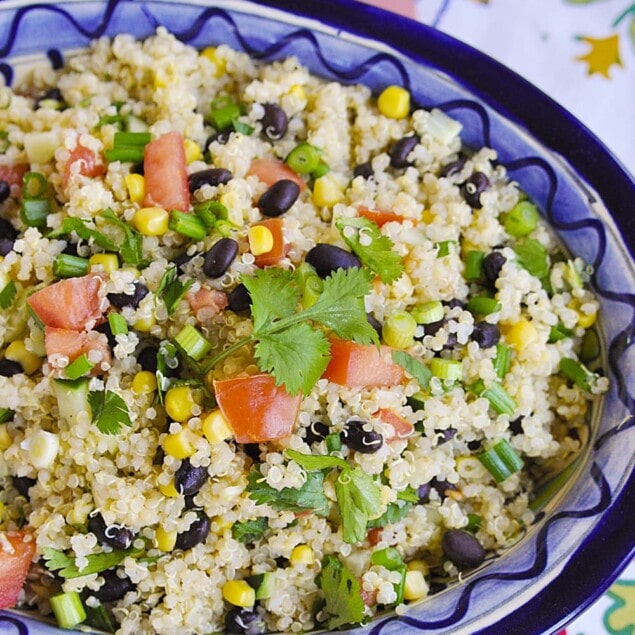 Quinoa Black Bean Salad
Healthy and tasty, this black bean and tomato quinoa salad is a perfect side dish to your favorite chicken dinner.
Ingredients
2 Tbsp fresh lime juice usually one lime
2 Tbsp butter melted and cooled
1 Tbsp olive oil
1 tsp sugar
½ tsp salt
¼ tsp pepper
1 tsp garlic minced
1 cup quinoa
2 cup water
1 cup black beans rinsed
1 cup corn drained
2 tomatoes diced
4 green onions diced
1 cucumber diced
¼ cup cilantro chopped
½ red pepper diced
Instructions
Mix together lime juice, melted butter, oil, sugar, salt, pepper, and garlic. Set aside.

Cook 1 cup quinoa in 2 cups of water. Bring to a boil, cover with lid and then simmer for about 15 minutes or until cooked. Fluff with a fork.

Pour lime juice mixture over quinoa

Add in chopped vegetables

Salt and pepper to taste

Serve chilled or room temperature
Nutrition Facts:
Calories: 245kcal (12%) Carbohydrates: 36g (12%) Protein: 8g (16%) Fat: 9g (14%) Saturated Fat: 3g (19%) Cholesterol: 10mg (3%) Sodium: 239mg (10%) Potassium: 525mg (15%) Fiber: 6g (25%) Sugar: 4g (4%) Vitamin A: 997IU (20%) Vitamin C: 25mg (30%) Calcium: 40mg (4%) Iron: 2mg (11%)
* Disclaimer: All nutrition information are estimates only. Read full disclosure here.