This queso fundido is cheesy heaven. Add in a layer of chorizo for even more goodness.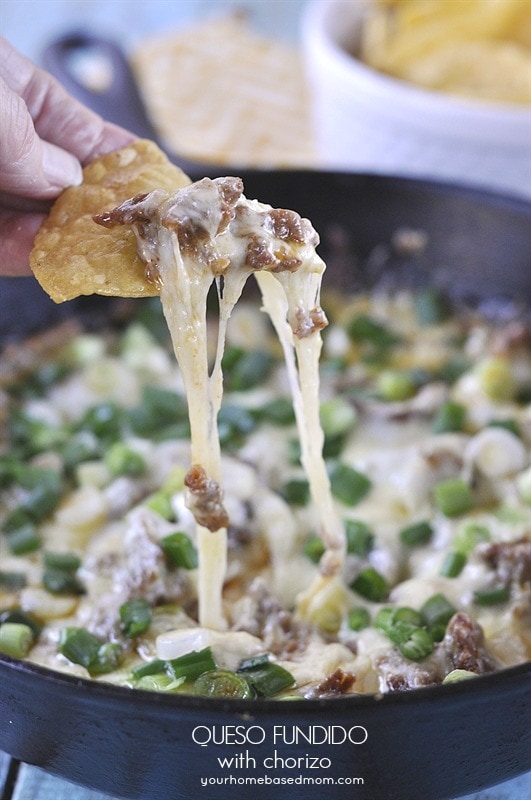 I love cheese in just about any shape or form. But hot, melted cheese is definitely one of my favorite ways to eat cheese.
Since my husband has gone dairy free, cheese is the thing I have missed most.
The other day I was having a major craving for cheese. Some hot, ooey, gooey cheese. One of my favorite ways to eat cheese is in the form of queso fundido. Add in a handful of chips and I am one happy girl.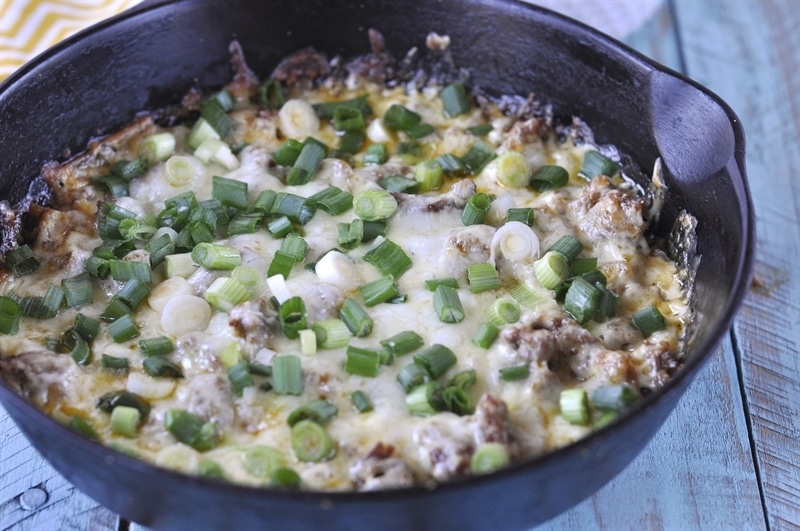 Queso Fundido basically means "melted cheese" and is a classic appetizer at a lot of Mexican restaurants. With the Super Bowl coming up I thought a nice 9″ cast iron skillet full of queso fundido might just be the thing for you and your football watching fans! I used a combination of monterey jack cheese and mozzarella cheese. You can get create with the cheese you use but I love this combo. I love the stringy melted cheese you get with mozzarella. You will also need some ground chorizo and green onions.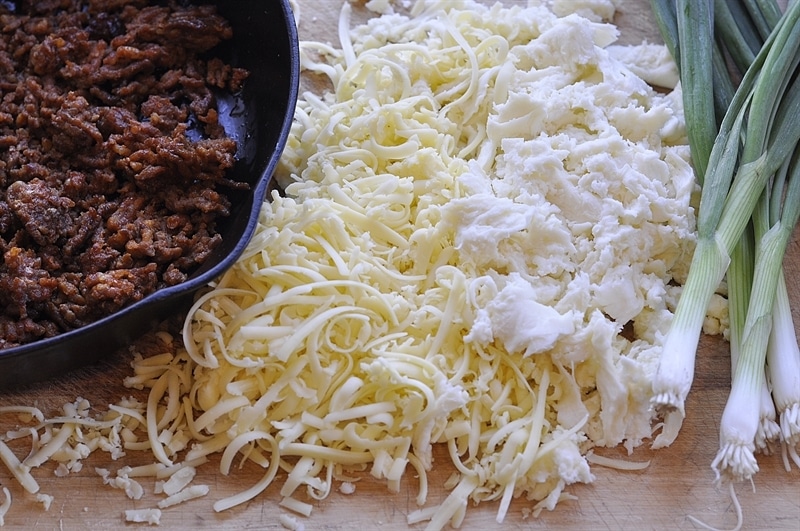 Chorizo can be pretty greasy so I recommend draining it well and then rinsing off the cooked meat before putting in your skillet to bake with the cheese. If you don't you will end up with a puddle of grease in your queso!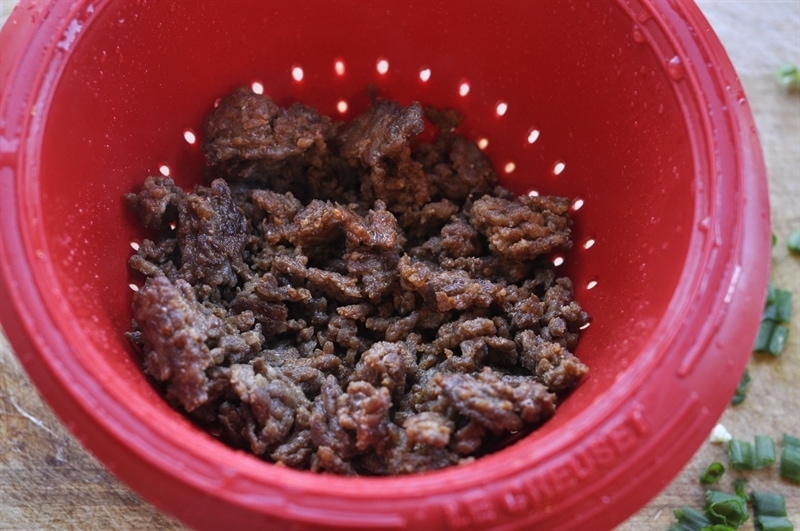 Place the chorizo in the bottom of your cast iron skillet or baking dish. and then pile on all that mozzarella and monterey jack cheese.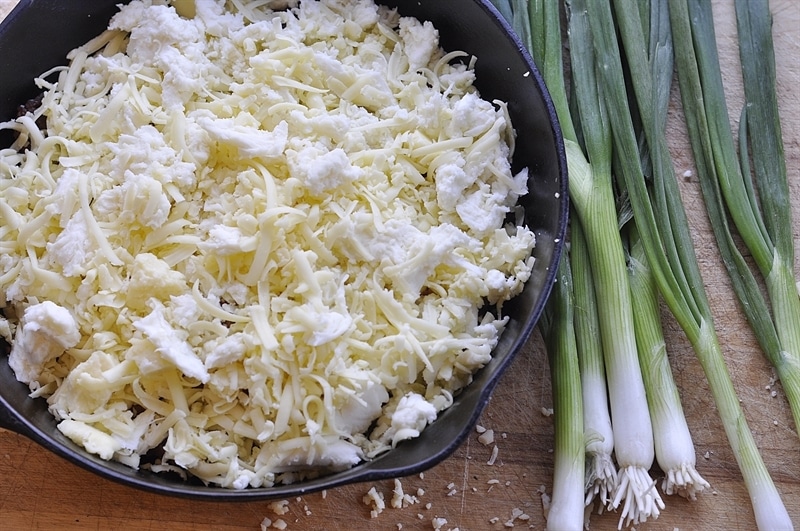 Pop your skillet into a 350 degree oven and bake for 15-20 minutes until the cheese is all melted and started to brown around the edges. Top it with some chopped green onions. A little tomato would be good too but I didn't have any. Don't' forget your skillet will be hot so watch your hands as you dig into this pan of cheesy goodness.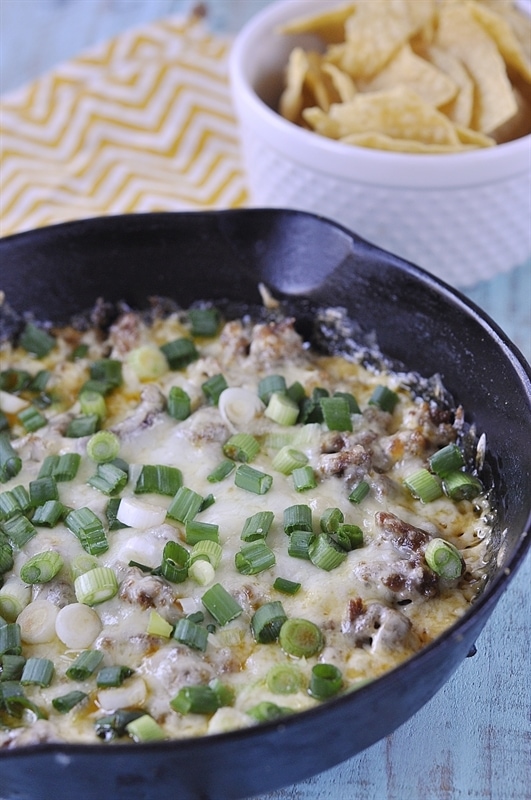 The only thing left is to grab some chips and dip away.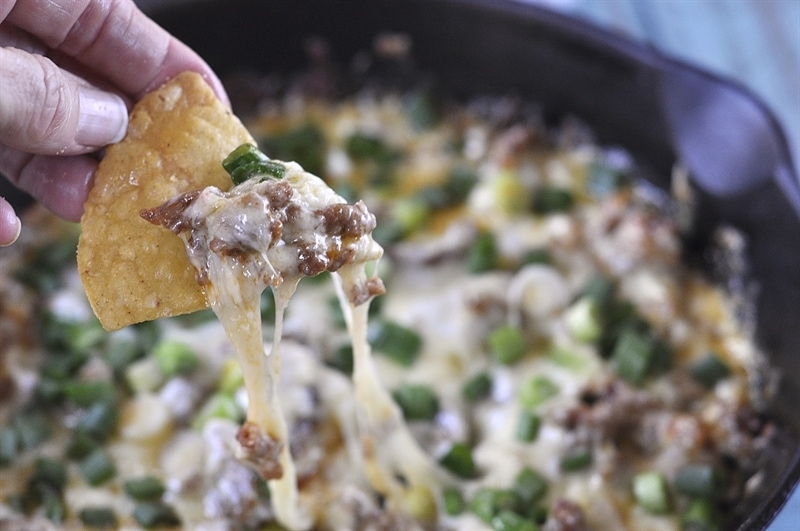 You don't need a football game to enjoy this yummy queso fundido. And if you are lucky enough to have someone dairy free at your house, you won't have to share. Just like me. Yes, I may or may not have eaten most of this myself!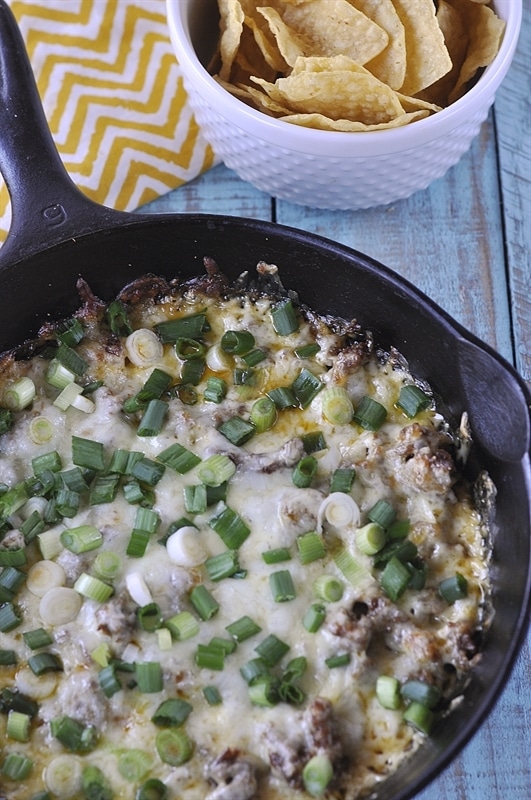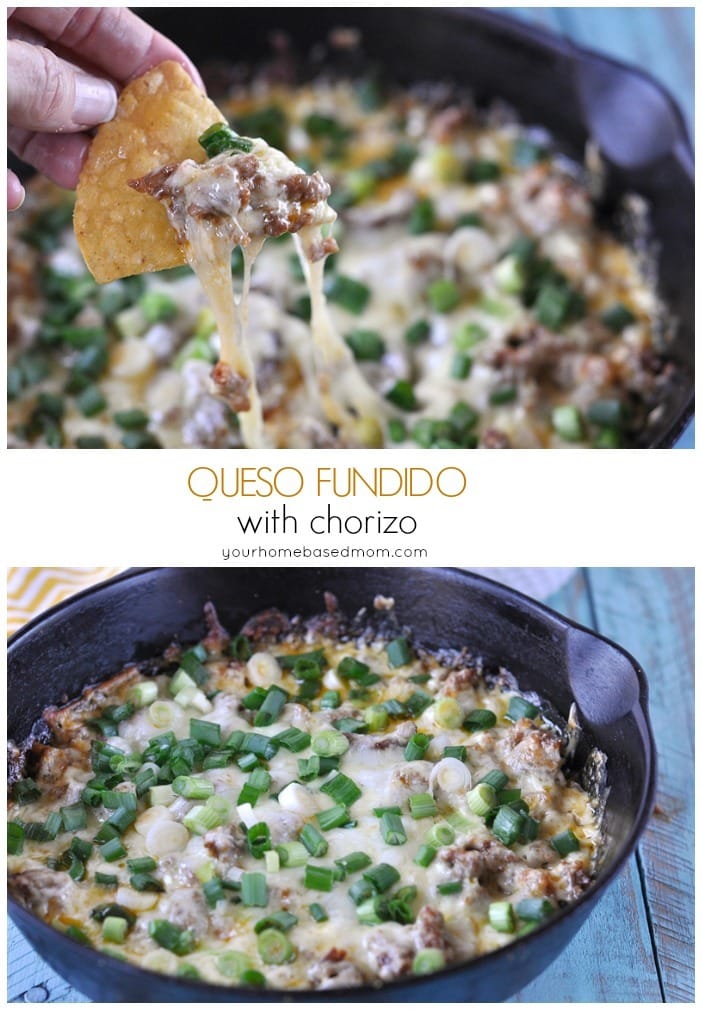 I love my cast iron skillets and actually have three of them.  I used my 9″ cast iron pan for today's recipe but also love my 12″ cast iron skillet.
Queso Fundido Recipe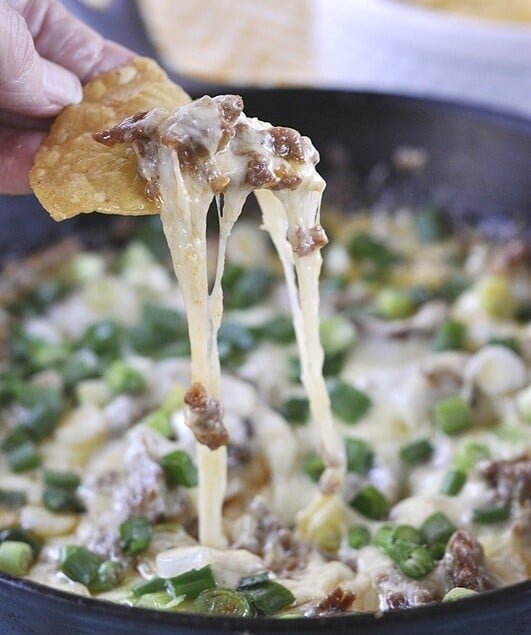 Queso Fundido with Chorizo
Delicious melted cheese and chorizo make the perfect dip combination.
Ingredients
1/2 lb. cooked ground chorizo
1 1/2 C grated mozzarella cheese
1 1/2 C grated monterey jack cheese
1/3 C green onion copped
Tortilla chips
Instructions
Brown chorizo and drain well. Rinse off chorizo to remove excess grease.

Place chorizo in bottom of 8″ cast iron skillet or baking dish

Layer cheese on top.

Bake in a 350 degree oven for 15-20 minutes or until cheese is melted completely and it begins to bubble and brown around the edges.

Remove from oven and top with green onions.

Enjoy with tortilla chips
Nutrition Facts:
Calories: 150kcal (8%) Carbohydrates: 1g Protein: 10g (20%) Fat: 12g (18%) Saturated Fat: 6g (38%) Polyunsaturated Fat: 1g Monounsaturated Fat: 2g Cholesterol: 35mg (12%) Sodium: 390mg (17%) Potassium: 30mg (1%) Fiber: 1g (4%) Sugar: 1g (1%) Vitamin A: 298IU (6%) Vitamin C: 1mg (1%) Calcium: 178mg (18%) Iron: 1mg (6%)
* Disclaimer: All nutrition information are estimates only. Read full disclosure here.