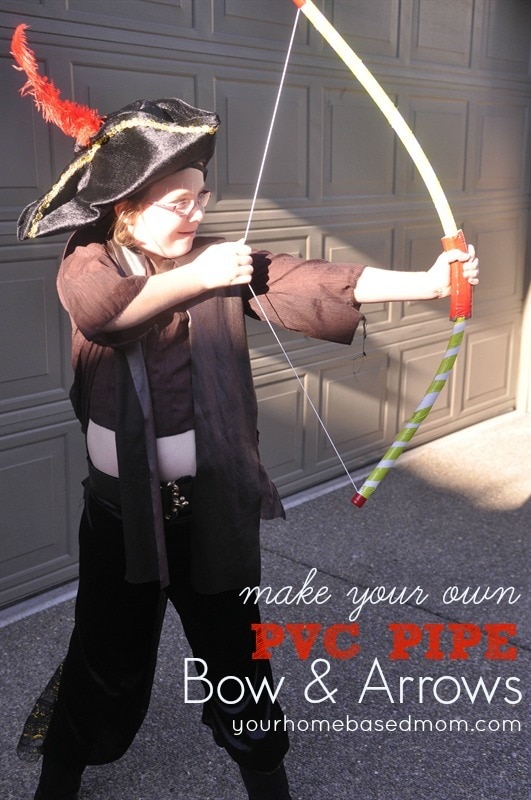 I am back with another fun activity I did with my Activity Day Girls.  Activity Day Girls are the girls from church age 8-12.  We meet together twice a month for various activities and fun!
When I was in Utah (one of my many recent trips) my girls and I went to Swiss Days up in Midway.  There were lots of fun craft booths and one in particular caught my eye because it was doing a HUGE business.  The lines were long and I saw people all over the place carrying bow & arrows made out of PVC pipe!  I think every kid I saw in the place had gotten their parents to buy them one.
I decided it would be a fun activity for my Activity Girls so I started Googling so we could make them ourselves!  How did we live before Google???
I found a great tutorial over at Skip to My Lou on how to make your own PVC Pipe Bow & Arrows.  I made a few changes to her directions.  For a supply list check out her blog.  (I did not use the zip ties)  I also used the directions on this blog too.
With the popularity of Hunger Games and the new movie coming out soon the girls were totally into making their own bow & arrows!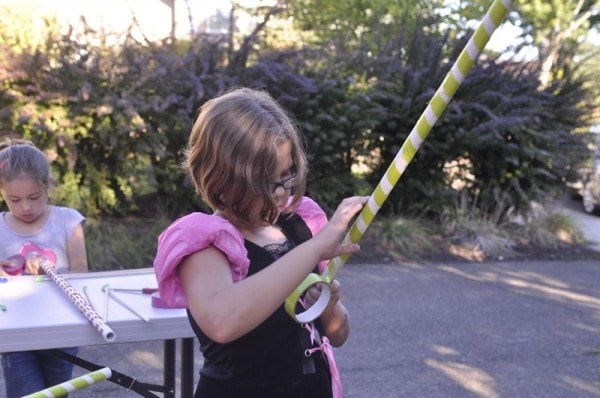 We cut our PVC pipe into 40″ lengths and cut 1 " long slits into each end of the pipe using a bandsaw.  You want your slits to be in line with each other so we made them on the writing that is on the PVC pipe.
Next the girls decorated their pipe or bow with duct tape or electrician's tape. We had one roll of zebra duct tape that was a big hit.  To make it go farther we cut the rolls of duct tape in half (using my husband's band saw) to make it thinner.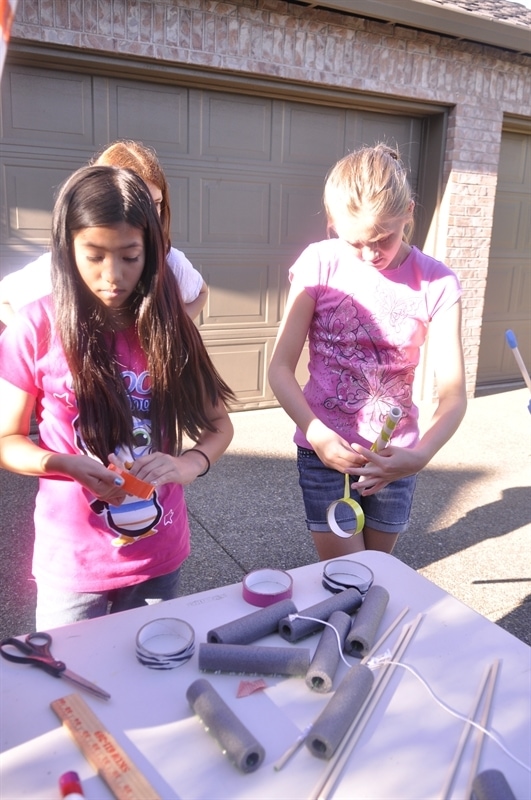 Be sure and start your duct tape decorating below where the slit is.  Do not cover up the slit on either end.
Next they inserted their string.  This took some grown up help.  I cut our strings 36  inches in length.  You need to tie a knot in each end of the string and you want the distance between knots to be 32 inches.
Insert the one knotted end into the slit and then place your foot on the bow to bend it so you can get the other knot into the slit on the other end.  This takes a bit of strength.  You want the string to be tight but short enough so that it makes the pipe bow when the string is in both ends.  I used nylon string from Home Depot.  I was the designated string inserter so I didn't get a photo of that step!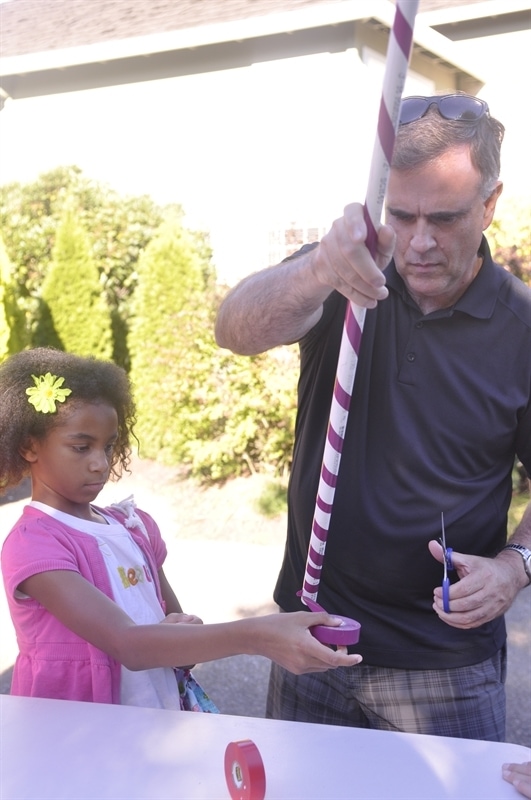 After the string is in wrap some more tape around the top and bottom of the bow where the string is inserted.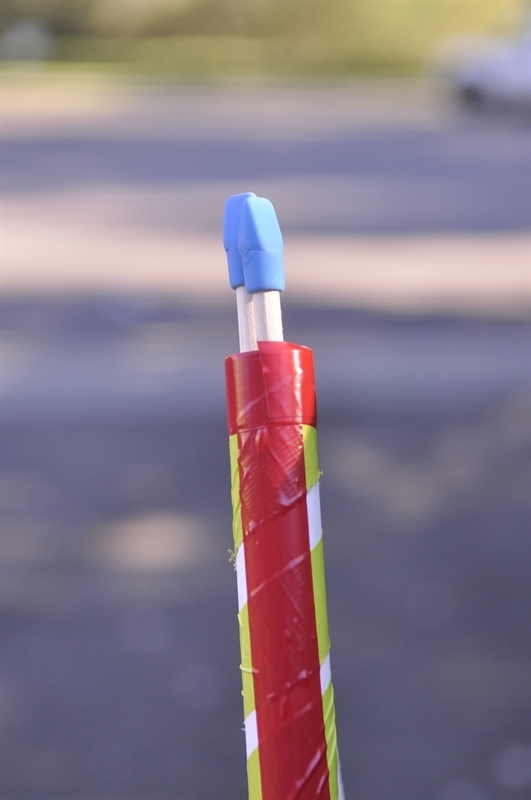 You can see that the end of the bow makes a great little carrying spot for your arrows too!
After your bow is decorated and strung you will add a hand grip onto the bow.  We used 6 inch pieces of pipe insulation.  They girls just wrapped it around the bow with the top of it at about the 20″ mark.  This will also be used to rest the arrow on so you don't want it too high or too low.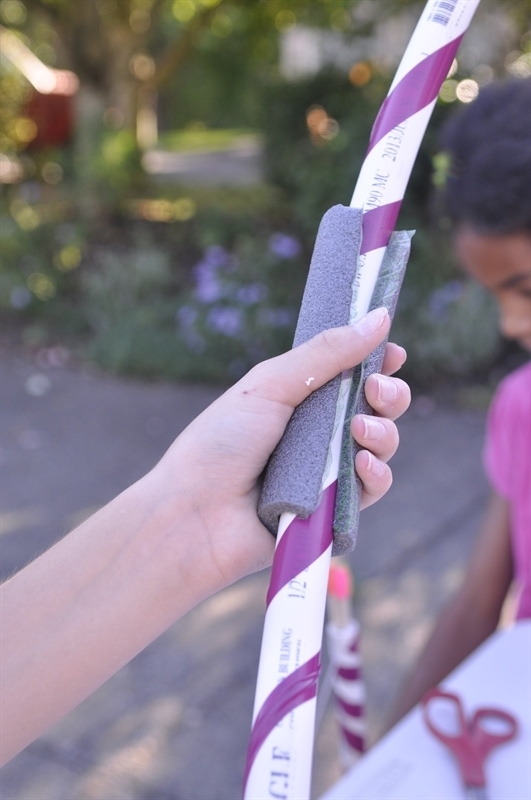 Use more tape to wrap around it to keep it in place.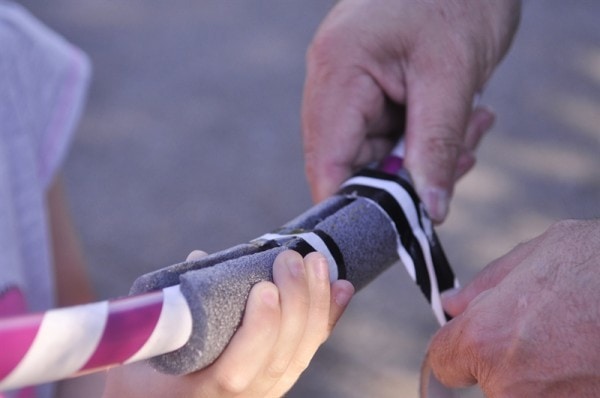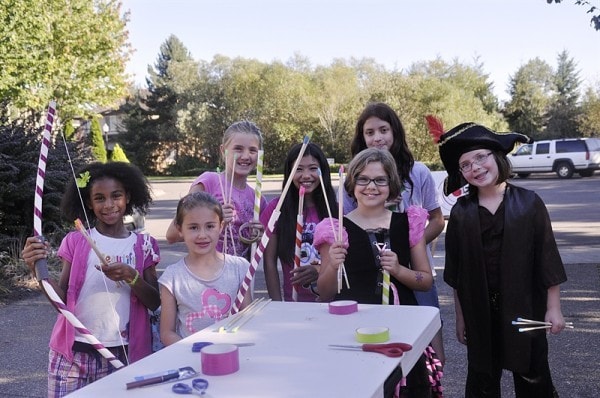 For the arrows we used 1/4″ dowels that were 48″ long.  We cut them into three equal pieces so each girl only needed one dowel.  The directions call for a 3/8″ dowel over at Skip to My Lou.  A friend who had also made them for her church group said that she had used pencil eraser caps on the end of the arrows and so I bought dowels that would fit the erasers.  The other option is to make foam arrow tips.    After using the eraser tips I decided it might be a bit safer to use the foam arrow tips.  If they were to accidentally hit someone with one of the arrows with the eraser tips I think it would hit a bit more than the foam tips!
My dowels were slightly smaller than the eraser tips so we used some hot glue to glue the erasers onto the dowels.  My husband also cut a small slit into the other end of each arrow.  This will fit onto the bow string.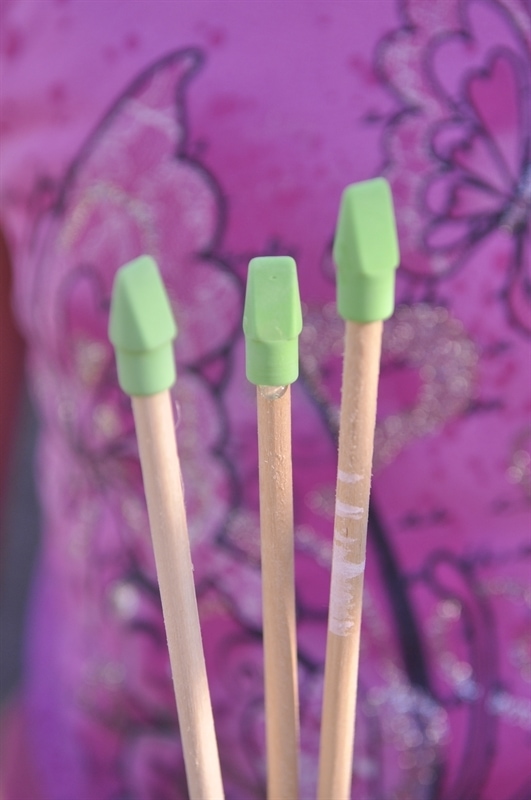 The girls were anxious to try out their PVC Pipe Bow & Arrows but first they had to have a safety lesson.  The safety lesson was provided by the former Scoutmaster, my husband.  He made them raise their right hand and repeat after him…"I will not shoot an arrow at any of my siblings."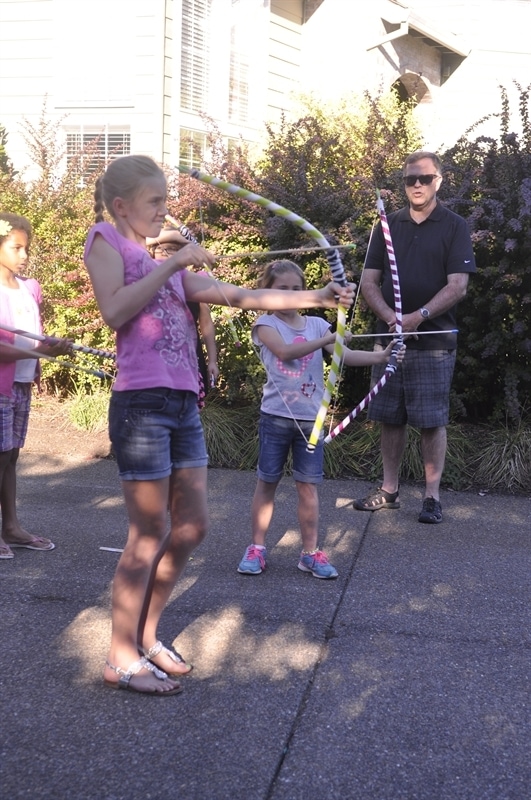 They all stood behind a safety line and took turns shooting at a target I had made out of a piece of foam core board and placed on an easel.  My friend who had done it put up a badminton net and hung pictures of zombies on it – so fun!!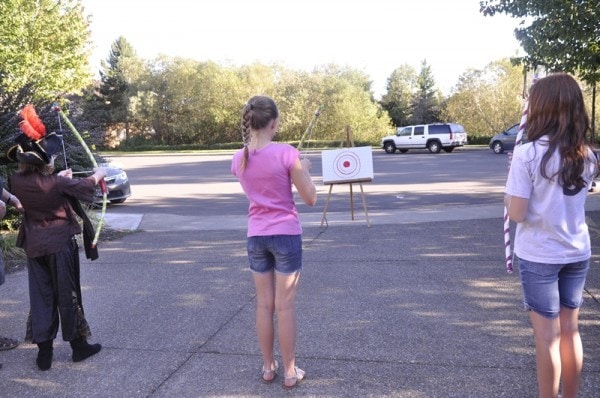 Holding the bow and arrow at the same time was a bit tricky for a few of the girls but after a few tries they got the hang of it.  We found for some of them it was easier to hold and shoot the bow horizontally rather than vertically.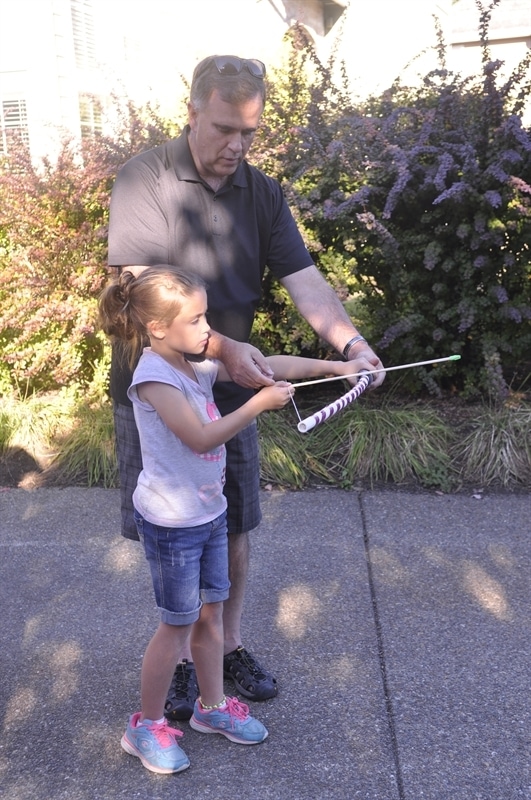 Overall the activity was a HUGE hit!  I didn't price out the cost per bow & arrow but I'm thinking it was between $2.00 and 2.50.  A lot cheaper than the $20.00 they were selling them for at the fair!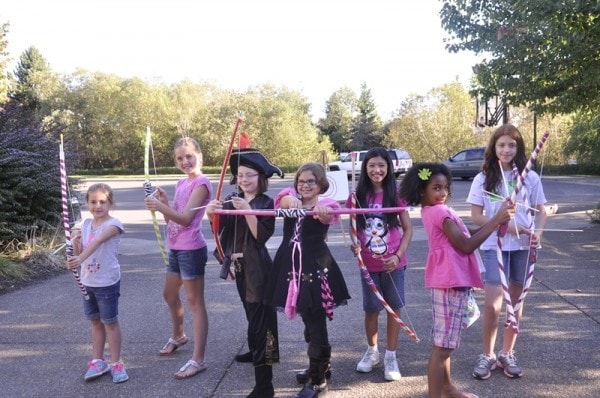 Watch out Katniss Everdeen!
For more fun Activity Day Ideas check out these:
For other fun PVC pipe projects check out these:
Mother's Day Vase from PVC Pipe