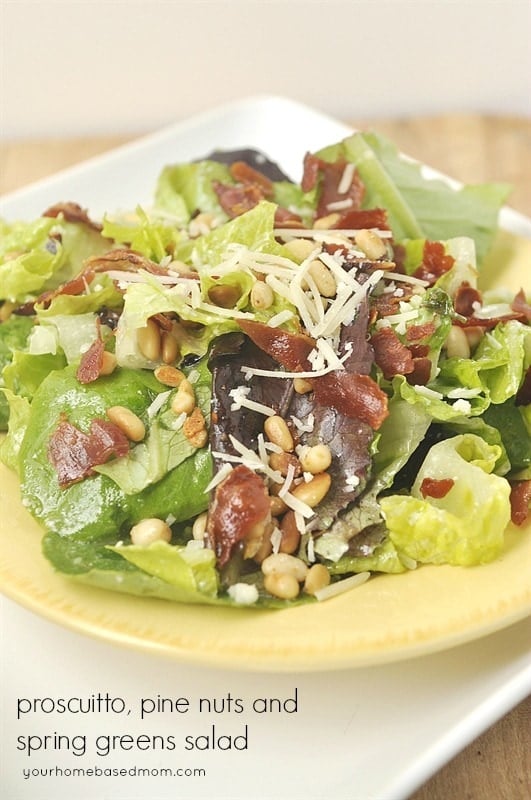 I love having friends that are wonderful cooks.
I especially love it when they invite me over for dinner.  My friend Merrill is one of those wonderful cooks.
He and I did a bit of a trade.  I went and spoke at a church meeting he was asked to speak at, a presentation on social media etiquette and in exchange he cooked dinner for Jim and I.  I think I got the better end of the deal!
Dinner was delicious and the presentation was amazing as it always is.  Merrill's the one that taught me the trick for the presentation of the Nutty Brown Rice.
I think one of my favorite things from the meal though was the salad.  I love a good salad and this one was great.
The salad consisted of spring greens, toasted pine nuts, fried prosciutto and a delicious dressing made from white balsamic vinegar and gorgonzola cheese with a sprinkling of Parmesan cheese on top.
Can I just say, heaven!
I would have been a happy camper if this was all he had served for dinner that night.
It was a nice light salad but full of amazing flavors.  The crunch of the prosciutto and pine nuts is perfect and added a wonderful texture to the salad.
I found the white balsamic vinegar at Trader Joes. This salad would make a lovely addition to any dinner party or any dinner.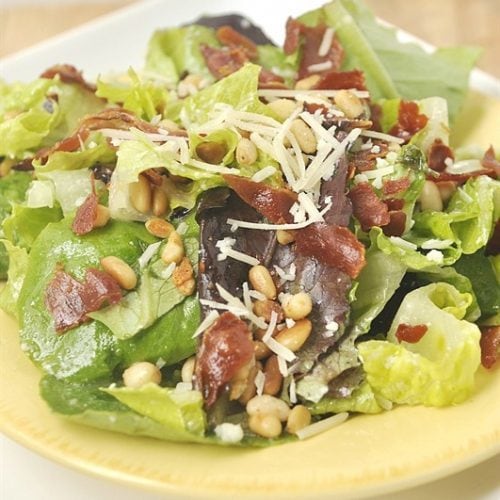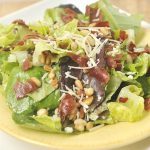 Print
Proscuitto, Pine Nut and Spring Greens Salad
Ingredients
Salad:
1/2

lb.

prosciutto

2 -3

tsp.

olive oil

1/2

C

toasted pine nuts

Spring greens

Parmesan cheese for sprinkling on top
Dressing:
1

C

olive oil

1/2

C

Gorgonzola cheese

crumbled

2

Tbsp

white balsamic vinegar

2

Tbsp

Parmesan cheese
Instructions
Salad:
Fry prosciutto in a pan with a little olive oil

Cook until crisp and break into small pieces

Toast pine nuts in a few Tbsp of olive oil

Stir constantly so they don't burn

Cook until they begin to lightly brown

Spring prosciutto and pine nuts onto salad after dressing

Top with shredded Parmesan
Dressing:
In a blender add 1/2 C olive oil and Gorgonzola cheese

Blend until smooth

Add in remaining 1/2 C olive oil and vinegar

Adjust to taste

Add in 2 Tbsp Parmesan cheese

Add more oil or vinegar depending on thickness and taste