Today's my birthday and I'm off to celebrate just how I like – with lots of good food, my friends and family (only Jim since the kids are at school), and a trip to Goodwill with my friend Marsha to find some treasures!! 
I thought I'd share with you one of my favorite Portland restaurants while I'm out celebrating in my wonderful city!
While the kids were home for the holiday we did a little bit of eating, just a little bit.  At home and out.  We had to hit some of our favorite places and we tried a few new ones too.
One of my favorite Portland restaurants is Tasty n Sons. One day while we were out and about we stopped for lunch.  There was as big a line at lunch as at breakfast but oh so worth it.  Tasty n Sons is consistently rated as one of the top restaurants in Portland.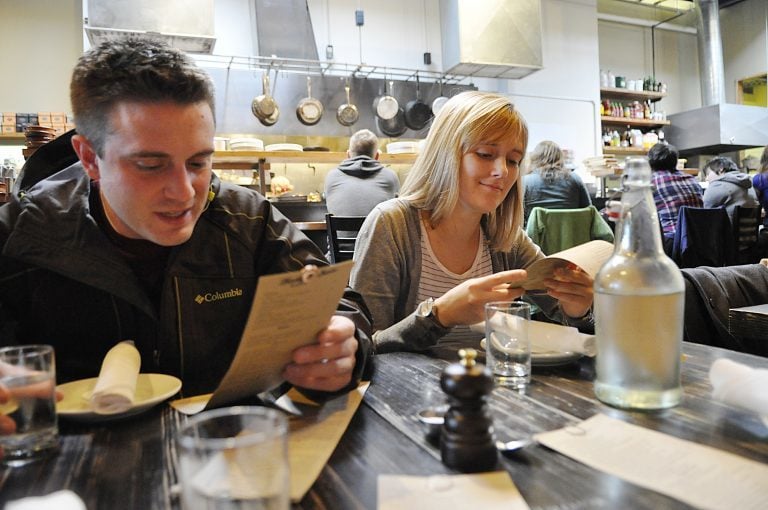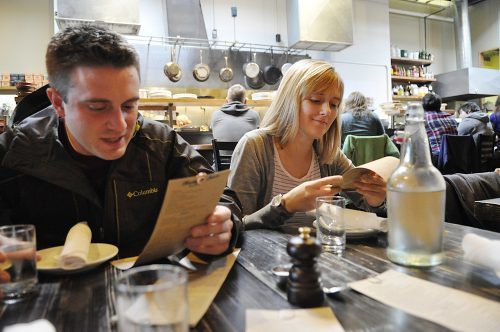 The restaurant is located at 3808 N. Williams and is open daily for brunch and dinner from 9a.m to 10 p.m.   I have eaten there several times and have loved everything I have tried.
Food is served family style and the menu is made up of "smaller plates" and "bigger plates". We went for a combination of the two. We loved being able to get "smaller plates" because that way we got to taste lots of different things!  This time we ate at our own table but in the past we have sat at the communal table and had fun visiting with the others at the table with us. They didn't even mind when I kept taking pictures of my food!

I loved the water bottles on the table. I recently bought a few similar to it at Ikea and I love using them on my dinner table.
Arrive early if you don't want to wait.  In the morning that means before 10:00 a.m. and after that you will just have to wait but like I said it is worth it!
There were four of us so we got to try several different things.
Our first choice was the Chocolate Potato Doughnut with crème anglaise. We ordered two and each had a half.  We were pacing ourselves.  Yummy, but I thought the creme anglaise was the best part!
Each dish is brought out as it is prepared so everything is fresh.
Our next delivery was the Auntie Paula's French Toast with peach-maple & whipped cream. It was amazing. Maybe the best french toast I have ever had. The peach maple sauce was to die for and I wanted to lick the plate.
I had the a Fried Egg & Cheddar Biscuit with fried chicken. I am not a big fried egg fans so I got it with scrambled eggs. The biscuit was light and flaky and the whole thing was so good.
Logan went for the Pork Cutlets with fried egg & sautéed spinach which is melt in your mouth amazing.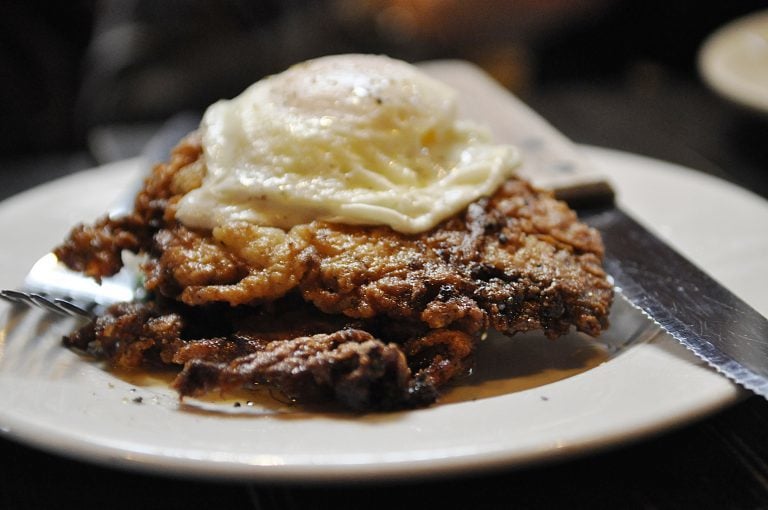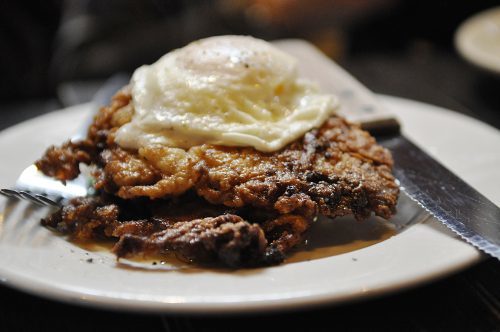 And we found a nice gluten free, dairy free, red meat free option for Cali – Burmese Red Pork Stew with short grain rice & eggs two ways.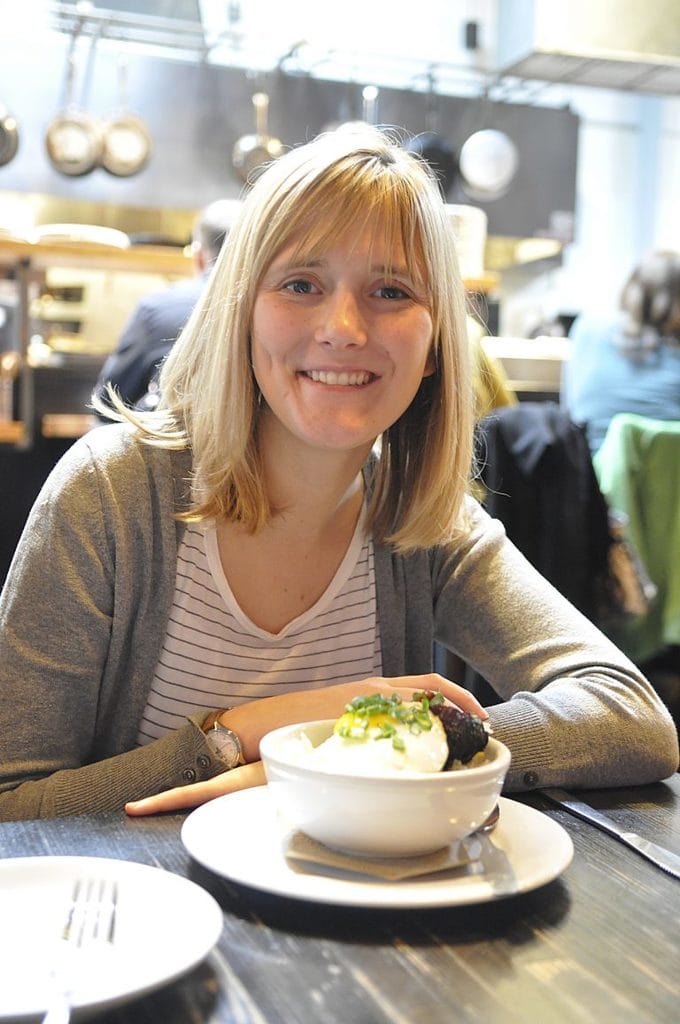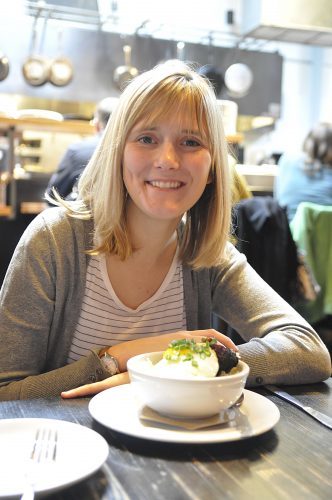 And of course there had to be dessert.  We shared.  Warm chocolate chip cookies with ice cream.  So good.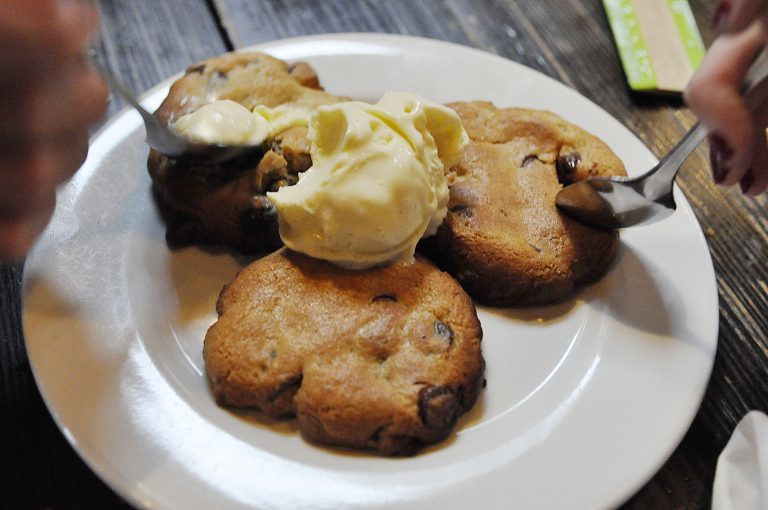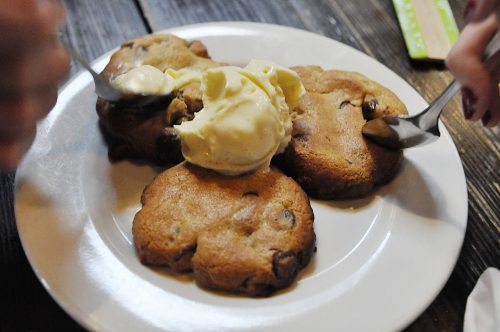 I have made three visits to Tasty n Sons and still haven't tried all things I want to on the menu.  Darn, guess I'll have to go back!
Get my Weekly Menu Plan for FREE!
Receive my FREE "What's for Dinner?" Meal Planning Course, a copy of my FREE ebook that includes my most popular recipes and my FREE weekly Meal Plan.