We are going to take a break in the middle of gluten free week here on the blog and give you a little tour of a few gluten free bakeries we visited here in Portland during the week Cali was home.  Like I said before, if you have to be gluten free, Portland is a great place to live.  Today is just a sampling of some of the fun and delicious bakeries that are available in the Portland metropolitan area.  If you are wondering if you have any gluten free bakeries in your city- I bet you do and might not even know it.  Just give it a Google!
We had an appointment at the naturopath while Cali was home and one of the bakeries was just across the Sellwood Bridge from our appointment so we headed over to the Craven Raven  which is located in the lovely, quaint Sellwood area of Portland.  This is a mecca of antique/vintage shopping so even if you aren't looking for a gluten free bakery you should definitely check the area out!
Craven Raven is gluten free as well as dairy, soy, corn, and white sugar free with most of their treats being Vegan.  They also cater to the Paleo Diet.  They have it covered!
Cali chose a Twinkie filled with vegan buttercream, a pumpkin spice doughnut  and a chocolate chip cookie.  All were delicious.  She especially enjoyed the gluten free Twinkie.  I tried it too and it tastes way better than a real one (which I think are totally gross!)
Our next stop was over on NE Martin Luther King Blvd. in Portland at Tula Bakery.   In addition to lots of delicious sweet treats Tula also has a great bread selection including both artisan and quick breads.  Not all of their products are dairy free but each item is marked with a sign that tells you if it is also dairy free, etc.
You can also enjoy paninis, pizzas and soups at the bakery for lunch.
At Tula Cali chose a delicious lemon tart with almond flaxseed crust,  a blueberry streusel cake and the most amazing salted chocolate chip cookie I've had.  It was delicious and I think I may have eaten the whole thing myself.  Sorry Cali!  (I did give her a bite!)
Our third bakery was Back to Eden over on NE Alberta Street, just a few minutes away from Tula.  Back to Eden is gluten, soy, dairy and sugar free and might I add delicious.   In addition to being delicious this bakery is just so cute!
Back to Eden serves lunch with lots of savory choices with soups, salads and quiches.  The other great thing about Back to Eden is they have dairy free ice cream!  They have both a vegan soft serve and and also carry Coconut Bliss ice cream.  Cali had soft serve ice cream on a gluten free cone and was pretty much in heaven. We also walked out of there with a whoopie pie, carrot cake cupcake and a savory tomato tart.
Oh and did I mentioned the place is just darn cute!?
We've got a list of several other gluten free bakeries to check out on Cali's next trip home.
Enjoy!
Leigh Anne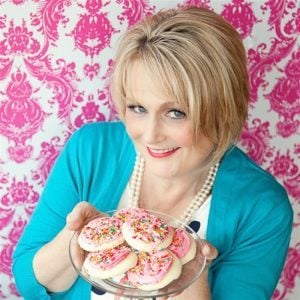 You can also visit me on Facebook, Pinterest, Twitter or Instagram.
For a list of where I Link Up each week go here.
Get my Weekly Menu Plan for FREE!
Receive my FREE "What's for Dinner?" Meal Planning Course, a copy of my FREE ebook that includes my most popular recipes and my FREE weekly Meal Plan.