We were teased with a beautiful 70 degree day in Portland yesterday. Of course it's back to rainy and overcast today but it was enough to really get me in the mood for some outdoor cooking and firing up the grill! The nicer weather also puts me in the mood for a yummy salad. So today I've taken both of those cravings and combined them into one with a Pomegranate Pork Tenderloin Salad.
One of our favorite things to cook on the grill is marinated pork tenderloin. The quickest and easiest way to marinade a pork tenderloin is with an oil based salad dressing. Hidden Valley has a delicious Pomegranate Viniagrette Dressing which makes a perfect marinade for the pork. It is flavorful and just a tad bit sweet which is nice.
All I did was place my pork tenderloin into a large zippered plastic bag and pour in about 1 cup of the dressing, enough to coat the meat. I then put it in the refrigerator and let it marinade over night. When you're ready for dinner just pop the meat on the grill!
For the salad part I used a mix of spring greens, romaine and baby spinach and then topped it with all kinds of yumminess: roasted asparagus, sugared walnuts, mushrooms, raspberries, green onions and gorgonzola cheese.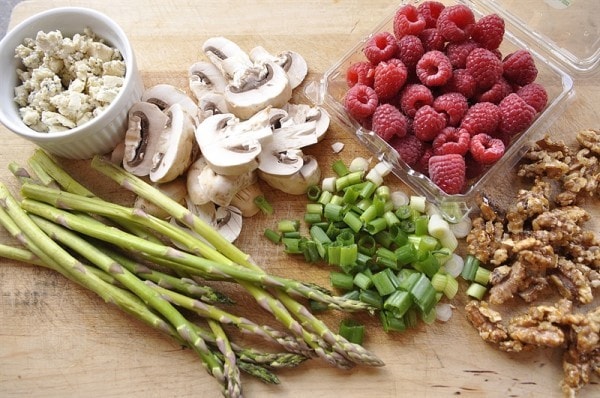 Added all of that in and then topped it with the sliced pork tenderloin that I had marinated in the Hidden Valley Pomegranate Vinaigrette Dressing. Then the final touch is more of the delicious Pomegranate Vinaigrette Dressing.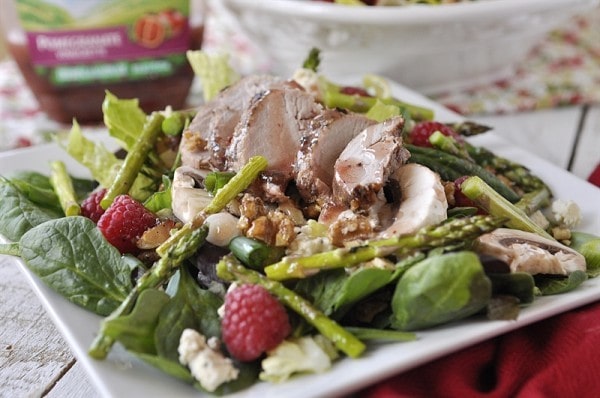 For the roasted asparagus I just lightly coded the asparagus with olive oil and a sprinkle of sea salt and then put it in the oven at 400 degrees for about 5 minutes. You want it to just be barely fork tender. Don't over cook it. Allow it to cool and then cut into pieces.
This salad was delicious! Not only was it delicious it was also so pretty!!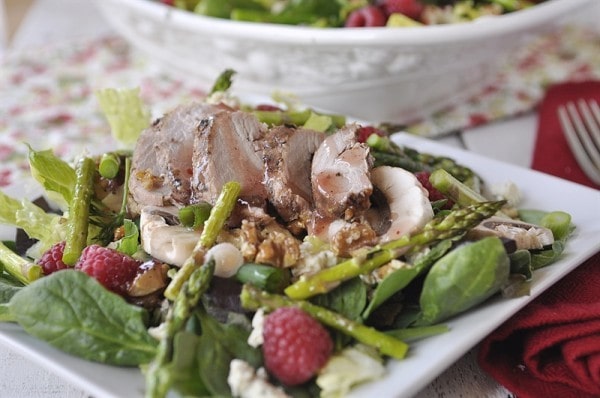 My husband loved it and took the leftovers for lunch the next day.
For other delicious main dish salads check out these:
Cilantro Lime Chicken Chop Salad – Cafe Rio Sweet Pork Salad – Chicken Napa Salad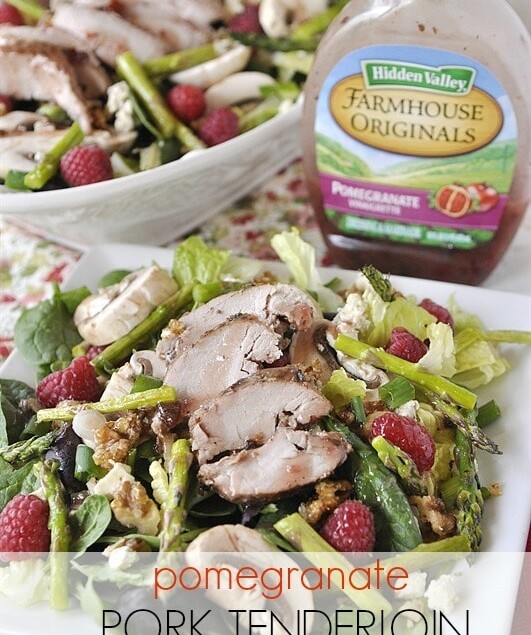 Pomegranate Pork Tenderloin Salad
Ingredients
2 lb. pork tenderloin
Hidden Valley Pomegranate Vinaigrette Dressing
romaine spring mix and baby spinach
1 C fresh raspberries
1 C sliced mushrooms
4-5 stalks roasted asparagus cut into pieces
1/2 C sugared walnuts
1/4 C chopped green onion
1/3 C Gorgonzola Cheese
Instructions
Marinade pork overnight in 1 C of dressing.

Grill pork, allow to cool and slice

Combine lettuce and spinach in a bowl.

Top with raspberries, mushrooms, asparagus, walnuts, green onion and cheese

Top with sliced pork tenderloin

Add more dressing
Enjoy!
Leigh Anne
You can also visit me on Facebook, Pinterest, Twitter or Instagram.
From dressings and dips to sandwich spreads and side dish solutions, the special blend of herbs and spices makes Hidden Valley the perfect addition to any recipe. For more delectable ranch recipes, visit www.hiddenvalley.com.
This is a sponsored conversation written by me on behalf of Hidden Valley Ranch. The opinions and text are all mine.