Check out all the amazing places to eat in New York City from my last trip.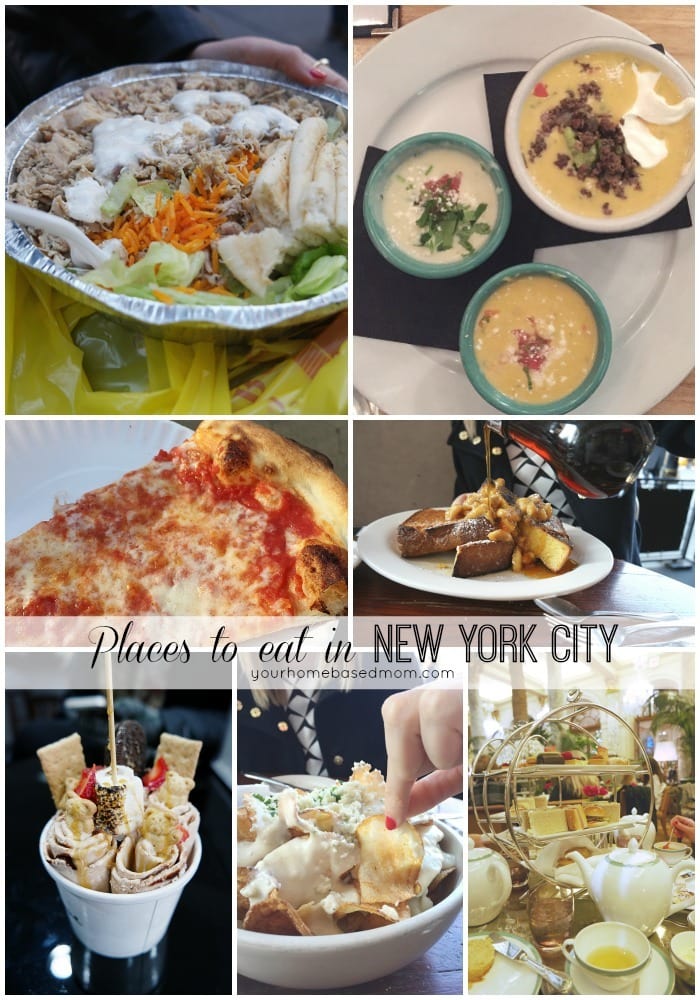 We like to eat at our house and when we travel our trips are generally planned around where our next meal will be.  My recent trip to NYC was no different.  I did have a list of my Top Ten Things to Do in New York City in December but I also had a list of places I wanted to eat!
We arrived Friday morning on a red eye and my #NYCgirl was working to noon so Cali and I headed down Broadway on the Upper West side where my daughter lives to find some breakfast.  My #NYCgirl recommended Absolute Bagels which was great.  I swear I took a photo but I can't find it!  They were delicious.
But on the way to the bagel shop we walked past this cute bakery, Silver Moon Bakery and had to stop in.  In fact we went there twice during our trip for a quick and delicious breakfast treat.  The best part was they had delicious gluten free blueberry muffins for Cali.  One morning I got a pumpkin spice steamer at Starbucks down the street and then enjoyed a chocolate chip cookie for breakfast.  You can do that on vacation. Everything in the bakery looked delicious!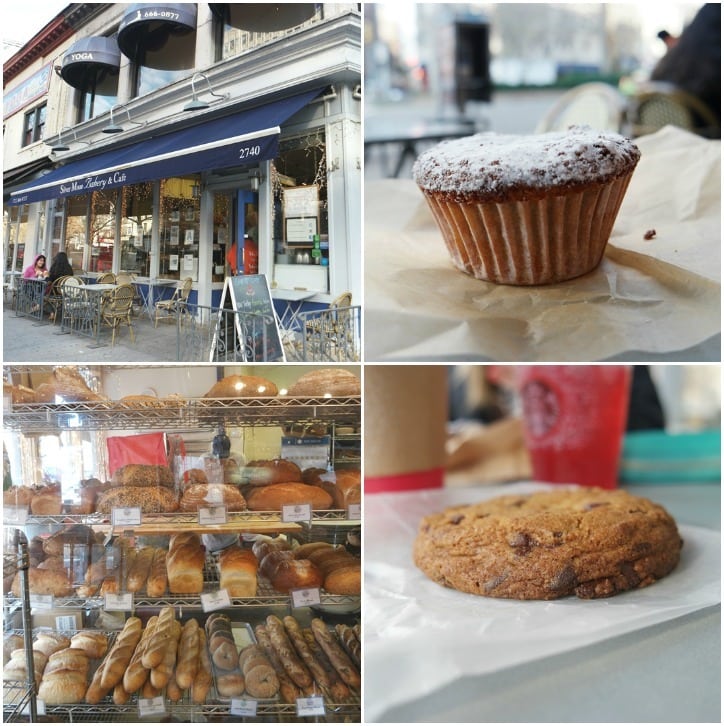 City Bakery:
For lunch on Friday,  we meet Tessa at the City Bakery which is close to Union Square and the Flatiron District.  I had been told they had the best hot chocolate in NYC and that their pretzel croissant was delicious.  So I had them both for lunch!
The hot chocolate was super thick, a bit too thick for my taste but the flavor was great.  I loved the homemade marshmallow and the croissant!  My girls made healthier food choices than I did.  We tried the mac & cheese (yum!), the kale salad, roasted brussels sprouts and the spaghetti squash was amazing.  Cali had the smoked salmon with some sweet potatoes and it was yummy too.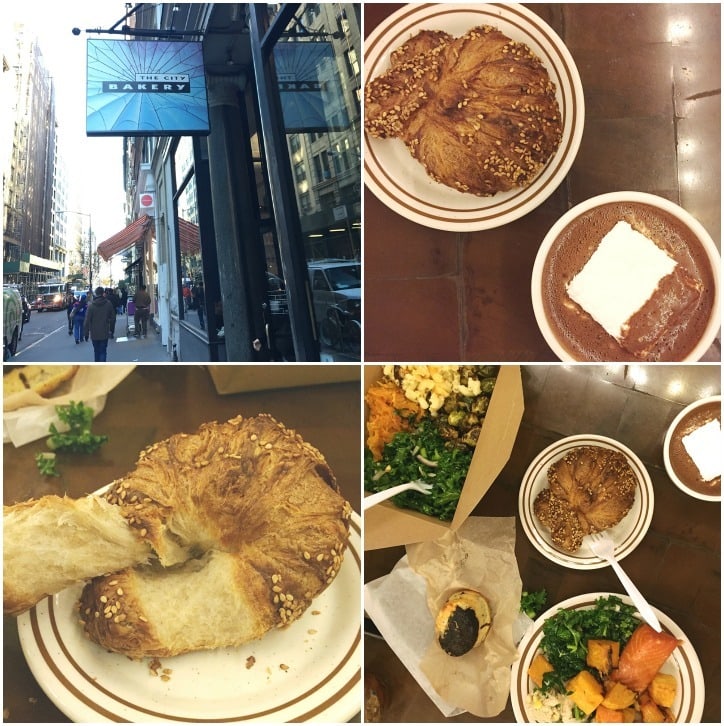 That evening we were tired from our red eye flight the night before so we headed back to Tessa's apartment and found a sushi place near her apartment for dinner.
On Saturday morning we got up and headed over to the Soho area for brunch.  A friend had recommended The Egg Shop where we planned to eat but the wait was an hour and we were hungry.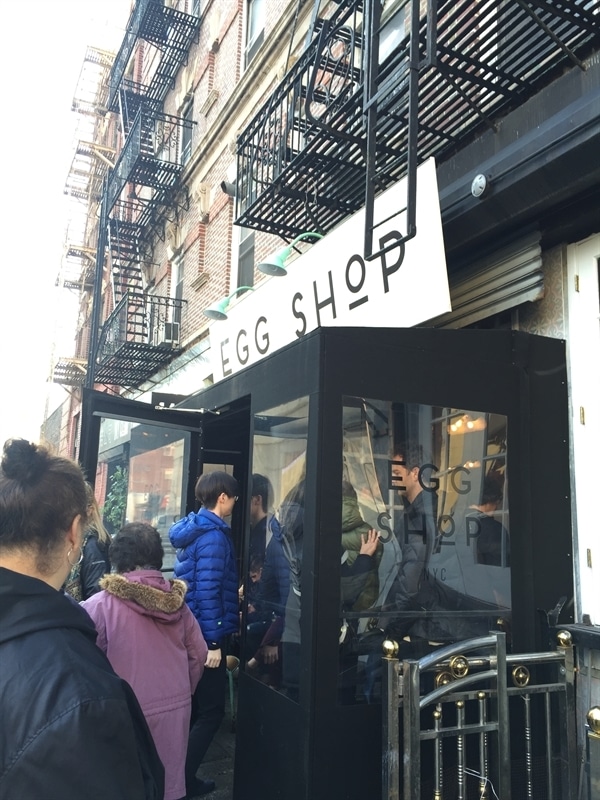 So we looked across the street and saw The Butcher's Daughter.  Tessa ran over to see what the wait was there and they could seat us immediately.  We timed it perfectly because when we left the restaurant, line looked like the photo below!  We didn't know it until we were seated and looked at the menu but the restaurant was vegetarian and dairy free.  It was perfect for Cali who is gluten free and dairy free! They are also a juice bar and their juices looked delicious.
The food was really good. Cali had the Avocado Egg Smash Benedict, Tessa had the Egg Sandwich and I had the french toast – it was all delicious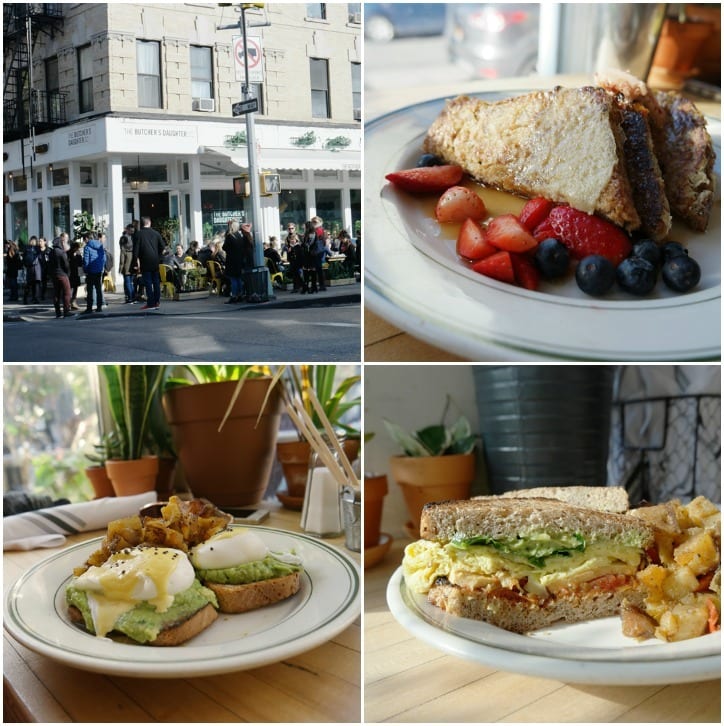 10 Below Ice Cream:
From breakfast we walked over to China Town where we had to try an ice cream place another blogger had recommended.  Yes, we had ice cream right after breakfast.  #lifeofablogger  Ten Below serves Thai inspired ice cream rolls.  The ice cream is made like they do on the streets of Thailand, it is made to order ice cream and it is delicious!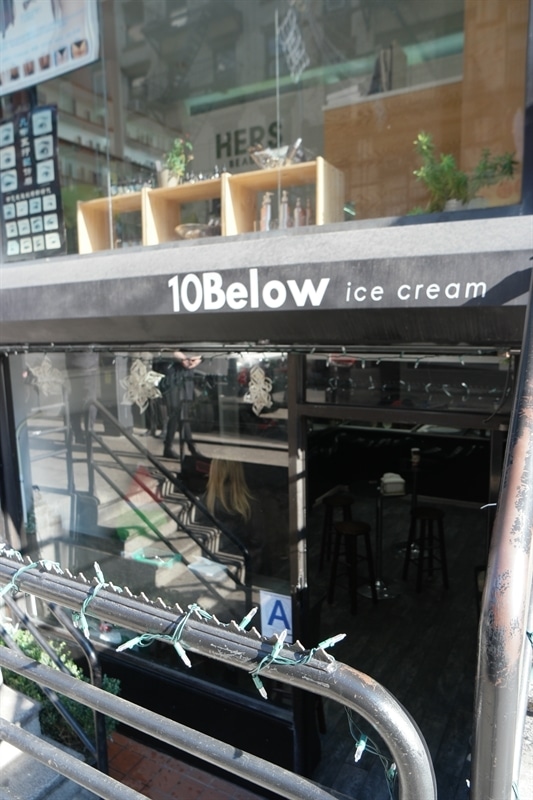 Your order is made right in front of you!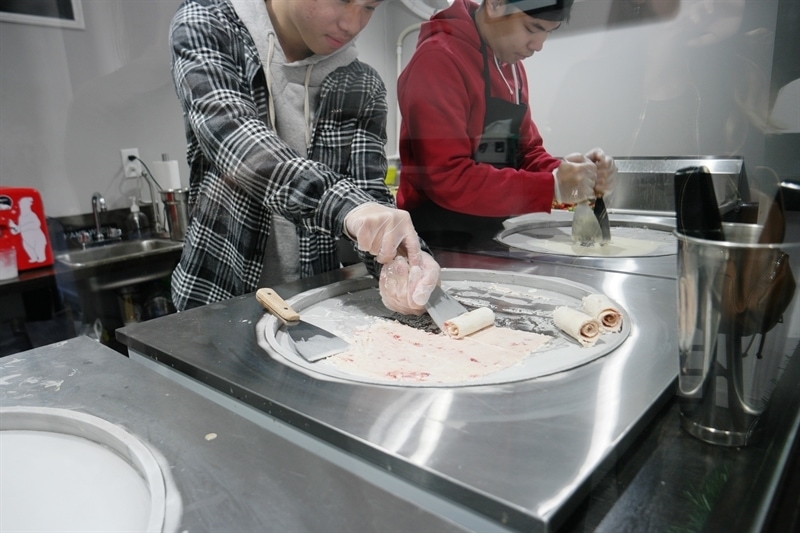 We ordered the S'mores Ice Cream and told the fellow that made it that he could decide what toppings we needed, that he was the expert.  All the toppings are included in the price.  He did a great job!  Toasted Marshmallow, Oreos, Graham Crackers, Teddy Grahams, Strawberries and drizzled with caramel!  It was delicious!!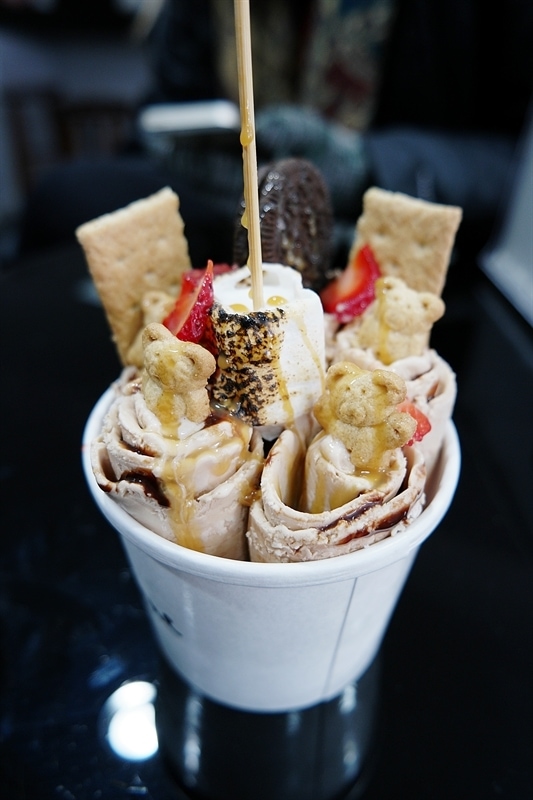 My girls and I are all fans of sour candy and one of Tessa's roommates had told her about a Swedish candy shop, Sockerbit,  in West Village. They  have an amazing assortment of Swedish candy and lots of yummy sour candy.  The girls and I had a great time picking out different candies.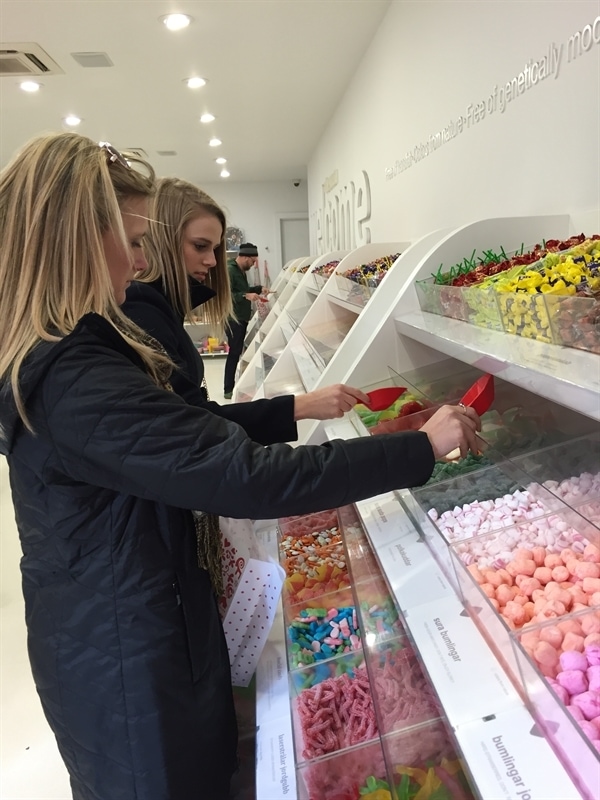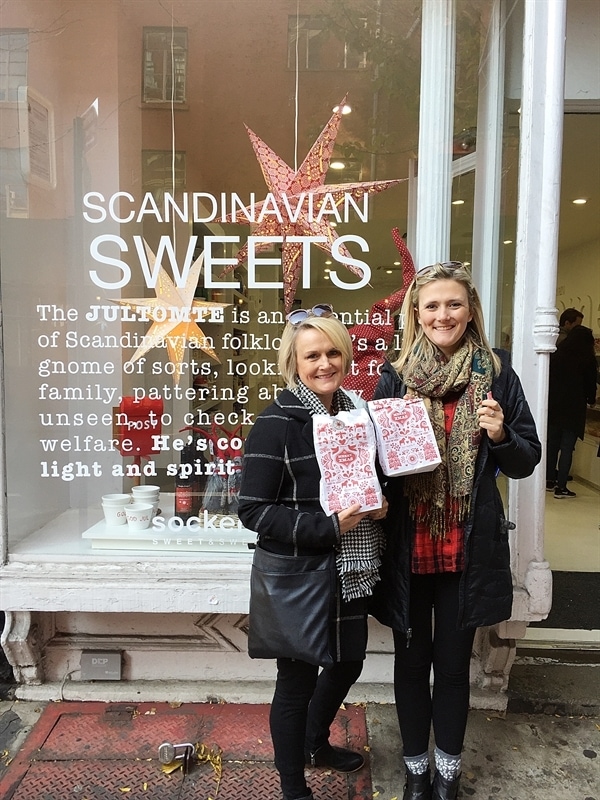 We headed over to the Washington Square Park area where we enjoyed sitting in the park and people watching.  There are always lots of interesting people around and street performers.
Cali has always had a thing for pigeons.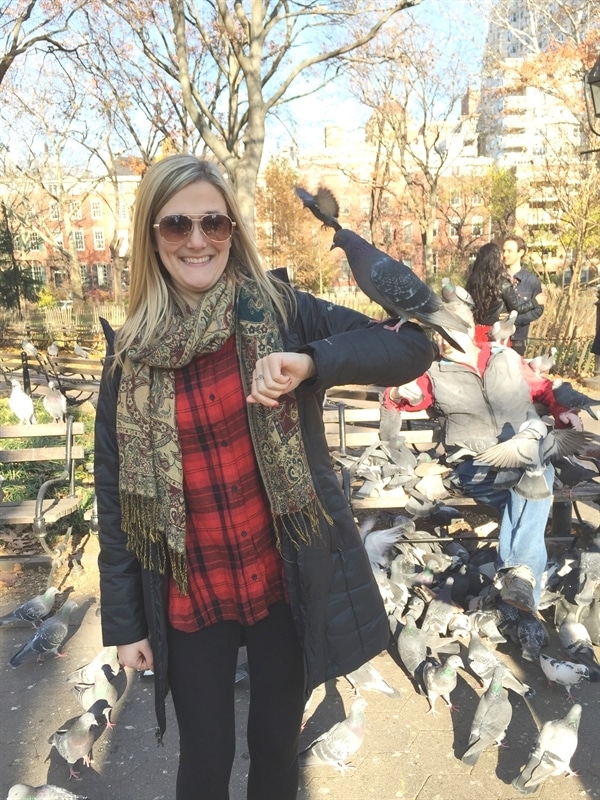 I loved watching this man doing his sand art – amazing!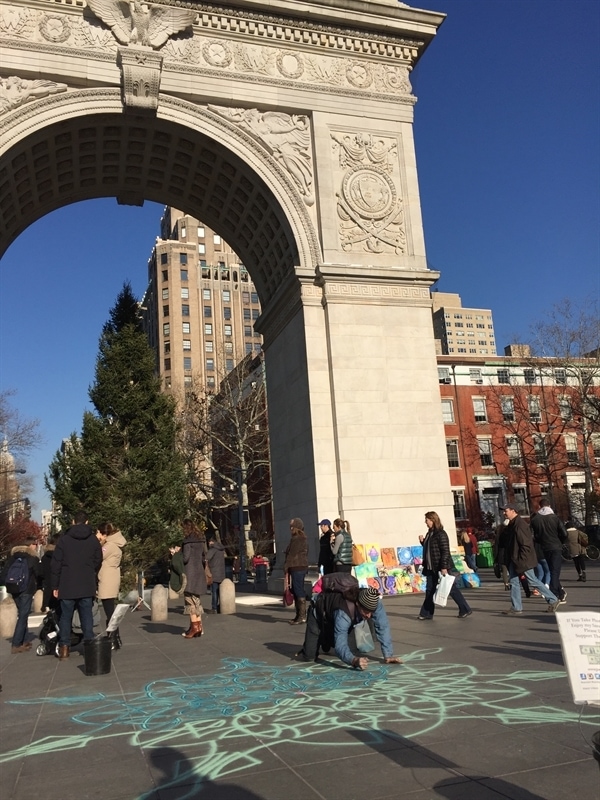 I knew I couldn't leave NYC without at least one slice of my NYC pizza.  We headed over to Joe's Pizza in Greenwich Village.  It is basically an institution and a favorite of mine and got a slice of cheese!  It was such a beautiful day we enjoyed eating it in the park across the street.  There will probably be a line but don't worry – it moves very fast.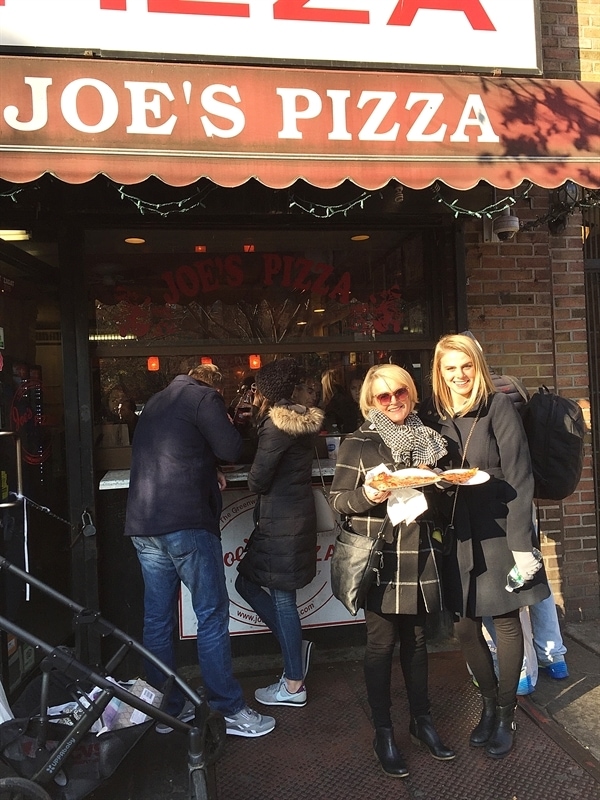 While sitting in the park we noticed a bakery across the street and of course had to check it out.
Come to find out that Molly's Cupcakes has been voted one of the 10 best cupcake bakeries in the USA!  Lucky us!!  They even had gluten free cupcakes so Cali was a happy girl.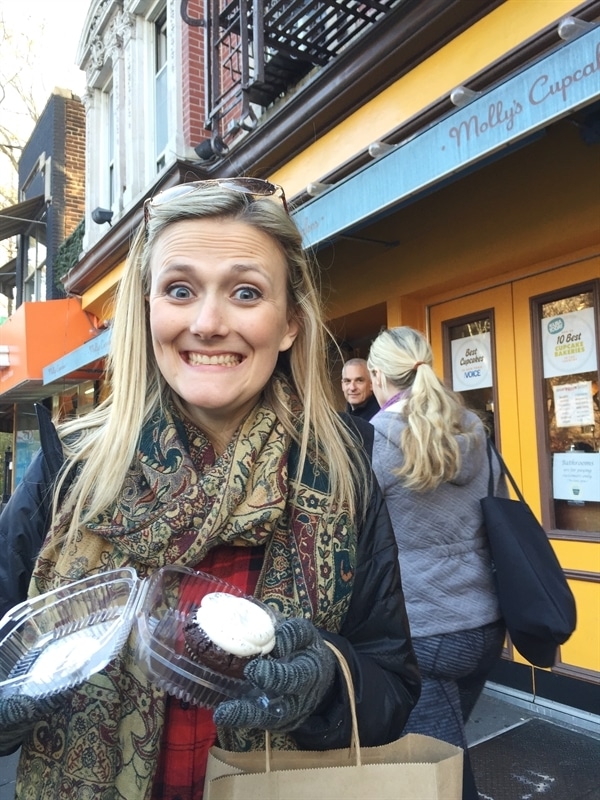 My favorite part of the bakery was these darling swings you sit in at the counter!!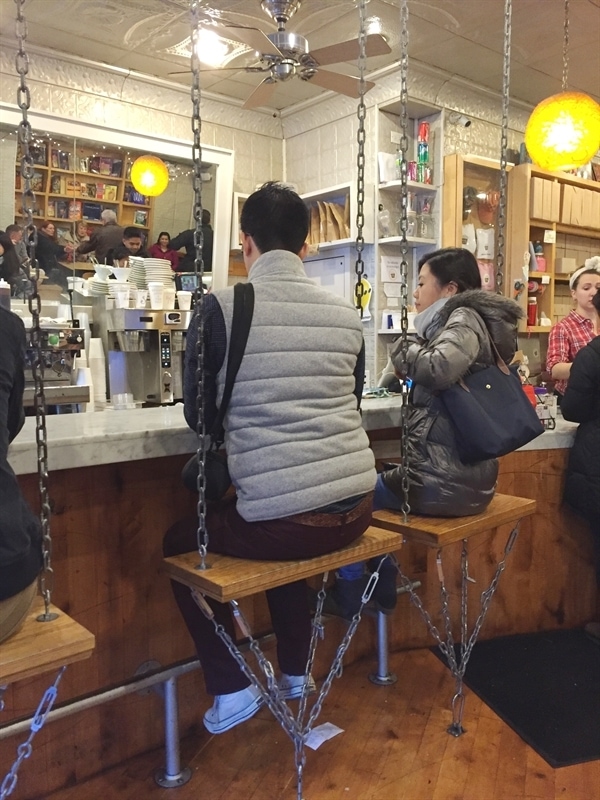 We went ice skating that afternoon to burn a few calories so we were ready for dinner that night.  NYC isn't known for it's Mexican food but we found a delicious Tex-Mex style Mexican Restaurant thanks to a suggestion of one of Tessa's friends.
We used the Open Table App to make a reservation and I highly recommend making one a few days ahead of time.  Javelina is famous for their Queso and for good reason – it is delicious.  We got the Queso Sampler which is a great way to go the first time you visit until you figure out which is your favorite.  I loved the white queso.  For dinner we had tacos and both Cali and I had the San Antonio Puffy Taco and it was fabulous!  Tessa loved her brisket tacos too.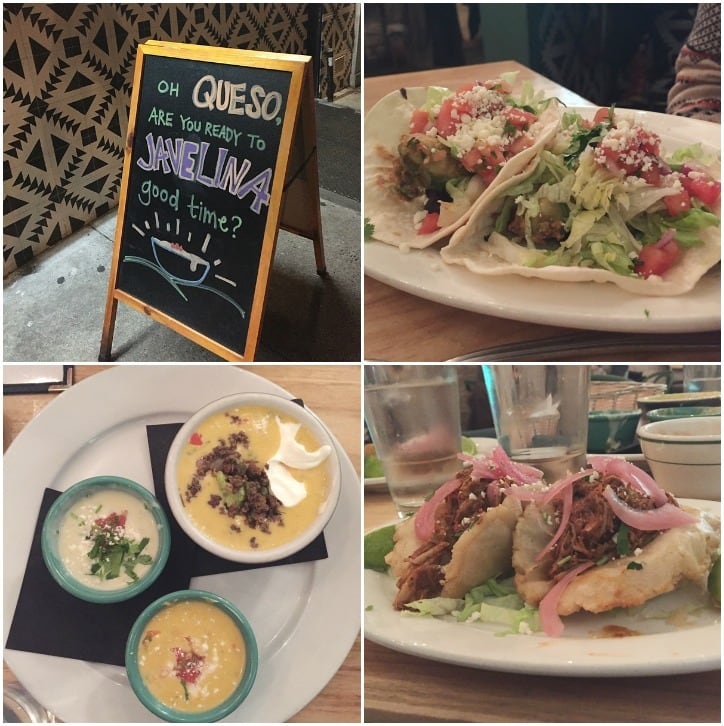 For breakfast the next morning we headed over to the Lincoln Center area and had breakfast at The Smith.
The Smith is another place you may want reservations at.  We didn't have reservations and arrived at about 11:00 and the wait for a table inside was about an hour.  They have outdoor seating with heat lamps and it was a beautiful day so we ate outside and were seated right away.  Brunch is big in NYC!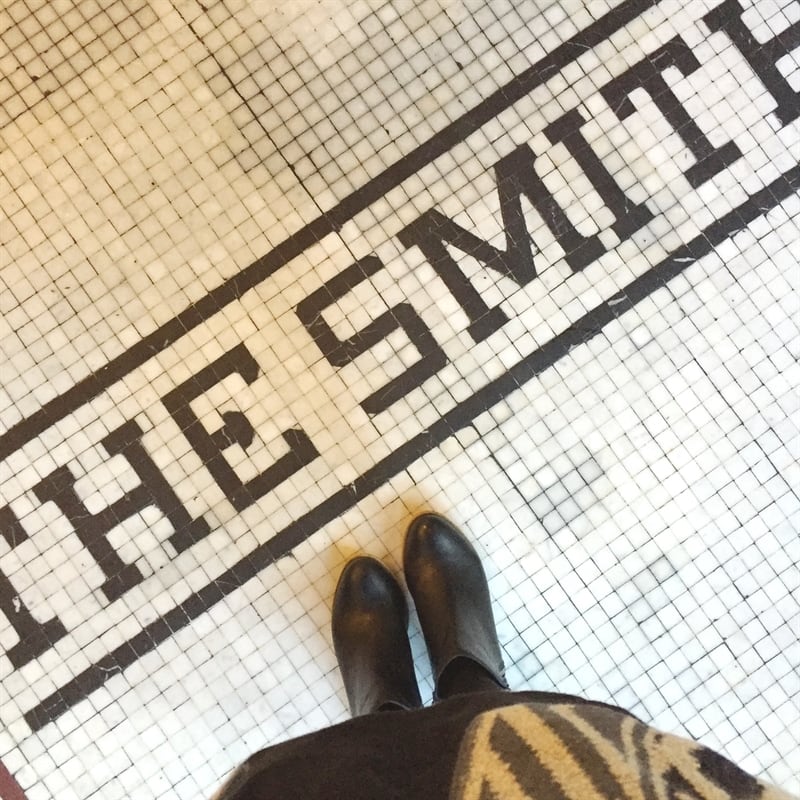 Get the Hot Blue Cheese Chips!  I don't even really like blue cheese but these were fabulous!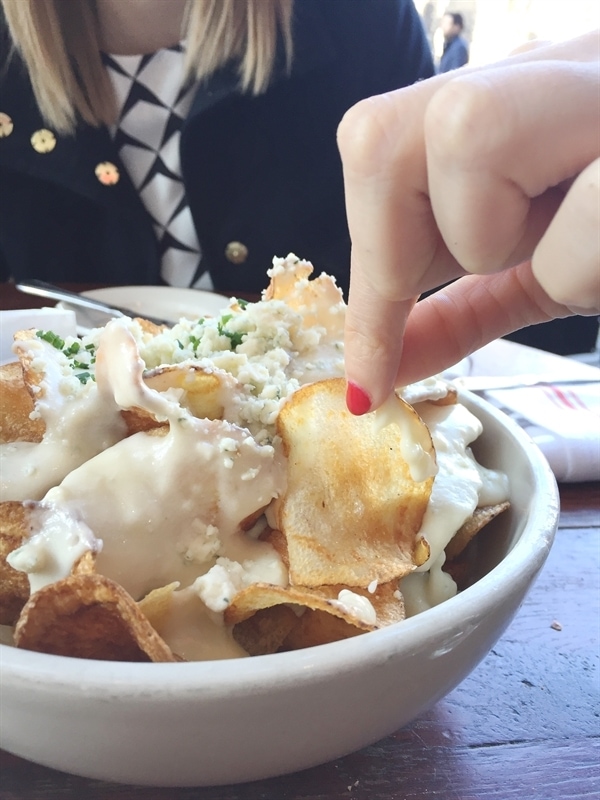 Cali and Tessa had eaten there before and Cali raved about their Eggs Benedict so she got it again.  Tessa got the Vanilla Bean French Toast and I had the Breakfast Pot Pie – it was all fabulous!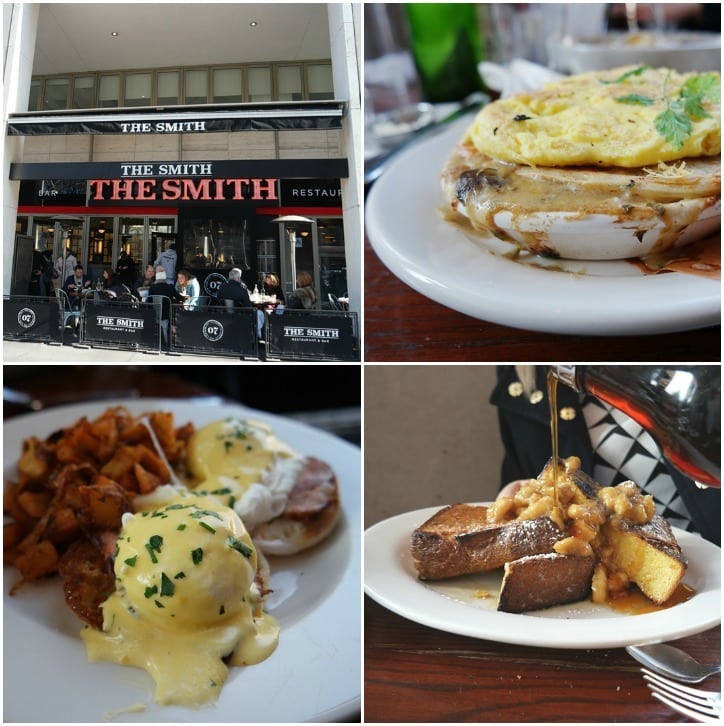 We had some time to waste so we walked down to Levain Bakery which is a must stop on every trip to NYC!
I love this place and after I posted a photo of it on Instagram I heard that alot of you do too!  It is small and unassuming but the cookies are amazing.  There may well be a line out the door but it is so worth the wait.  I love the Dark Chocolate Peanut Butter Cookie the best.  I visited the bakery on my last trip to NYC too.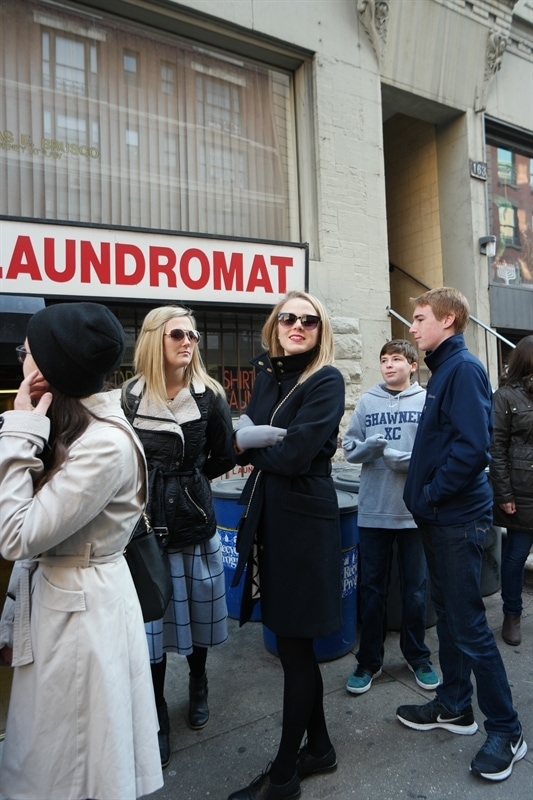 Tea at the Plaza has been on my bucket list for many years and I was so excited to finally get to do it with my two girls.  It is expensive ($70.00 without champagne) but I figure it was a special occassion!  You can make a reservation on their website. Be sure and do it a month or so in advance as it fills up fast, especially at the holiday time.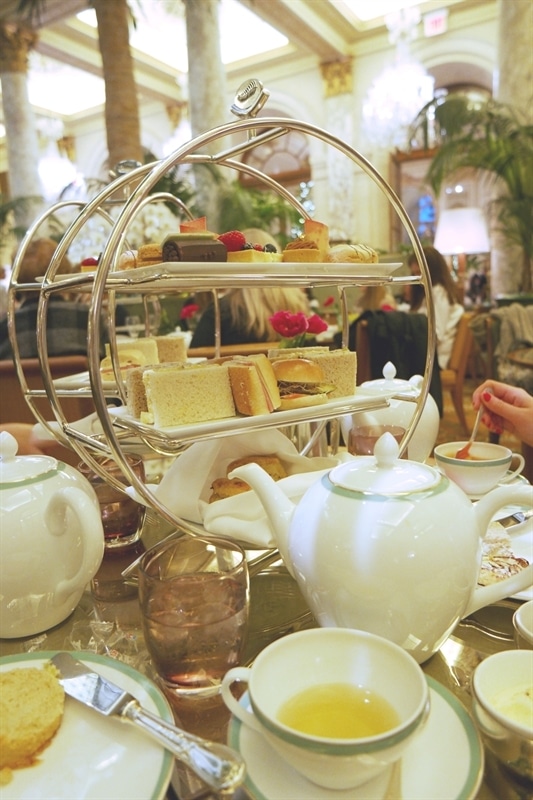 We are big fans of Eloise at the Plaza so it was fun to explore the hotel a bit.  It is beautiful!!  The Palm Court where tea is held is stunning!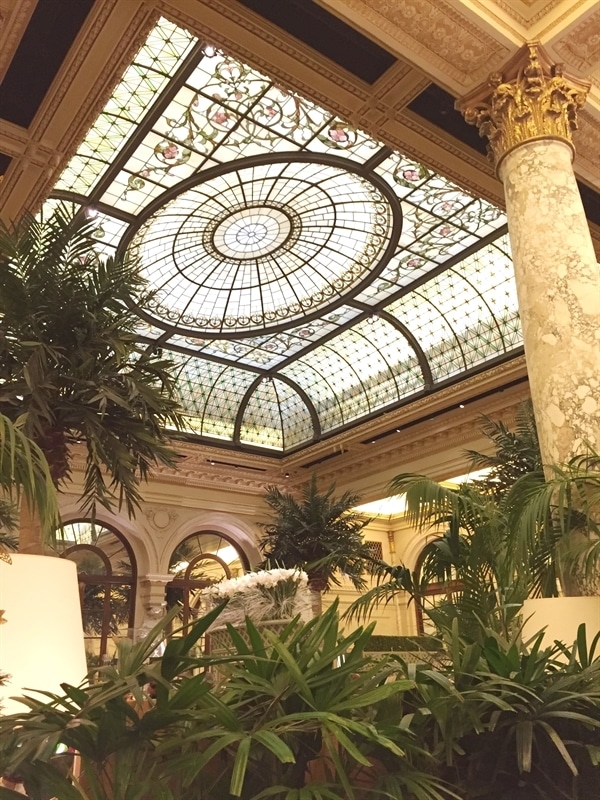 Our last day in NYC Tessa had to work so Cali and I were on our own.  We went back to our favorite little bakery, Silver Moon Bakery for breakfast.
And after a visit to the Museum of Modern Art we hit up one of Tessa's favorite food carts – the Halal Guys.  You will see Halal food carts all over the city but they are not all created equally.  Tessa assured us we had to visit the one just across the street from the museum at 53rd and 6th.  It is just down the street from Radio City Music Hall and Rockefeller Center.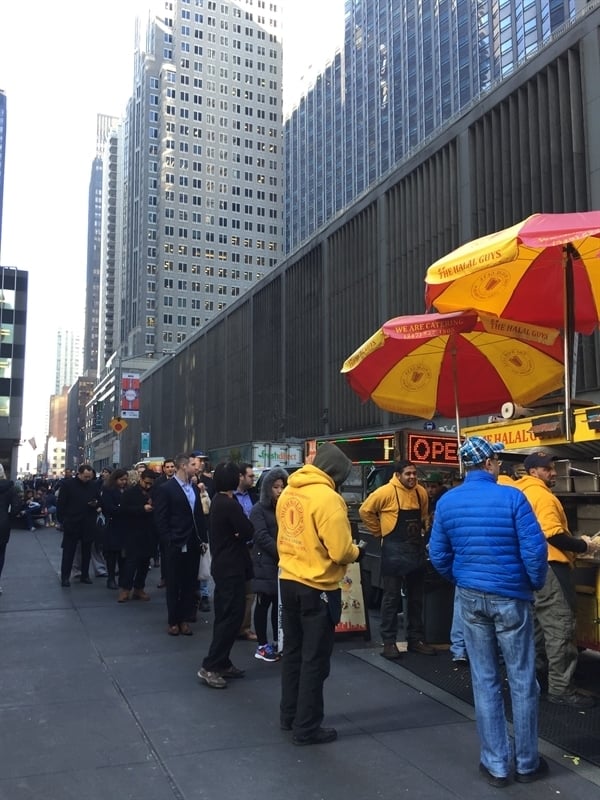 Again, there will be a line but I love it when a restaurant has a line – that means it's good!  Well, it was amazing.  Cali and I shared the chicken and rice with white sauce and I kind of wish we hadn't shared!  It was the perfect last meal for our trip.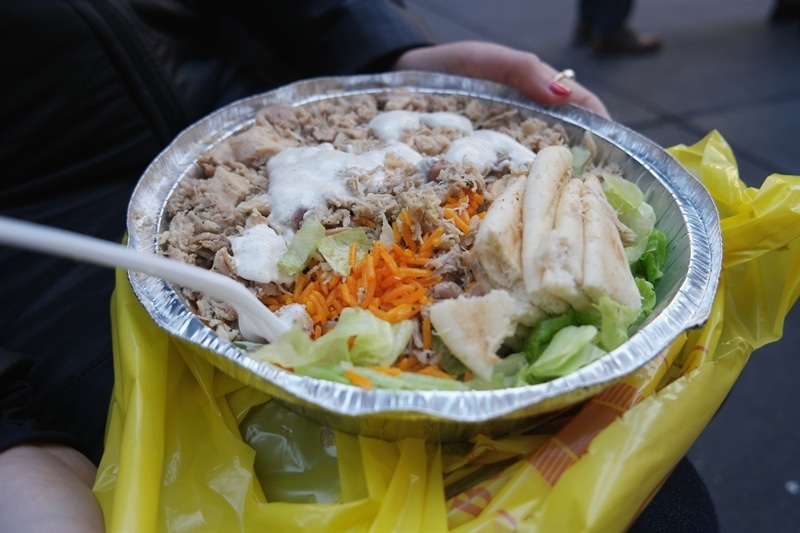 Do you have some favorite places to eat in NYC?  I'd love to hear.  I'm making a list for my next trip.
Be sure and visit some of my other NYC posts to see more of my favorite things to do and places to eat.