Today is my mother's 80th birthday.
I think that makes her officially vintage.
The definition of vintage is "characterized by excellence, maturity and enduring appeal; classic.  Yes, my mother is vintage.  She is beautiful and vibrant and lives a full life.
It is not everyday someone turns 80 so I wanted to do something special to honor my mother on her birthday.  I decided to put together a vintage themed luncheon for her and her friends.  No boys were allowed although my dad and husband hung out in the kitchen eating and doing all the dishes!!
I had so much fun putting it together and prayed for good weather because I wanted to do it out in the garden.  We haven't had a lot of good weather around here this summer but my prayers were answered and the day of her party was the first warm and sunny day we have had about all summer.
To read all the details about the party and see all the photos you will have to head on over to Your Homebased Parties but here are a few to give you a little preview.
There were pretty decorations…
and of course lots of good food.  I'll be sharing the menu and several new recipes over the next week or so.
I made four different salads:
Asian Chicken Salad
Sweet & Sour Salad
And 3 types of quiche:
Calico Quiche
and the hit of the party  Salmon Hazelnut Quiche
I promise all the recipes that aren't currently on the blog will be come soon!
I loved how the serving table turned out.  For more details, info and photos of it be sure and head over here to Your Homebased Parties.
Of course there was birthday cake.  My mom loves chocolate so I used my Best Chocolate Cake recipe to make cupcakes.  I also had Perfect Lemon cupcakes. But this was a birthday party and we had to have a cake!
One of new blogging friends, Lisa, had recently shared a recipe with me for pink lemonade cake.  Lisa is an amazing cook and hostess so when she told me it would be my new favorite cake I trusted her.  I also thought the lovely, light pink color of the cake would fit right in with my color scheme for the party!
Lisa is right, the cake is delicious and was a big hit!
I decided 80 candles might be a little much for this dainty little cake so I only used 8 – one for each decade!
Tessa was my party assistant.  She was a huge help in the kitchen acting as my sous chef and then put on her pretty vintage dress and helped serve at the party.  Of course all the women loved her dress and kept commenting on how they use to have one just like it!! (Cali had to work so she missed all the party prep and the fun)

I was so pleased with the way everything turned out.  It was lovely weather, everything looked pretty, there was lots of good food and good friends.  Just what every party should be.
Happy Birthday mom!
Pink Lemonade Cake
Note:  I actually made the cake for the party a week ahead of time and froze it. I just wrapped the two layers of cake individually in plastic wrap and put them in the freezer. I frosted it the day of the party.   It worked great.  I used two 6 inch cake pans for the birthday cake – I wanted a small, dainty cake.  There was enough batter left t over to fill a regular 8 inch cake pan and I split that layer in half and frosted it up for us to taste test and enjoy right then.  Here is a photo of that version of the cake so you can see the lovely light, pink color of the cake.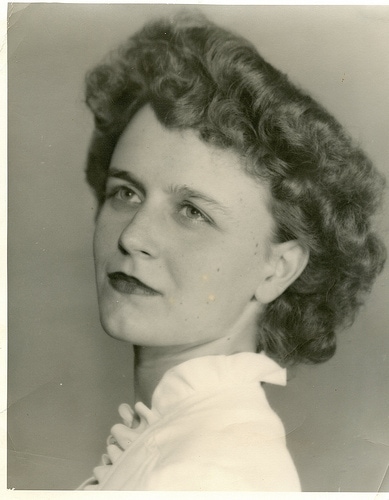 Pink Lemonade Cake and a Vintage Birthday
Ingredients
1 1/2

C

unsalted butter

room temperature

1 1/4

C

sugar

1/2

C

Country Time Pink Lemonade Drink Mix

3

eggs

room temperature

1

Tbsp.

soy flour

or you could add one additional egg I bought the soy flour in the bulk food section at Winco

1

tsp

pure lemon extract

4

C

cake flour

4

tsp

baking powder

1/2

tsp

sea salt

2 1/2

C

buttermilk
Instructions
Preheat oven to 350.

Spray 3 (9 inch) round cake pans with baking spray with flour

Beat butter, sugar and dry drink mix at medium speed until fluffy

Add eggs and lemon extract

In a separate bowl combine cake flour, baking powder and salt

Add dry mix with butter mix

Mix and add buttermilk

Spoon batter into prepared pans

Bake for 24-30 minutes or until wooden toothpick inserted in center comes out clean

Let cook in pans for 10 minutes and remove from pans and let cool

Frost with your favorite buttercream frosting

For a little extra lemon flavor I put a couple of tablespoons of lemon into the frosting I used between the layers

I used just regular buttercream to frost the outside of the cake
Stay Updated!
Need more recipes and creative ideas? Sign up and get a FREE copy of my ebook! Do you think your friends would love this too? Please share my blog with them. Thanks!