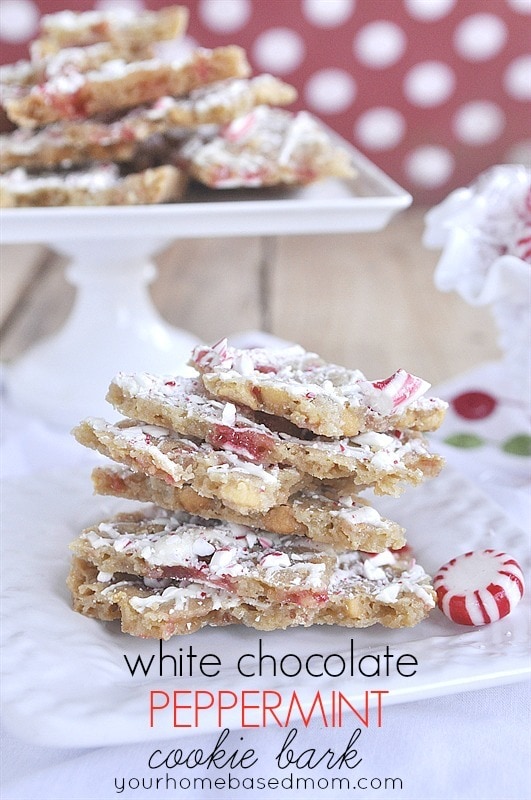 I wasn't planning on it but we may have to call this Peppermint Week.  This is the second peppermint recipe of the week and there may just be one more before I'm done.
No surprises here but it uses my favorite flavor combination of the season – white chocolate and peppermint.  I posted something white chocolate and peppermint yesterday too but I just can't seem to get enough of  the flavor combination!
I have made a few other versions of cookie bark before. I've had some fun creating different types of cookie barks.  I started out with Chocolate Chip Cookie Bark and then there was Toffee Brownie Bark and most recently Peanut Butter Cookie Bark!   I just couldn't resist doing a peppermint and white chocolate version for the holidays.  I made this cookie as part o fThe Great Cookie Swap.  The Great Cookie Swap is a group of food bloggers from around the world who came together to share recipes and cookies and raise almost $14,000.00 for Cookies for Kid's Cancer.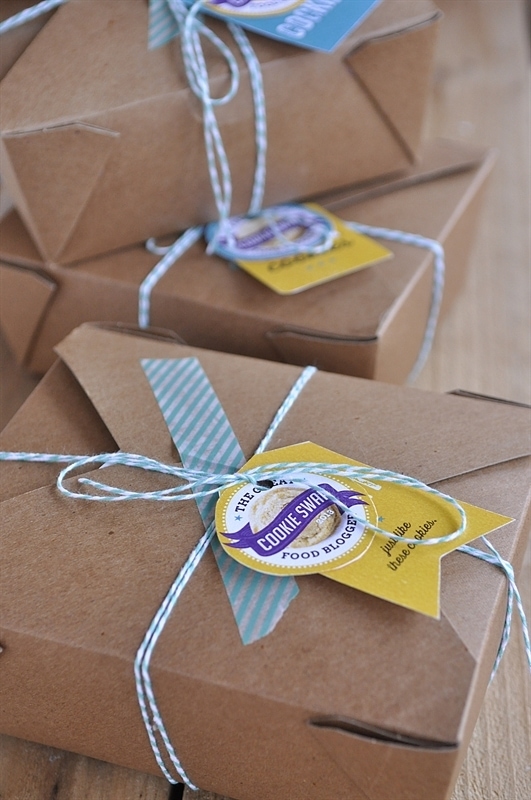 I made my White Chocolate Peppermint Cookie Bark and sent a dozen pieces to 3 different bloggers.  I in return received a dozen cookies from 3 different bloggers.  It is so fun to get cookies in the mail! To make sure my cookies arrived nice and fresh I used my food saver to seal them up before shipping them off.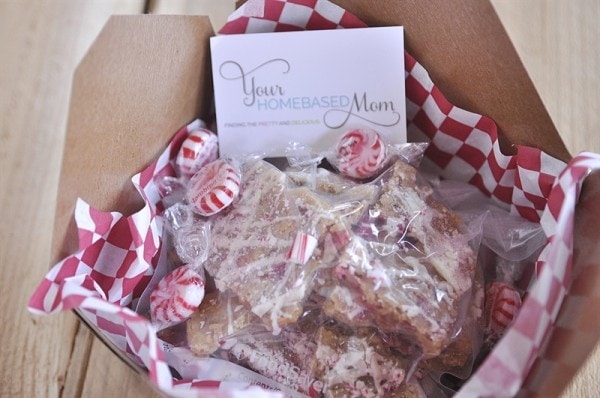 Cookie Bark is so easy to make and let me warn you it is VERY addictive.  It is one of those things that once you start eating, it is very hard to stop.  It is a shortbread type cookie dough and I added in some chopped up white chocolate as well as some peppermint extract and chopped up candy cane in the dough.  Spread it evenly and thin into a  10 x 15 cookie  sheet.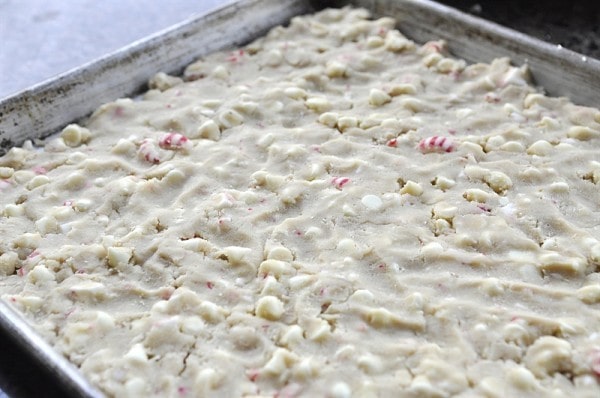 Bake until it is nice and golden brown.  You want it to be crisp.  If after you pull it out it doesn't seem crisp enough to break into pieces put it back in the oven for a few more minutes.
After it has cooled drizzle with melted white chocolate and chopped up candy cane.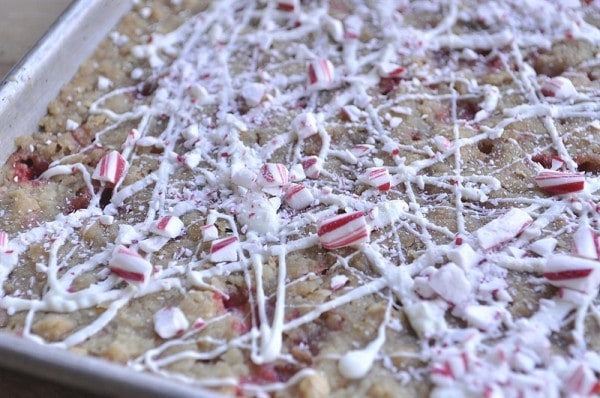 Let the chocolate set up before you break into pieces.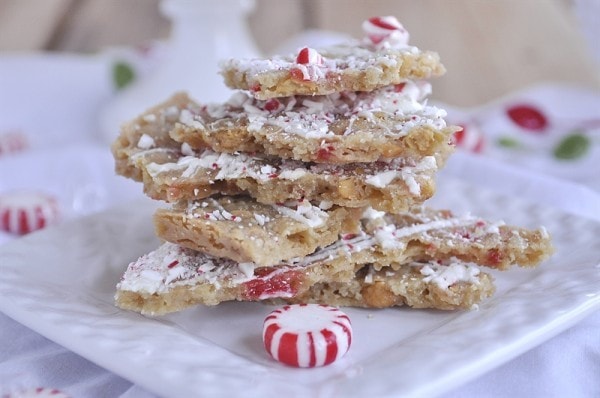 I love a nice crispy cookie and that is just what cookie bark is – crispy and delicious!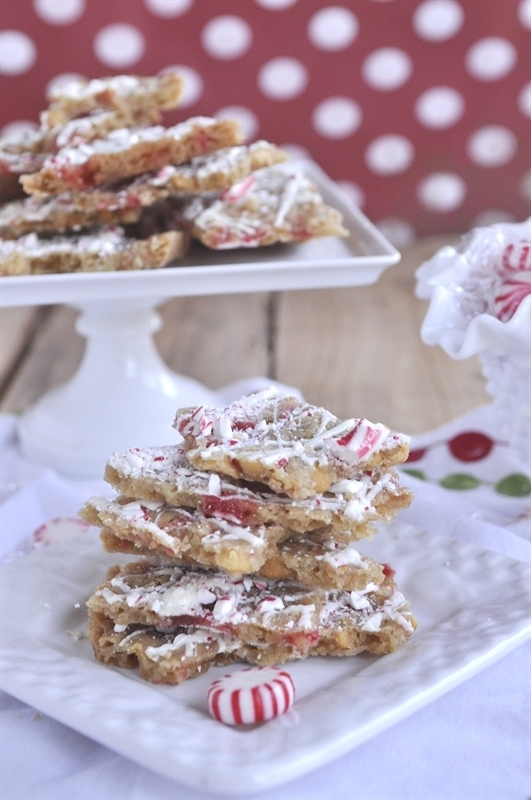 It is almost a cross between a cookie and candy.  One of the great things about cookie bark is that it stores and ships well.  You can make it ahead and just keep it airtight and it will still be delicious days later unlike a lot of cookies.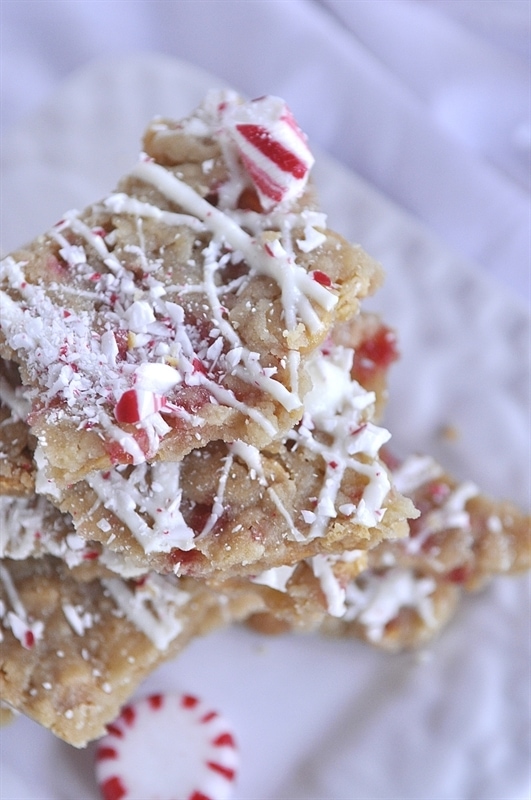 So if you are looking for another yummy cookie recipe to add to your cookie plate lineup definitely give this one a try.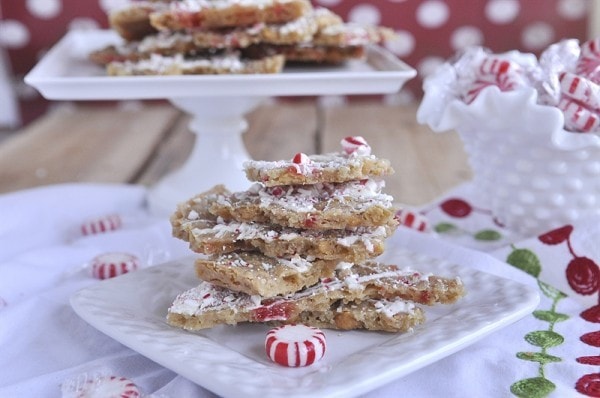 For the cookie swap I mailed cookies to Alyssa and Carla, The Hungry Hutch and A Slice of Cakes.  I wanted to make sure my cookies made it there in one piece and still fresh.
For more Peppermint/White Chocolate goodness, check out these:
Peppermint White Hot Chocolate Float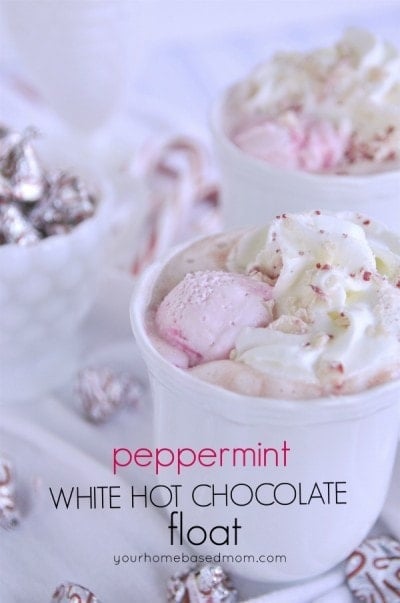 OatmealPeppermint Dipped Cookies
White Chocolate Peppermint Fudge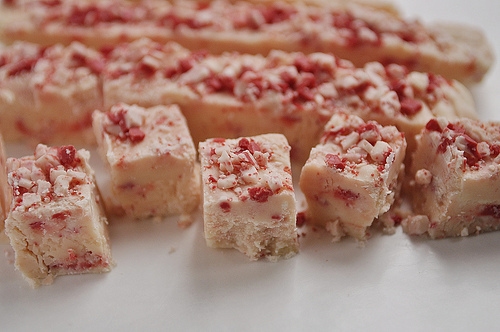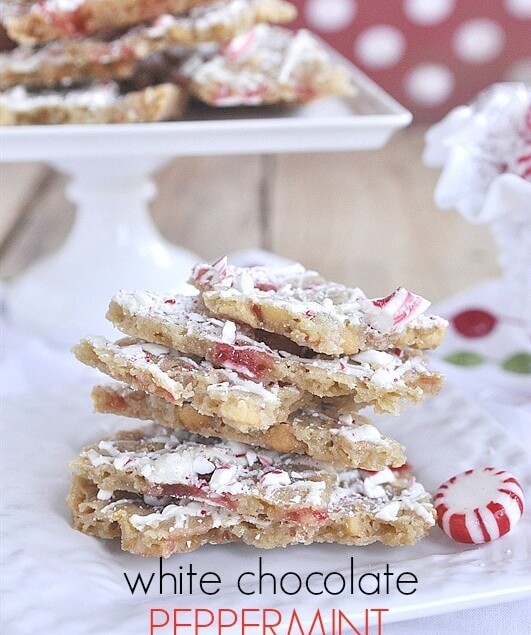 Peppermint Cookie Bark
Ingredients
1 C butter softened
1 tsp vanilla extract
1 tsp peppermint extract
1/2 C sugar
1/2 C brown sugar
2 C flour
1/4 tsp salt
6 oz. chopped white chocolate I used Ghiradelli Baking Bar
3/4 C candy cane chopped
2 oz. white chocolate melted to drizzle
1/2 C candy cane chopped to sprinkle on top
Instructions
Mix together butter, vanilla, peppermint salt and sugars and beat until blended.

Add in flour and 6 oz. white chocolate and candy cane and mix.

Press into an ungreased 15 x 10 jelly roll style cookie sheet. Bake at 375 for 15-20 minutes or until golden brown and crisp.

Cool.

If it is not crisp enough return the oven for another 5 minutes.

Drizzle with 2 oz. of white chocolate and sprinkle with 1/2 C chopped candy cane

After cool and chocolate is set, break into pieces.
Enjoy!
Leigh Anne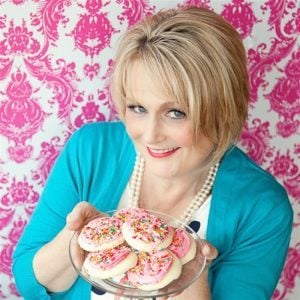 You can also visit me on Facebook, Pinterest, Twitter, Instagram
and Google+
For a list of where I Link Up each week go here