Welcome Laura of Pink Cake Plate to the blog today.  Although we have never met in person I know we would get along well since she is a fan of cake plates too!  She is also a woman after my own heart because she has a yummy recipe for peppermint cookies  for you!   Be sure to visit her over at her blog to enter to win a Blendtec Blender and then check out what Mique and Cindy are sharing as part of the Craft and Sew!
Hi Y'All, Laura here from Pink Cake Plate! I am so honored to be a part of Bake Craft Sew again this year!! I share easy and delicious recipes because I believe cooking shouldn't t be rocket science to taste amazing! Some of my recipes are from scratch and some are "shortcut cooking" using mixes or precooked foods! For me its all about spending more time with your family and friends than in the kitchen!
Have you ever wanted a soft chewy cookie studded with tons of chocolate chips and peppermint candies? Boy do I have a recipe for you!! These peppermint double chocolate chip cookies will fix any chocoholic craving you may have! They are perfect to add to those holiday cookie trays!
We absolutely love soft chewy cookies filled with chocolate chips at our house and these are the perfect fix. These cake like cookies are just perfect!!
Since there are just two of us here I have been scooping the dough onto a cookie sheet and putting in the freezer, when they are frozen I put them in a freezer bag.
That way when we want a warm cookie to have with an ice cold glass of milk I just take a few out of the freezer and bake away!! I cant tell you how many cookies this has saved from the trash!! We can't eat a whole batch of cookies before they get stale!!
Be sure to hop on over and visit Laura at her place and enter to win the Blendtec Blender – a new entry every day!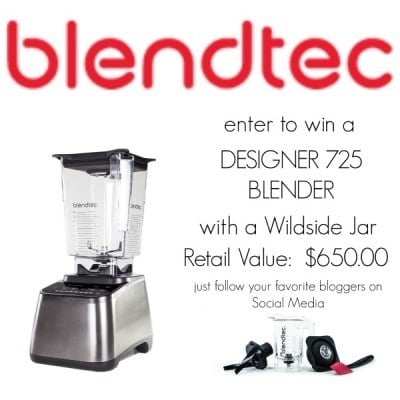 Peppermint Double Chocolate Cookies
Ingredients
1 1/2 cups all-purpose flour
1/2 cup unsweetened Dutch-process cocoa powder
1 teaspoon baking powder
1/4 teaspoon salt
1/2 cup 1 sticks butter, softened
1 1/2 cups sugar
1/2 cup vegetable shortening at room temperature
1 egg
2 teaspoons vanilla extract
1 cups chocolate chips
1 C Andes Peppermint Crunch Baking bits
Instructions
Preheat oven to 375 degrees F.

In a large bowl whisk flour, cocoa powder, baking powder, and salt together.

Mix butter and sugar with an electric mixer fitted with the paddle attachment on medium-high speed until pale and fluffy about 4 minutes.

On medium speed mix in shortening, then eggs and vanilla; beat until creamy.

On low speed add flour mixture a little bit at a time and mix until just combined. Add in chocolate chips and peppermint crunch baking bits and mix until distributed in dough.

Line baking sheet(s) with parchment paper. Use a cookie scoop to drop the dough onto the baking sheets 2 inches apart and bake about 13 minutes until edges and tops are firm.

Cool on sheets 5 minutes then remove to wire racks and cool completely
Thank you Leigh Anne for having me today I hope you all have a wonderful Holiday Season!!!