Your favorite childhood sandwich in ice cream form!  Peanut Butter & Jelly Ice Cream is a fun twist on a childhood favorite.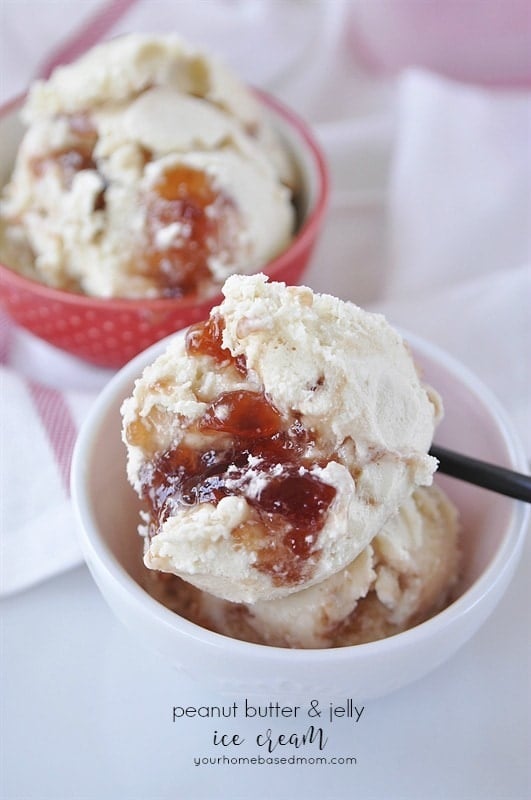 This post is part of a brand partnership with Smuckers but all opinions are my own.
I am a peanut butter & jelly kind of girl.  That is pretty much the only kind of sandwich I ate for lunch for years.  In fact, even now I will take a peanut butter & jelly sandwich over a deli meat sandwich.  I just love my peanut butter & jelly.   Nothing beats a good old pb & j in my book!  I do change things up a bit sometimes by using different flavors of jam or jelly.  Right now I am on a strawberry jelly  kick and so that was my jelly flavor of choice for today's recipe. My go to strawberry jelly is Smuckers.  They have more than 40 varieties of fruit jams, jellies and spreads to choose from!  Think of all the fun flavor combos you could come up with.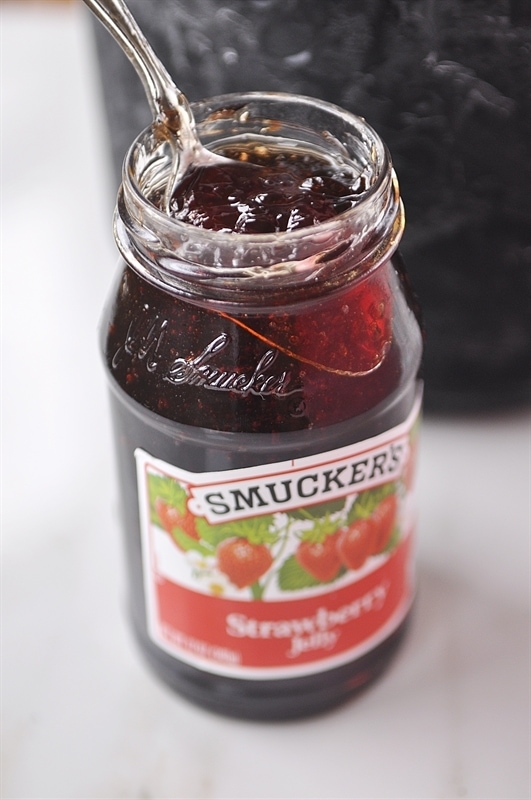 I started by using my favorite, go to vanilla ice cream recipe.  I added a 1/2 C of creamy peanut butter for just the right amount of peanut butter flavor.  I used my trusty 2 qt. Cuisinart ice cream maker to churn the ice cream.
After it was done I layered it into my favorite ice cream container.  It keeps the ice cream perfectly in the freezer.  After your first layer of peanut butter ice cream, spread a layer of your favorite Smucker's jelly on top.
Repeat the process two more times so that you end with jelly on top.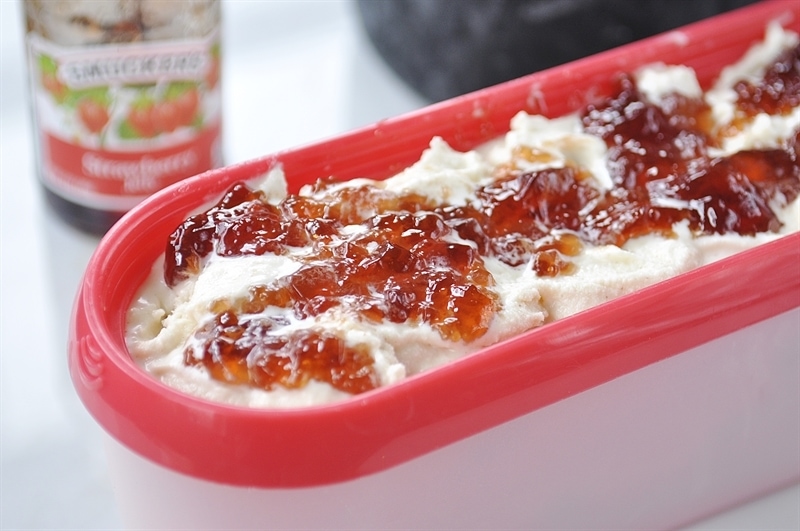 Put your container into the freezer for it to ripen and harden up.  You will probably have some peanut butter ice cream leftover that won't fit in the container so go ahead and grab a spoon and eat it!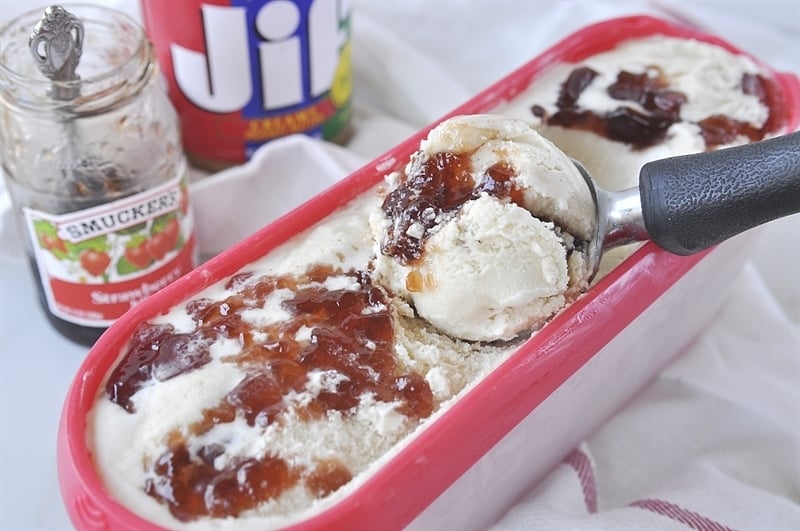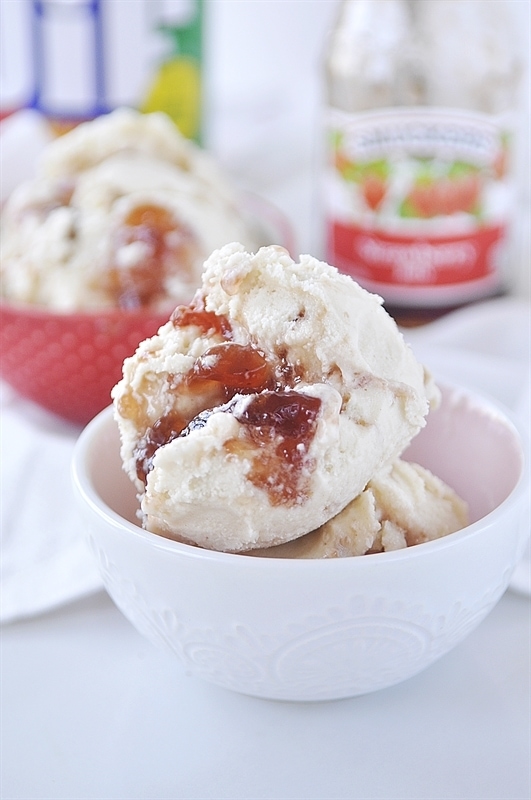 When you are ready to serve it use an ice cream scoop and you will get the perfect ratio of peanut butter ice cream to jelly.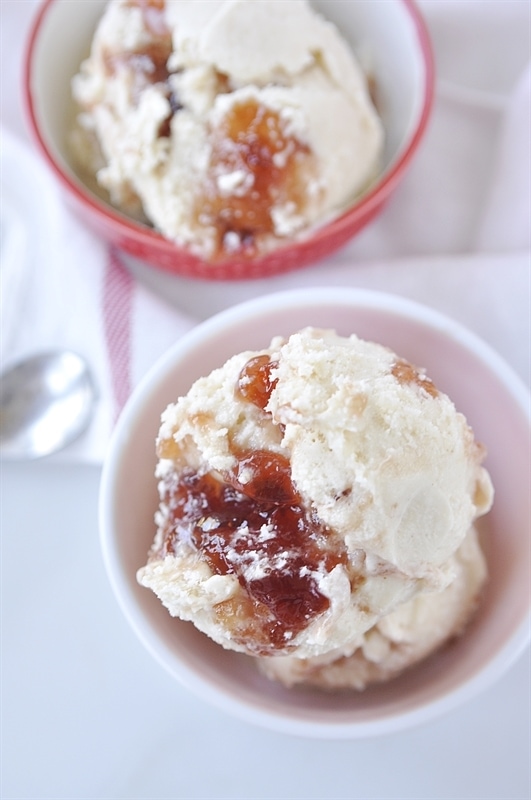 Peanut butter & jelly is a magical combination all on it's own but add in ice cream and you've got heaven and you'll feel like a kid again!
For more information and recipes be sure and visit Smuckers on Facebook,  Twitter,Instagram and Pinterest.
For other yummy ice cream flavors check out these:
Circus Animal Cookie Ice Cream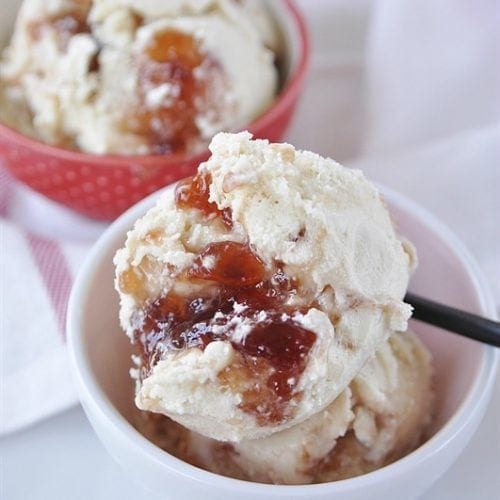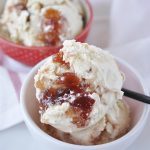 Print
Peanut Butter & Jelly Ice Cream
Ingredients
1½

C

whole milk

1½

C

sugar

¼

tsp

salt

1½

C

half & half

1½

Tbsp

pure vanilla

use the good stuff

2

C

whipping cream

1/2

C

creamy peanut butter

1

C

jelly

favorite flavor
Instructions
Mix together milk and peanut butter in a sauce pan. Put over low heat and stir until the peanut butter is completely dissolved, don't let it boil or get too hot. Cool mixture before adding it into other ingredients.

Add in all remaining ingredients except for jelly and pour into 2 qt. ice cream maker.

Follow manufacturer's directions.

After ice cream has set up, put a layer of ice cream into freezer container and top with 1/3 of the jelly, repeat two more times ending up with jelly layer on top.