Parsley Chicken quickly became a favorite at our house – the flavor is amazing!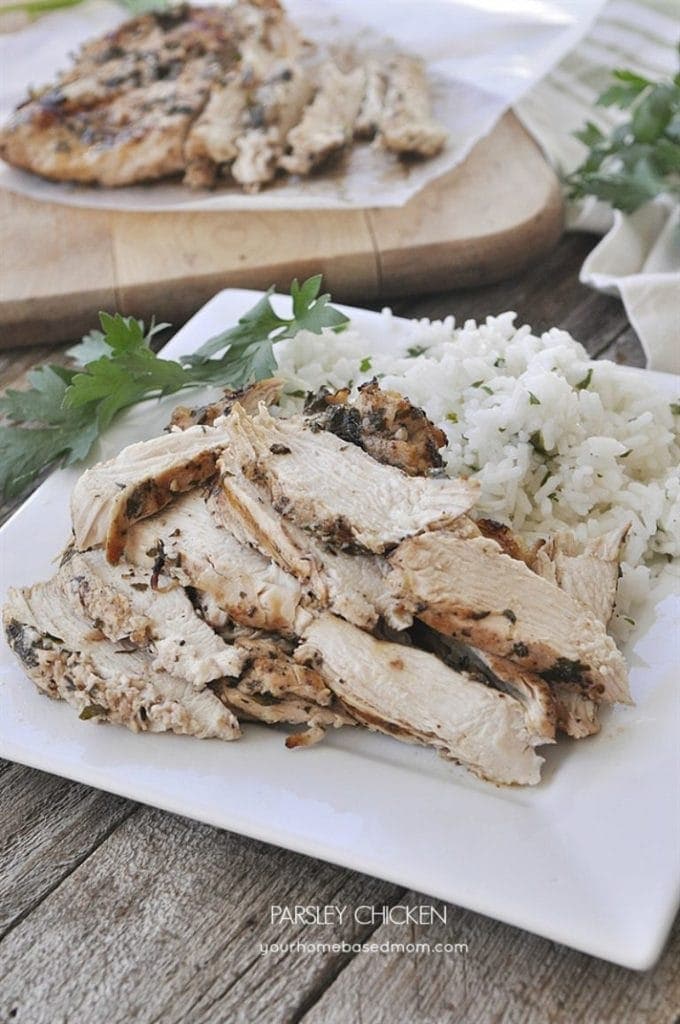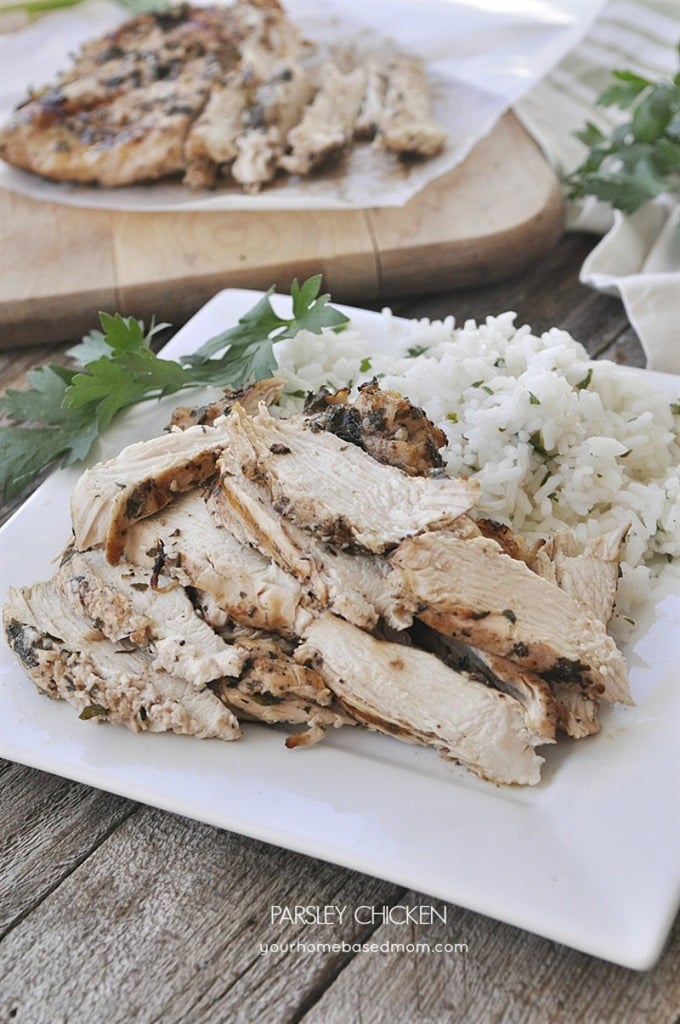 We eat a lot of chicken at our house so I am always on the look out for new chicken recipes.  The recipe for Parsley Chicken has been in my "To Try" folder for a while now.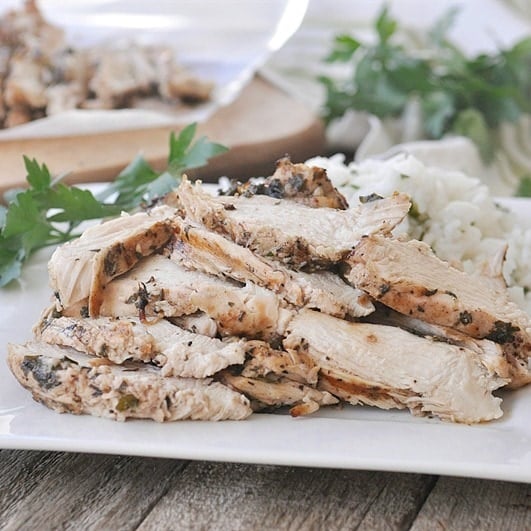 The recipe calls for something called "za'atar".  I had no idea what it was, so when in doubt – Google!
Good old Wikipedia came to my rescue and explained that za'atar is a mixture of herbs used as a condiment with Middle Eastern origins.  I stopped at two local grocery stores to try and find some but with no luck.  Does anyone know where to buy za'atar?? You can get it online through Amazon or at Penzey Spices or you can make your own!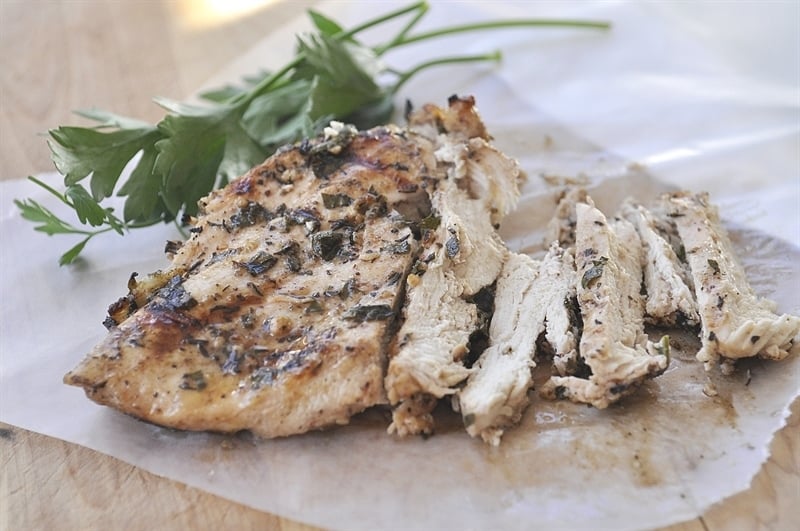 So back to Google where I found a recipe to make your own za'atar.  The first ingredient it called for was sumac – I had no clue what sumac was – isn't that a tree?   It also called for thyme, oregano, marjoram and toasted sesame seeds.  I had all those ingredients on hand so I mixed up a teaspoon of thyme, oregano, marjoram and a tablespoon of toasted sesame seeds and had my own version of za'atar. It has amazing flavor.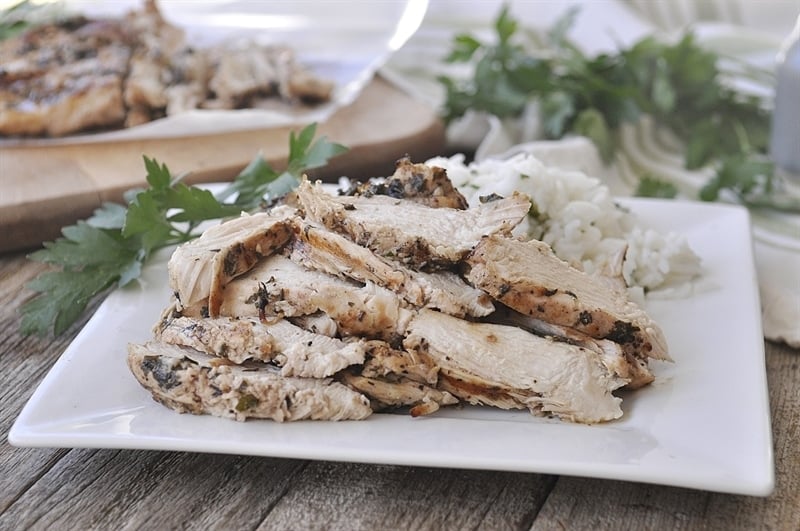 The chicken marinates in this mixture along with some garlic, parsley, lemon juice, vinegar and oil.  I like to pound my chicken breast thin before marinating so that it cooks more evenly.  The one on the right has been pounded, the one on the left has not.  I use the smooth side of a meat tenderizer.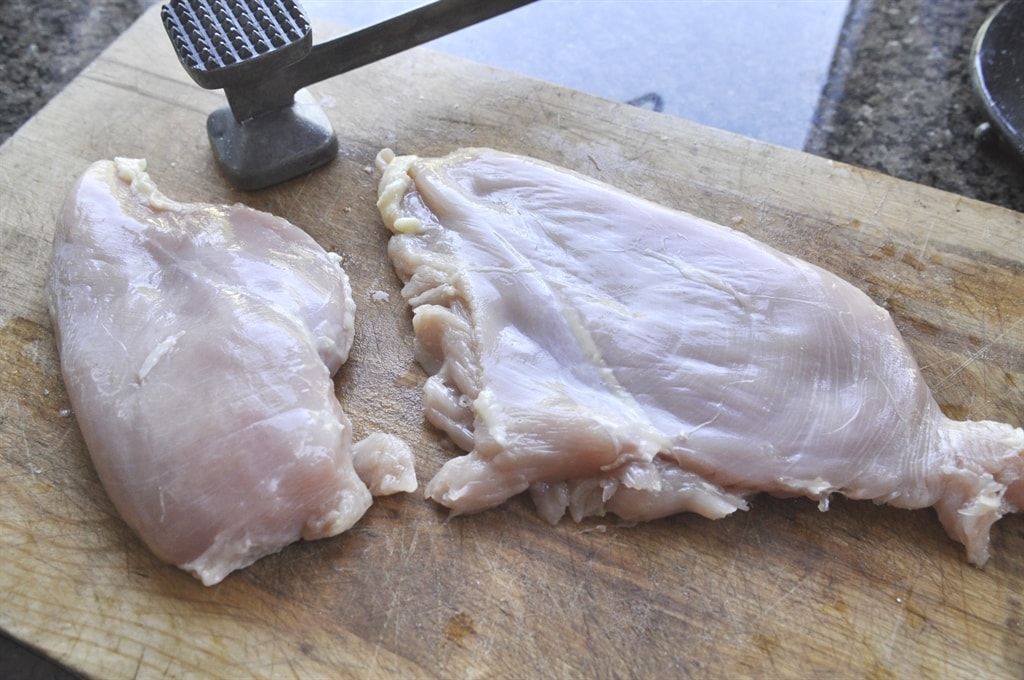 This seasoning combination along with the garlic and parsley was wonderful.  The chicken had tons of great flavor and was a big hit.  My husband is almost always complimentary about what I make for dinner but when he mentioned 2 or 3 times how much he enjoyed dinner I KNEW it was a keeper.  Parsley Chicken is a new family favorite!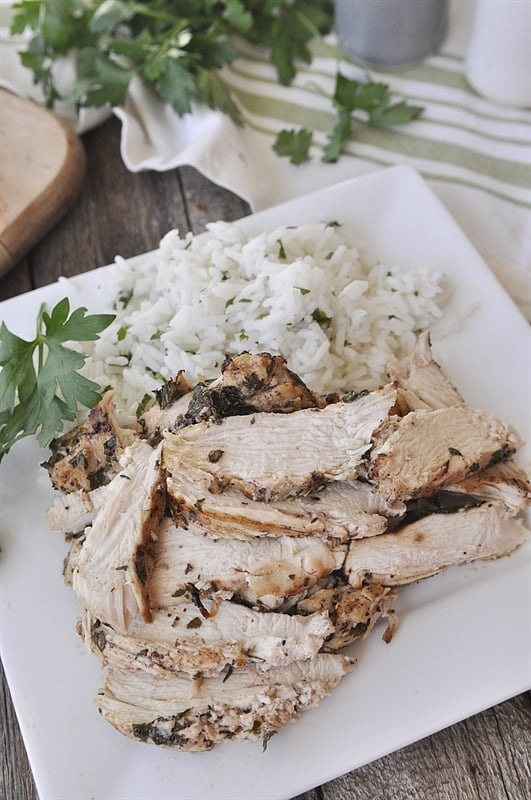 I served it with our favorite rice, Lime Cilantro Rice, a spinach salad and some roasted broccoli.  It was a perfect dinner!  Lots of green too and I love green!
The leftovers (I seem to have a lot of those lately – haven't adjusted to cooking for only 3 people) were quickly devoured the next day.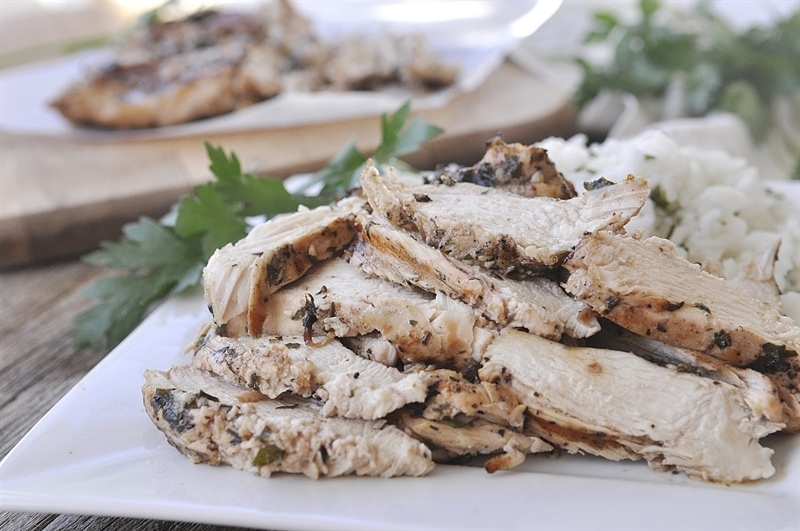 Parsley Chicken Recipe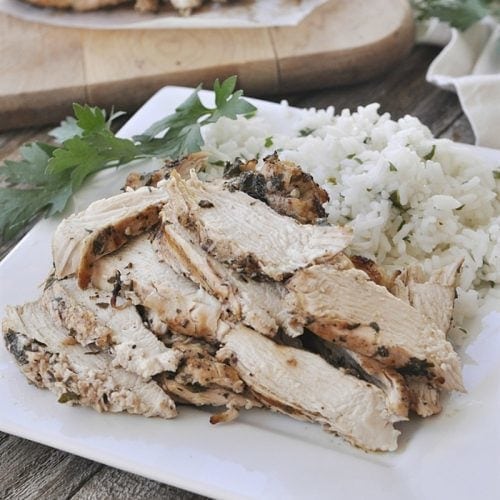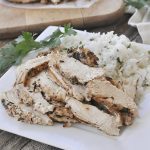 Print
Parsley Chicken
Parsley chicken is made with a delicious mix of herbs and spices.
Ingredients
2

large boneless

skinless chicken breasts

1/2

C.

fresh flat leaf parsley

minced

1

large lemon

washed thoroughly

1/4

C

red wine vinegar

1/4

C

olive oil

2

garlic cloves

minced or pressed

1

tsp

za'atar

LA's version - 1 tsp marjoram, 1 tsp thyme, 1 tsp oregano, 1 Tbsp toasted sesame seeds

1/2

tsp

garlic salt

1/2

tsp

ground pepper
Instructions
Pound chicken breasts down to uniform thickness throughout (about 1-inch thickness)and place in large bowl

Halve lemon and juice well

Add lemon juice to bowl

Add remaining ingredients and use tongs to coat pieces evenly

Cover with plastic wrap and place into fridge for 30 mins - 1 hour

Preheat grill on high

Remove chicken from fridge and let rest until grill is up to temperature

With tongs, move breasts around to coat evenly

Turn grill down to medium low heat

Place chicken breast-side-down onto grill

Do not move meat as much as possible until finished cooking on one side, about 10 minutes depending on size of chicken.

Flip breasts over and continue cooking until almost cooked through, about 5-10 more minutes.

Remove from grill

Let meat rest, covered, on cutting board for 3-5 mins before slicing and serving
Nutrition
Calories:
136
kcal
|
Carbohydrates:
3
g
|
Protein:
1
g
|
Fat:
14
g
|
Saturated Fat:
2
g
|
Sodium:
309
mg
|
Potassium:
164
mg
|
Fiber:
1
g
|
Sugar:
1
g
|
Vitamin A:
2491
IU
|
Vitamin C:
40
mg
|
Calcium:
48
mg
|
Iron:
2
mg