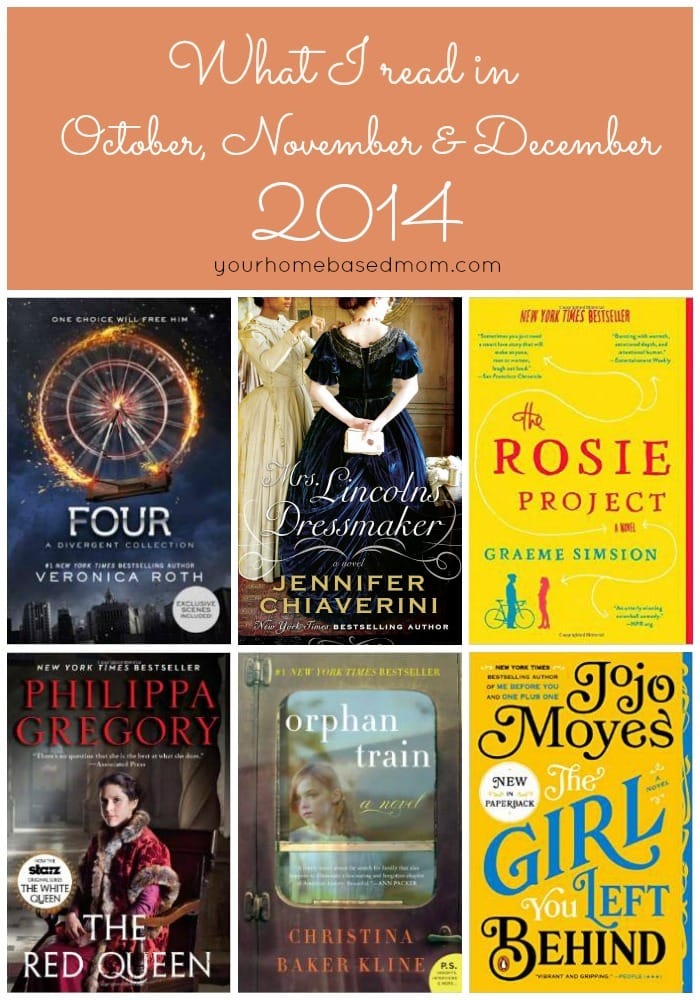 This Fall was a busy one with lots of different projects and unfortunately not a lot of reading got done.  In fact when I went to put my list together for the last quarter of 2014 I was shocked to see that I didn't complete any books in December.  Shame on me! I started a few but didn't finish them.  I think the reason is I decided to watch all the seasons of Parenthood and that took up my reading time!!  Must do better next year.
Be sure and leave me a comment at the end and let me know what you have been reading.  I love hearing from you and get many of my book suggestions from you!
Here is my list from October, November and December.
October Recommended Reads
Four by Veronica Roth.  This is the prequel to the Divergent series which I have read all of.  It is a quick read and you learn more about the character Four.  If you are a Divergent fan this is a must read and will give you more of the backstory.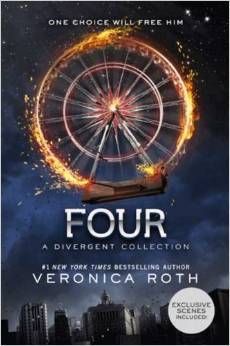 3.5 stars
The Red Queen by Philippa Gregory is part of the Cousin's War series and the next one to read after The Lady of the Rivers which I read last quarter. I am a fan of Tudor era literature and this is the story of the Margaret Beaufort, mother of Henry VII.  If you are a fan of historical fiction and the Tudor era I recommend this series.  I am anxious to read the next one in the series The White Queen.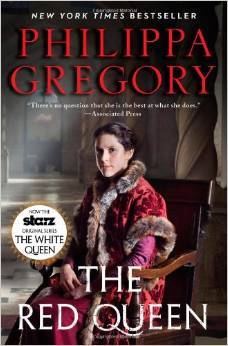 3.5 stars
The Girl You Left Behind by  Jo Moyes.  I throughly enjoyed this book.  It is my favorite genre – historical fiction and takes place near Paris during WWI and also during current day.  The story takes place during the french occupation by the Germans and deals with a family painting.  The painting is also the main character in the modern day storyline. A nice love story.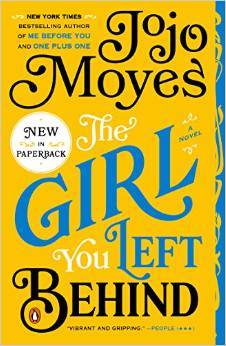 4 Stars
The Orphan Train  by Kristina Baker Kline.  This book was a choice of my book club earlier in the year and I never got around to reading it in time for book club.  After several of you, my readers, recommended it, I decided I better give it a try.  I enjoyed the book. The story takes place during the Depression Era but there is a dual storyline with the second occuring in modern day.  The two story lines intertwine very well and it is a story of courage and love and the two stories become one story.  The story begins with the Oprhan Trains of the Depression Era which was basically the foster system in the 20's and 30's.  Orphaned children were put on a train and sent out to the "frontier" to find families.  A very good read.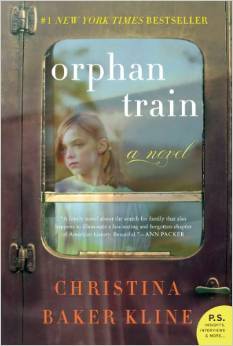 4 stars (some language)
November Recommended Reads
Mrs. Lincoln's Dressmaker by Jennifer Chiaverini is another historical fiction piece. The book is based on the true story of Elizabeth Keckley who had a front seat to history as the friend and dressmaker to the First Lady – Mary Todd Lincoln.
The themes of love, loss and healing are woven throughout the historic storyline.  An enjoyable way to learn a little history.
4 Stars
The Rose Project by Graeme Simsion.  This is story of a man, Professor Don Tillman, with autism and his project to find the perfect wife for himself.  During his project he meets Rosie who has a project of her own, to find her birth father.   Rosie's project becomes Don's project and his orderly, logical life is turned upside down. Didn't totally love the book, was a little bit too much language for my taste.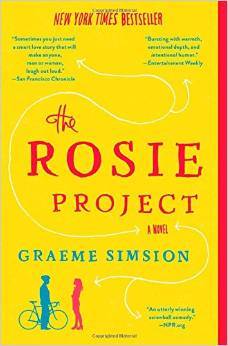 3.0 Stars (language)
December Recommended Reads
No books finished in December but I did enjoy watching all seasons of Parenthood!
What have you been reading?