These Oatmeal Jam Bars are a simple, classic bar cookie that will become everyone's favorite!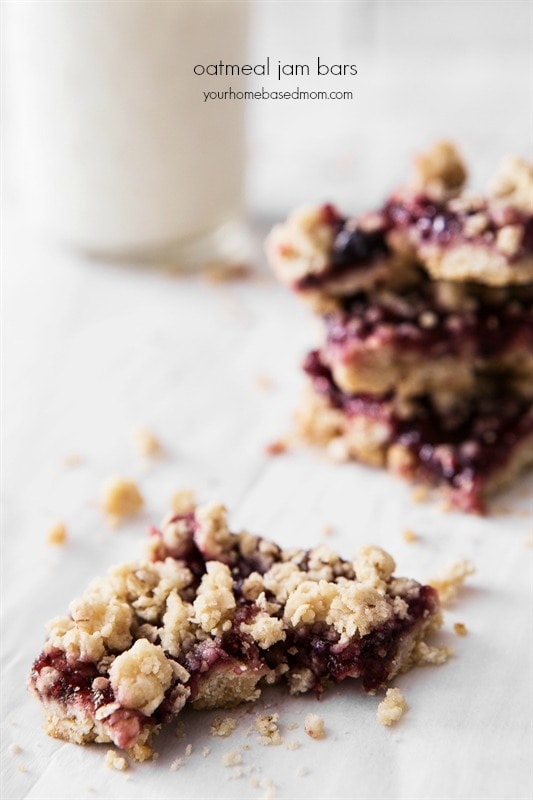 If you follow me on Instagram or Facebook you may have seen that I spent the last week working on and shooting all the photographs for my upcoming slow cooker cookbook.  I had a photographer and stylist here all week and we shot over 50 recipes in five days.  Let me tell you, that is a lot of cooking and a lot of dishes.  I gave you a few glimpses into the mess my kitchen was on Insta Stories.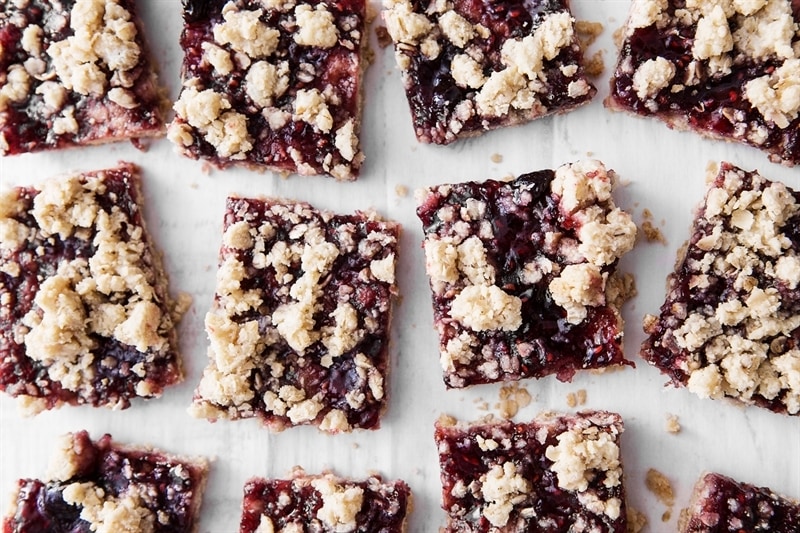 This was a record setting week (over 50 recipes made)  in more than one way, as Portland had the snow storm of the last three decades!  We got over 9 inches of snow in one day and temperatures in the teens.  It pretty much shut the city down for most of the week and we still have snow on the ground.  But in the midst of all that slow cooker cooking I had a craving to do a little baking because of that snow.  There is just something about snow and baking that go together for me.  So in between cooking 50 recipes I made a batch of these delicious oatmeal jam bars.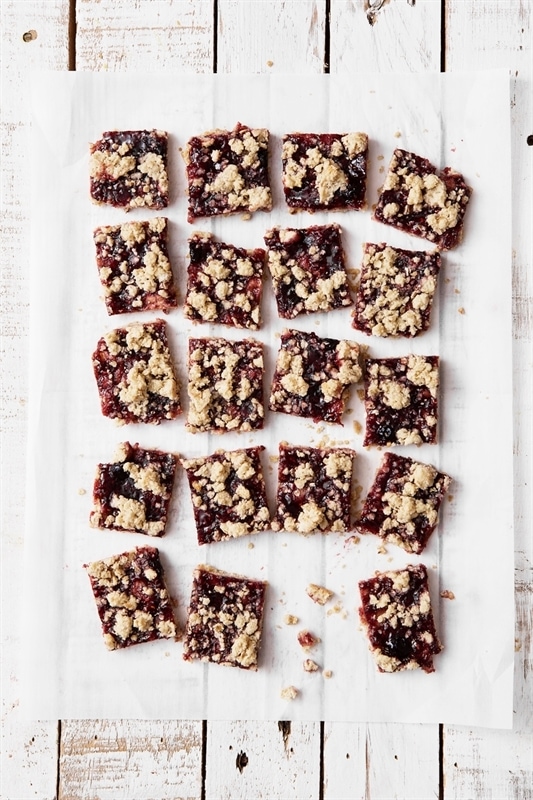 Since I had a professional photographer and stylist in the house I took advantage and got them to style and take the photos of this recipe.  Erica Allen is an amazing food photographer from Los Angeles who flew up to Portland to shoot the cookbook.  She brought her friend, assistant and bridal photographer Brianna Vail with her.  In exchange for some oatmeal jam bars I got them to style and take these lovely photos for me.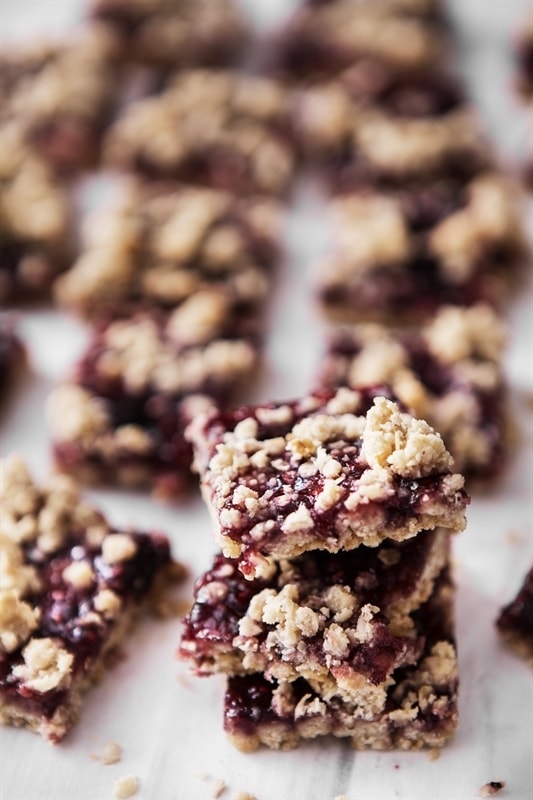 Of course you can use your favorite flavor of jam but mine is raspberry so that's what I used.  They have a crunchy crust topped with a sweet layer of jam, and then more of that crunchy mixture scatter on top.  They were the perfect thing to munch on as we worked all day.  A glass of cold milk was the perfect combination.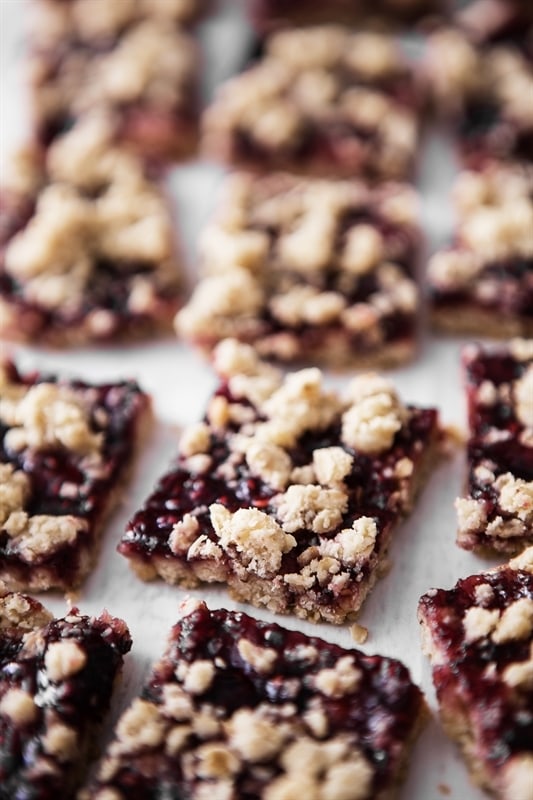 Oatmeal Jam Bars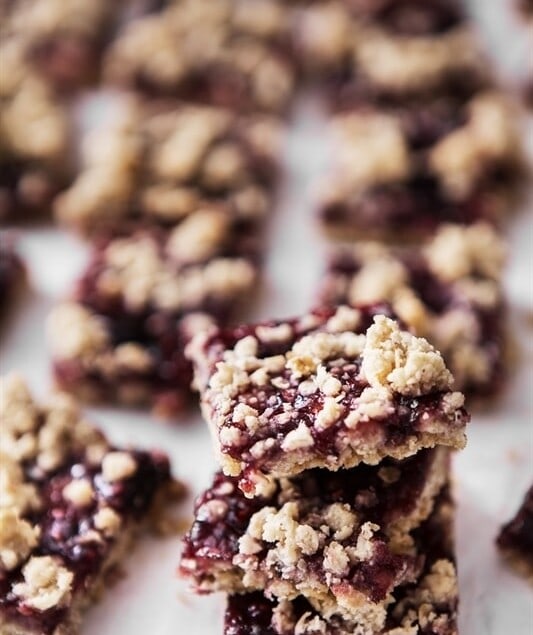 Oatmeal Jam Bars
Ingredients
1 1/3 cups all purpose flour
1/4 tsp baking soda
1/4 tsp salt
3/4 cup quick cooking rolled oats
1/3 cup packed brown sugar
1 tsp lemon peel or zest
6 ounces of cream cheese softened
1/4 cup butter softened
3/4 cup raspberry preserves
1 tsp lemon juice
Instructions
Preheat oven to 350 degrees F.

Grease a 9 x 13 pan.

In a mixer, combine cream cheese and butter and beat until smooth. Add in flour, baking soda, salt, oats, brown sugar and lemon zest.

Mix until combined and crumbly.

Measure and set aside one cup of crumb mixture

Press remaining crumb mixture into bottom of prepared pan and bake for 20 minutes.

In another bowl, combine jam and lemon juice.

Carefully spread jam mixture over baked, hot crust. Sprinkle with remaining crumb mixture.

Bake for an additional 15 minutes or until top is golden brown.

Cool and cut into bars.