Congratulations to Comment #98 for winning the $150.00 Gift Card  Ashley in PDX – her favorite park is Yellowstone but she needs to get to Crater Lake !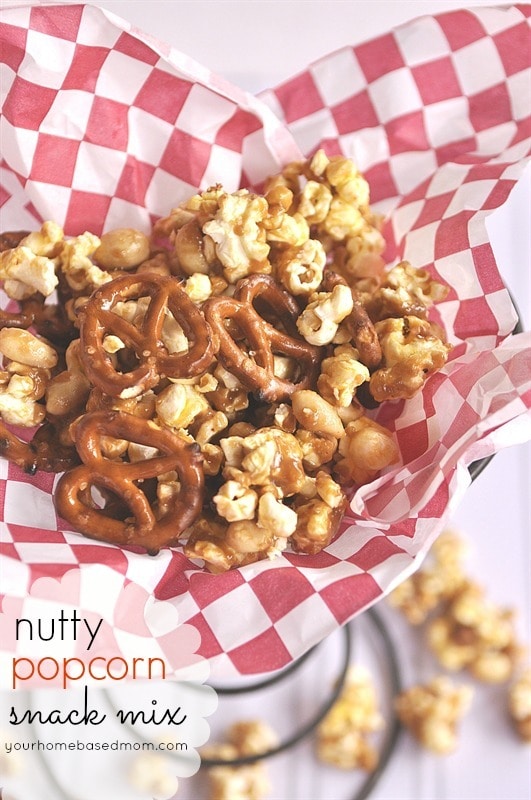 Today I am joining together with the National Parks Conservation Association (NPCA) and Smuckers to help protect the parks. The J.M. Smucker Company, and its Adams®, Laura Scudder's®, and Smucker's® Natural Peanut Butter brands are encouraging readers to get active in their own communities and parks.
I live in the Northwest and we are very aware of  conservation and preservation.  We are blessed to have many beautiful National State parks to enjoy.  One of our family's favorites is the gorgeous Crater Lake!  I am also lucky to live just five minutes from Forest Park which is 4,000 acres of beautiful forest and trails. It is the 19th largest park in the U.S.
There are several ways we can make a difference and help to conserve and preserve our parks. First, one of my favorites is recycling.
We are big recyclers here in the NW. We recycle just about everything!  My recycle bin is always over flowing. Be sure and know what curbside recycling services are available in your town and what you can and can not recycle.  It can make a huge difference.
Second, in addition to our big recycling can we  have some smaller recycling bins for things like glass.  Make recycling fun. I live by the motto if you have to have one it might as well be cute.  So I added some vinyl polka dots to my recycling bin to jazz it up a bit and I always know which one is mine!
Third, when you are out and about enjoying your local area parks and nature I like to stick a disposable plastic grocery bag in my pocket.  Then as I'm out walking or hiking and see some garbage that some one has left behind I can easily pick it up and take it home and either throw it away or recycle it.
Being out and active in nature and your parks is one of the best ways to help preserve and conserve.  Get out there and use them and enjoy them.  Of course while you are out there don't forget to take along some yummy snacks to keep your energy up.
I tried several recipes from the Smucker's site that would be perfect snacks to take with you when you are out enjoying the great outdoors.   These Peanut Butter & Banana Granola Bites are a great way to start the day before you head out or take along as a little energy boost.
My favorite though is this Nutty Popcorn Snack Mix which is easy to pop into a bag and put in your backpack or pocket.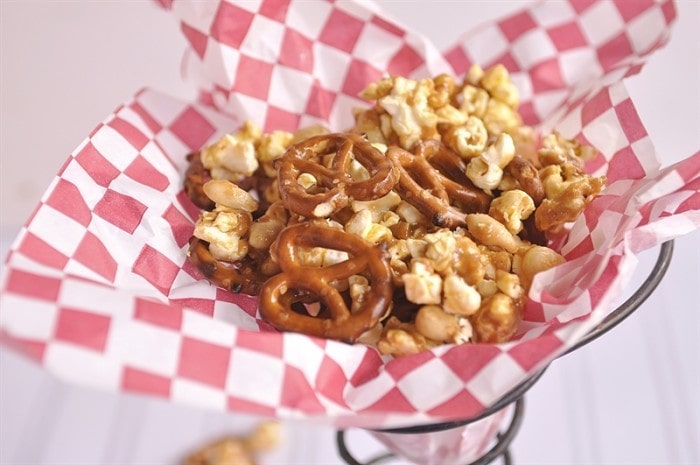 This snack mix comes together quickly. It uses pretzels, nuts and microwave popcorn which is covered with a mixture of brown sugar, butter and honey . After cooking together the sugar, butter and honey, just add in the nuts, peanut butter  and some vanilla.   Then pour it over the popcorn and pretzels and spread it on a cookie sheet to cool.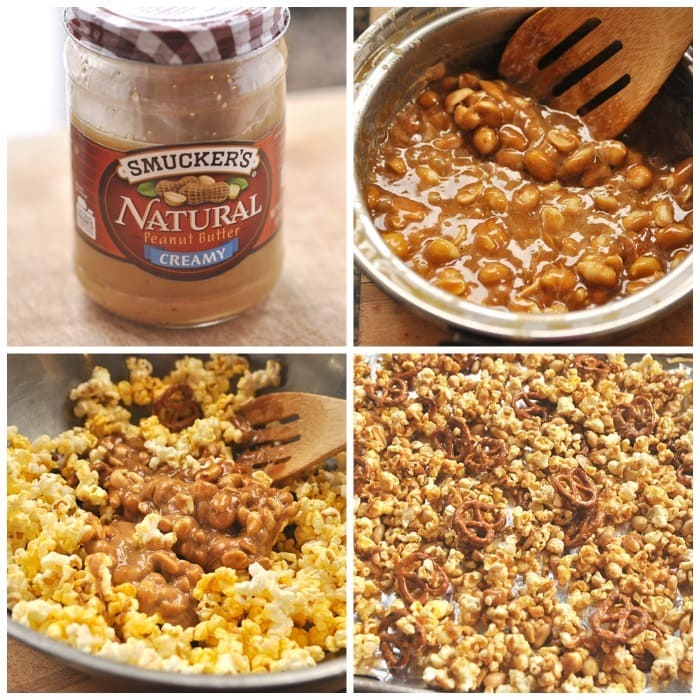 After it cools it is ready to package up and then head out the door!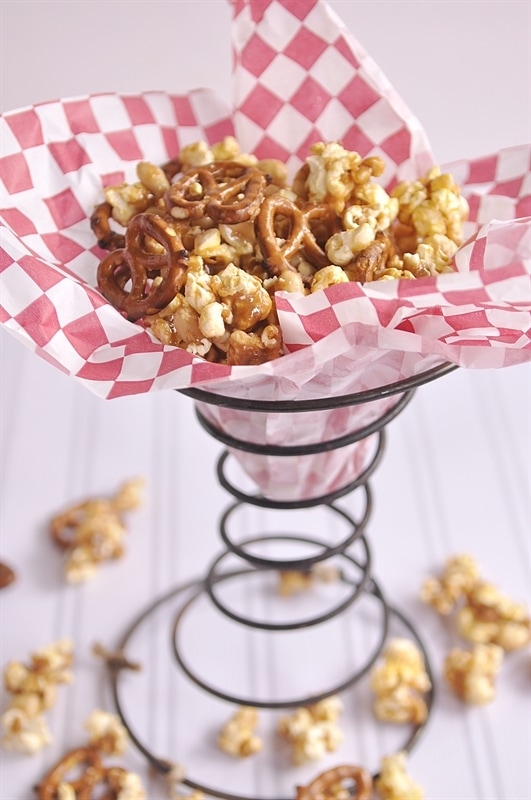 Be sure and visit the Smucker's Facebook page so you can download a $1 off coupon and find tips on how to make a natural difference.
The J.M. Smucker Company has compensated me to promote its "Make A Natural Difference" campaign and I it is a cause that I am happy to share with you.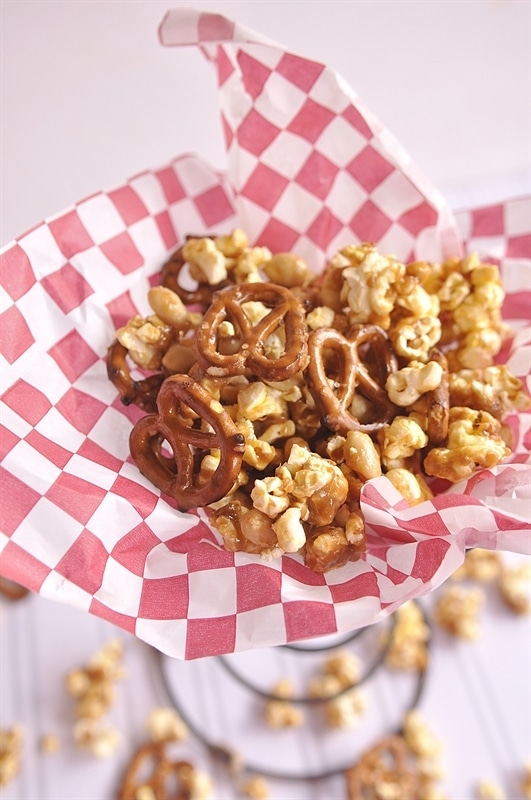 Smucker's also has a giveaway for you!  TWO of you will win:
$150.00 Visa Gift Card
3 jars of Natural Peanut butter with  a Peanut Butter Mixer
Vapur Anti Bottle (perfect for taking hiking or to the park)
4 Pack Slim Snack (ideal for carrying your snacks)
ChicoBag sling (for all your hiking essentials)
To enter just leave a comment on the post letting me know your favorite National or State Park.
Giveaway closes: Thursday,   January 16, 2014 at midnight PST  Open to US residents only.  Prize to be provided by J.M. Smucker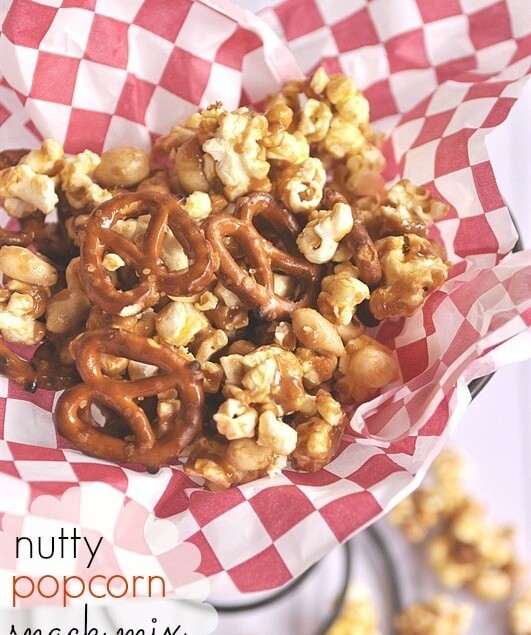 Nutty Popcorn Snack Mix and a $150 Gift Card Smucker's Giveaway
Ingredients
1 3 to 3.25 oz. bag microwave popcorn, popped
2 C mini pretzel twists
1 C firmly packed brown sugar
1/2 C butter
1/4 C honey
2 C peanuts or mixed nuts
1/3 C Natural Creamy Peanut Butter Smuckers, Adams or Laura Scudders
1 tsp vanilla extract
Instructions
Line two cookie sheets with foil.

Place popped popcorn and pretzels in large bowl.

In a sauce pan bring brown sugar, honey and butter to a boil.

Boil for 4 minutes over minute heat without stirring.

Remove from heat.

Stir in nuts, peanut butter and vanilla until smooth

Pour over popcorn mixture.

Stir to coat.

Place on cookies and allow to cool.