Today I am excited to share with you some of my favorite things.
Not just share but  giveaway too!!
I am thrilled to join together with a group of 24 amazing bloggers as we share with you some of our favorite things to help you with your gift giving decisions this holiday season.  We have each put together a basket of our favorite things along with links to where you can purchase them.  You may even want to put some of the things we are sharing on your list for Santa.  I know I'm going to!
The most exciting part is you also have a chance to WIN one of the 25 baskets of favorite things we have put together.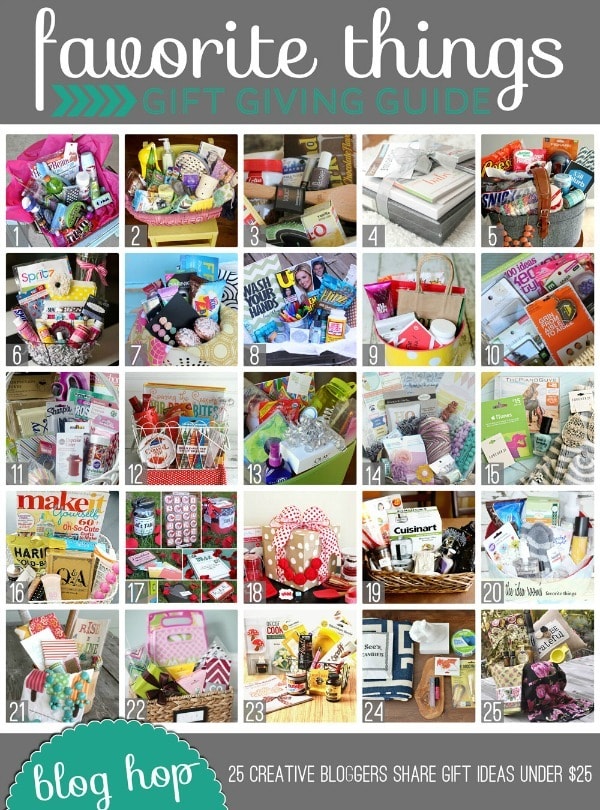 Here's what to do:
Take a quick glance at the gift collage above.
Scroll to the bottom to see mine up close with details and links to buy my favorite items.
Enter to win my gift basket at the giveaway below ($140 value).
HOP to all of the other sites to enter to win their gifts!
Look around and enjoy the sites of the 24 creative bloggers–they will not disappoint!
My basket is all about my favorite Pretty and Delicious things!
 
The Pretty
1.  Kitchen Towels –  I love a pretty kitchen towel and this one from Cost Plus World Market fits the bill. If you have to do dishes you might as well have a pretty towel to use!
2.  Apron – I am a huge fan of pretty aprons and have quite a collection.  I am a messy cook, gardener, crafter so an apron is a must for me.  I pretty much live in an apron. I like to hang my collection of pretty aprons on a hook in my kitchen too.  Several of my pretty aprons have come from Cost Plus World Market.  I love to give pretty aprons as bridal shower gifts because every new bride needs a pretty apron.
4.  Word of the Year Pillow – Each year I love to choose a "word of the year."  It is a word that I want to focus on for the next year. A word that has significance and meaning to me.  Your basket will include a custom made Word of the Year pillow with your choice of word.  Pillows are available through my etsy shop.
6.  Reuseable Shopping Bag – Why carry a plain or boring shopping bag when you can use a pretty one!  This one is handmade by me and can be found in my etsy shop .
The Delicious
3.  Lemon Juicer – I am a HUGE fan of lemon and use fresh lemons in my cooking almost daily.  I LOVE my lemon juicer.  Using fresh lemon juice is quick and easy thanks to this handy little kitchen tool.  Lemon juicers are available at Cost Plus World Market.
5.  Microplaner – This is another essential kitchen tool for me.  It quickly and easily grates lemons, limes, oranges to give  you fresh rind.  It can also be used for grating fresh ginger, nutmeg and lots of other delicious things! This one came from Cost Plus World Market.
7. Lemon Curd – I love, love, love lemon curd and always have a jar on hand.  I love to use it on just about everything – in bake goods and on baked goods!  It's amazing on a piece of toast or just by the spoonful. I love buying my lemon curd at Trader Joe's. 
8.  doTerra Lemon and Wild Orange Essential Oils.  I love anything lemon or orange and anytime a recipe calls for fresh lemon or orange juice I add in a few drops of essential oil to really enhance the flavor and give it an extra punch.  It is also great to use when you don't have the real thing!
 So who wants to win my basket?!?   Are some of MY favorite things YOUR favorite things?   Enter 1 or 4 times to win. *Winner outside of the US will have to pay shipping over $10.