It's that time of the year, and one of my favorite posts of the year!  I'm excited to share another year of My Favorite Things Giveaway! I've joined with 30 creative bloggers total, also sharing their favorite things, and each of us are having a giveaway. That means 30 winners total! Not only is it a fun prospect to WIN, but they make great gift giving ideas as well.
Here are the goodies I'm giving away, make sure you scroll down to the very bottom of this post to enter MY giveaway (value $120.00)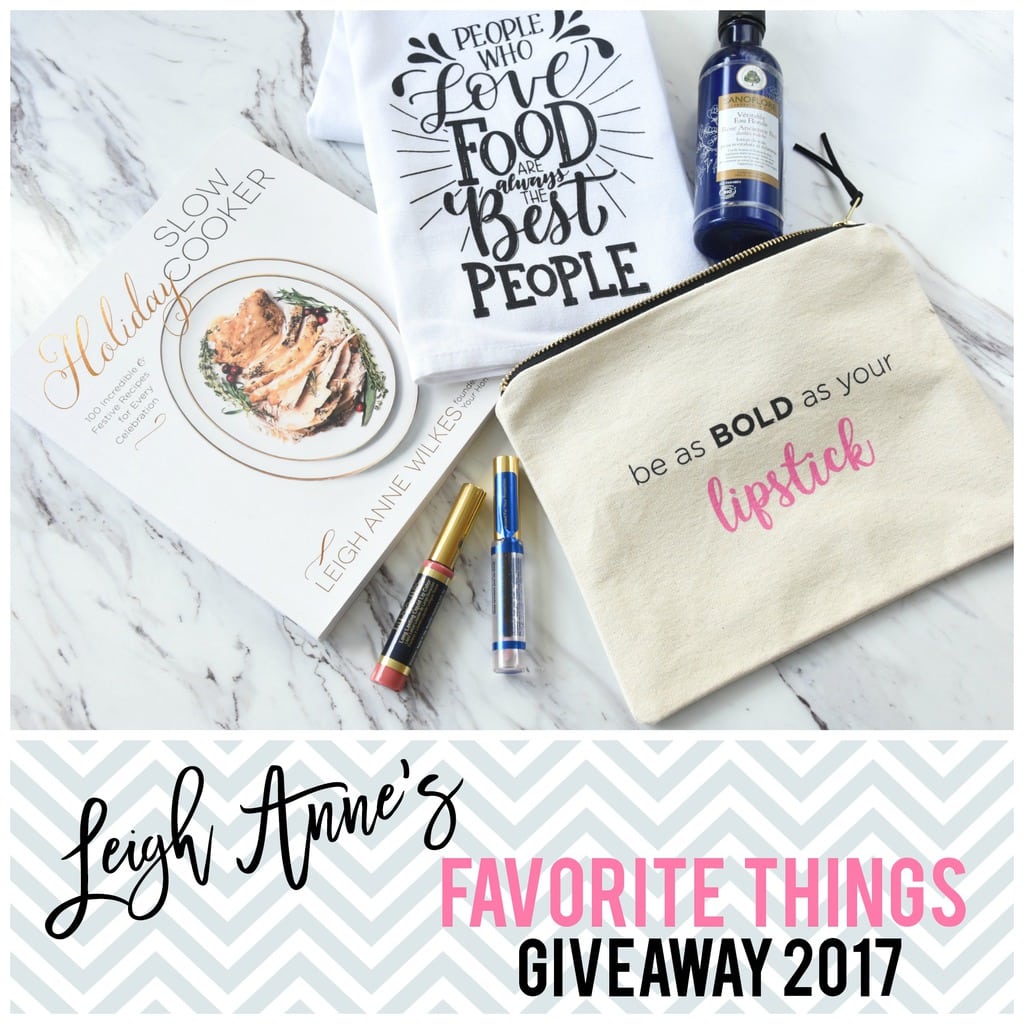 I'm excited about everything I've put in my Favorite Things giveaway this year – they truly are my favorite things!!  Of course I couldn't help but include my new Holiday Slow Cooker Cookbook because it is just about my favorite new thing ever!!  I've had so much fun cooking out of it and giving it as a gift.  I recently went to a bridal shower and of course I gave the new bride to be one.  It's a perfect holiday gift for all the cooks in your life.  It's full of recipes that will take you through the year, for every holiday and every day.
I'm also including a fun dishtowel I had designed.  My sister did the lettering for me, isn't she talented!  You can follow her Beautifully Said account on Instagram.  I  have a few of these towels for sale in my etsy shop – there are three different designs and make a perfect hostess gift for the holiday parties you may have to go to!  There are three fun designs available.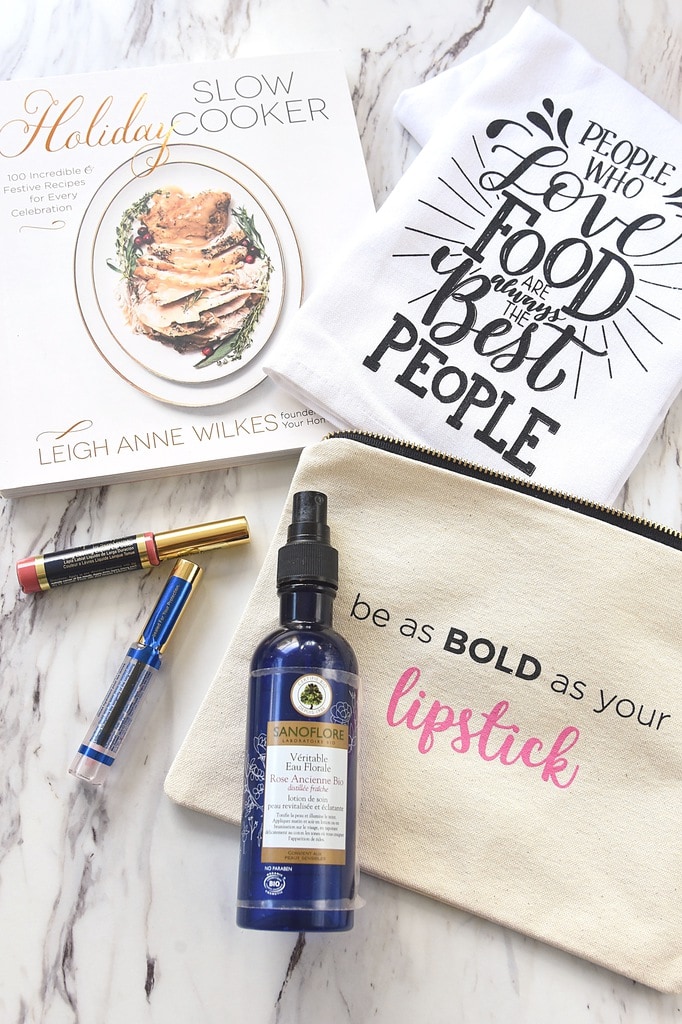 Also included is a fun and sassy cosmetic bag from my 42 and Pine shop.  Our bags are made right here in Portland, Oregon!  Currently, there are 15 different designs and we will be adding more designs soon.  I am so excited to share these with you and give one away. You can check out all the bags at our website here.  We are also on Etsy.   Our bags make perfect girlfriend gifts!
This bag is the perfect thing to store another one of my favorite things in – Lipsense!  This stuff is amazing!  Have you tried it?  I put my lipstick on once in the morning and then I'm good to go for the day. Seriously!  I love this stuff so much I'm giving away one of my favorite colors and some glossy gloss.  If you don't know someone that sells it, let me know and I can get you hooked up!
Last but not least I have included a bottle of Sanoflore Rose Water.  I LOVE this stuff.  I spritz it on my face first thing in the morning and throughout the day and it helps brighten, purify and calm my skin.  I especially love it when my skin is feeling dehydrated and needs a boost.  It's perfect for travel too and I love the way it smells.  I seriously use this multiple times a day.
I hope you will enjoy my favorite things as much as I do. Now scroll down to see what my friends are giving away and to enter my giveaway!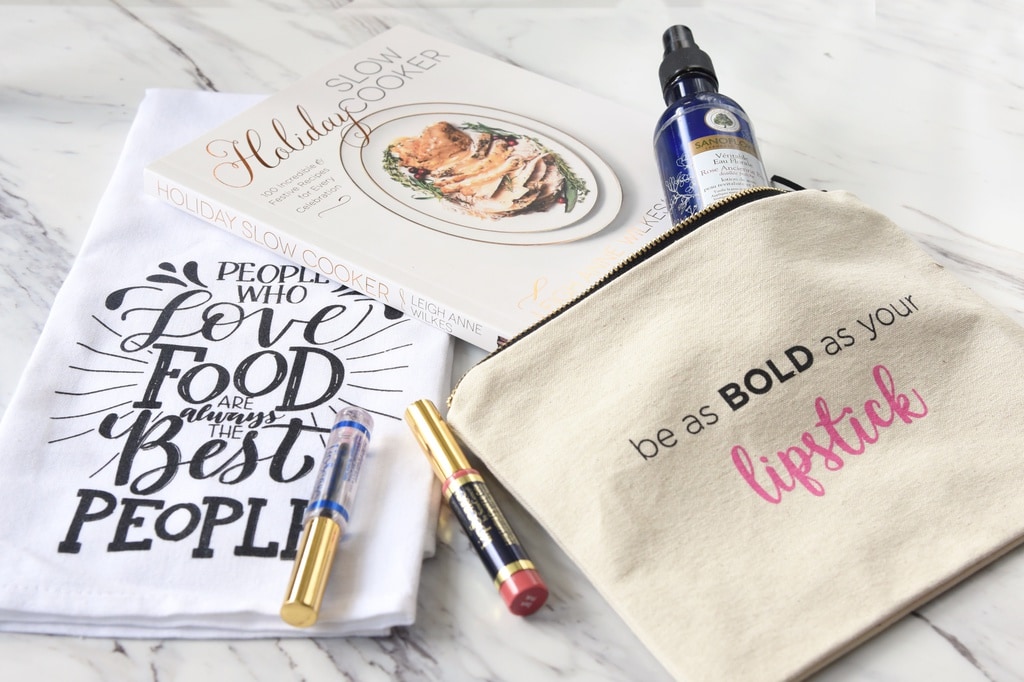 I've teamed up with 29 creative bloggers and we are all sharing some of our favorite things right now, and each of us will select a lucky winner! What you need to do is make sure you HOP to each of our sites to enter to win the giveaway on each site. Yes, that's 30 in all, but you've got a week to do it…plenty of time! While you are there, we challenge you to click around to see what they have to share, you may just love them as much as we do!
Now, here is the HOP! Click on the links below to enter each of the prizes. Somedays within the first few hours, the direct link can get broken, if that happens, click on the home page of that site to find the post or go back shortly. Giveaway ends Thursday, November 9th at midnight, so make sure you enter each of the 30 prizes.
1: Fun-Squared
2: Capturing Joy with Kristen Duke
7: Lil Luna
10: C.R.A.F.T.
11: Cupcake Diaries
15: Honeybear Lane
16: Landeelu
17: Becky Higgins
18: Lolly Jane
19: Giggles Galore
21: Girl Loves Glam
24: The Pinning Mama
25: The Idea Room
29: Eighteen25
30: Somewhat Simple
Now, time to enter MY gift!
Just in case you don't win, or want to gift something for a friend, here is where I got everything in my gift:
Lipsense