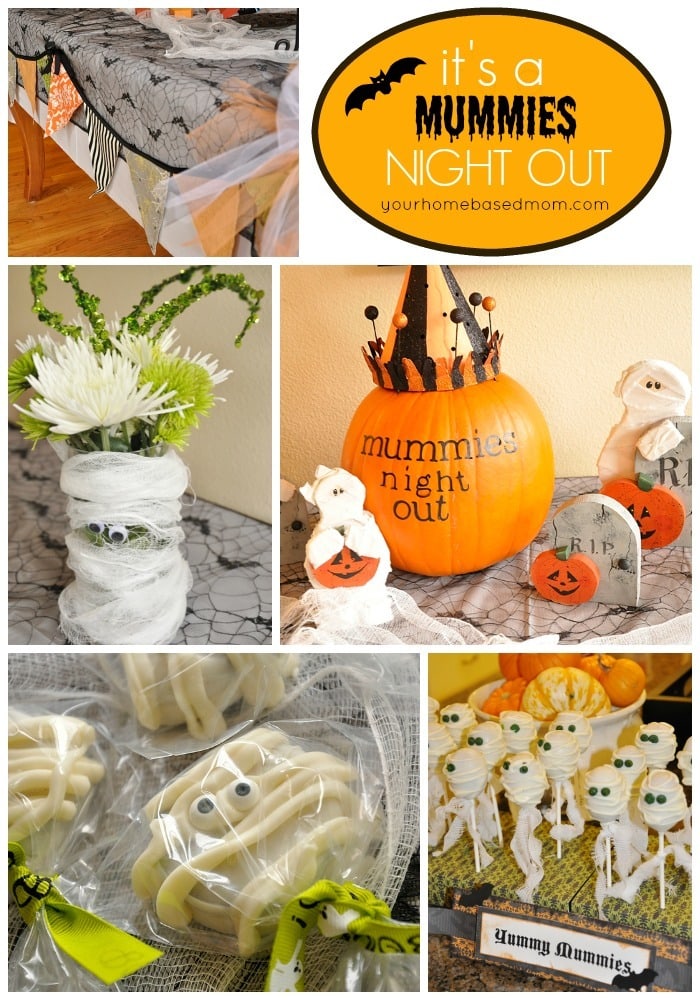 Now that I've gotten a little sleep I wanted to share with you some of the photos from the party last night.
The photos aren't great – let's just say it's hard to be head cook, hostess and photographer.
The food was served in the kitchen/family room area.
The kitchen table was covered in yummy appetizer type food (recipes soon I promise)
The Bloomin' Onion made an appearance  and then quickly disappeared!
And then there was the dessert table too with Oreo Cupcakes, Carrot Muffins with white chocolate cream cheese frosting and a yummy apple caramel bundt cake too!  (Recipes coming I promise!!)
The food even spread into the family room – caramel apple dip and pumpkin spice dip.

We had two craft stations set up.  My friend Karen put together this darling little box.
In the garage (you know I like you if I let you in my garage!) we put together a fun fall banner out of burlap (forgot to take a photo of the finished banner but I will!)
To carry out the mummy theme I covered some clear vases in cheesecloth and added googly eyes!
My very talented friend Karen also made these fun mummy cake pops for all the guests (they had red velvet cake inside!)
And I made some fun Oreo mummies for everyone to take home with them.
The wooden mummies I painted 20 years ago came in handy!  Glad I kept them.  I also cut letters out of black contact paper on my Cricut to welcome everyone to Mummies Night Out.
I covered the tables in white plastic tablecloths from the Dollar Store and then added some fun yardage from the fabric store for a table cloth.  I topped it with some torn cheesecloth for a spooky effect.  I also made a fun Halloween pendant banner that I draped on the front of the tables and then added some bows made out of tulle.
My candy corn lights added a nice touch too!

But the best part was having so many fun, wonderful women in my home!

And of course getting to see sweet baby Rylee is always a treat!
So it's onto the next party – neighborhood Halloween Roast is tomorrow night!