These Minty Triple Chocolate Cookies will please your mint lovers and chocolate lovers!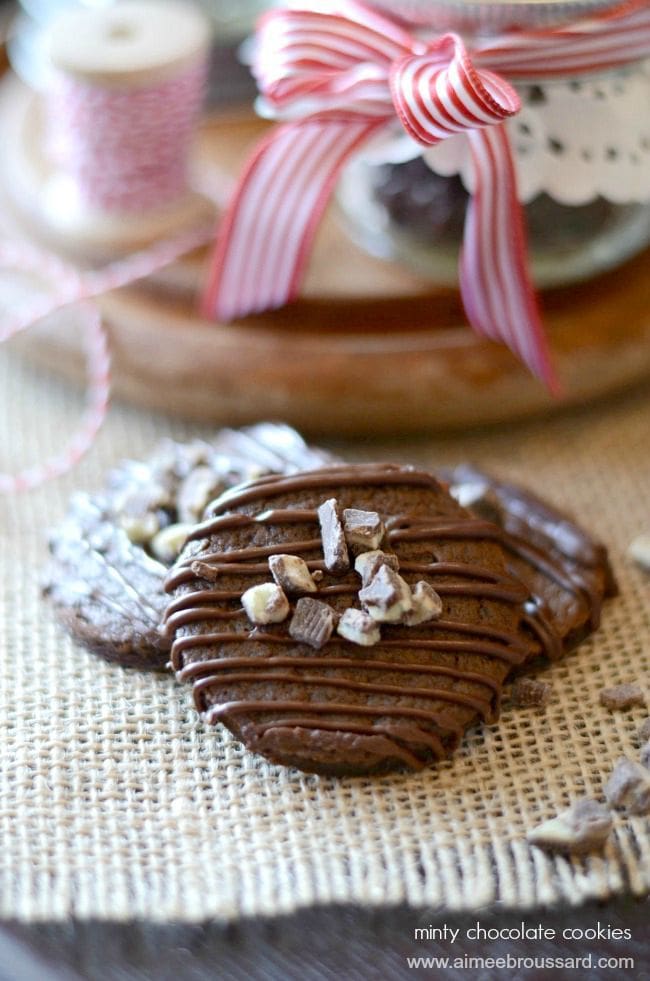 Welcome To Aimme of AimeeBroussard.com.  I have never met Aimee but I am an admirer of her blog – be sure you pay her and visit and check out her beautiful work and while you are there enter to win  Blendtec Blender and then check out what Mique and Cindy are sharing as part of the Craft and Sew! !
Hi, friends! I'm Aimee. I'm the owner of Kitchen Spirit, author of The Traveling Apron Cookbook, and blogger at AimeeBroussard.com (so original, I know but all the good names were taken). I'm delighted to be joining the Handmade Holiday series for my 2nd season and bringing you these Minty Triple Chocolate Cookies.
You know when you bake a batch of cookies and you say to yourself, "self, those are the BEST cookies you've ever made!!" and yourself agrees, you pat yourself on the back and you eat half the pan? Y'all. These are THOSE cookies.
They happened sort of by accident and were really the result of me just playing around with ingredients. I had recently purchased the Andes mint chocolate bits for some cupcakes I'm working on, but thought they might be a nice addition to all the chocolate in these cookies.
If you're a fan of the mint + chocolate combination, you will love these cookies.
But don't just stop there with these cookies. Oh, no, no, no.
It's the season of gifting, so stack them up and start dropping them off to neighbors. I pinky promise the next time you need someone to check your mail while you're out of town, they'll remember these cookies and jump to help you out.
But wait, can we just talk for a moment about these paper doilies? Found near the scrapbook aisle at your local craft store, I have become obsessed with using them on mason jars. It's a doily doubling as your gift tag! Just write right on it.
Smitten.
Here's the recipe for those cookies: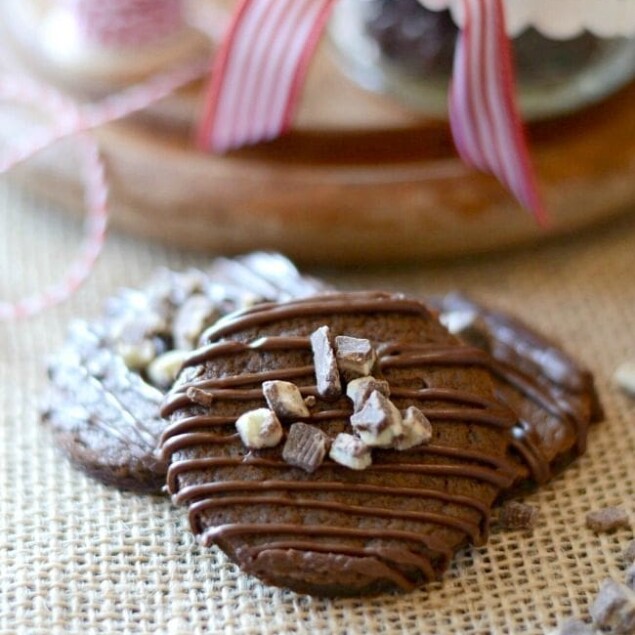 Minty Triple Chocolate Cookies
Ingredients
3/4 cup butter softened
1 cup sugar
1 egg
1 3/4 cups all-purpose flour
1/2 cup cocoa
1/4 tsp salt
1/4 tsp baking soda
3 ounces semisweet chocolate chopped
1 tsp canola oil
1 pkg Andes Mint bits
Instructions
Preheat oven to 350 degrees. In a small bowl, cream butter and sugar until light and fluffy then beat in the egg.

In another bowl, whisk together the dry ingredients; flour, cocoa, salt and baking soda then gradually add to creamed mixture.

Shape dough into 1-inch balls and place on ungreased baking sheets.

Flatten slightly and bake 6-8 minutes or until set.

Cool in the pan for about 5 minutes then onto wire racks to cool completely.

Meanwhile, melt the chocolate and oil in the microwave until smooth.

Drizzle over the cookies and sprinkle with Andes mints in the center of each cookie and while the chocolate is still wet.

Let stand until the chocolate sets.
Did you know that each time a new blogger is introduced during the Handmade Holidays series, you can pop over to that person's blog and enter for a chance to win a Blendtec Blender? Yep, you sure can and today is my turn!  Come on over for a visit and enter to win!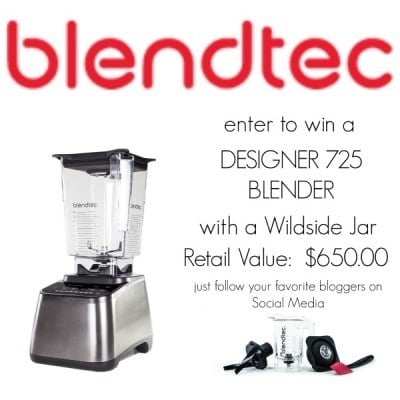 While you're there, here's some of my favorite gifts in jars for you to check out: Thin Mint Cookie Cheesecake, Homemade Pumpkin Spice Mix & this Southern Style Banana Pudding.
Also be sure to connect with me on social media: Facebook, Instagram, Twitter, Pinterest & Google+
Happy Holidays!!!