This post contains affiliate links.
A few weeks ago, I gave you a tour of my new white master bathroom.  At that point I hadn't added any art work to the walls because I wasn't quite sure what I wanted to do.  The people over at Minted, a lovely site I have visited often, wrote to me asking if I'd like to work with them.  Of course I said yes!  I had a lot of empty wall space I wanted to fill and their collection of Minted Art is amazing.
Minted is an online marketplace connecting you with independent artists from all over the world. Minted sources it's pieces through on-going art competitions and they have many beautiful pieces – so many, it was hard to choose. 
I love all the white of my  new bathroom but I wanted a few punches of color.  I totally fell in love with this piece, Peonies in a Vase,  the moment I saw it and I knew it was the perfect piece for my bathroom.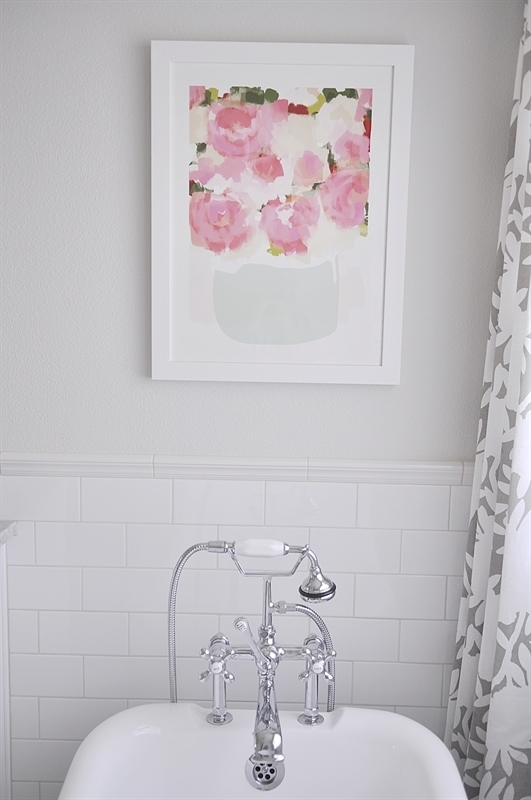 Everytime I take a soak in the tub this is my view!  It is just the perfect amount of color.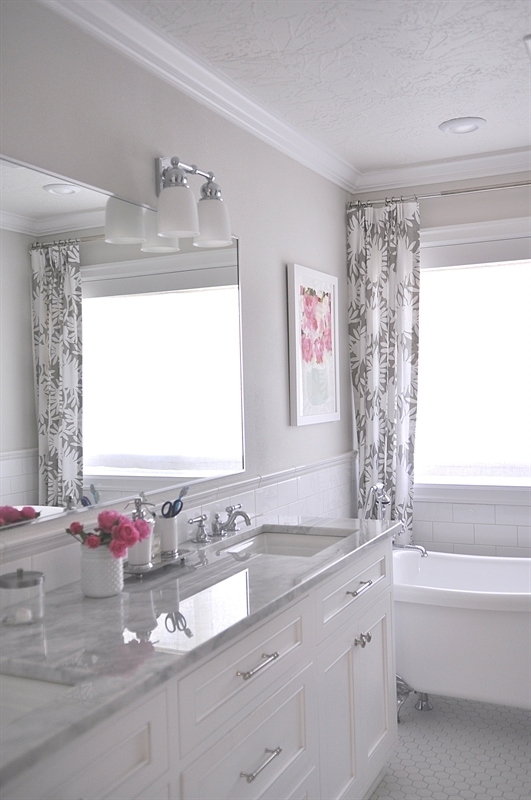 I also added this lovely impressionist inspired print called Savannah Lands.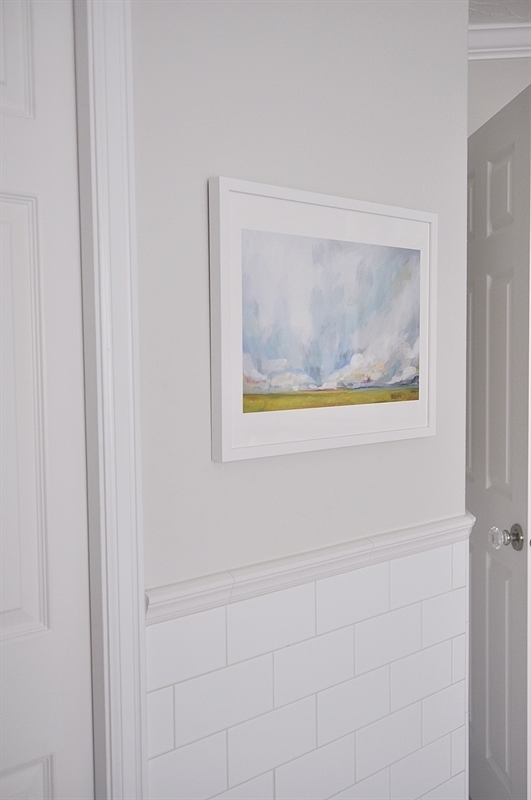 I love how the artwork looks in my bathroom and how it put the perfect finishing touches on the room.  All Minted artwork comes on acid free, lignin free paper and is a deluxe pigment print.
Not only did I pick out some new artwork for my bathroom but I also redid the gallery wall in my master bedroom.  There are so many beautiful pieces to choose from I had a hard time narrowing down my choices.  I am a big fan of anything floral or French so I decided that my new gallery wall would include those two things –  I used flowers and french photos and drawings as a theme to my gallery wall but a gallery wall doesn't need to have a theme.  It can just be made up of things you love.
Here is the fun gallery wall I put together in my master bedroom.  It is in the corner of my room where my reading chair is.  I love sitting in this corner with a good book and now I love it even more because there is so much pretty inspiration to look at.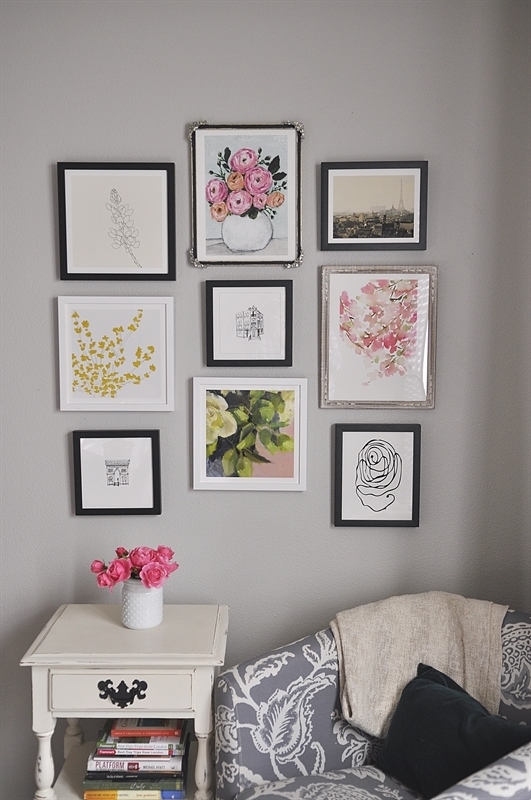 This floral piece was my first choice and what I built the gallery wall around.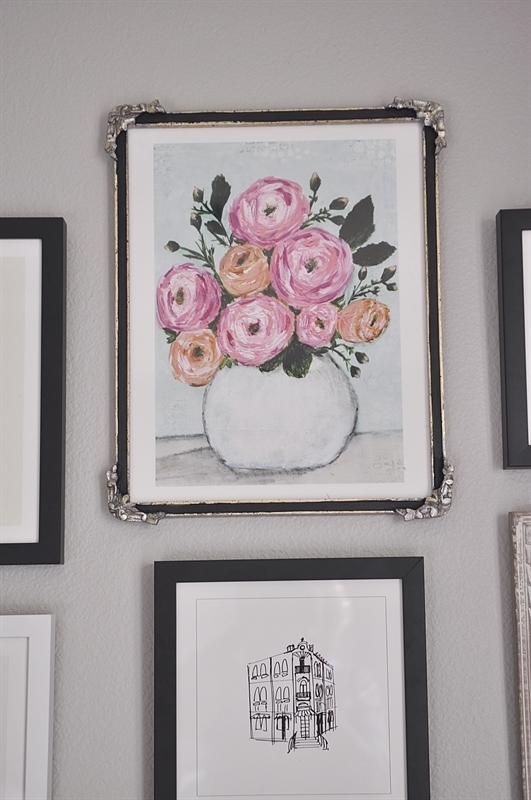 At Minted you can purchase your artwork with frames or without.  They have lots of lovely frame choices and I decided to go with a mixture of white, black and some textured woods as well.  I love how it all looks together.   Using all the same style of frames also creates a great look.  I just enjoy the more eclectic feel of mixing and matching my frames.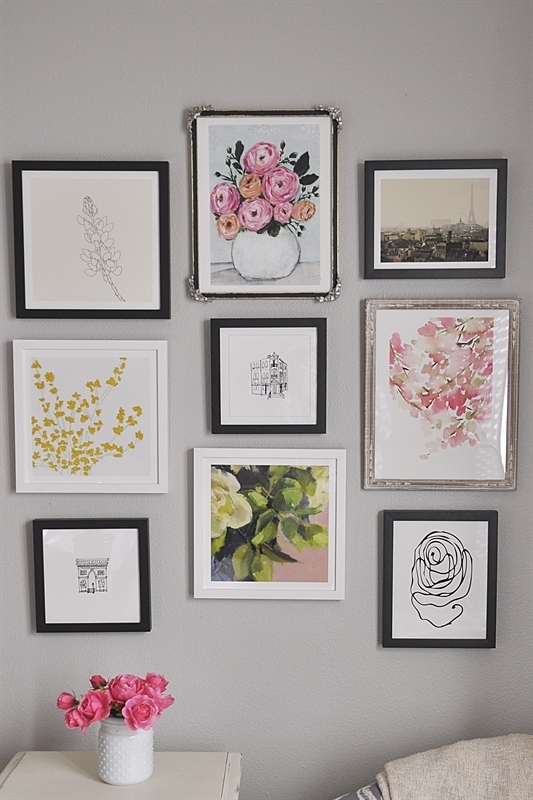 I couldn't pass up the photo of Paris or the cute black and white line drawings of Paris.  For a gallery wall, you want a variety of sizes, colors and styles in the art work you choose.  I used a variety of mediums including photography, drawing and painting in my gallery.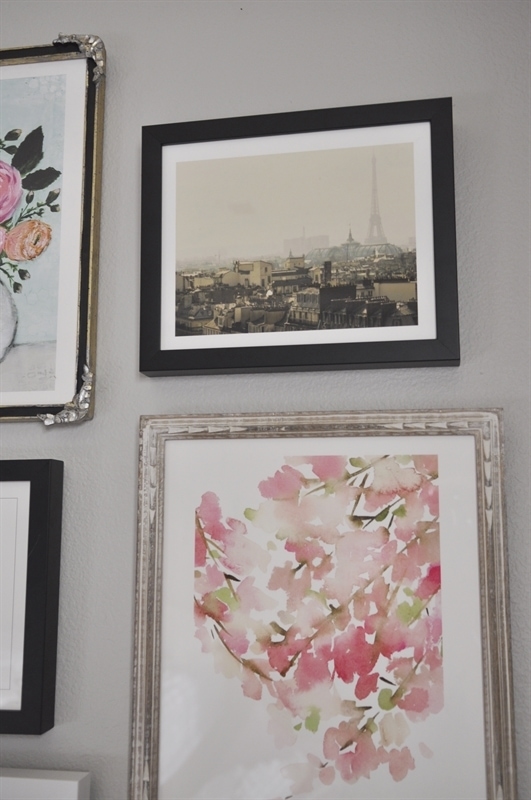 It was easy and quick to hang the gallery using the method I shared with you here – How to Make a Gallery Wall.  It works perfectly!  I got each piece of art hung right where I wanted it and straight on the first try without any help from my  husband who usually does the picture hanging at our house.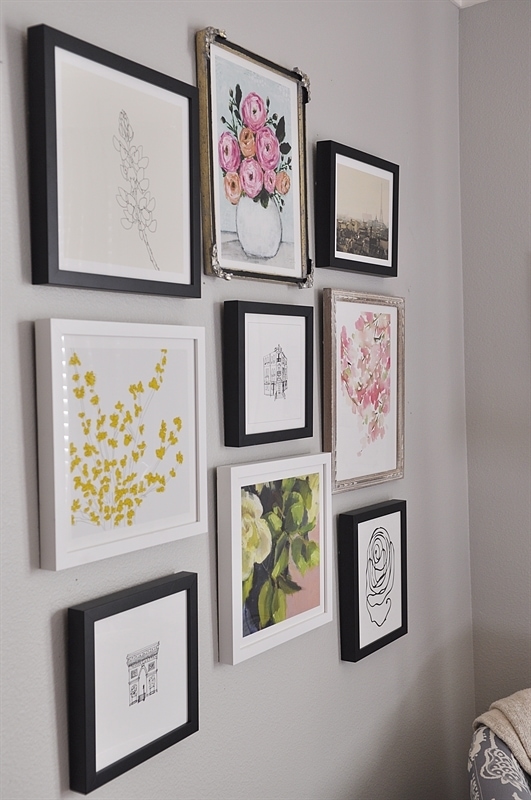 Here are all the pieces I used in my bedroom gallery wall:
Cherry Blossom in Spring  /  Paris is Always a Good Idea  /  The Arc de Triomphe /  Lupine  /  Perniuclear no. 2  /  Forsythia  /  Rosy Posy Art Print  /  Paris Street Shop  /  Bouquet One Art Prints
The holidays are one of the two times a year Minted runs a sale on art, right now they have their Free Foil Event going on – be sure and check it out.
Get my Weekly Menu Plan for FREE!
Receive my FREE "What's for Dinner?" Meal Planning Course, a copy of my FREE ebook that includes my most popular recipes and my FREE weekly Meal Plan.