These Mint Dipped Double Chocolate Cookies are definitely going on my To Bake list this holiday season!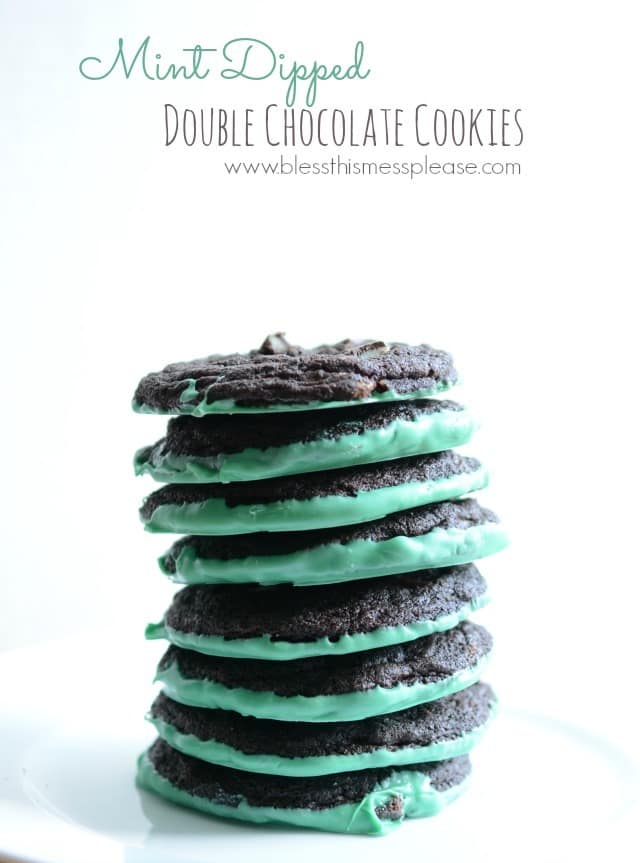 Welcome Melissa!  I started drooling over these cookies the moment I saw them.  I immediately knew I would be making them and soon!!  Chocolate and mint is a favorite flavor combination of mine and these cookies fit the bill perfectly!  Head on over to Melissa's blog – Bless this Mess and check out all her other amazing recipes.  I can't wait to try that fall salad she just posted.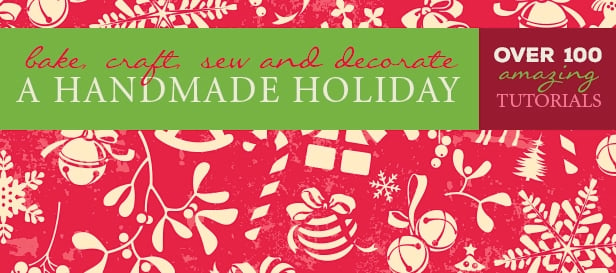 Hello. I'm Melissa. I'm a photographer, recipe developer, hobby farmer, Etsy seller, food blogger, momma of five and general lover of all things delicious. My blog, Bless this Mess, is an honest picture of a happy small town life. You'll find posts about raising backyard chickens, building our dream house with our own hands, and lots and lots of family friendly recipes, dessert included. I adore cast iron cookware, knowing where my food comes from, cake stands, watching my kids gather eggs, all green things, and getting to know new faces. Come say hello! (Instagram is my jam, let's be friends!)
After getting our first snow this weekend it officially feels like the holiday season. Snow makes everything so clean, bright, and well, just plain Christmas-like. I've gotten some of my shopping done for my family, and now it's time for me to start thinking about friends and neighbor gifts.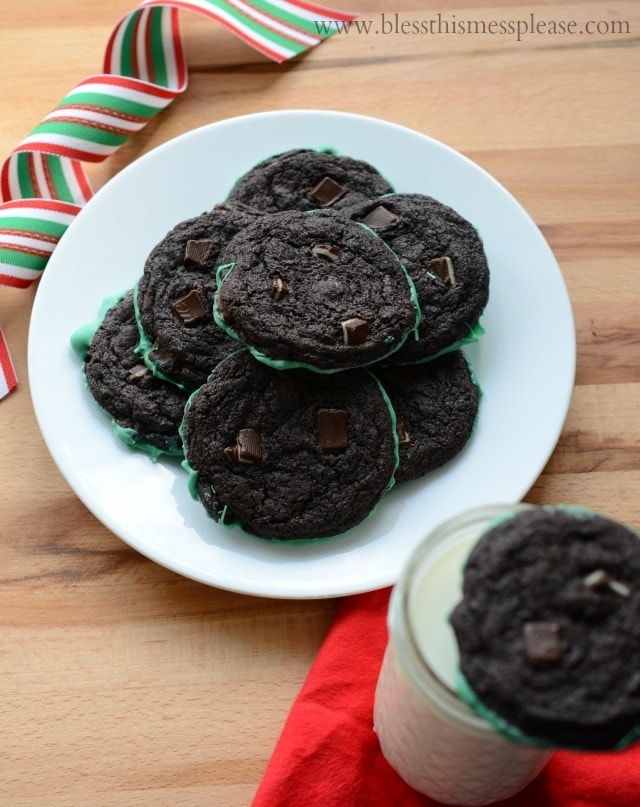 I love, love, LOVE to make cookie/goodie plates every year and I love to get them out to friends as early as I can. I try to beat the cookie burn-out by being the first one to have my treats in their kitchens. I start planning, creating, and testing recipes weeks in advance (no on in my house minds!).
The chilly weather has gotten me craving mint and chocolate things. That craving turned out to be a very very good thing because it led to the creation of these amazing mint dipped double chocolate cookies. They are PHENOMENAL. I loved them, they are delicious, and they are gorgeous. If you are looking for a "wow" cookie to take to a party, cookie exchange, or to impress the neighbors, look no more.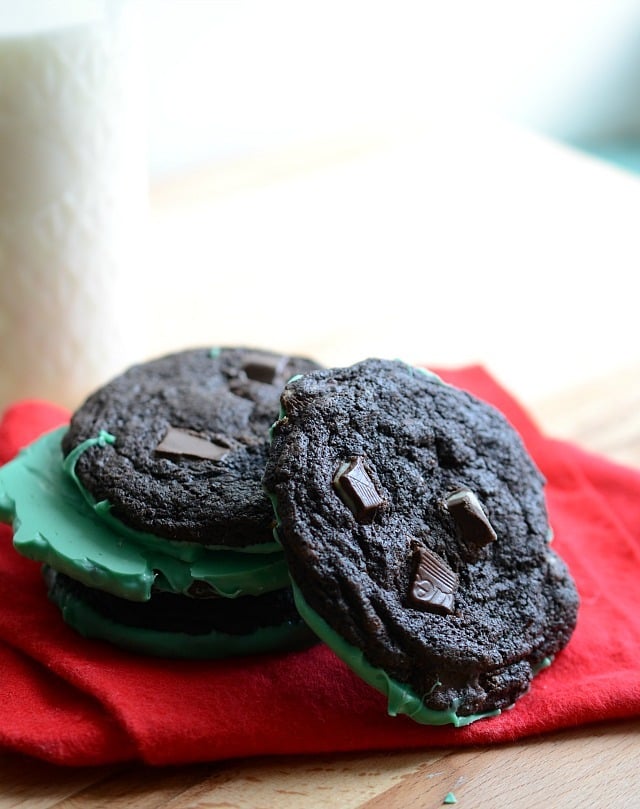 I started with a great chocolate cookie dough recipe, added chopped Andes Mints (yum!) and then really brought it up a notch by dipping the bottom of the cookie in melted mint chips. After the cookies sit overnight and the flavors have time to marry and blend, you end up with the most delicious mint chocolate cookie ever. The texture is so pleasant too. That mint dipped bottom is awesome.
I know you see lots of recipes here but this is one that you have got to try. You will not be disappointed! And anyone you gift a few of these beauties too will adore you always. And that's not a bad thing either. And if you are looking for an incredibly unique handmade gift to go alone with these, check out my one-of-a-kind nativity puzzles made from cedar (they smell like heaven!). Enjoy!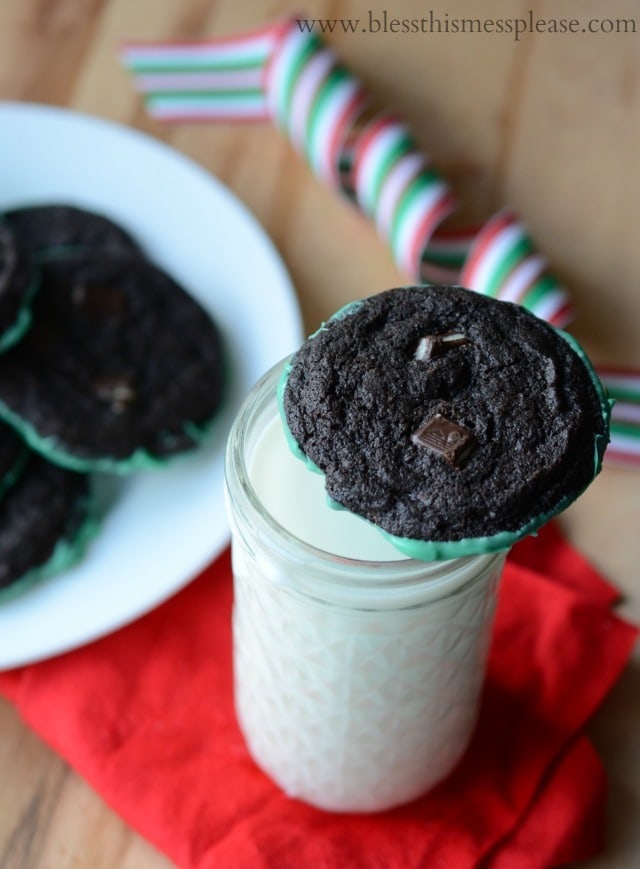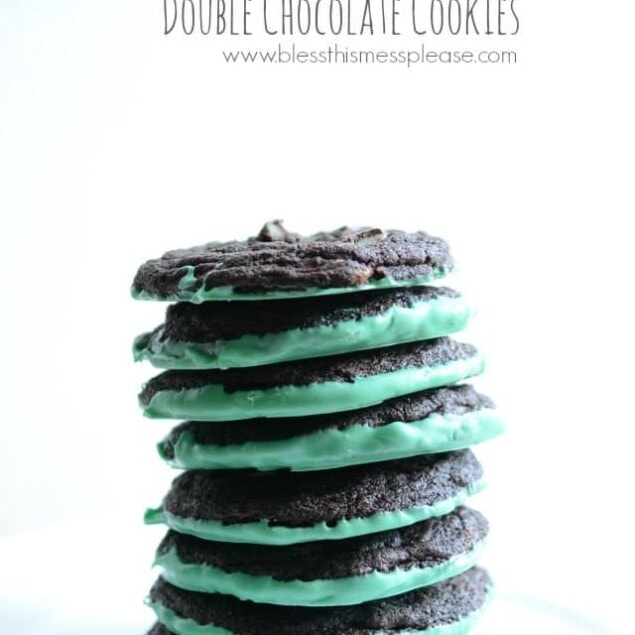 Mint Dipped Double Chocolate Cookies
Ingredients
1 cup butter softened
1 cup granulated sugar
1/2 cup brown sugar
1 teaspoon vanilla extract
2 eggs
2 1/4 cups flour
2/3 cups cocoa
1 teaspoon baking soda
1/4 teaspoon salt
1 1/2 cups chopped Ande's mints or Ande's mint baking pieces
2 cups green mint chips Guittard brand is best
Instructions
Preheat the oven to 350 degrees and line a baking sheet with parchment paper or a baking mat.

In a large bowl or the bowl of your stand mixer beat together the butter and sugars until light and

fluffy, about 3 minutes. Add the vanilla and eggs and beat to combine well. Add the flour, cocoa,

soda, and salt and stir to combine. Fold in the Ande's mint pieces.

Scoop on to the sheet in rounded 1 tablespoon scoops. If you'd like a few more Ande's mint pieces to

be seen, poke them on the top of the cookie dough ball by hand. This isn't necessary but it makes

them prettier. Bake for 9 to 11 minutes until the centers are set. Let the cookies cool on the pan for 2

or 3 minutes and then let them finish cooling on a wire rack. Cool completely.

Melt the mint chips in a bowl large enough to dip the bottom of the cookies in. I just held onto the

cookies and dipped the bottom in. Make sure the chocolate isn't too hot or you'll burn your fingers.

Place the dipped cookies on a sheet of waxed paper until the mint sets.

Store extra cookies in an air­tight container.
Tips & Notes:
The cookies are better after they sit overnight. This give the mint time to mingle with the cookies. I recommend serving them the day after you make them.
It's a little hard to tell when these dark cookies are done, so set a timer!