This Mini Pavlova Dessert Board is the perfect way to entertain a group of friends or treat your family.  Everything you need to create a delicious pavlova is all in one place.  Let your guests create their own amazing flavor combinations.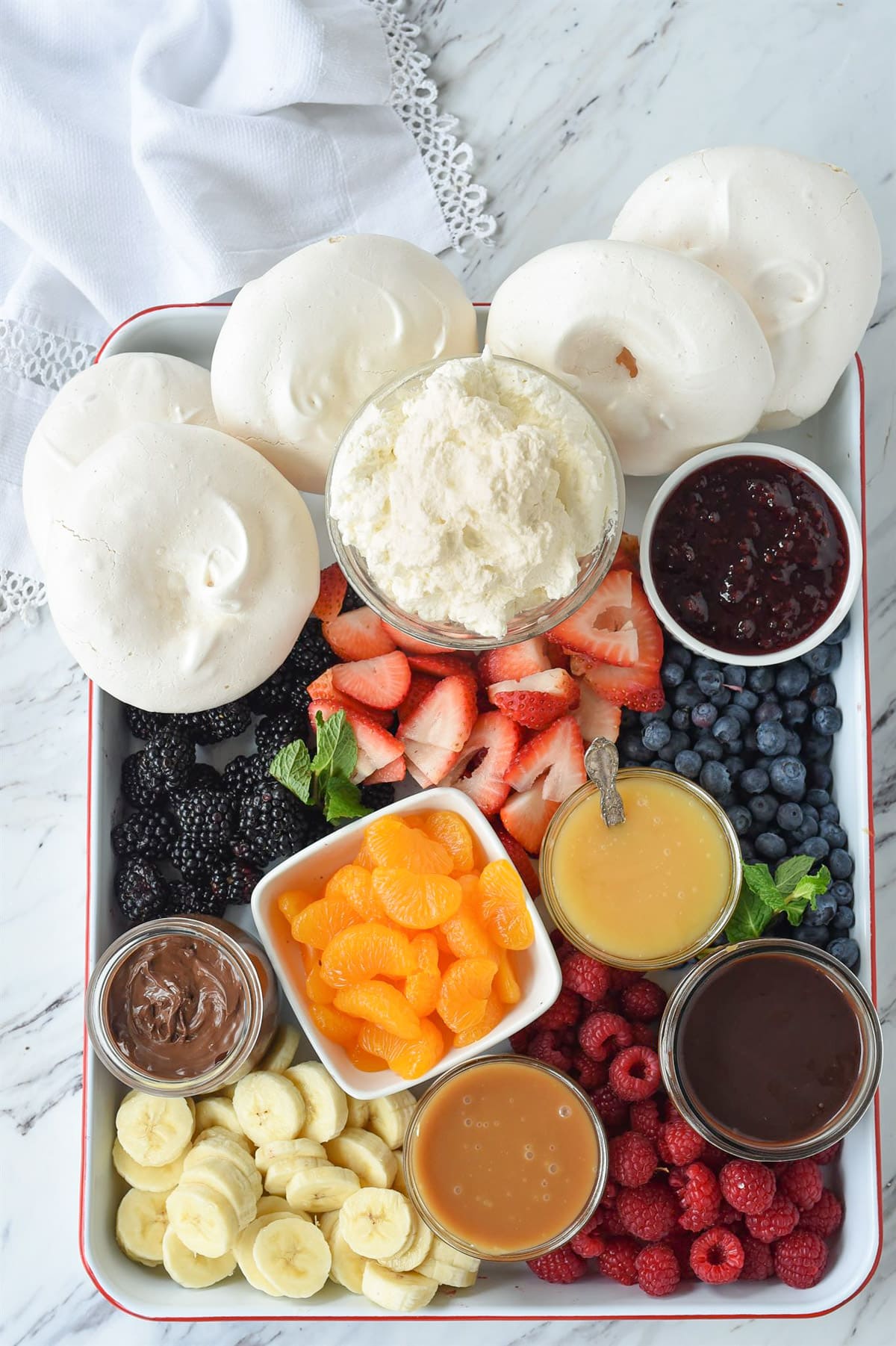 Putting together a mini pavlova dessert board is almost as much fun as watching your guests assemble their individual pavlovas and enjoy them. This is a perfect thing to serve at a bridal or baby shower, a dinner party, Valentine's dinner or for a special family dinner. I love to put the board together and then sit back and watch my guests have fun creating.
Make Ahead Dessert Idea
Pavlova is the perfect prep ahead dessert idea. Make your pavlovas the night before and keep them in a dry airtight container. Your fruit can be washed and sliced the day before too. All the sauces can be made ahead of time and all you need to do before serving is whip your cream. The cream can be whipped an hour or so ahead of time and kept refrigerated. Then all you have to do right before serving is put everything on the dessert board.
For my dessert board I used this enamel tray but you can use a baking sheet, a wooden cutting board or any flat surface you have.
How to Make a Pavlova Dessert Board
Pavlova – you will need individual size pavlovas. You can check out my pavlova tutorial here with all the details on how to make perfect pavlova every time. My pavlova rounds are about 3 1/2 inches across, the perfect serving size for one person.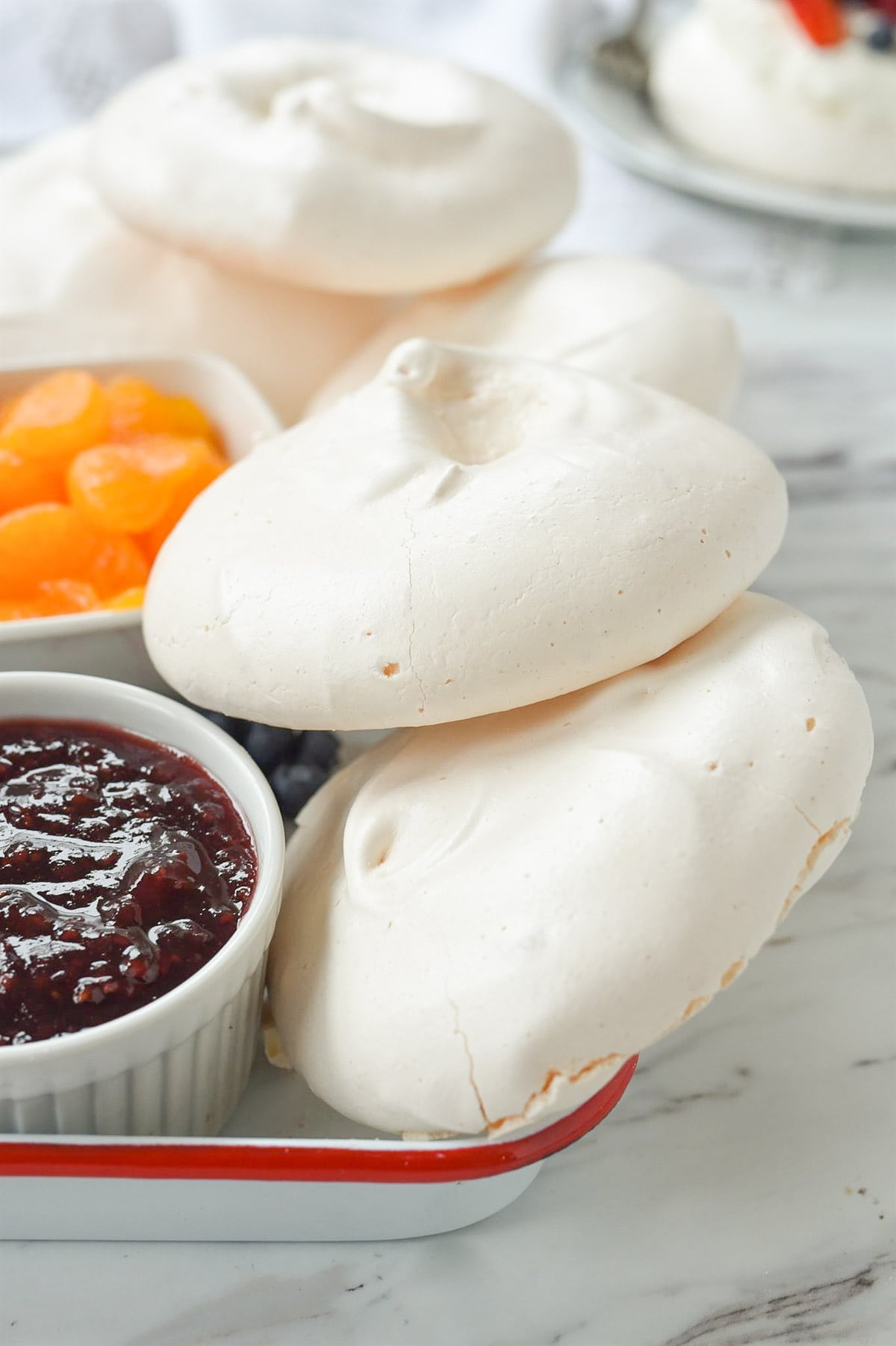 Whipped Cream – follow my tutorial for sweetened whipped cream here. The whipped cream is put on top of the meringue making a nice bed for all your other toppings.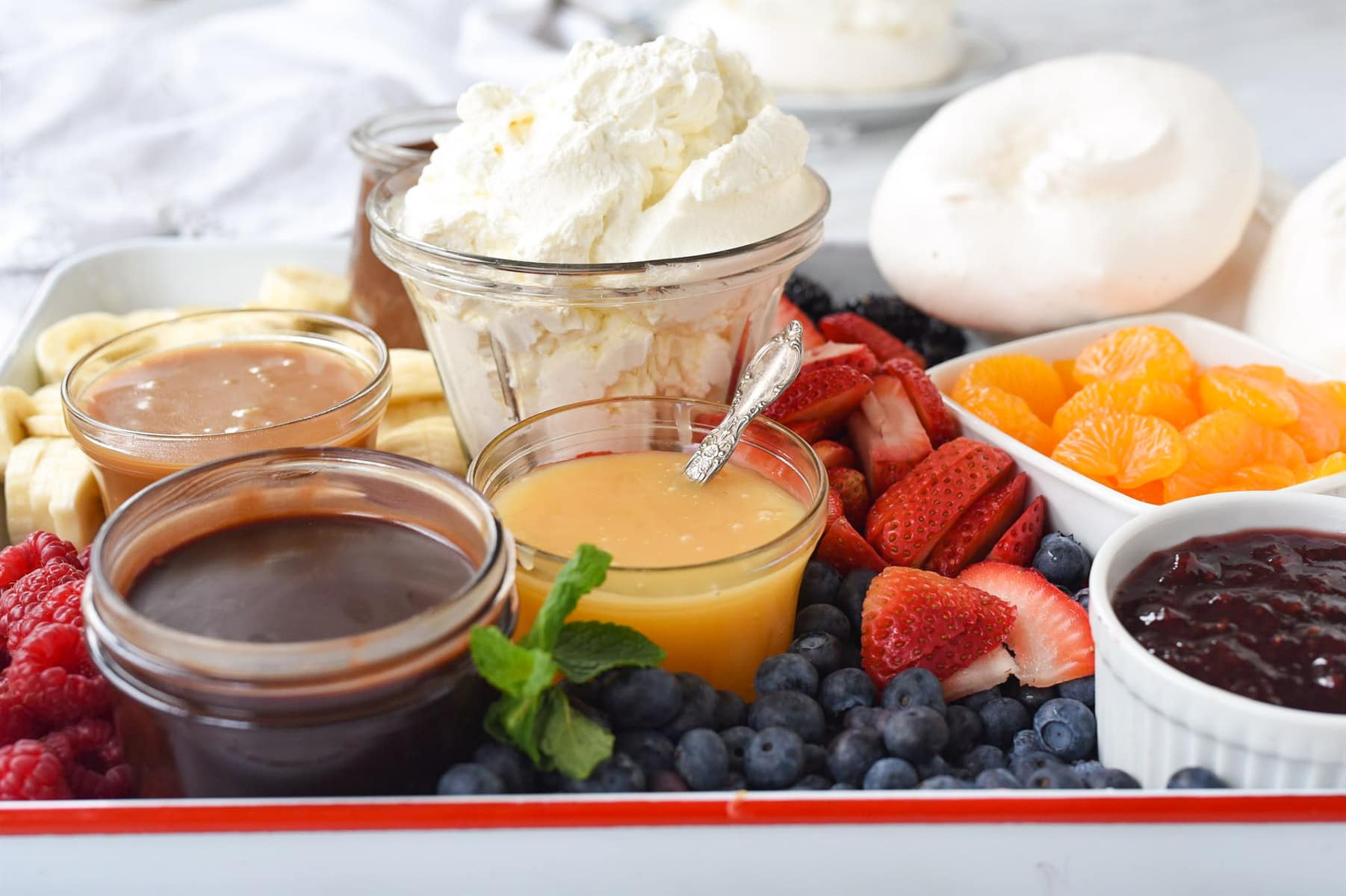 Fruit
I love to use a combination of:
raspberries
strawberries
blackberries
blueberries
bananas
orange segments
Use your favorite fruit and just be sure your fruit is cut up into bite size pieces. I like to use this strawberry slicer for perfectly sliced strawberries.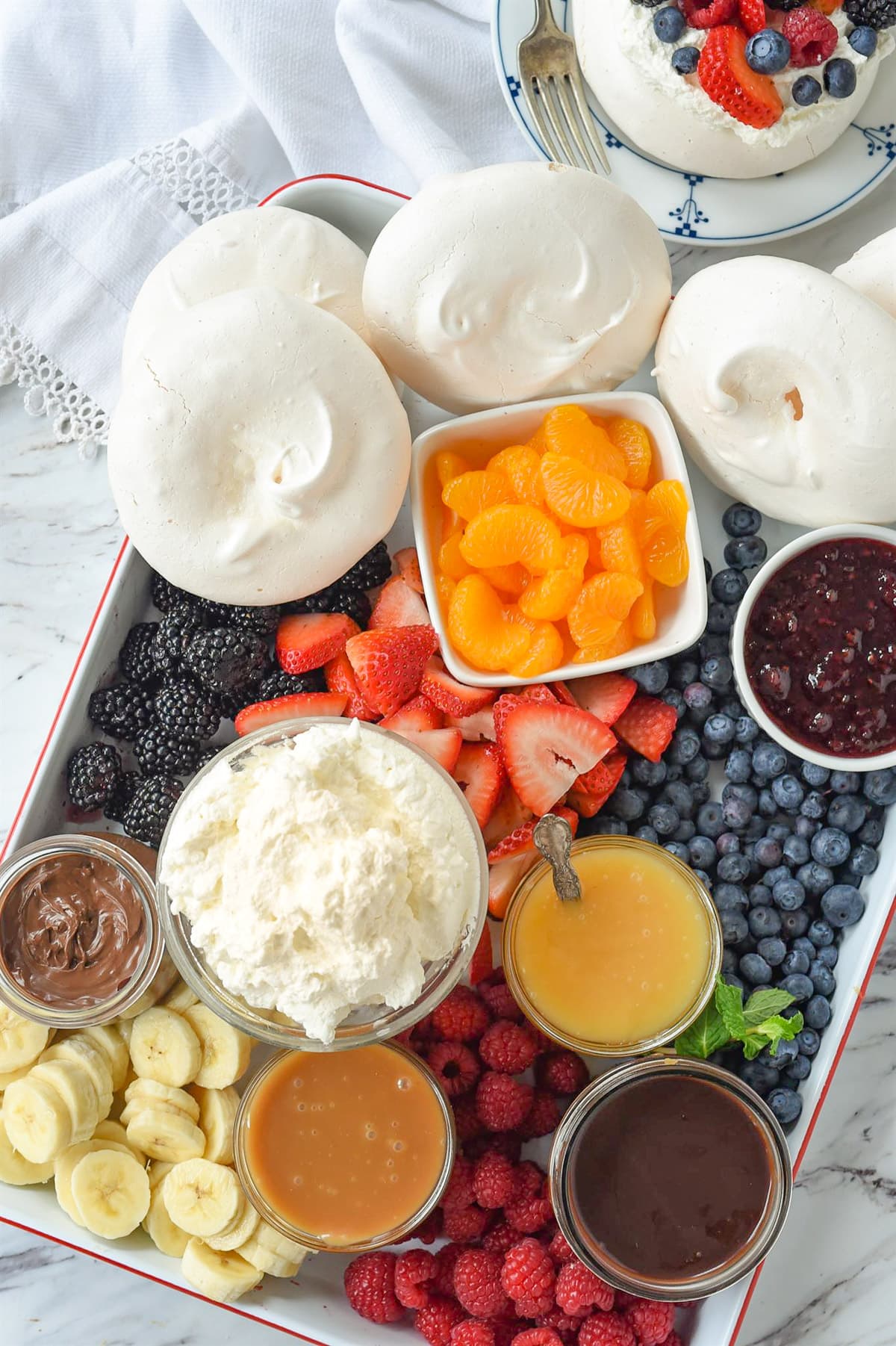 Toppings or Sauces
Lemon Curd – this is my very favorite topping for pavlova. I love using my homemade lemon curd and it is the perfect way to use up the egg yolks that are leftover after making your pavlova. Of course store bought lemon curd will do in a pinch.
Nutella- I like to warm it up so it spreads or drizzles a little bit better.
Hot Fudge Sauce – my mom's recipe is my favorite.
Strawberry or Raspberry Sauce – use the recipe in my Swedish cream recipe.
Caramel Sauce – It is delicious with salted or regular caramel sauce.
How to Assemble Pavlova
Place your pavlova on a plate. Add a large scoop of whipped cream. Drizzle with your favorite topping and add your assorted fruits. I like to drizzle a little more topping over the top of my fruit too!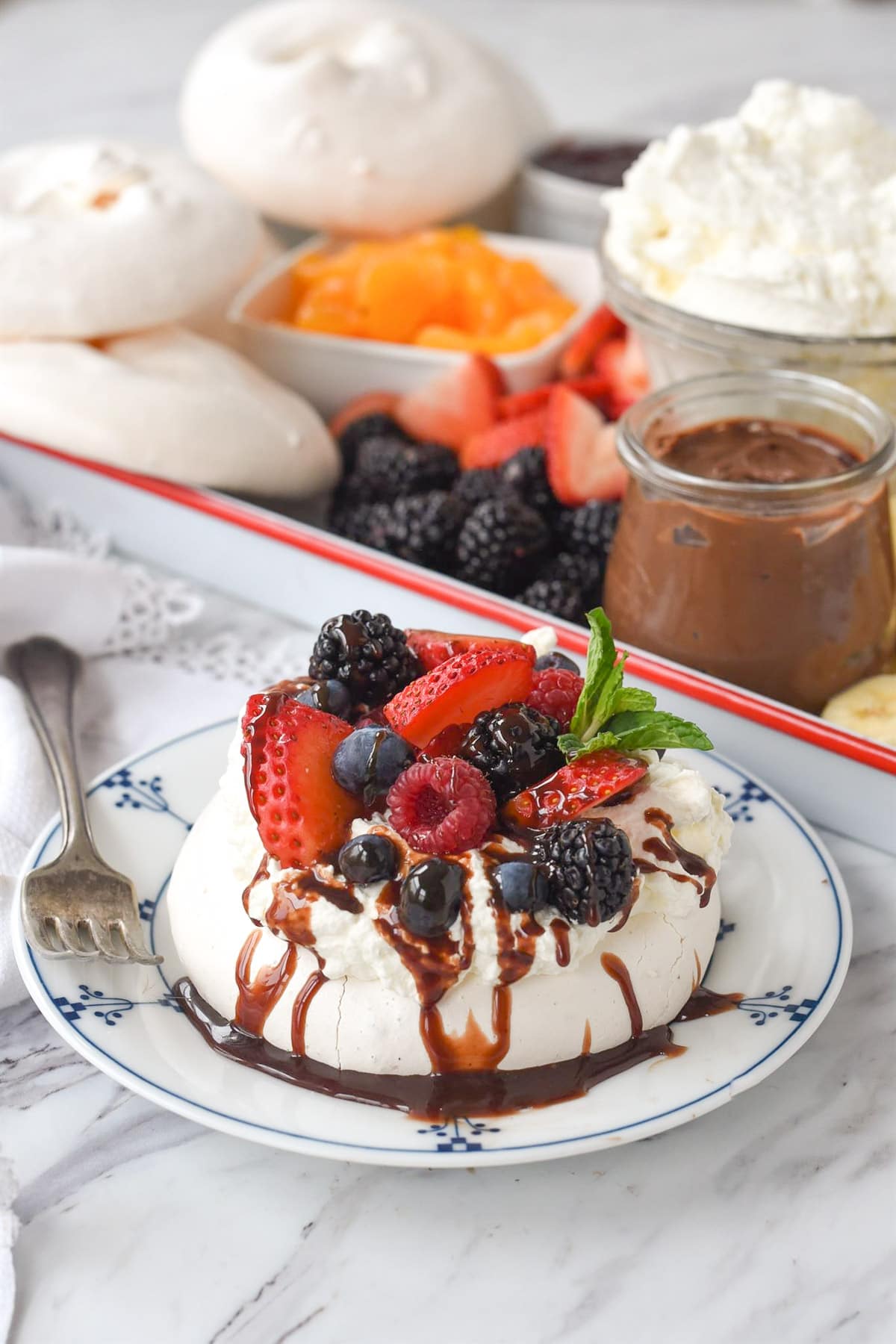 How Long will Mini Pavlova Last?
The actual meringues will last a few days if you keep them dry and in an air tight container. Store them in a single layer as they are fragile and can break easily. Once you add the whipped cream and toppings to it they will last several hours refrigerated. It is best to assemble right before serving.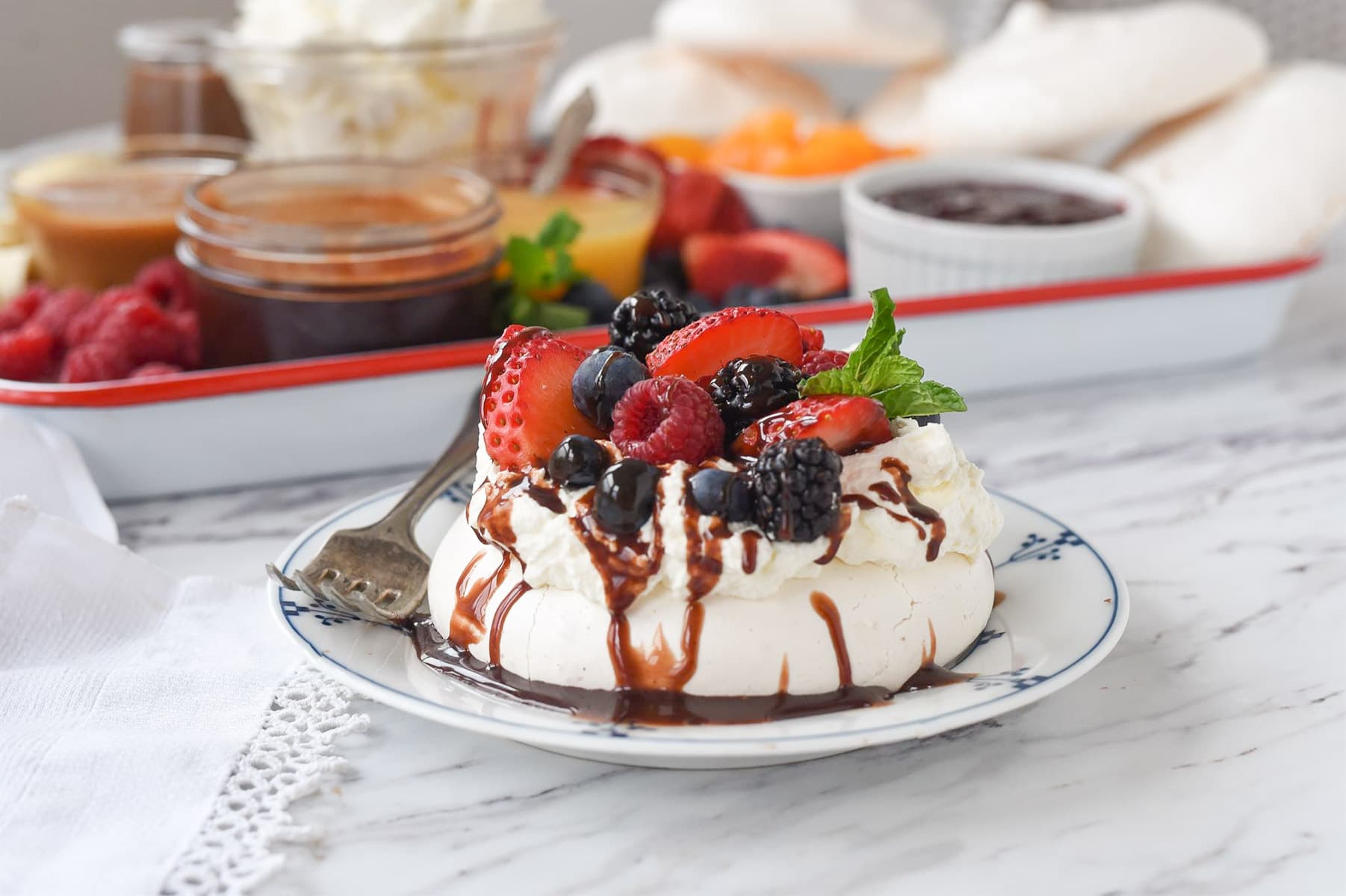 Check out these other fun dessert board ideas:
For all of my other favorite kitchen products and tools visit my Amazon Store.
Did you know I wrote a cookbook? Check out the Holiday Slow Cooker Cookbook for 100 delicious recipes
FIND MY RECIPE FOR MINI PAVLOVA HERE!