The secret to a delicious London Broil is a good London Broil marinade. This marinade recipe is bursting with flavor and makes dinner easy and delicious. It's the perfect prep ahead meal.
Some other favorite marinated meats include Fast Fire Flank Steak, Asian Marinated Chicken, Marinated Skirt Steak and Grilled Flank Steak with Olive Relish.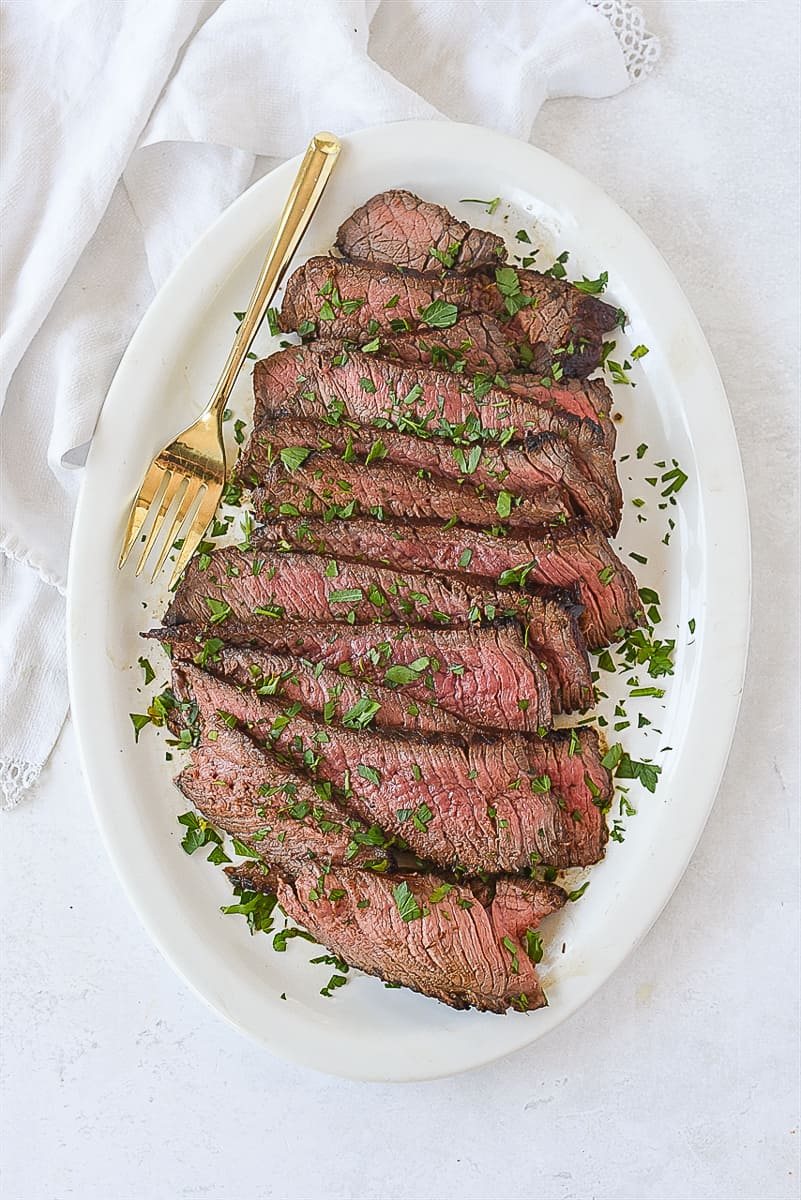 It's June and that means it must be summer right? You never know here in the Pacific Northwest. One day it's chilly pouring rain and the next day it's 80 degrees and sunny! We have learned though that regardless of the weather we can still fire up the BBQ and grill!
Today's recipe for London Broil is a quick and easy dinner you can prep ahead and throw on the grill when you are ready to eat. That is my kind of summer meal!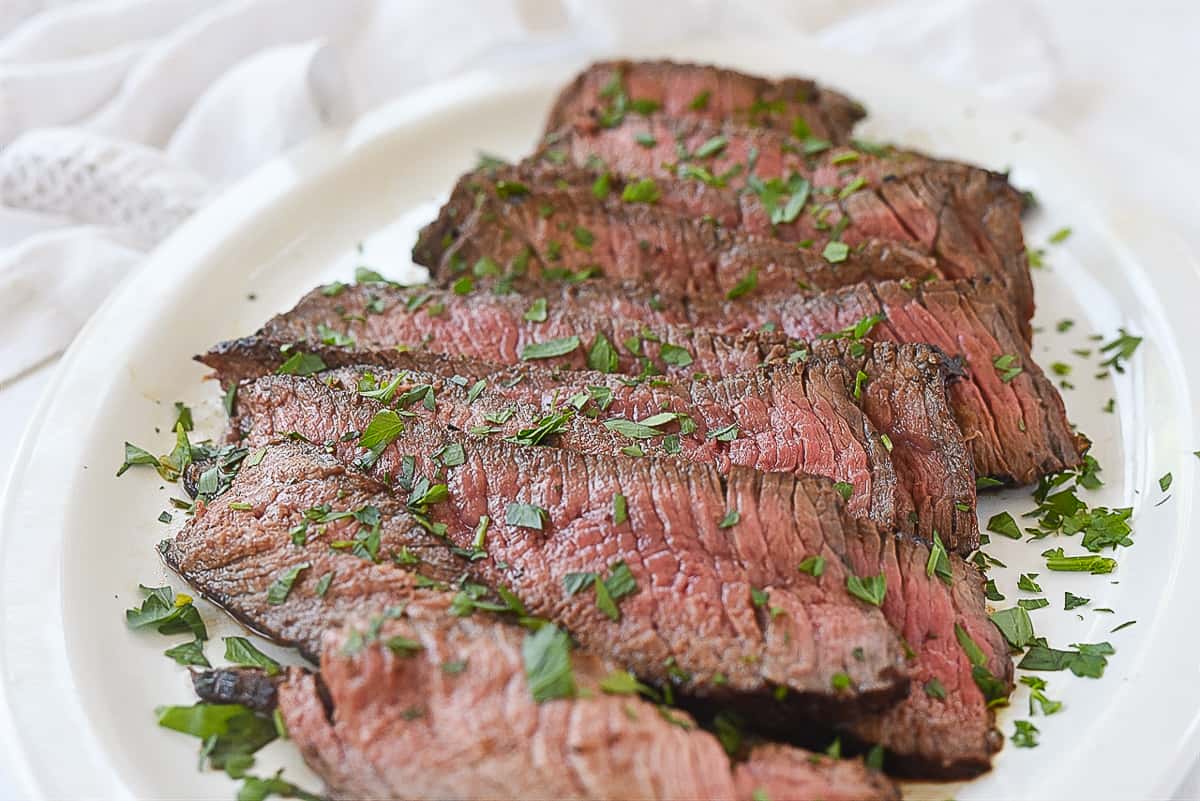 Our favorite day to grill is Sunday. I put something in to marinate Saturday night and it's ready to grill as soon as we get home from church on Sunday and everyone is starving and ready to eat. When my kids were little and living at home I always cooked a big "Sunday meal." I have continued to do so even now that we are empty nesters but I am always looking for easy recipes and this is one of them!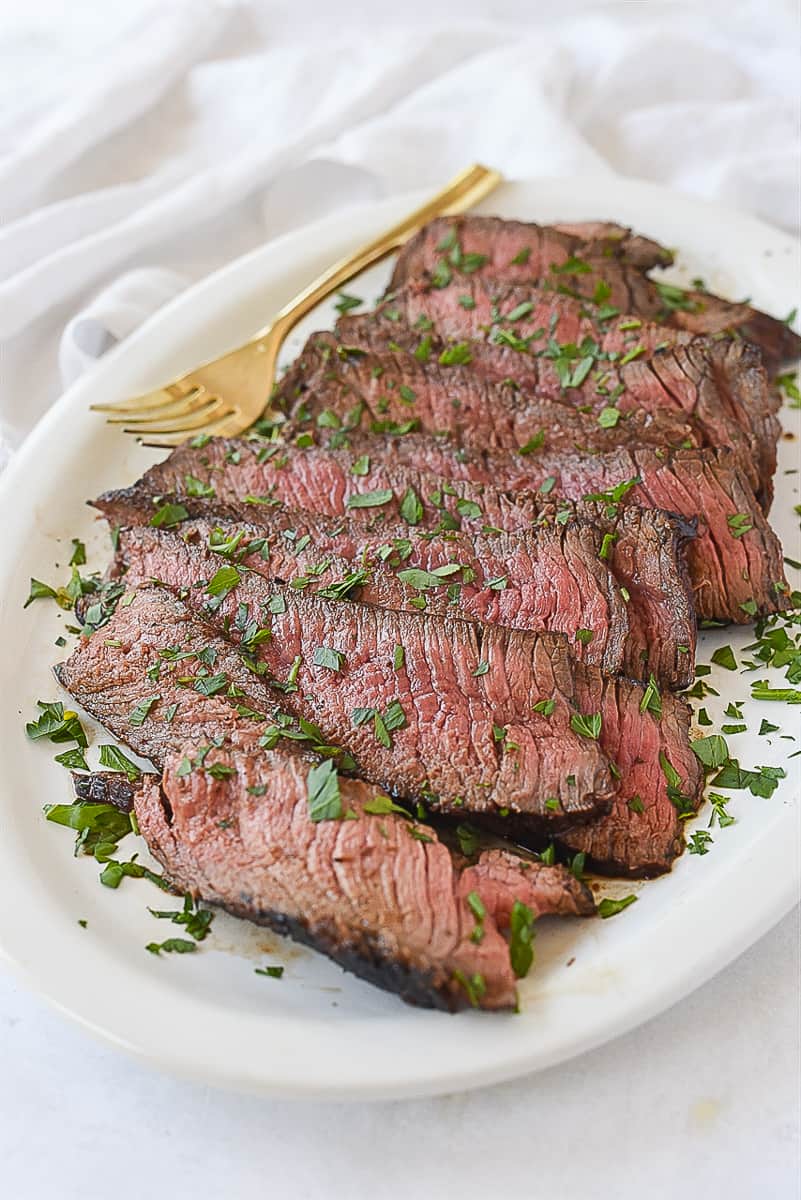 What is London Broil?
According to Wikipedia, "London broil" originally referred to broiled flank steak but today butchers may label top round or other cuts of meet as "London Broil" and the term refers more to the method of preparation and cooking than the specific cut of meat. It is typically a lean but tough steak that is marinated and then grilled or broiled. You will find London Broil anywhere between 1-4 inches thick.
Because it is a tougher cut of meat it is perfect for marinating.
If you can't find a London Broil you can use Flank Steak.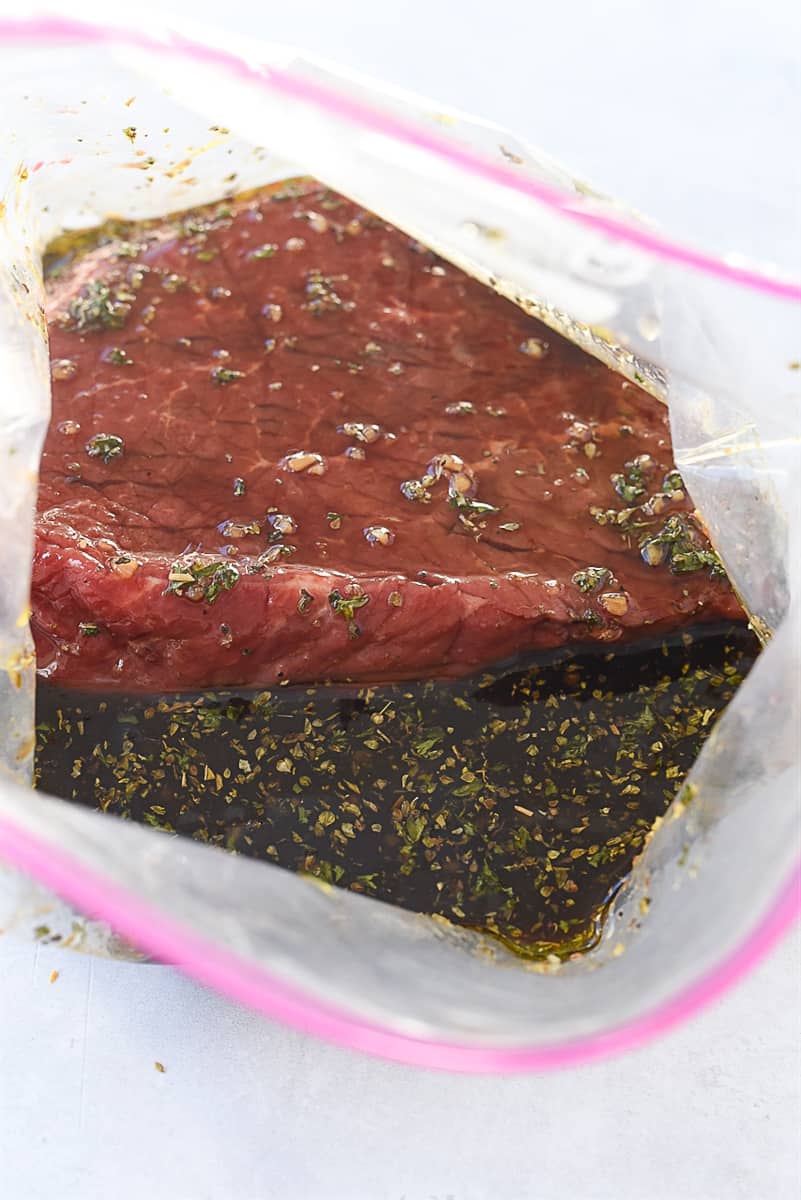 London Broil Marinade Ingredients
Soy sauce
Balsamic vinegar
Worcestershire sauce
Olive oil
Lemon juice
Garlic
Oregano
Basil
Parsley
Honey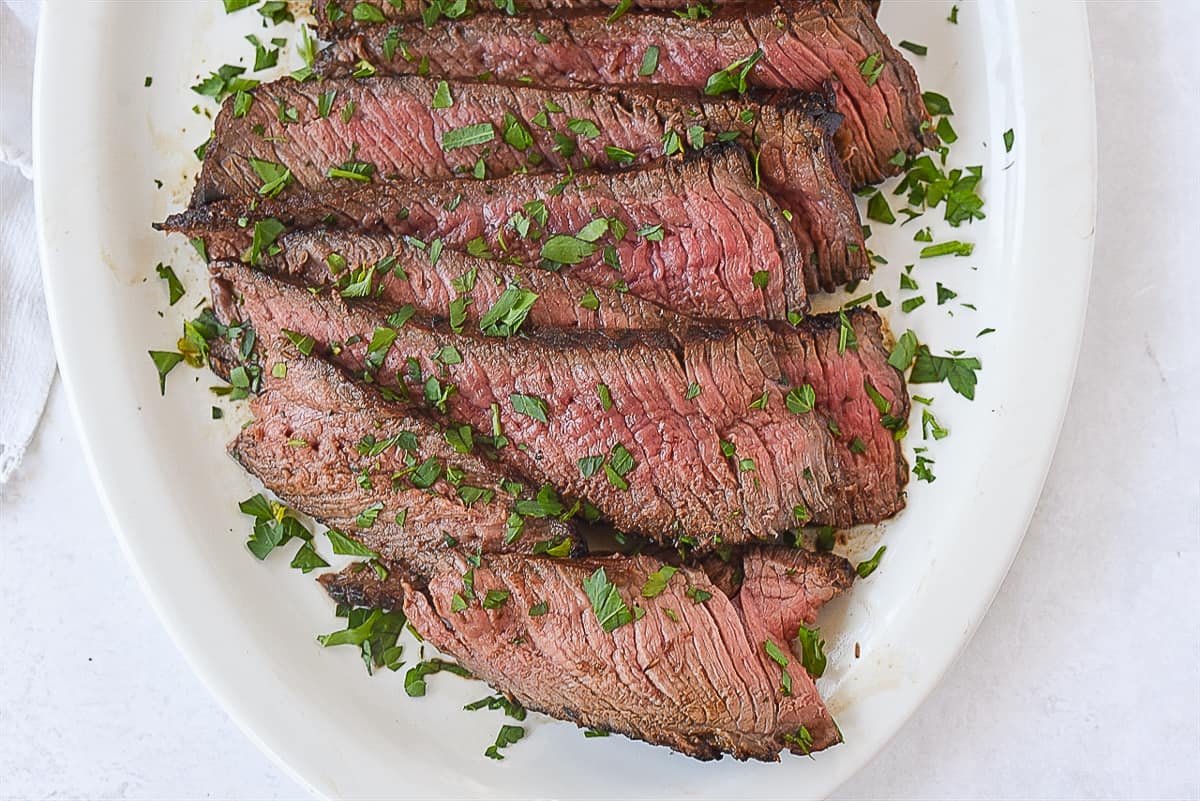 How to Marinate London Broil
Combine marinade ingredients and place meat and marinade into a zippered plastic bag.
Refrigerate for a minimum of two hours to overnight.
Remove meat from refrigerator about 30 minutes before grilling.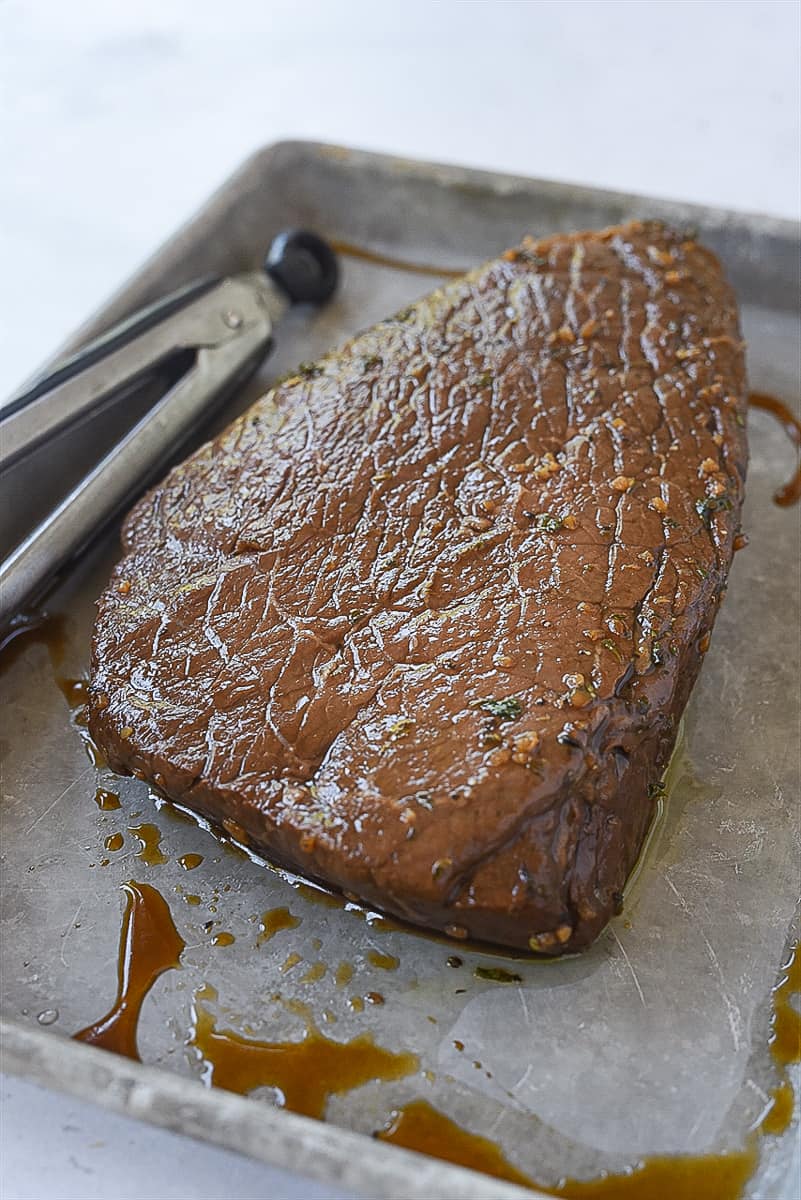 How to Grill London Broil
Preheat grill
After allowing meat to sit at room temperature for 30 minutes.
Grill meat for 4-5 minutes per side, depending on thickness of meat and desired doneness. 125-130 degrees F for rare, 135 degrees F for medium rare and 145 degrees F for medium. It can also be cooked under the broiler in the oven.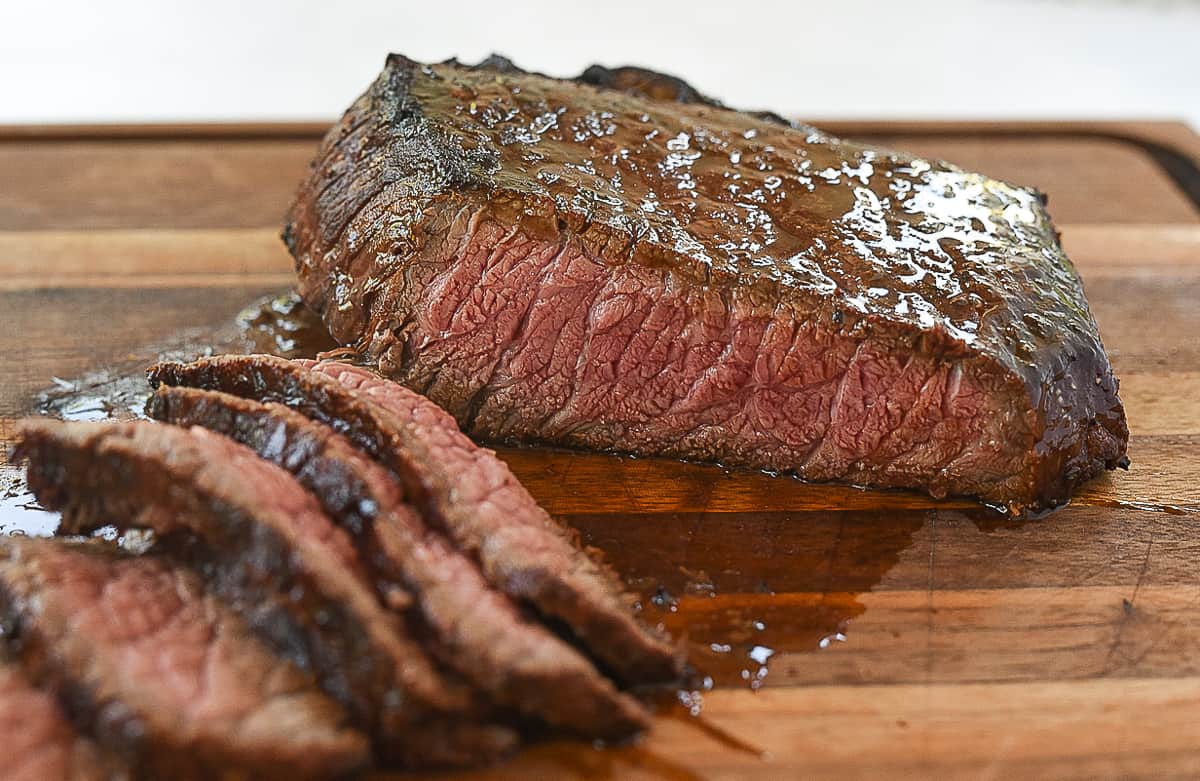 Allow meat to sit for 5-10 minutes before slicing.
Cut meat diagonally, across the grain into thin slices.
Garnish with some fresh parsley.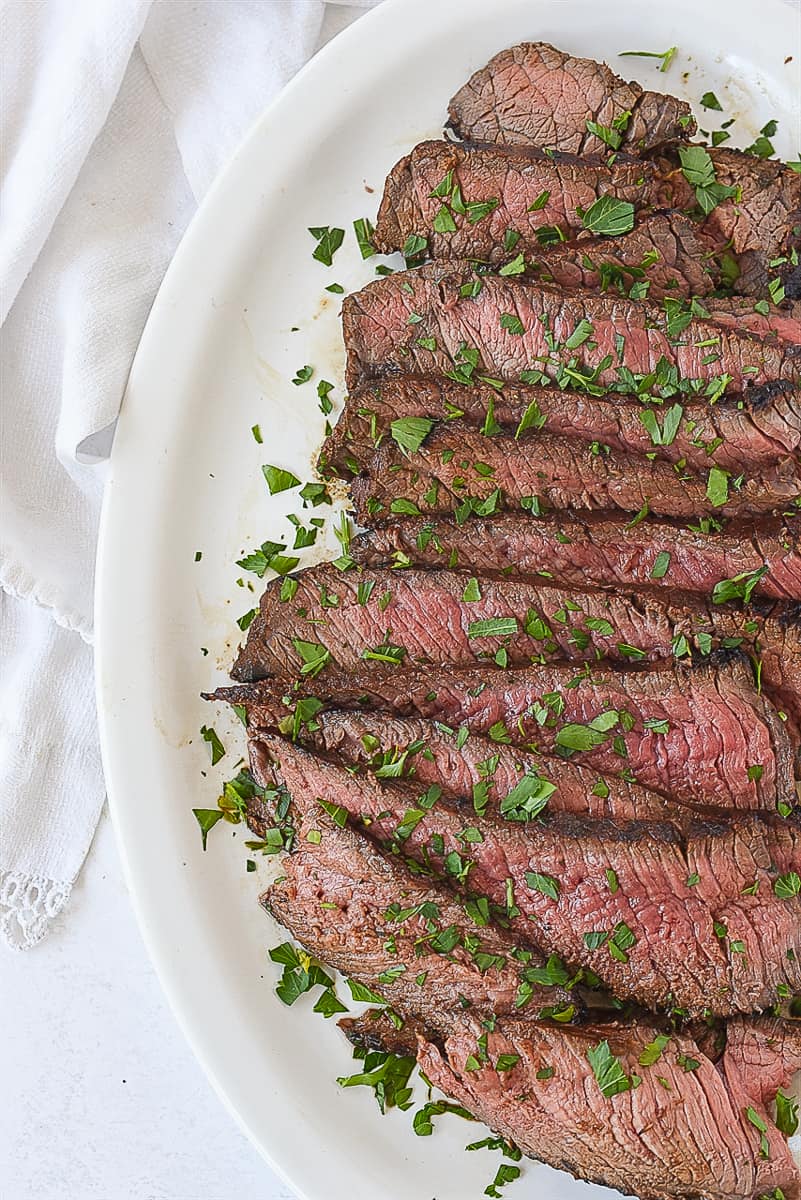 What to Serve with London Broil?
For all my other favorite kitchen products and tools visit my Amazon Store.
Did you know I wrote a cookbook? Check out the Holiday Slow Cooker Cookbook for 100 delicious recipes. Be sure and follow me over on You Tube for weekly cooking demos.
London Broil Marinade Recipe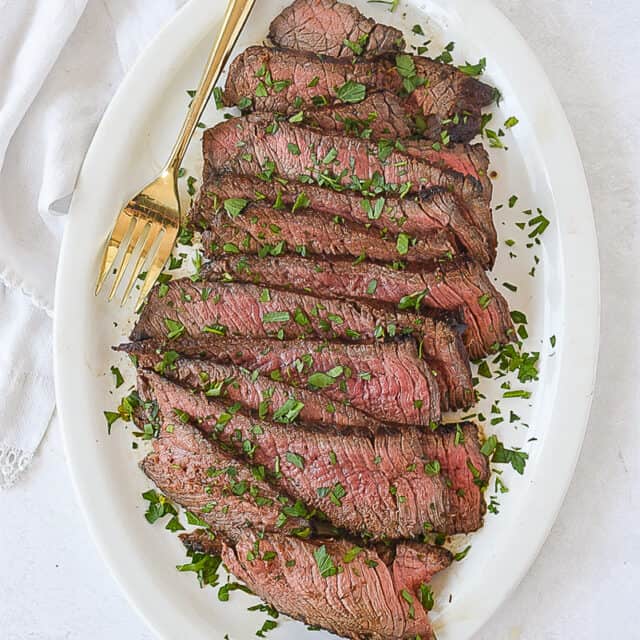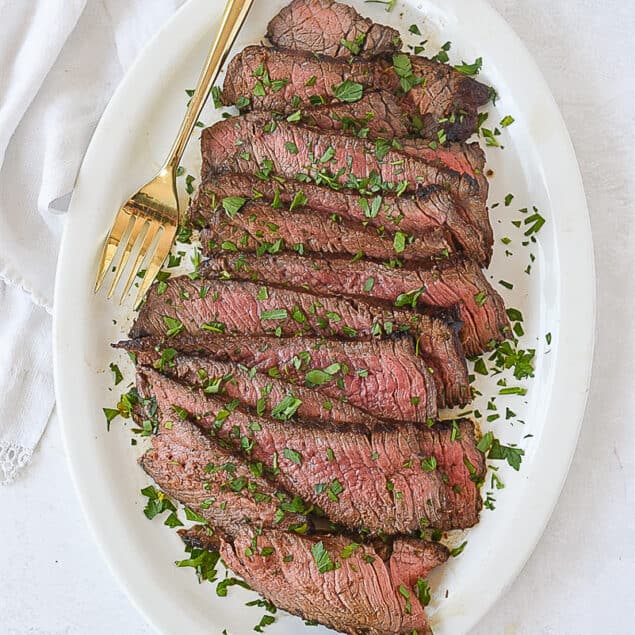 Marinated London Broil
The secret to a good London Broil is a good marinade. This marinade is bursting with flavor and makes dinner easy and delicious and a perfect prep ahead meal.
Ingredients
1 2-2 1/2 lb. London Broil
Marinade
1/2 cup soy sauce
2 Tbsp balsamic vinegar
2 Tbsp Worcestershire Sauce
1/4 cup olive oil
1/4 cup lemon juice
2 Tbsp honey
1 tsp garlic minced
1 tso oregano
1/2 tsp basil
1 tsp parsley `
1/2 tsp salt
1/2 tsp pepper
Instructions
Combine all marinade ingredients together

Place meat into a large zipper bag and cover with marinade.

Marinate for 2 – 24 hours in the refrigerator.

Remove meat from refrigerator 30 minutes before grilling.

Grill over medium heat for 4-t minutes per side or until desired doneness

Let stand for 10 minutes and then cut diagonally across the grain into thin slices
Nutrition Facts:
Calories: 125kcal (6%) Carbohydrates: 11g (4%) Protein: 1g (2%) Fat: 9g (14%) Saturated Fat: 1g (6%) Polyunsaturated Fat: 1g Monounsaturated Fat: 7g Cholesterol: 1mg Sodium: 960mg (42%) Potassium: 111mg (3%) Fiber: 1g (4%) Sugar: 8g (9%) Vitamin A: 11IU Vitamin C: 5mg (6%) Calcium: 17mg (2%) Iron: 1mg (6%)
* Disclaimer: All nutrition information are estimates only. Read full disclosure here.
Originally posted June 16, 2010