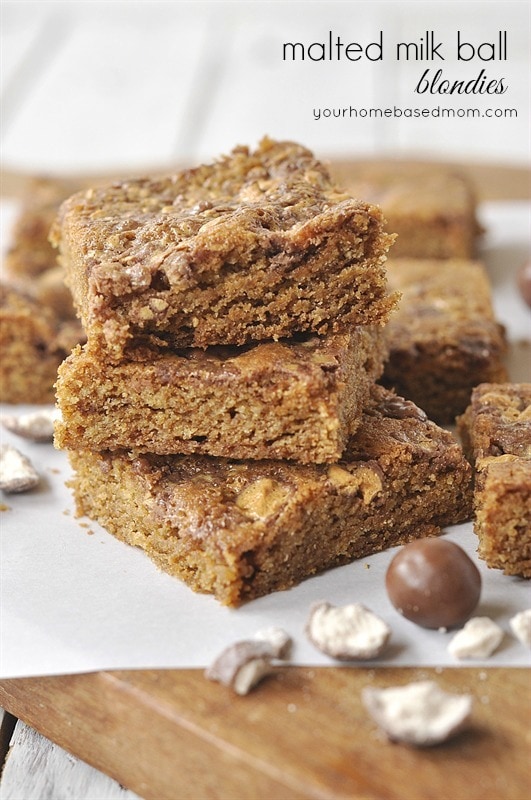 I am a big fan of malt.  I look for every opportunity to include it in a recipe.
Malted Milk Ball Ice Cream is one of my favorites.  And there is nothing quite like an old fashioned Ice Cream Malt.  I love using malt powder in my bake goods too.  These Malted Milk Ball Chewies are delicious!  I even like to put malt powder in my Hot Chocolate.
I am also a fan of blondies  – a blonde brownie.
I decided that a malted milk version of a blondie was in order so I used my favorite blondie recipe and added some malted milk powder to it and then sprinkled crushed malted milk balls on top. We have been making blonde brownies for years since my daughter got the recipe from a cookie making class she took one summer.  It has been a family favorite ever since.  I have tweeked it and changed it up several times and love all the versions we've come up with.  Butterscotch Blondies is one of my favorites.  I'll share a few more variations below.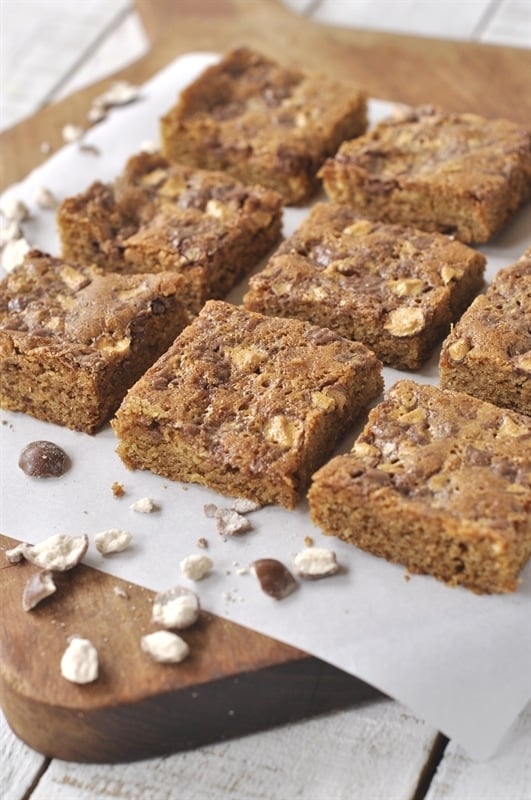 This new variation was a win!  I took them to my French class that night so I didn't eat the whole pan myself and they were a big hit.
I love the texture and the flavor that the crushed malted milk balls on top give the blondie. It gives a nice chewy layer to the blondie.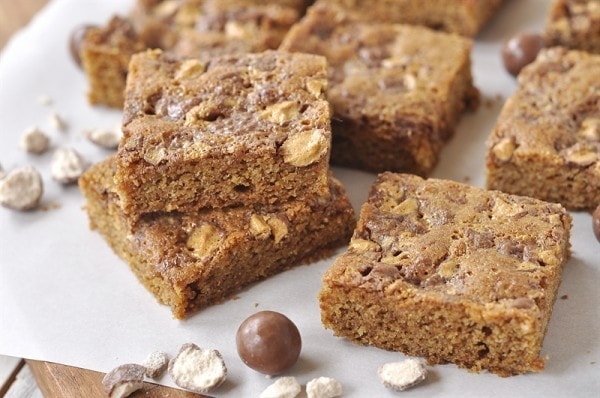 Sometimes I don't want all the chocolate a regular brownie gives you and this Malted Milk Ball Blondie gives me a bit of chocolate and a hint of malt which I love.  The mint is by no means overpowering.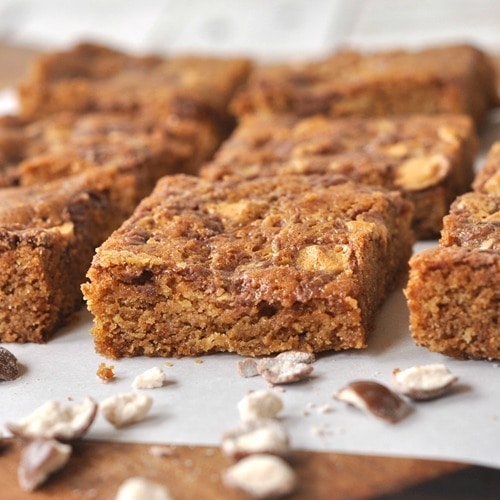 For other Blondie variations check out these:
White Chocolate & Toffee Blondie – Snickerdoodle Blondie – Red White & Blue Blondie

Malted Milk Ball Blondies
Ingredients
3/4 cup butter softened
3/4 cup packed light brown sugar
1/2 cup granulated sugar
2 eggs
2 cups all purpose flour
1 tsp. baking soda
1/2 tsp. salt
1/2 C malted milk powder
1 1/2 C crushed malted milk balls
Instructions
Preheat oven to 350 degrees

Grease 13 x 9 pan

Beat butter, brown sugar and granulated sugar in large bowl until creamy

Add eggs; beat well

Stir together flour, malted milk powder, baking soda and salt; gradually add to butter mixture, blending well

Spread into prepared pan

Sprinkle with crushed malted milk balls.

Bake 30-35 minutes or until top is golden brown and center is set

Do not over-bake

Cool completely in pan on wire rack

Cut into bars