Lemon Cheesecake Bars are amazing! These babies are going to become your favorite lemon bar ever!!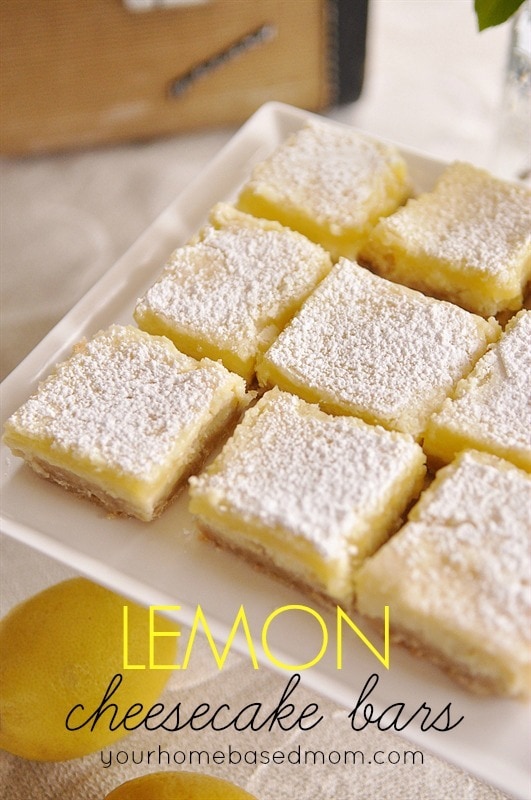 Welcome to another Recipe Redo. I love Recipe Redos because they are an opportunity for me to reach deep within the archives of this blog and pull out some of our family's favorite all time recipes.
For those of you who have been reading along since the beginning this is just a friendly reminder of a wonderful recipe but for those of you new to the blog I am excited to show off once again some of our family's favorite recipes. Today's recipe for Lemon Cheesecake Bars is a favorite of my family and just about everyone who tries it. It is a winner and a not to be missed recipe here on the blog.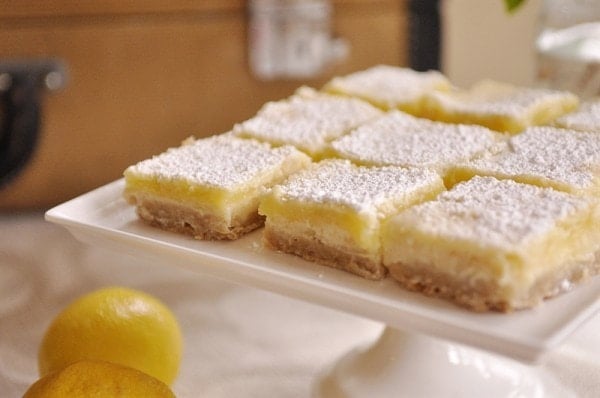 I recently made them for the Tea Party Bridal Shower I hosted because every good tea party should have a good lemon bar. Lemon Cheesecake Bars are not your ordinary lemon bar though – they are something special. A layer of cheescake like filling takes these lemon bars far and above your regular old lemon bar.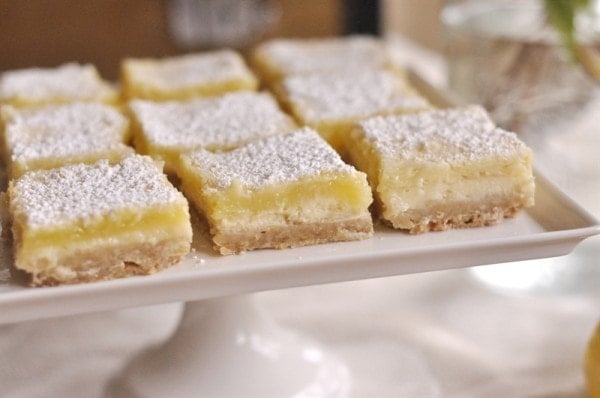 The bars start with a shortbread like base that is baked and then covered with a cheesecake layer that is baked. Then the lemon layer is added on top. When pouring this layer on do it gently. As you will see from my photograph I wasn't gentle and it caused the cheesecake layer to lift up a bit. No worries though – it still tasted fabulous!!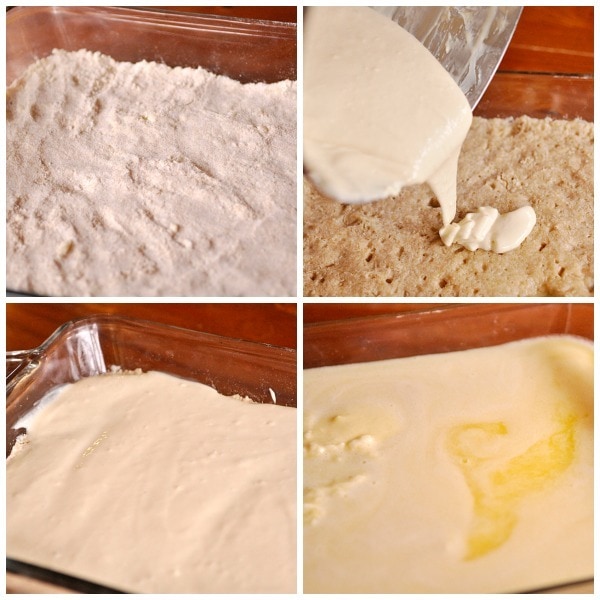 After the final layer is baked give it a nice generous sprinkle of powdered sugar to hide any flaws and just to make it look pretty!

This recipe was originally shared with me by one of you my wonderful blog readers. When Rachel shared it with me she promised me they would become my new favorite lemon recipe – she was right. The cheesecake layer makes for a much creamier and yummier lemon bar!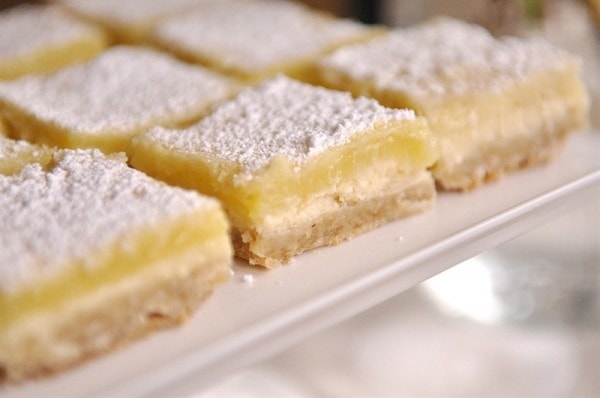 Because I love lemons so much and cook and bake with them a lot having the right lemon tools is important.
I want to tell you about two kitchen tools you are going to need if you are going to work with lemons.
First – the microplaner. I love this tool. It is a long, small grater type tool. You use it to "zest" a lemon which basically means grating the lemon rind. Fresh lemon zest adds great flavor to recipes.
Second – you will need a lemon juicer. I use this handy little hand juicer – it quickly and easily squeezes all the juice out of the lemon. I got mine for a couple of dollars at Ikea but both of these tools can be found at any kitchen shop or even Target.
You are going to want to use fresh lemon juice, not that fake stuff that comes in the green bottle at the grocery store for the recipes I will share with you so get juicing!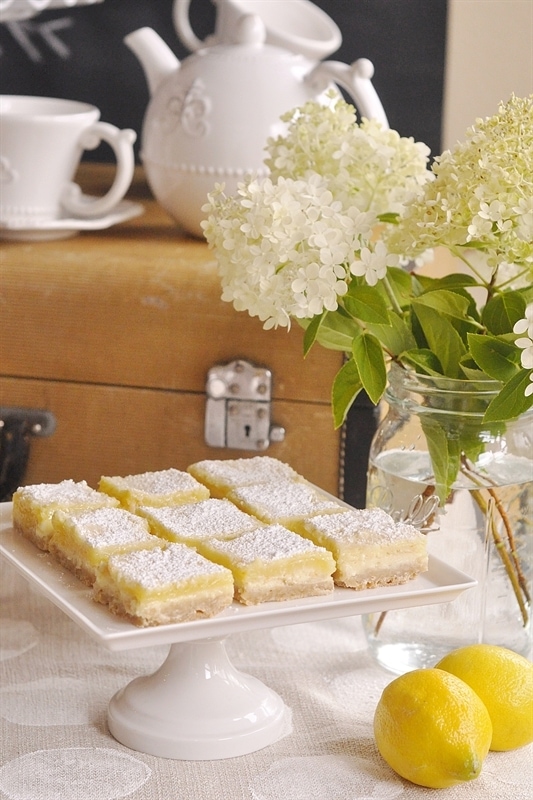 For a few of my other favorite lemon recipes check out these: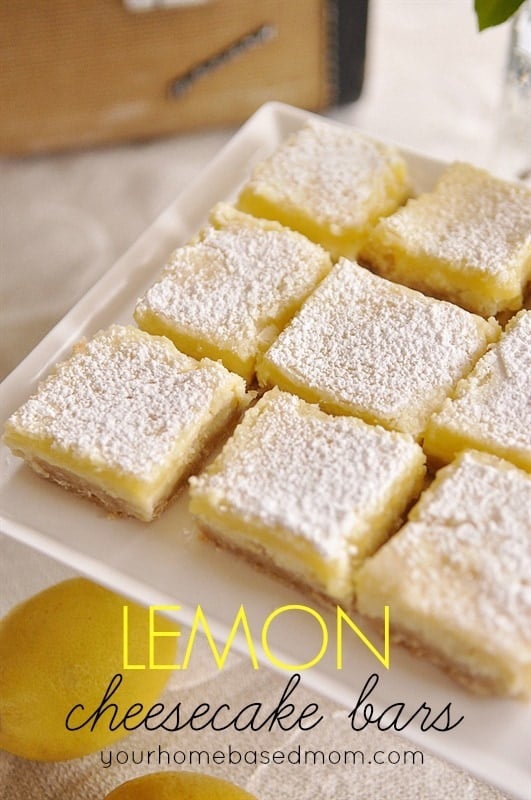 Lovely Lemons – Lemon Cheesecake Bars
Ingredients
Crust:
3/4

cup

butter

chilled

2

cups

flour

1/2

cup

packed light brown sugar

1/4

tsp.

salt
Cheesecake:
8

oz.

cream cheese

softened

1/2

cup

sugar

1

egg

2

Tbsp.

milk

1

Tbsp.

lemon juice

1/2

tsp.

vanilla
Lemon Layer:
4

large eggs

1 1/2

cups

sugar

3/4

cup

lemon juice

1/3

cup

flour
Instructions
Crust:
Preheat oven to 325.

Cut butter into pieces.

In a food processor (or blender on low, pulse setting) Process all ingredients until mixture becomes tiny and fine pieces.

Sprinkle mixture into a 9 x 13 baking pan and press evenly into bottom of pan.

Bake for 12 minutes and remove from oven.
Cheesecake:
In medium bowl, blend cream cheese until smooth.

Add sugar and mix well.

Cream together the rest of the ingredients until smooth.

Pour cheesecake evenly over hot crust. Pour slowly and gently, a little at a time. Some of the bottom layer will lift up a bit but that's o.k.

Bake 15 minutes.

Remove from oven and reduce oven temperature to 300.
Lemon layer:
In a bowl whisk together eggs and sugar until combined well.

Stir in lemon juice and flour.

Pour gently and smoothly over semi-baked cheesecake.

Bake at 300 for 25-30 minutes.

Remove from oven and sprinkle powdered sugar over top if desired.

Cool for an hour and then refrigerate.

Can be served warm but better after it has chilled.

I let it sit out of the fridge 20-30 minutes before I serve it.

For families, it will probably be eaten as soon as they are out of the fridge.

Makes 24 bars