When I shared my recipe for lemon curd last week I promised a few recipes using that lemon curd. I keep my promises. These Lemon Thumbprint Cookies are the perfect way to use some of that lemon curd.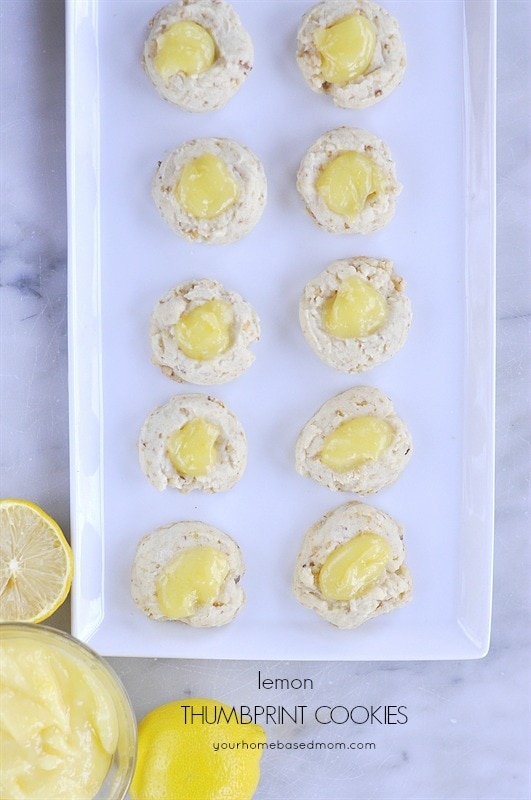 And I'm always looking for excuses to use that yummy sunshine on a spoon. The dough for this cookie is a combination of powdered sugar, finely ground walnuts, flour and cornstarch which makes for a very light, melt in your mouth cookie. They are little too so you can eat lots and not feel guilty!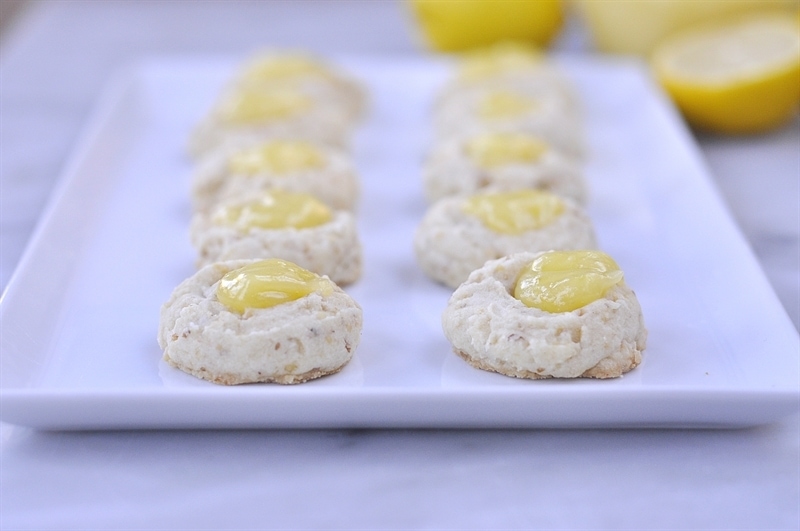 The little dollop of lemon curd on top of this cookie pretty much makes for sunshine in your mouth! Start by scooping out your cookies onto a parchment covered cookie sheet. They are small cookies so about a generous tablespoon of dough. I used this cookie scoop.
Then use your thumb and leave your thumbprint in the middle of the cookie!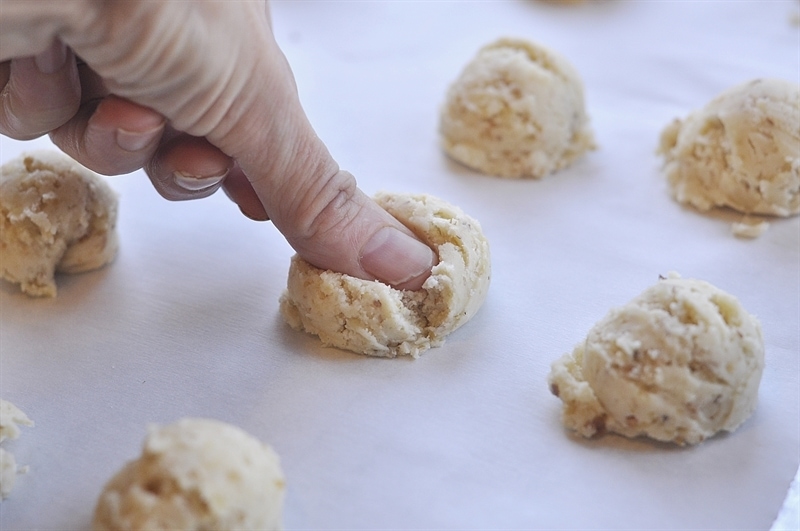 You are making a nice little indentation to fill with that yummy lemon curd so make it big enough to hold that lemon curd but don't go all the way through the ball of dough to the cookie sheet.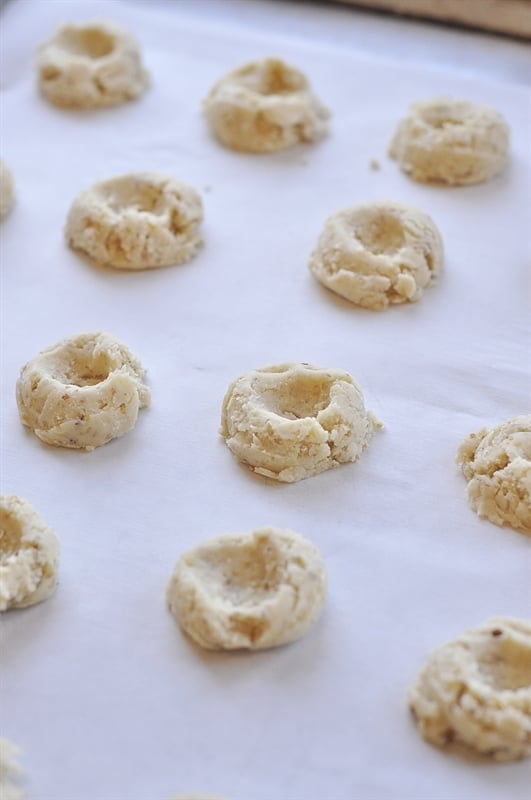 Bake those cute little cookies for about 15-18 minutes and then let them cool. Then it's time to fill them up with that lovely lemon curd or sunshine on a spoon!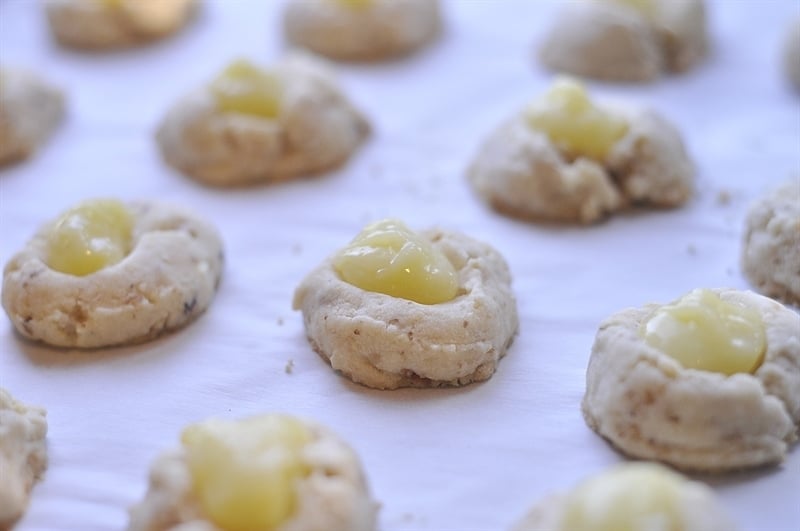 Then just pop a few of these pretty little things into your mouth and enjoy – sunshine in your mouth!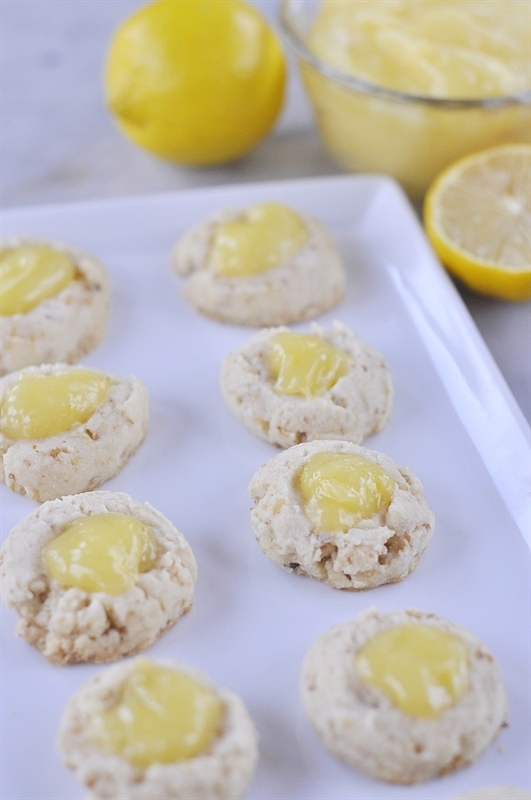 You can even switch up the flavor if you want and add your favorite flavor of jam instead of lemon curd.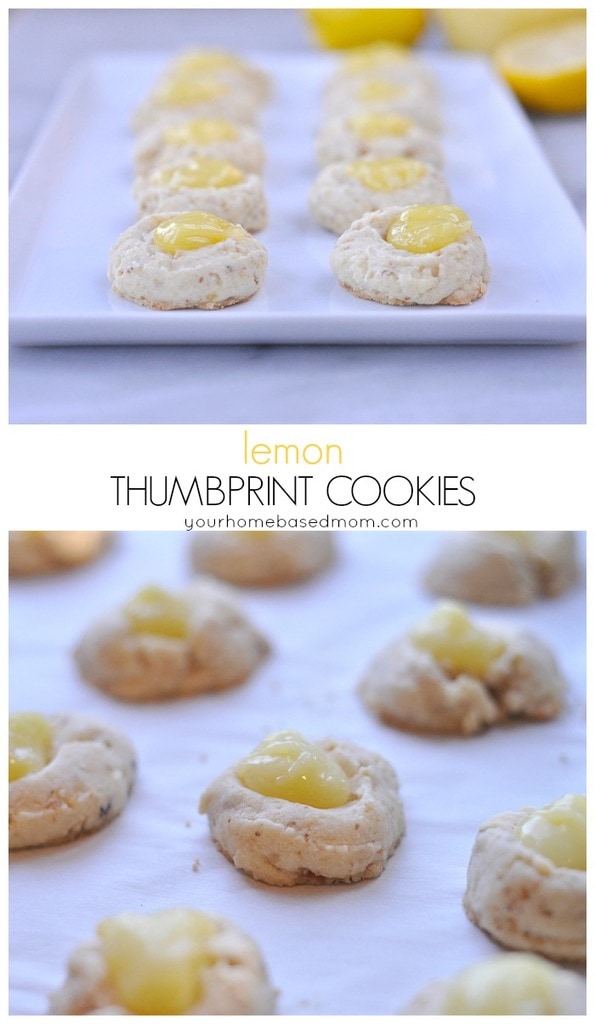 This is my favorite cookie scoop.
Lemon Thumbprint Cookies
Ingredients
1 1/2 C butter softened
3/4 C powdered sugar
1 1/2 tsp vanilla
2 C all purpose flour
1 C cornstarch
1/2 tsp salt
1 C walnuts toasted and finely ground
Lemon Curd or other jam to fill cookie with
Instructions
In your mixer combine and cream together the butter and powdered sugar until light and creamy.

Add in vanilla. Mix to blend.

Put flour, cornstarch, nuts and salt in a small bowl and whisk together.

Add flour mixture into butter and mix until blended.

Refrigerate dough for at least 1 hour.

Preheat oven to 325 F.

Grease cookie sheet or cover with parchment paper.

Drop cookie dough onto sheets in a rounded teaspoon, one inch apart

Use your thumb to press down into the middle of each ball making an indentation.

Bake for 15-18 minutes or until lightly browned around edges.

Cool completely.
Recipe adapted from Darigold.