I love it when a friend or a blog reader tries a new recipe and they send me the recipe because they think I will like it too. (hint, hint)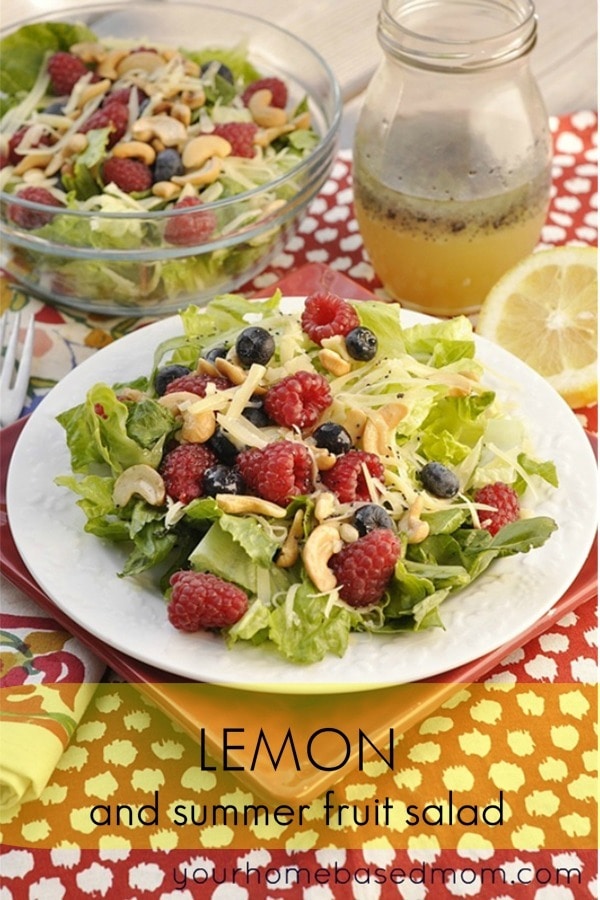 That is how I got today's recipe for Lemon and Summer Fruit Salad.  Blog reader Rachel sent me this knowing my love affair with anything lemon.  In fact one of my favorite lemon recipes of all times was given to me by Rachel.  If you haven't tried the lemon cheesecake bars you must, must must!!
This fruit uses summer fruit but it would be just as good with winter fruit such as an apple, pear or dried fruit.
The original recipe called for winter fruit but I decided to use two of my favorite summer fruits which are raspberries and blueberries  but it would be delicious with strawberries, oranges, kiwi, mango, peaches….just about any fruit.

The salad is also topped with cashews, always my nut of choice but again, it would be great with almonds, pecans, hazelnuts etc. etc. etc.  I love nuts in my salad.


Of course a little sprinkling of cheese is a must.  Again – so many options.  I used Swiss but Monterey Jack or Parmesan would be quite delicious too.

For me though, the very best part of this salad is the lemon poppy seed dressing. So yummy!!    Be sure and use fresh lemon juice for a real lemon flavor.  I loved the addition of dijon mustard, sugar and poppy seeds for a sweet lemon dressing with a little tang.  So good.  It would be delicious on any salad.  I keep a jar of it in my refrigerator and it is my go to dressing right now.
And feel free to forward on any great recipes you find!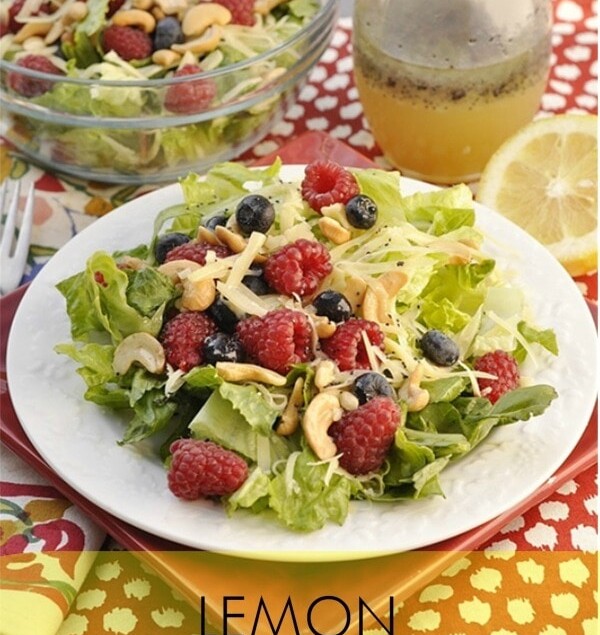 Lemon and Summer Fruit Salad
Ingredients
1/2 C sugar
1/2 C fresh squeezed lemon juice
2 tsp minced dry onion
1 tsp Dijon mustard
1/2 tsp salt
2/3 C canola oil
1 Tbsp poppy seeds
romaine lettuce and spinach
1/2 C shredded Swiss Cheese
1 C cashews
1 C raspberries
1 C blueberries
Instructions
In a blender combine sugar, lemon juice, onion, mustard, salt and process until well blended.

Add in oil and mix until thick and smooth.

Add poppy seeds and process for just a few seconds. You don't want to pulverize the seeds.

Toss together the lettuce and spinach. Added cheese, nuts and fruit and top with dressing.