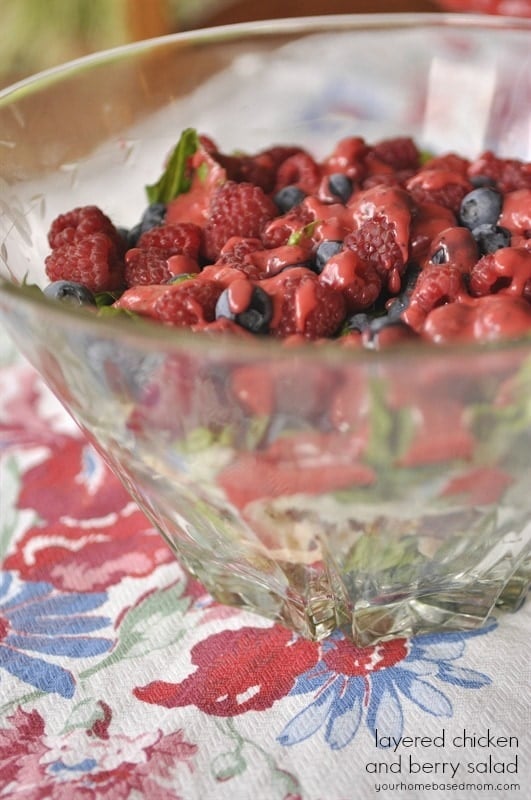 We are trying to take full advantage of berry season here in the Northwest by adding berries into every recipe we can.  Desserts, breakfast, appetizers, main dishes and salads.  I've been doing  a pretty good job of it if I do say so myself.  Is it possible to get berried out?  I don't think so!
I've got lots of fun berry recipes coming up.
But if you have already forgotten, I am sharing dinner recipes this week that can be made from a rotisserie chicken – quick and easy summer meals.  If you have a reduced size family like I do then one chicken can last for quite a few meals.
Today's recipe is for a delicious and easy layered salad.  To really get the biggest impact you need to use a pretty, clear bowl.  That way you can enjoy the pretty colors and layers of the salad.  Pretty and delicious.
You start with a layer of lettuce and some of that rotisserie chicken.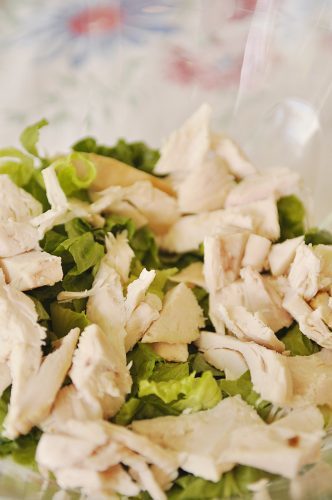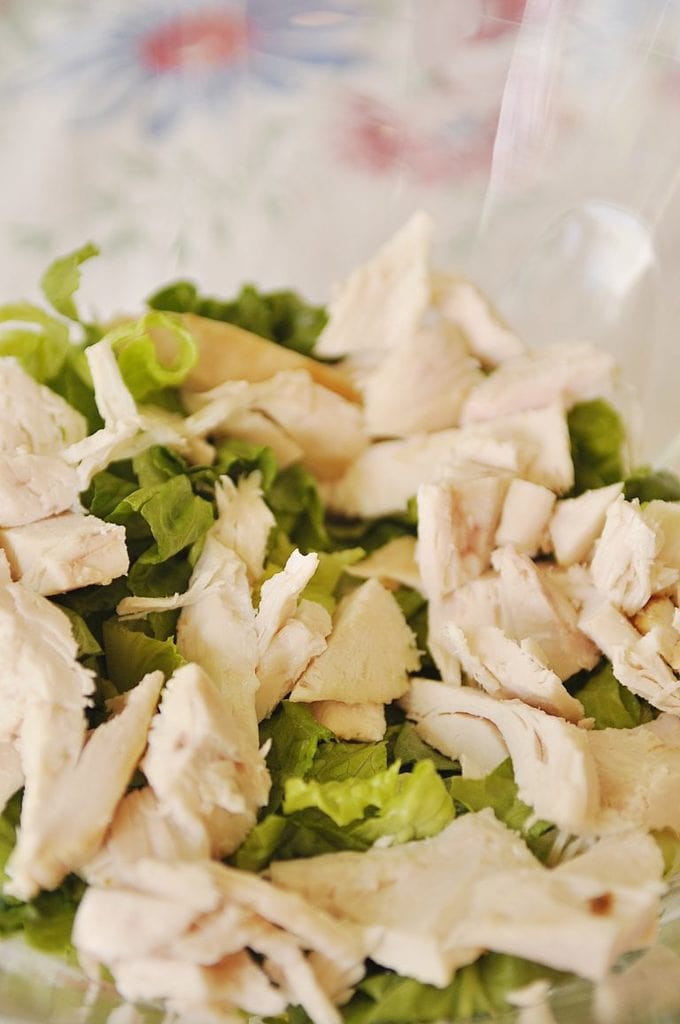 The next layer is sugared pecans.  For a quick little tutorial on sugaring nuts check out this post.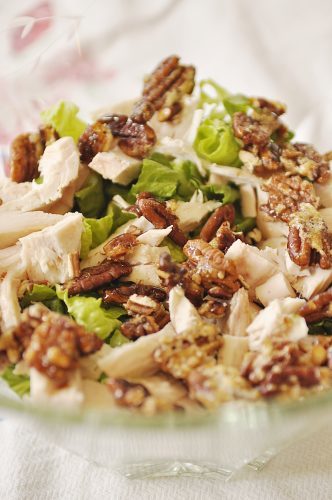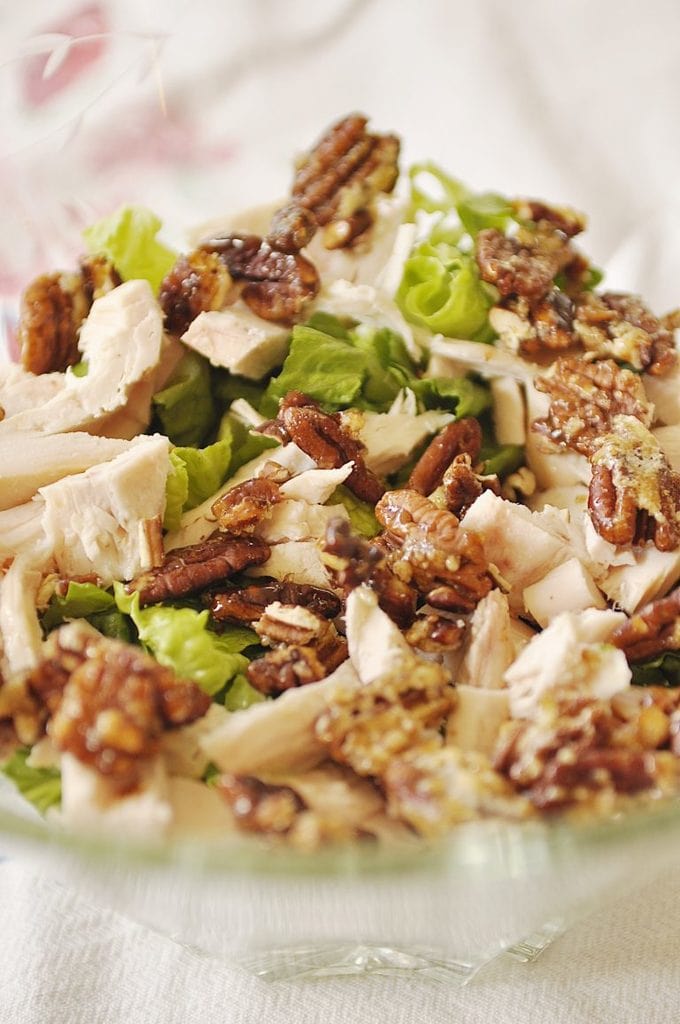 The layers are starting to form.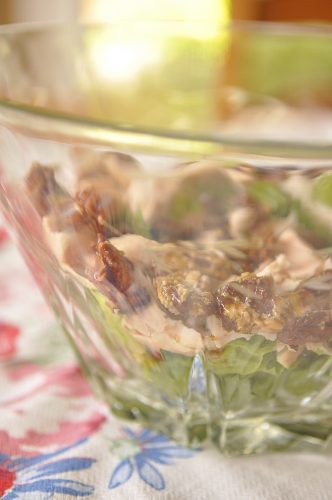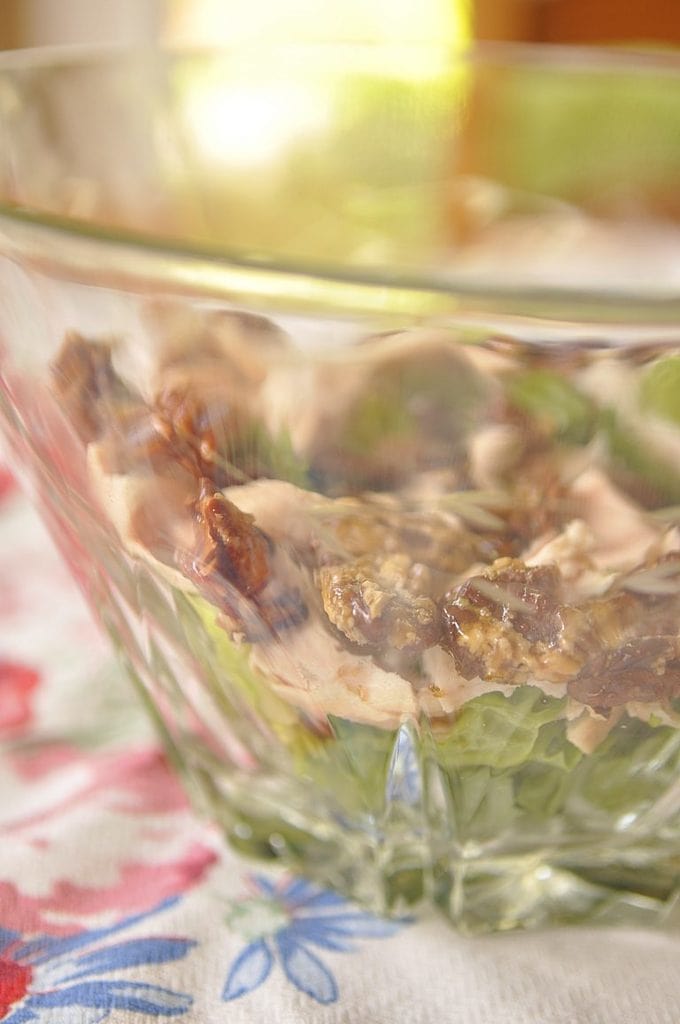 The next layer is the cheese.  You can use gorgonzola, blue cheese, feta or just about any cheese you want or have.  I used Monterey Jack.  Make sure it is a nice layer of cheese – plenty of cheese!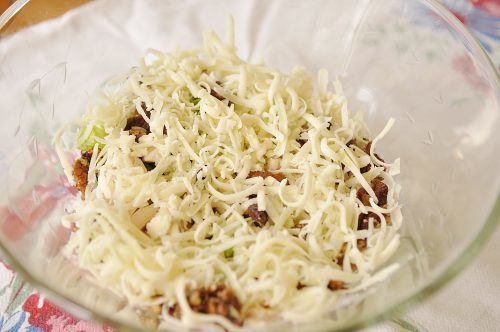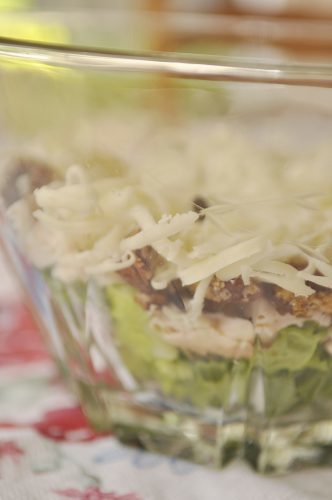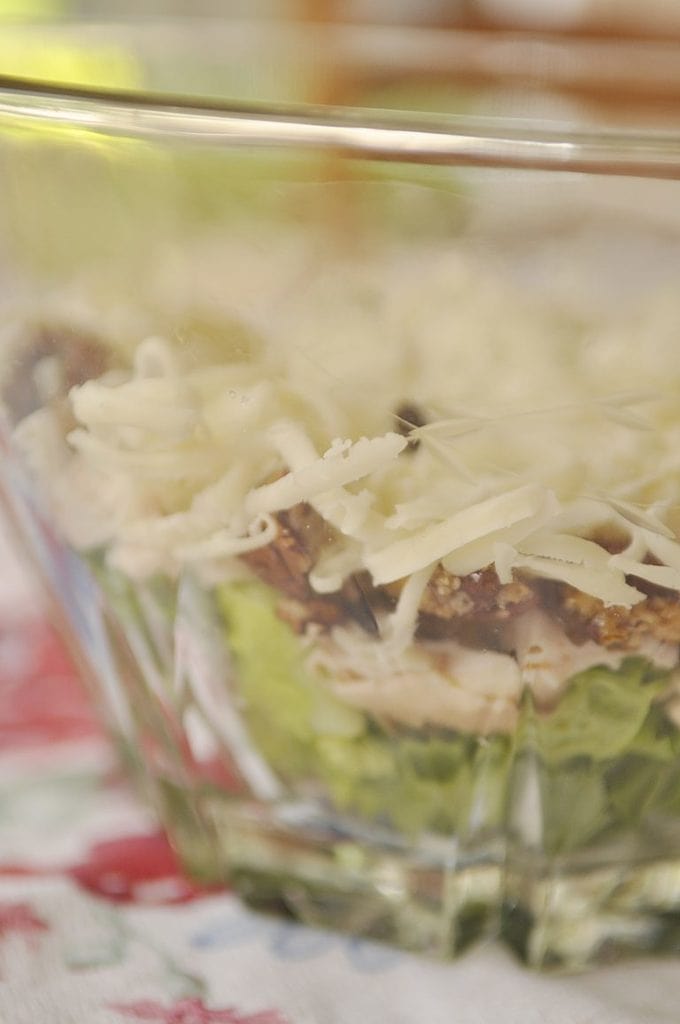 And then another layer of lettuce (I used a combination of romaine and spinach
And then you are ready for the crowning glory – a layer of beautiful, delicious, fresh berries.  I used raspberries and blueberries.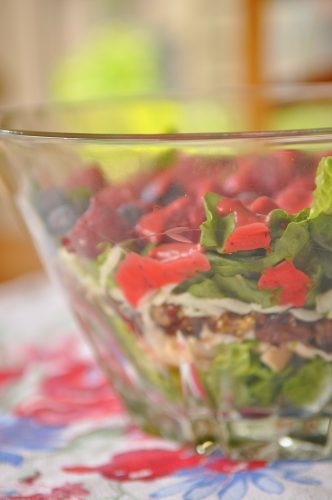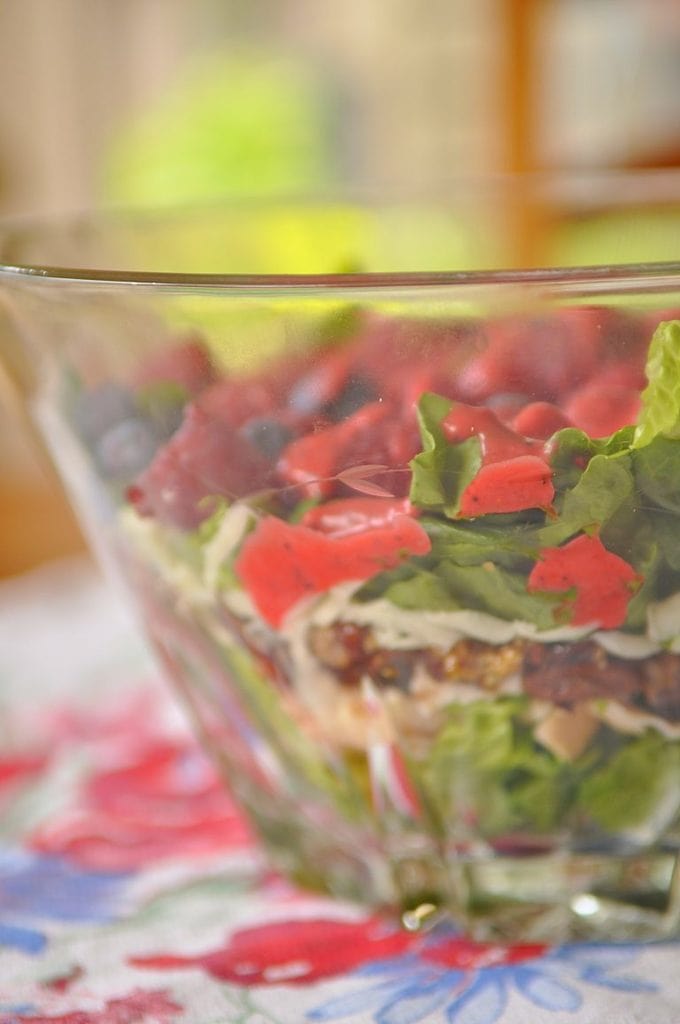 And then what salad would be complete without a delicious dressing to top it off.  Of course I had to use up some more of the raspberries I picked before they went bad so I mixed up a raspberry poppyseed dressing to top it off!
Perfection for a warm summer night!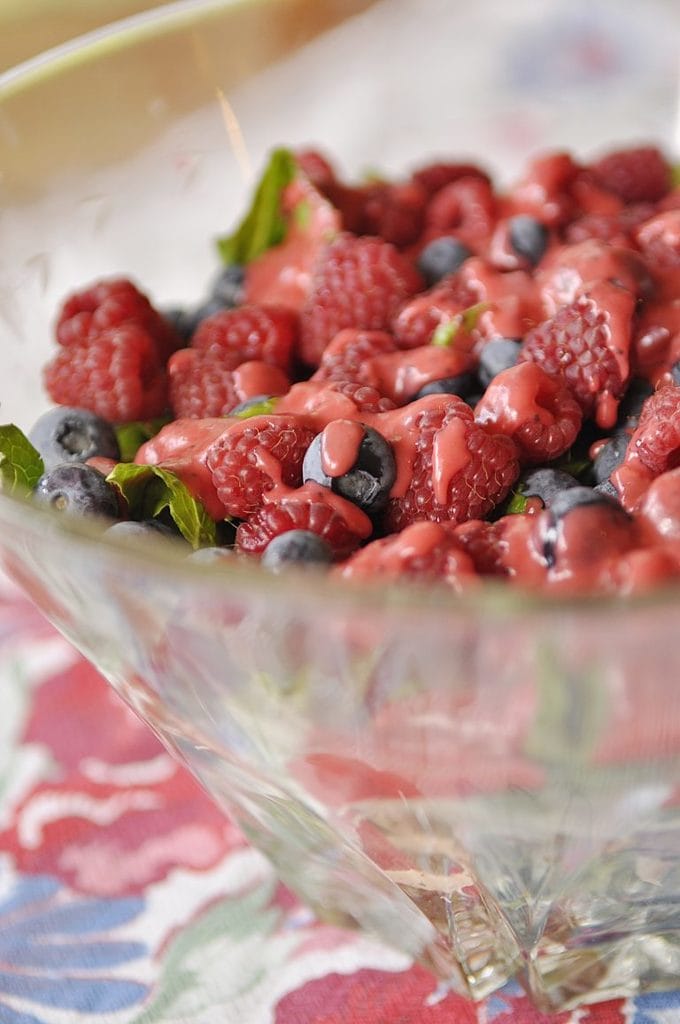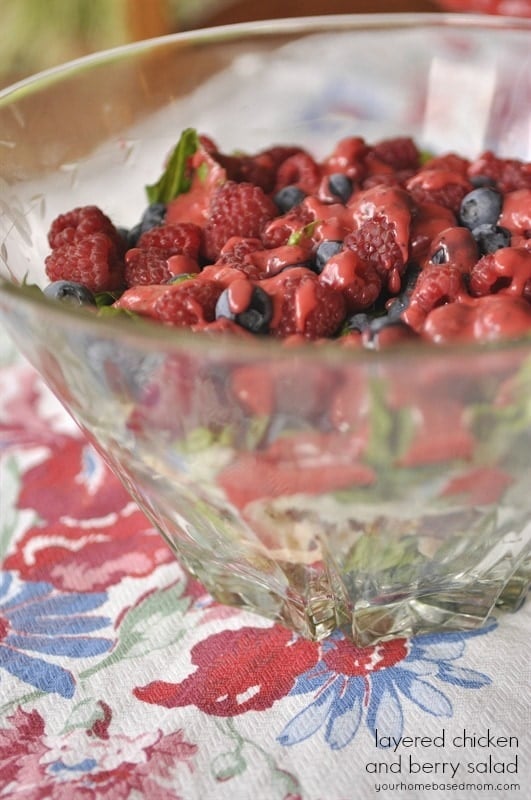 Layered Salad with Raspberry Poppyseed Dressing
Ingredients
Salad
Quantities will depend on the size of your bowl and the number people of you are feeding

Lettuce - romaine and spinach

Sugared Pecans

Cheese - gorgonzola

feta, blue cheese, monterey cheese or cheese of choice

More lettuce

Berries - combination of any that are in season. I used raspberries and blueberries
Raspberry Poppyseed Dressing
If you don't have berries this dressing is also yummy without them.

1/3

C

sugar

1/2

C

red wine vinegar

1

tsp

salt

1/2

tsp

onion powder

1

tsp

dry mustard

1

C

fresh or frozen raspberries

thawed

1

C

canola oil

2

tsp

poppy seeds
Instructions
Combine all ingredients except for oil and poppy seeds into a blender and blend for about 30 seconds.

Gradually pour oil into blender in a slow, steady stream.

Stir in poppy seeds.

Refrigerate if not serving immediately.
Stay Updated!
Need more recipes and creative ideas? Sign up and get a FREE copy of my ebook! Do you think your friends would love this too? Please share my blog with them. Thanks!