CONGRATULATIONS to winner, Grace Wilson, Comment #223. 
We're celebrating my birthday and in honor of it, you get a gift – I'm giving away a beautiful Kitchen Aid mixer!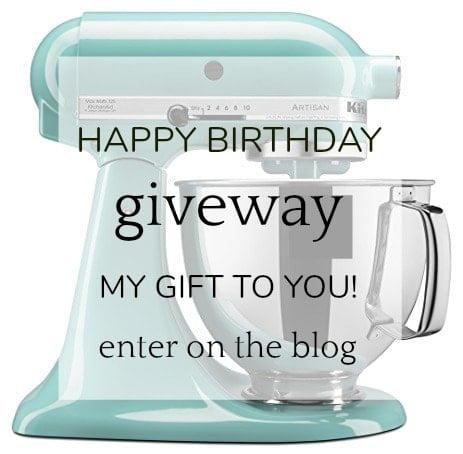 Today is my birthday!  I use to dread having a birthday because it meant I was getting older but this last year, after the loss of a dear friend who was younger than I am, I've decided that I need to be grateful for my birthday, grateful that I am able to celebrate my birthday! Growing old is truly a gift.
I am lucky enough to have the gift of a birthday this year and in honor of my birthday I am giving you a gift!  Giving gifts is one of my love languages and I must admit receiving gifts is also one of them but today I'm giving a gift – I'm giving away one of my very favorite things which is a 5 qt. Kitchen Aid Mixer.  I use mine every day and love, love, love it.
I want to show my love and appreciation to all of you who have followed along on this little blog journey of mine.  You have become my friends.  I am so grateful for all of you!!  I love when I get comments or emails from you letting me know how much you loved a recipe and I even love those comments letting me know I've messed up on the recipe and left something off!  It's so helpful!
This giveaway is not sponsored by anyone but me.  It is my gift to you.  I have been so blessed that I just wanted to take the opportunity to share the blessings with someone else.  This blog started out on a whim and has now grown to be such an amazing blessing to my family and I couldn't have done it without all of you.  This blog wouldn't exist without you!
So, Happy Birthday to all of you!!!  I hope one of you will enjoy this beauty as much as I do and that maybe you'll use it to make a few of my recipes!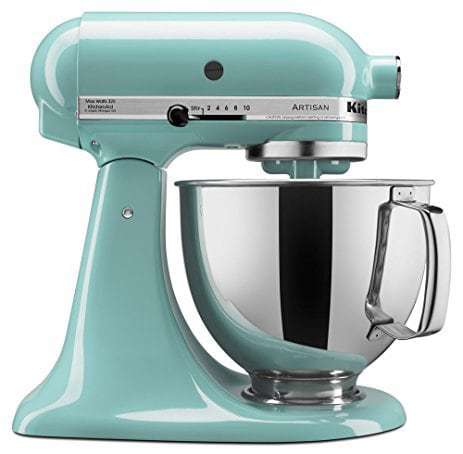 How to Enter:
I own this pretty aqua sky color but you can choose any color you want.  There are a lot of colors to choose from!  To enter to win this beauty just leave a comment with the color you would choose.  You can check out all the colors here.
Giveaway open until midnight January 10, 2019 PST. Giveaway open to Canada and US residents only (due to shipping costs).
Get my Weekly Menu Plan for FREE!
Receive my FREE "What's for Dinner?" Meal Planning Course, a copy of my FREE ebook that includes my most popular recipes and my FREE weekly Meal Plan.