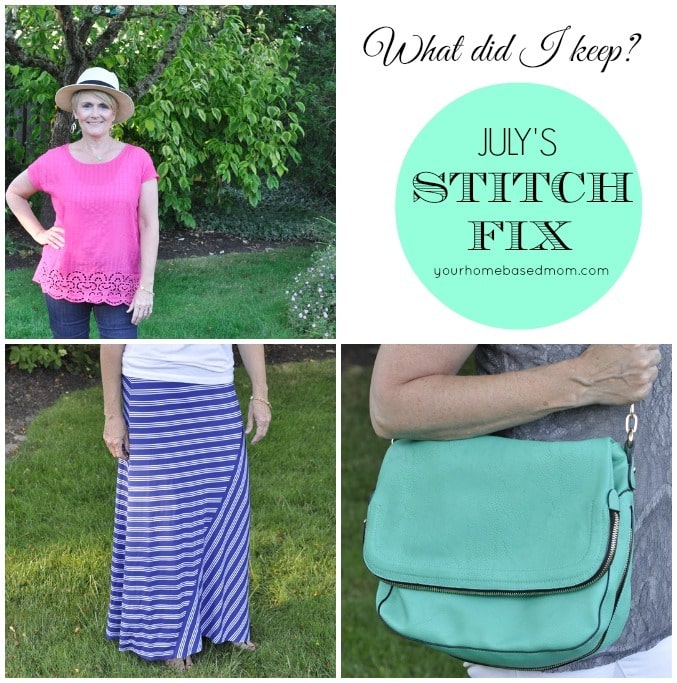 It's time for another Stitch Fix box!  I have to say I do get a little giddy when a new box shows up at my door.  I basically drop whatever I am doing and head upstairs to see what is in my box and try everything on!  So fun!
For those of you not familiar with Stitch Fix it is a monthly subscription service that provides a personal stylist and an opportunity to get hand-selected women's fashion shipped free, straight to your door. You can then try them on in the privacy of your own home -risk-free. Keep what you love and send the rest back. A shipping bag is included, addressed and postage paid. You have three days to return it.  You can sign up to have a box come every month or just pick and choose the dates you want.  No contract, no obligation.  There is a $20.00 stylist fee but that is credited toward anything you purchase.
You're own personal stylist for FREE!
This month's Stitch Fix box was a good one.
Now I don't usually take pictures of myself in the clothes.  There are a couple of reasons why I don't.  I feel silly!  And I don't have a photographer living at my house to help me out.  Well, this month Tessa is home for a month so I asked her if she could help me out and take some photos of me where I didn't look totally silly.  The verdict is still out on whether she succeeded or not!
I obviously need some lessons on what to do with my arms.  Hand on hip seems to be the only pose I can do.
So here is what was in my box this month:
1. Lizellen Cut Out Detail & Scallop Hem Top.  Price:  #48.00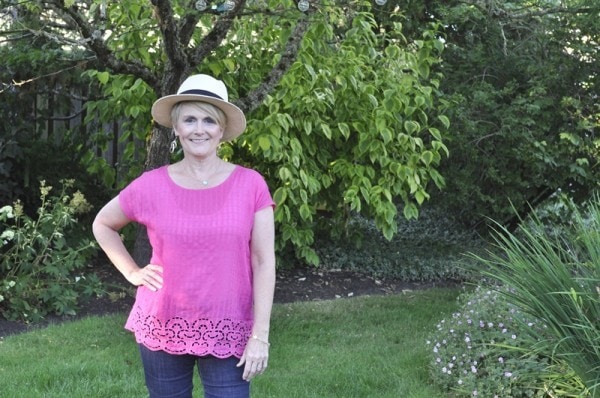 I loved quite a few things about this shirt.  I loved the color, I loved the cutwork and I loved the sleeve length. The fabric is also nice and light weight.  The perfect summer shirt. Yea, I basically loved it and I KEPT it!
2. Pomelo Jamie Button Down Cotton Shirt.  Price:  64.00
I loved the color of this shirt and the fabric – it is a knit and is super comfortable.  I can wear it with pants or a skirt and the color will look great with all kinds of things.  I think the shirt may be just a little long on my short torso but I can easily shorten it.   I KEPT it!
3.  Kensie Lucilla Mimxed Stripe Maxi Skirt.  Price:  $58.00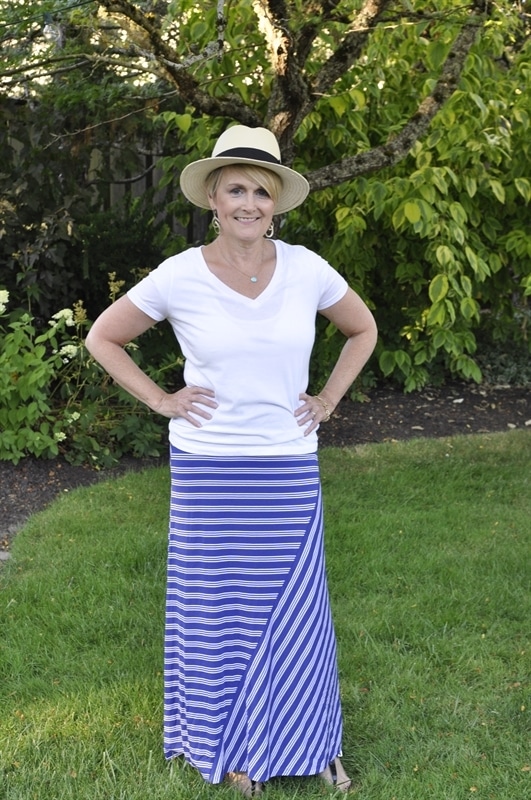 I requested a summer maxi skirt for this shipment and they came through.  It fit perfect and the length was perfect.  That doesn't happen very often for me!  I usually have to shorten everything.  I love wearing skirts in the summer with just a basic t-shirt.   Love the color of this skirt and think it will look great with lots of different color t-shirts  as well as just basic white too.  I KEPT it!
4.  Market and Spruce Memphis Lace Overlay Knit Shirt.  Price:  $58.00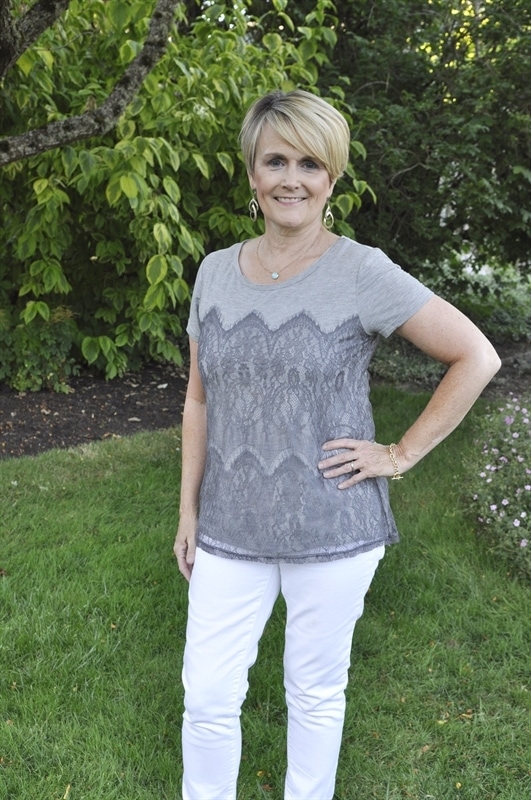 This is the one piece I wasn't really sure about when I pulled it out of the box.  I am not a big lace girl but after I tried it on I loved the way the shirt fit.  On the style card that came with the clothes they suggested wearing it with white pants for a casual evening look and I loved it.
5.  Urban Expressions Booker Fold Over Crossbody Bag.  Price $64.00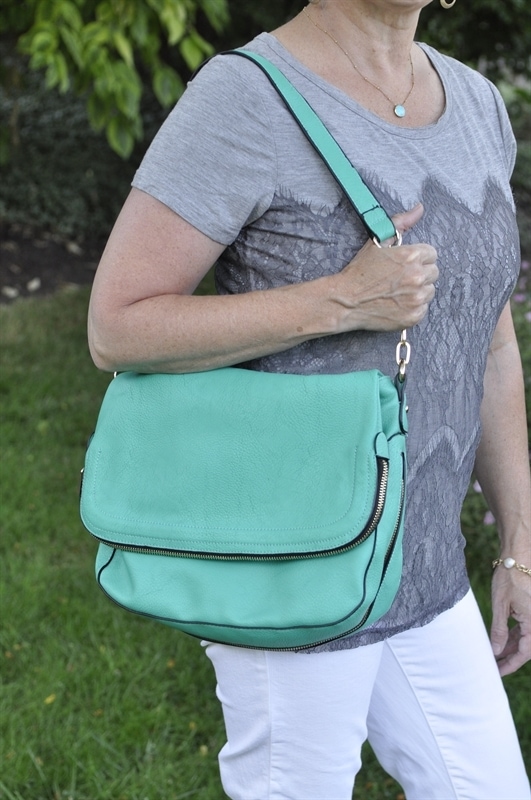 I may have been most excited about the last item I took out of the box – a purse!  First of all I love the color!  I love the shape and size too.  I knew immediately I was keeping it.  The only problem is going to be making sure my daughter Tessa doesn't take it back to school with her!  I've been carrying around a boring black purse and I can't wait to start using this one.  I KEPT it.  Price:
So there you have it.  Stitch Fix pretty much hit a grand slam this time.  This is the first box that I kept everything!  The thing I love most about Stitch Fix is having someone else pick things out for me.  I love the convenience too but I love having someone else make clothing suggestions for me.  With every box there is always at least one item that I think I'm not going to like but I end up loving.  It is something I wouldn't have picked out for myself but when someone else suggests it and I try it on, I end up loving it.  I have widened my fashion horizons with Stitch Fix!
If you'd like to give it a try you can sign up using my referral link (I get some store credit).  I do recommend you try it for 2-3 months.  Don't expect for them to hit a homerun on every item the first time.   In the beginning I would receive 4 clothing items and one jewelry piece but I asked them not to send any jewelry for right now and send 5 clothing pieces.  Also if there is something specific you would like they will include that. 
If you have any questions just ask away in the comment section.
I was not compensated for this post but if you decide to use Stitch Fix and use the link I have provided I am given credit towards my next order.
See other Stitch Fix posts here:
Enjoy!
Leigh Anne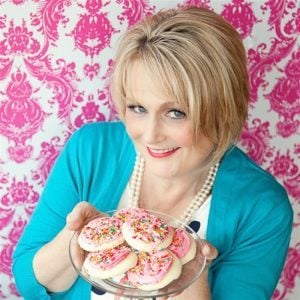 You can also visit me on Facebook, Pinterest, Twitter,  Instagram
and Google+
Get my Weekly Menu Plan for FREE!
Receive my FREE "What's for Dinner?" Meal Planning Course, a copy of my FREE ebook that includes my most popular recipes and my FREE weekly Meal Plan.