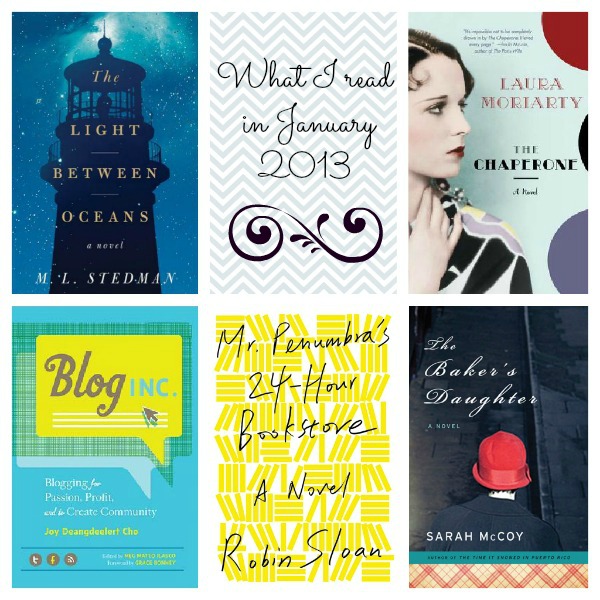 As promised, I am sharing my reading list monthly instead of just once or twice a year.  So here is my list of January Recommended Books or rather books I read.  I may not always recommend them all!  I hope you will leave me a comment and let me know what you read this month.  I am always looking for book recommendations!
Mr. Penumbra's 24-Hour Bookstore: A Novel
(3.5 stars)
Didn't love it, didn't hate it.  I almost stopped reading it but kept going and am glad I did – it got better.  It is a meeting of modern technology and medieval mystery.  It does get you thinking about technology and if good old fashioned books are going to one day disappear – I hope not!  Love my Kindle but nothing beats an old fashion, paper book!  If you enjoyed The Night Circus I think you will like this book.
The Chaperone
by Laura Moriarty

(3.0 stars)
This is another one I was on the fence about.  Set in the 1920's this historical novel is the story of silent film star Louise Brooks who leaves Kansas as a young teenager with her chaperone.  They both have their reasons for making the trip as they struggle to over come the confines of the time period they live in.  The life choices they make are heavily effected by the morals of the time.
The Baker's Daughter: A Novel
by Sarah McCoy

 (3.5 stars)
Another piece of historical fiction, this one is set in Germany in 1945 during Hitler's reign of terror. The story of Elsie Schmidt who is the Baker's Daughter during this time period and hides a Jew in her closet which puts her entire family in danger.  At the same time the story flashes forward to El Paso Texas, present day where Elsie now lives and  a reporter Reba wants to interview Elsie and her story is unveiled.  As both women's lives become intertwined, both are forced to confront the uncomfortable truths of the past and seek out the courage to forgive.
The Light Between Oceans: A Novel
by ML Stedman

(4.5 stars)
 My favorite book of the month!
The story of Lighthouse keeper Tom and his wife Isabelle are unable to have children and when a boat washes ashore their island home with a dead body and a living newborn baby there are choices to be made. They choose to keep the baby, a choice which shatters and changes lives, including their own.  But it is a story of good people, tragic decisions and the beauty found in each of them.
Blog, Inc.: Blogging for Passion, Profit, and to Create Community
Joy Deangdeelert Cho

(I don't rate non-fiction)
 I actually skimmed through this book.  After having blogged for five years I was pretty familiar with most of the information in this book but still picked up a few ideas and things I can do.  It is a great book for a beginning blogger or someone who might be thinking about starting a blog.  I enjoyed the Q & A sessions with some of the biggest bloggers around.
What did you read this month?