This is my motto for today.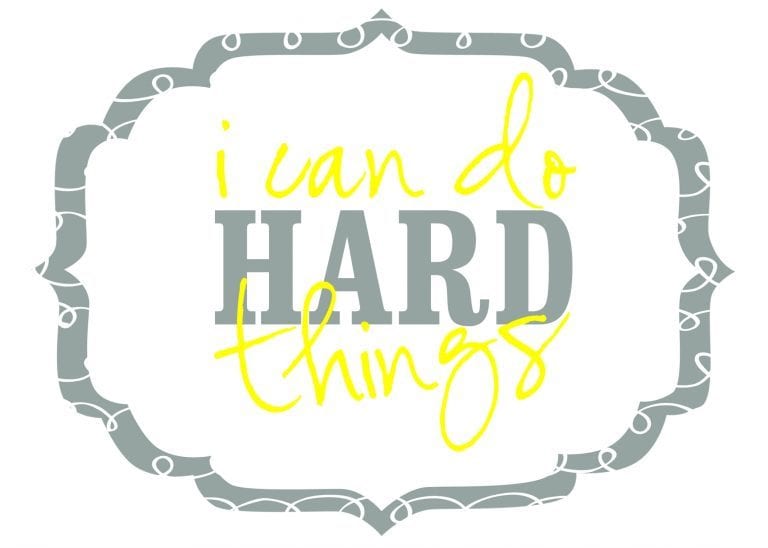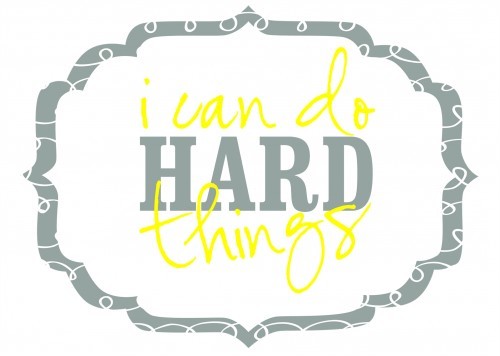 Today I will finish a half marathon.
Something I have never done before.
In fact, before this last year I had never run.
But you see now I am a runner.
There has been a mixture of excitement, anxiety, nervousness etc. this week.  I have done the work, I have put in the miles and now I just need to have confidence in myself and enjoy the journey!  As my friend and running mentor Heidi says, "At this point it is 95% mental!"
I am also taking Heidi's suggestion and I am dedicating each mile that I run to someone I know.  Someone I know that has done hard things.
They are friends and family that have overcome obstacles, challenges in life and been a wonderful example to me of fortitude, endurance and strength.
Mile One:  My husband, Jim. 
After all he has been married to me for 30 years.  That can't have been easy!  He's also started over a career late in his working life.  He did what he needed to do to support his family.
He has also been my biggest cheerleader on this running  journey.
Mile Two:  My father, Barrie
He fought back Stage Four Bladder Cancer and won!
Mile Three:  My mother, Mary Anne
Now after having raised four children of my own I have so much more respect and admiration for my mother who raised three of her own.  Raising children is hard work!
Mile Four:   Jeannena M.

She nutured and loved a special needs child.  Jeannena has shown me how to love and to serve.  The amazing part is she would never think that what she did was hard.
Mile Five:  Cathy S.
A dear friend of 20 years that has fought back cancer twice now.  She is such an example of strength and positive thinking.  She is also a marathon runner!
Mile Six:  Carol R.
Another dear friend who has always been such a support to me.  She is one of the smartest, wisest and hardest working women I know. She has never been afraid to do the right thing even when it is hard.
Mile Seven:  Heidi V.

I met Heidi through the world of blogging.  She has also mentored me along this running journey.  Heidi has suffered the loss of a child but has turned that "hard thing" into a beautiful thing as she blesses the lives of other families in the same situation on a weekly and almost daily basis.
Mile Eight:  William & Julie W.

Julie is one of my precious Beach Babe friends.  She and her sweet William are now fighting the fight of their lifetime.  My thoughts and prayers are with them.
Mile Nine, Ten & Eleven:  My other Beach Babe friends.  April N., Patrice B. and Shauna W.

These three women have done many hard things and continue to do so.  They are amazing examples to me and I am so grateful for their friendship.
(They know what hard things they have done!)
Mile Twelve: My Children
How grateful I am for their examples.  My boys gave up two years of their life to serve their Heavenly Father in a foreign country.  I can't imagine how hard that must have been.  I have watched Cali work so hard to overcome learning disabilities and not only succeed but thrive in school and life.  I am so proud of my sweet baby, Tessa,  who not only survived her first year of college but thrived and grew so much.  Many times it was hard and things didn't go according to what she had planned but she did it and she did it well!  She was not afraid of hard things.

 Mile Thirteen: Marsha J

Marsha has been my running partner through this whole journey.  We have been there for each other to give support and be each others cheerleader and freak out a bit together.  She has done this hard thing right along with me and we will run together today!
I can think of so many other people I know that have done hard things but I guess I will have to save those for another race!
13.1!!!!
Quote Inspired by Kiki & Company
Get my Weekly Menu Plan for FREE!
Receive my FREE "What's for Dinner?" Meal Planning Course, a copy of my FREE ebook that includes my most popular recipes and my FREE weekly Meal Plan.