My mother is an expert picture hanger. She knows exactly how to place it and where to hang it to make it looks its best. My father is the meticulous measurer who makes sure the nail gets in the right place the first time.
I think I inherited my mother's picture hanging skills and not my fathers. There are usually 3-4 nail holes behind every picture that I hang because I don't take the time to measure – I just start hammering.  Drives my husband crazy!!!!
I recently discovered an easy way to create a wall collage and accomplish what both my mother and father do together – get it in the right place the first time!
I have been wanting to redo a small wall in my small office.  I wanted to hang a collection of fun art I had been collecting.  When Cut It Out Frames sent me some of their fun frames I had everything I needed.
My first step was of course to paint my frames.  I used spray paint but you could also brush on acrylic paint.  My office, which is the former nursery, has some beautiful hand painting done by mother on the other three walls so I picked the colors for my frames from the colors in the other walls – yellow, white, green and blue.
I am especially crazy about the double frames that Cut It Out has.  I love the layered look.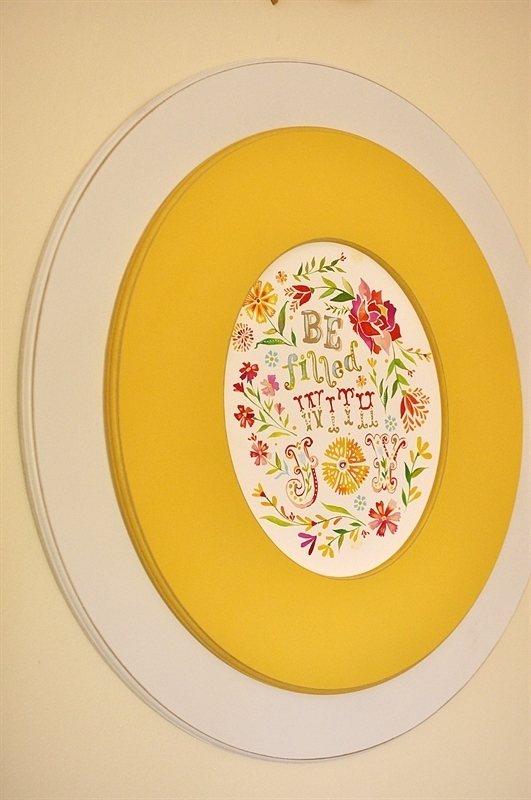 After spray painting them I used some sand paper to distress the edges.
For the double frames I used Liquid Nails to attach the two layers together.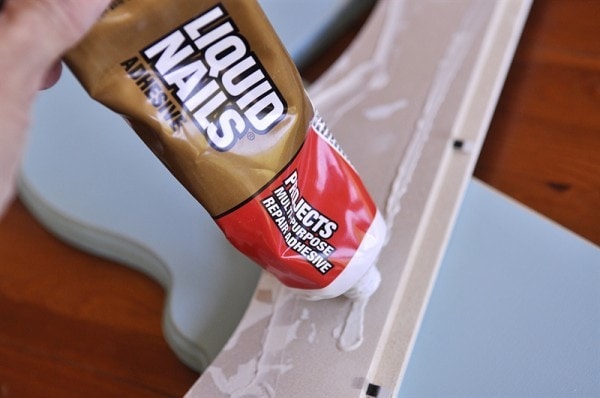 I inserted my art work and I was ready to hang them.  But first, I did this….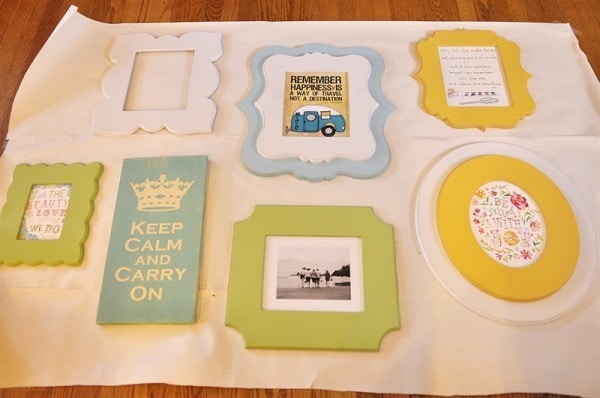 I used poster paper I had and cut it out and taped it together to create a template for the shape and size of the area of wall that I wanted the collage to go on.  I then placed my frames onto the paper in an arrangement I liked.  Then I drew around each of the frames so I would remember where I had them.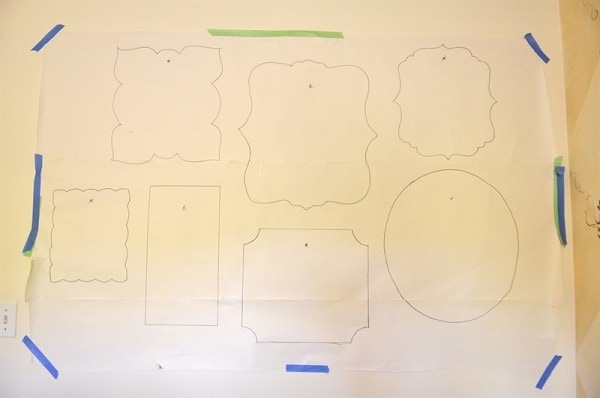 The Cut It Out Frames come with a cut out section where the nail is suppose to go so I measured down for the exact placement and marked that on the template too.  I taped the template onto the wall in my office.  One of the biggest mistakes people make when hanging something on the wall is they hang it too high. Pictures should be hung at eye level and the average eye level is 57″ from the ground.  With a collage like I am doing have the middle of your collage be at eye level.
I then put my nails into the wall, right through the paper template and hung my art work on top of the paper.  You could remove your paper at this point but I didn't for demonstration purposes.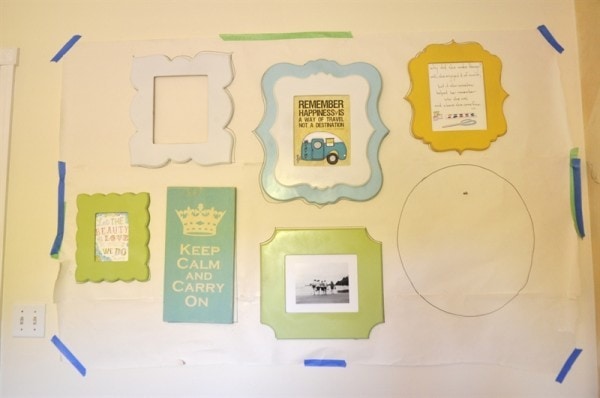 Then I removed the paper, I just tore it down and off from around the nails. And viola!  I've got a perfect wall collage.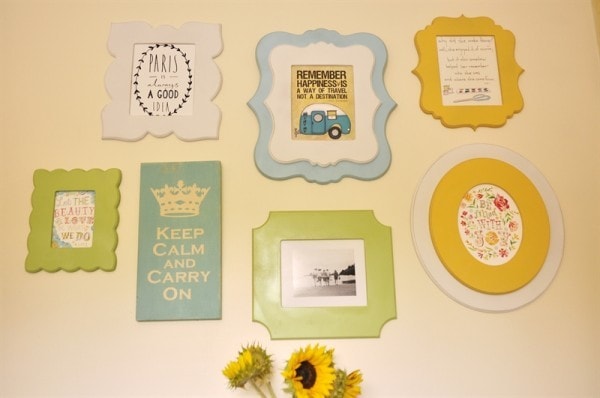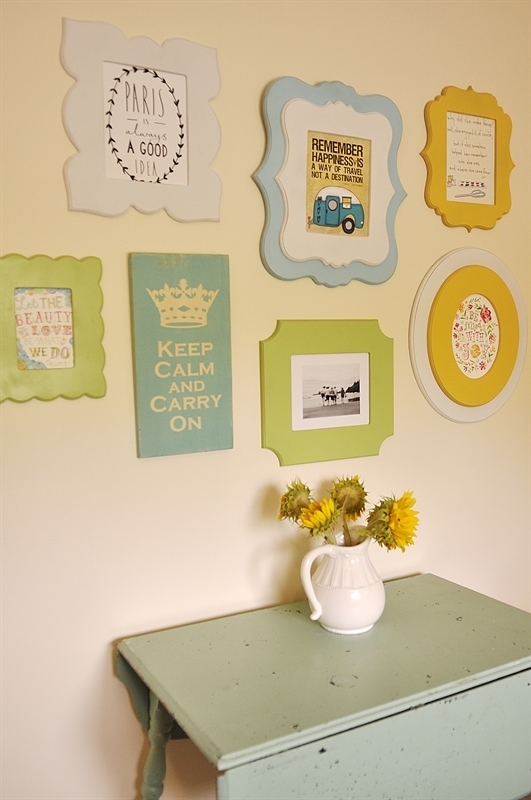 Because I know you are going to ask, the art work came from the following:
Be Filled With Joy and Let the Beauty We Love Be What We do – both from The Wheatfield By Katie Daisy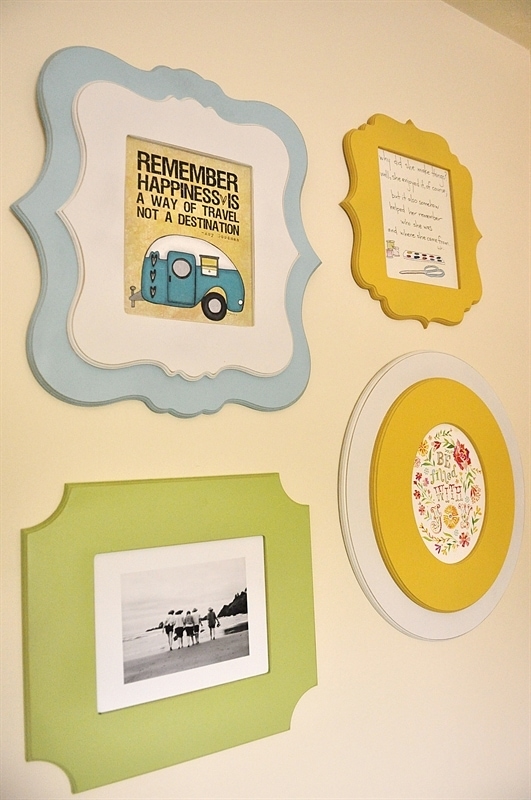 Remember Happiness from Vol25
Paris is Always a Good Idea from Old English Co.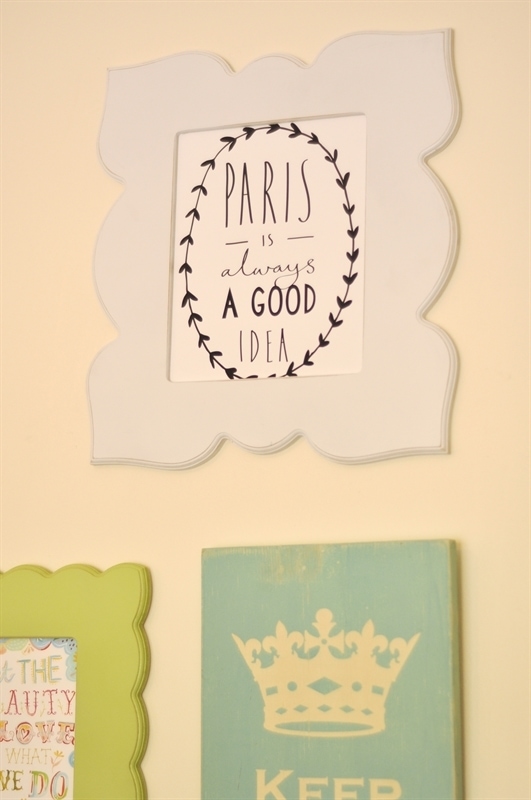 Why Did She Make Things?  from Pin Wheel Designs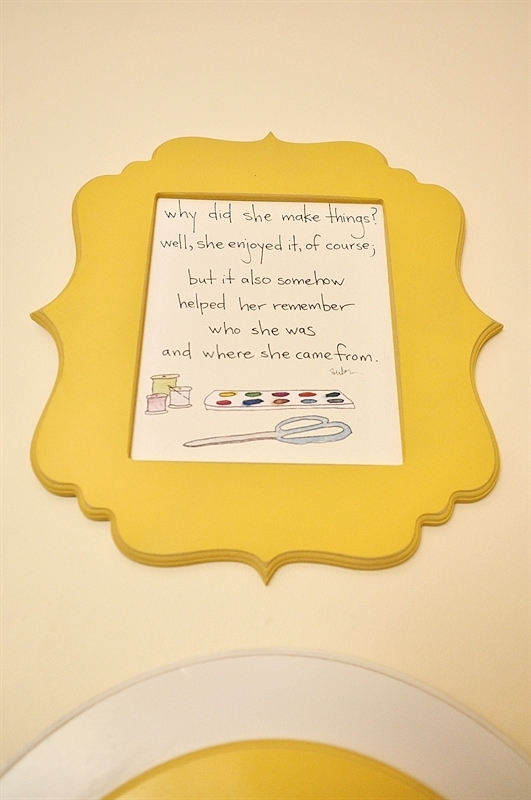 Beach Picture – from an antique shop at the beach and I bought the Keep Calm piece from one of those daily deals a year or so ago.  Sorry, can't remember which one.
a Rafflecopter giveaway

Don't forget about the other two giveaways  I have going on right now too:
Master Bedroom Inspiration and $100.00 gift card giveaway.
Enjoy!
Leigh Anne
You can also visit me on Facebook, Pinterest, Twitter,  Instagram
and Google+
For a list of where I Link Up each week go here.
Get my Weekly Menu Plan for FREE!
Receive my FREE "What's for Dinner?" Meal Planning Course, a copy of my FREE ebook that includes my most popular recipes and my FREE weekly Meal Plan.