These personalized soap bottles make a perfect hostess gift.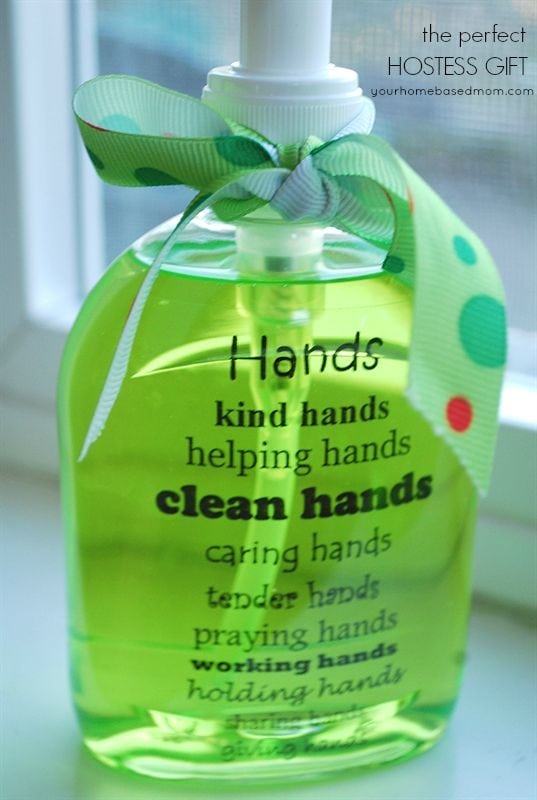 The holiday party season is in full swing.  It may be a little old fashioned but I believe in hostess gifts.
I know how much work and effort goes into throwing a party and I believe the hostess deserves an extra little something.  I know how much I appreciate it when I receive a hostess gift and the thoughtfulness that has gone into the gesture.
Each year I try to come up with some type of hostess gift I can do up ahead of time and have on hand so as I am running out the door to that week's holiday party or parties I can just grab it and be good to go – no stress or last minute worries.
Earlier this fall I attended a craft night at church.  One of the crafts for the evening were these cute little soap bottles.
They had purchased empty soap bottles and pumps and then we filled them with soap they had bought in bulk at Target (the Method brand)  There are several colors and scents to choose from.  I chose the green Cucumber!
The fun words were printed onto an overhead transparency.  I printed mine up at our local UPS Store (Hi Renae!).  You can personalize it by using the person's last name – Wilkes' hands –  or I just left it generic so I didn't have to worry about who I was giving them to at the time I made them.  You could also use a favorite holiday quote, scripture or words to a carol instead. I was able to fit 4 on a page.
Just cut the transparency down to size, roll it up and then slip it through the top of the bottle.  When you pour the soap in it will hold the transparency piece up against the side of the bottle.
 Add your pump and ribbon and you are ready to go!
Our bottles and pumps were ordered from a website so you may need to store this idea away for next year unless you can find empty bottles locally (try Storables or The Container Store).
The website we ordered from is Industrial Container and Suppy Company.  You can not order through the website, you will need to call the number listed on the site to place your order.
The order numbers for the bottles and pumps we used are:
Bottles -B3221 46 cents each
Pumps -DP111E  38 cents each
What is your favorite thing to give as a hostess gift?
What is a fun hostess gift you have received?