We love to throw a good party here at Your Homebased Mom. The last few weeks we have had some fun party ideas. There have been lots of graduation ideas and some bridal shower ideas too.  I shared some of my top party planning tips and had a grilled cheese party too.
One of the problems with a party is that often there are people you want to invite, who you'd love to have share the fun with you, but they leave too far away.  They may be in another state or half way around the world.
Today I have a great website to share with you that allows you to set up a virtual celebration or party where you can invite everyone to participate.  Even those cousins that live in Australia!
Virtual Celebration is a website where you can host a virtual party.  You set up the celebration where you can include photos, message, videos, music, interactive games and lots more to have people share in the party.
I set up a Virtual Celebration so that you could check it out.  Even though Tessa graduated last year I set up a Virtual Celebration as an example.  The possibilities are endless for virtual celebrations.  You can use it for a birthday, graduation, wedding, anniversary etc.  Any kind of party or celebration.  It allows everyone you know and love to participate in the celebration.
After you have your celebration set up you send out an invite with a link to all your family and friends.  They then can log in and view the celebration as well as set up a page of their own where they can share photos and their messages to the guest or guests of honor as well as see the pages of the other party guests.
To check it out all you need to do is follow this link to my celebration.
You will come to a page like this that welcomes you to Tessa's celebration.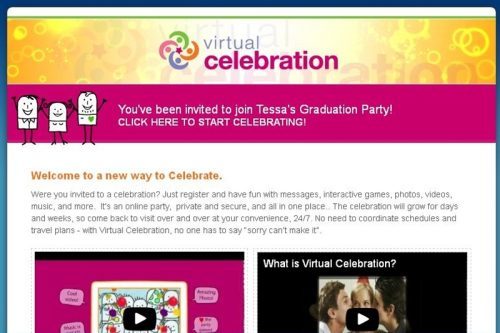 Click where it says "Click Here to Start Celebrating."
You will then be brought to this page.  You have the option to establish a log in or just preview the celebration.  If you'd like to check out how it works and even add a page as a guest you are welcome to do so.  You will need to log in to play around and add your own page or you can just look around and see what it looks like.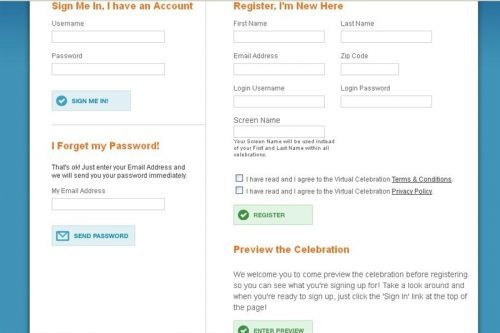 Virtual Celebration has a great offer for Your Homebased Mom readers.  If you would like to start a celebration of your own, the normal price is $50.00 but because you read my blog Virtual Celebration is offering it at $35.00.  To start your own celebration, just email them at [email protected].    Be sure and let them know you are a Homebased Mom reader when you email them so you will receive the discount.  They will then email you a code to start your own celebration.
Here's a fun video you can watch that shows how fun a Virtual Celebration can be!
What a fun idea!
I'd love to know if you start your own Virtual Celebration!
Stay Updated!
Need more recipes and creative ideas? Sign up and get a FREE copy of my ebook! Do you think your friends would love this too? Please share my blog with them. Thanks!