Can you believe 2012 is almost here?! I can't. I spent a little time today making some New Year's Eve plans. I'm still not sure who will be home and who won't. That is life with four young adults but we're just along for the ride!!
I did do a little New Year's decorating.  I cleared off one of my side tables.  The Christmas decorations stay up through  New Year's Day at our house but I decided a little New Year's decor was needed.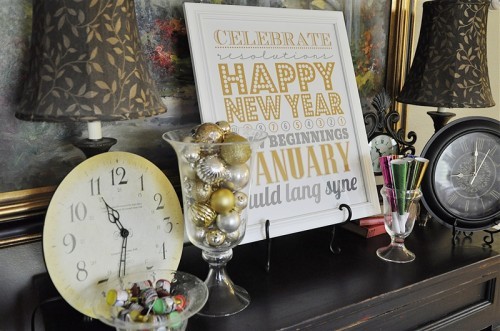 I found this great subway art  over at eighteen25.  I uploaded it to Costco and had it printed.  I swtiched out my multi color bulbs for some silver and gold.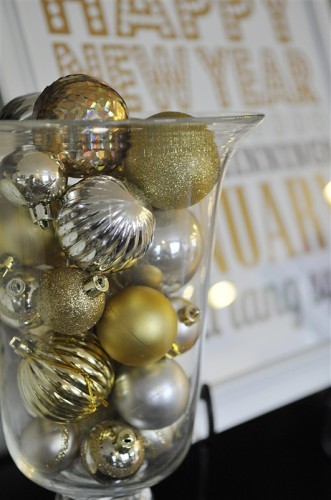 And then I added a few clocks for Old Father Time.  I picked them up at Goodwill for a few dollars a piece.  The noise makers and confetti makers are ready to go too!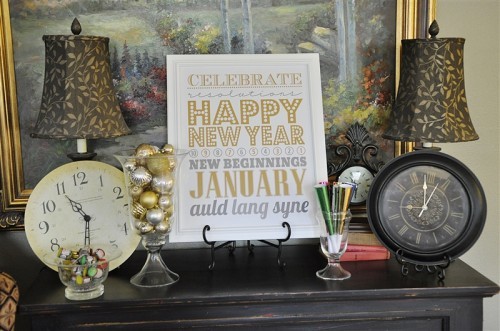 I love the New Year's Resolution sheet that my friend Mique over at 30 Handmade Days  put together.  She has broken it down to four things: want, need, share, succeed and also chosen a Word to focus on for the year.  I'll be sharing my Word for 2012 on Monday!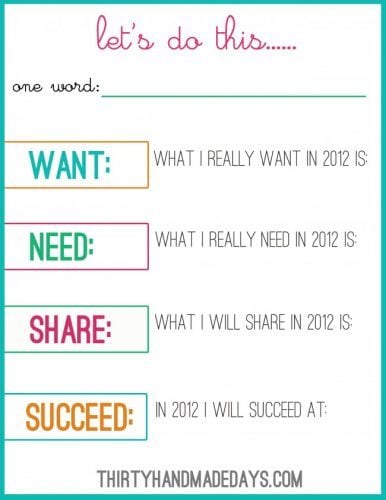 Head on over to Mique's blog and you can download a copy for free!
Since I'm not sure who will be home yet I'm not sure what we're doing for food but I know there will be more those delicious bacon wrapped dates and some bloomin onion bread and a few new recipes I'm going to try. Mainly just appetizers and possibly some homemade pizza.   I'm sure there will be some game and card playing involved too!
Get my Weekly Menu Plan for FREE!
Receive my FREE "What's for Dinner?" Meal Planning Course, a copy of my FREE ebook that includes my most popular recipes and my FREE weekly Meal Plan.