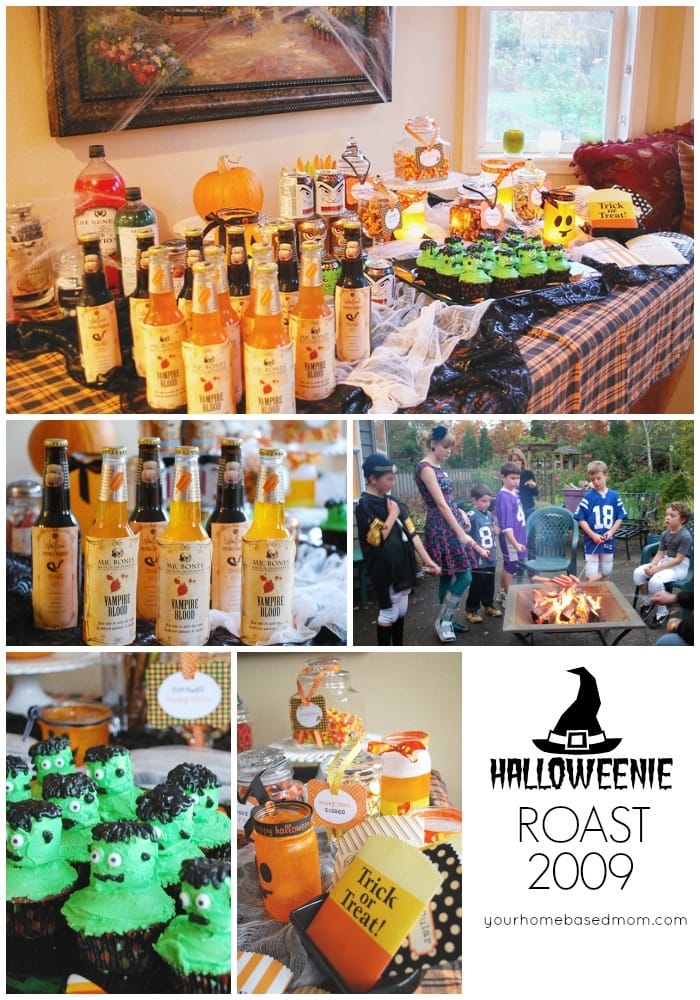 Last night we hosted a Halloweenie Roast for some of our neighbors.  I am so glad my neighbors still have younger children!
This will be the first Halloween I haven't had to help one of my children come up with a Halloween costume – Tessa will be hanging out with friends but no costumes!  Fortunately my neighbors enjoy borrowing the dozens of costumes I have stored away in the costume boxes in the attic.  Years worth of fun homemade costumes to share!  This year Olivia is going to make good use of the Wilma Flintstone costume I made!
I am sure many of you are busy getting ready for the big night tonight but I wanted to share some fun pictures from our Haloweenie Roast last night.  Maybe you can store away a few of the ideas and use them next year.
The candy corn bar was popular!
I found these cute digital download candy goodie bags here.  I just printed them off on my computer and taped them together – so cute!
These fun chocolate fingers were a big hit too!  I found the candy mold at Michaels and just used different colored Wilton Melts to create the fingers on a pretzel rod!
I saw this fun idea over at  The Idea Room for a Creepy Halloween Apothecary.  I was able to create it using bottles out of my pantry and a couple I picked up at Goodwill.  Amy shares the link to print off the great labels in her post.
I also used the labels to cover the rootbeer and orange soda bottles.  This was the adult beverage at the party.
For the kids I found these darling little cans of soda at Target.
I covered the table with an orange and black tablecloth I had.  I had picked up a piece of spiderweb yardage at the fabric store during the week – it was 50% off and then used a piece of cheesecloth that I stretched and tore a bit on top of that.
The kids and adults had a great time roasting their hot dogs on the portable fire pit on the patio.  We decided not to use the in ground fire pit that is at the back of the yard because we had quite a bit of rain this past week and it was a bit muddy!
In addition to the regular hot dog condiments I also made some Coney Sauce for the dogs that was yummy. Neighbors pitched in with the rest of the meal – salad, veges and dip and cheese bread.
Dessert were these cute Frankenstein cupcakes that I made.  The head is a marshmallow and the whole thing is covered in green frosting.  They are pretty cute for a monster!

I just used a chocolate cake mix (shame on me) for the cupcake!
It was a fun evening and the best part was just spending time with my wonderful neighbors!  We are so blessed to have such amazing neighbors!
Now off to carve those pumpkins we haven't gotten to yet!!
 Check out our other Halloweenie Roasts: