The first step to Graduation Party Planning is coming up with a theme.
With with less than one month left of school it is time to start graduation party planning.  For our last graduate we planned two graduation parties.  A joint party with her friend Rachel in our backyard for all of their high school friends and an open house for family, friends and neighbors. Call me crazy but I loved every minute of it. 
I love planning a party. I love everything about it – deciding the theme, the menu, the decorations, all the details.
So I've decided to bring you along on this party planning journey. I'll share with you step by step how I put a party together. Hopefully all my tips and ideas will help you with the next party you get to plan.
The first step to planning a party is coming up with a theme.  Every good party starts with a theme.  I encouraged the girls to choose a theme that somehow relates to them.  Something they love or enjoy.  Having a theme for a party makes the rest of the planning easier and more fun.
Here is the list they came up with:
Disney, Hollywood Glam, Royal Wedding, Lumber Jack (not sure where this one came from), Celebrity, Safari, Around the World, Beauty Pageant, Crazy Hat, Sail Away, Mission Impossible.
My two favorite were Safari (the school mascot is the WildCat) and Sail Away since they were both getting ready to "sail away" to college and I could think of lots of cute nautical idea to use.  Fortunately for me they went with Sail Away.
So we had our theme!
They decided to put together a Facebook invite to let all their friends know about the party. We will also be putting together a paper invite that they can handout to their friends as a reminder.
We decided to do a little photo shoot so we would have a photo for the Facebook invite and the invitation.
Going along with our theme the girls dressed up in some nautical attire – red, white and blue and we pulled a few sailor hats out of the dress up box and we just happen to have the wooden lifesaver thingy (not sure what to call it) in our stash of stuff.
For a backdrop I bought 6 yards of red fabric with white polka dots from Joanne's with my 50 percent off coupon.
So I didn't have a seam right down the middle, I cut the six hard piece in half so I had two 3 yard pieces.  I then cut one of the 3 yard  pieces in half length wise and then sewed those two strips to the sides of the one full piece so that it was 9 feet high and about 90 inches side.
I hung the backdrop in front of the garage door and had the girls stand in front of it.  Here are some of the cute shots we got!
You can kind of see how I hung the backdrop in this photo.  I just used thumbtacks to fasten it to the wood trip around the door.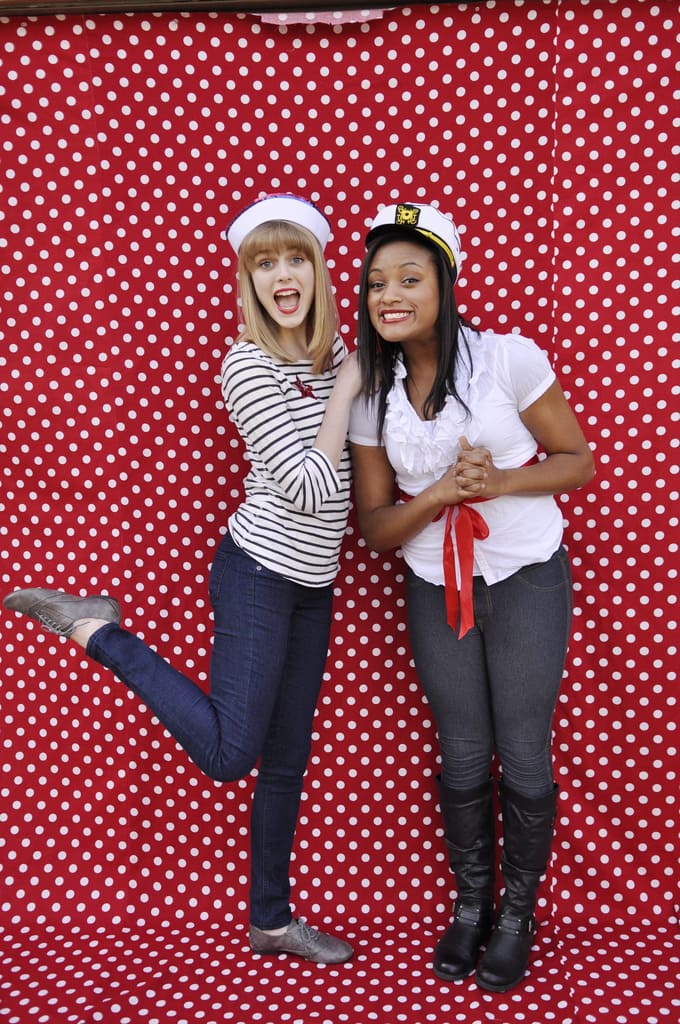 The girls had fun being cute and goofy.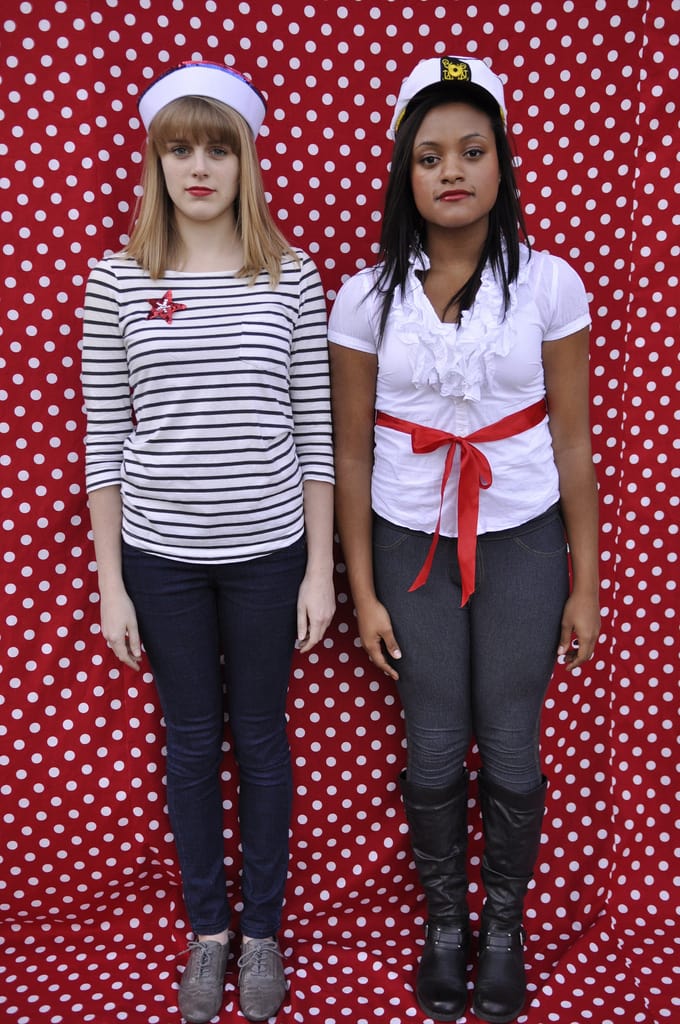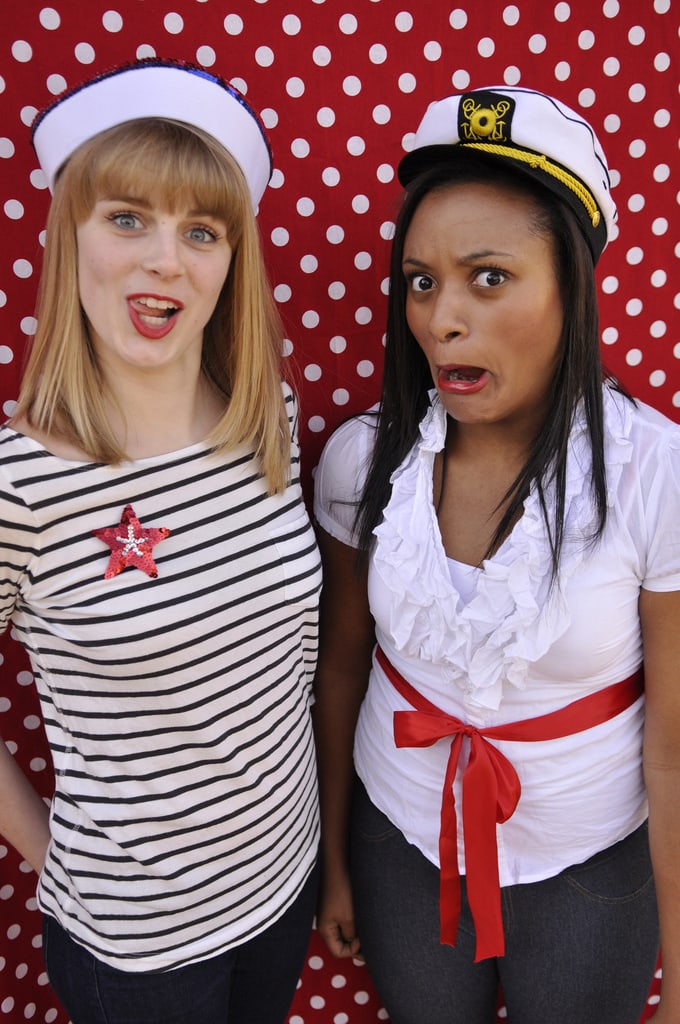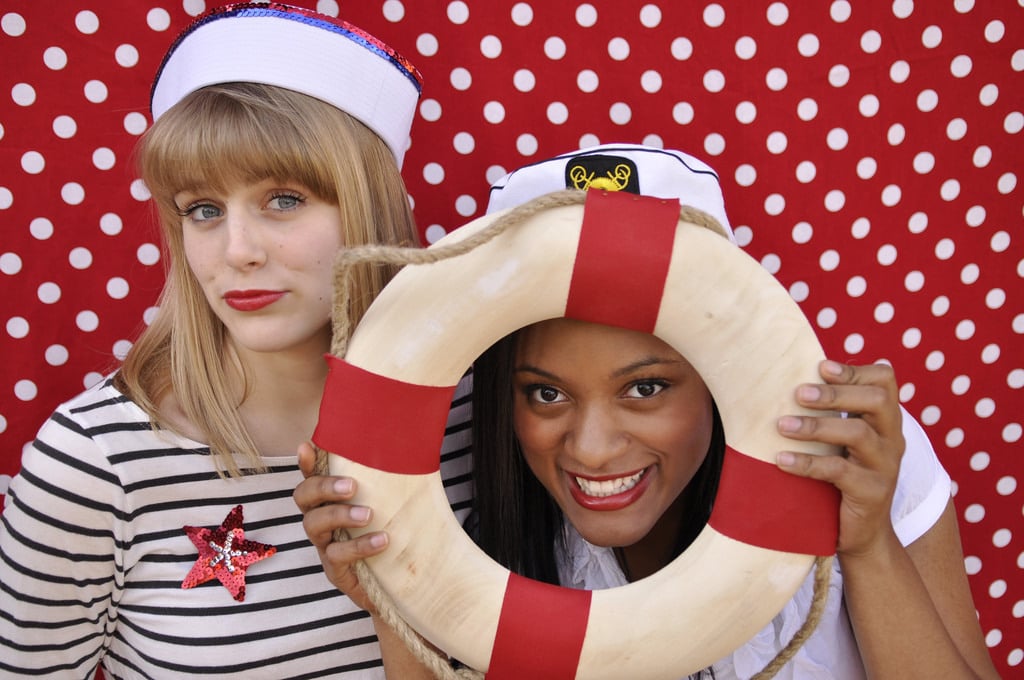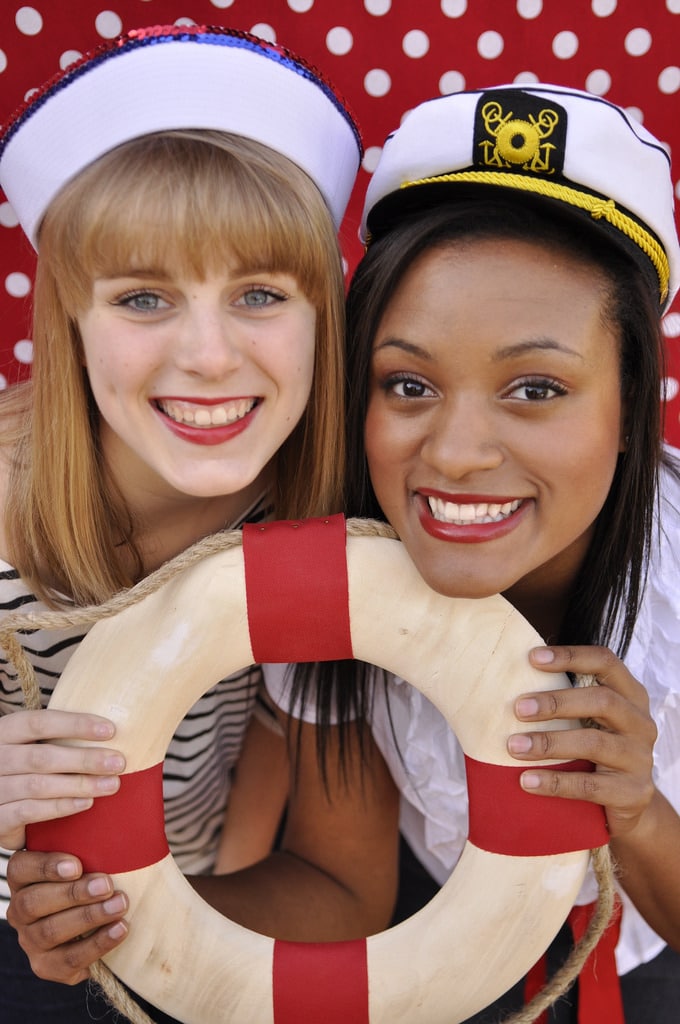 There were so many cute ones it was hard to choose but here is the one they choose for the Facebook invite.
For more graduation party ideas check out:
How to Plan the Perfect Graduation Party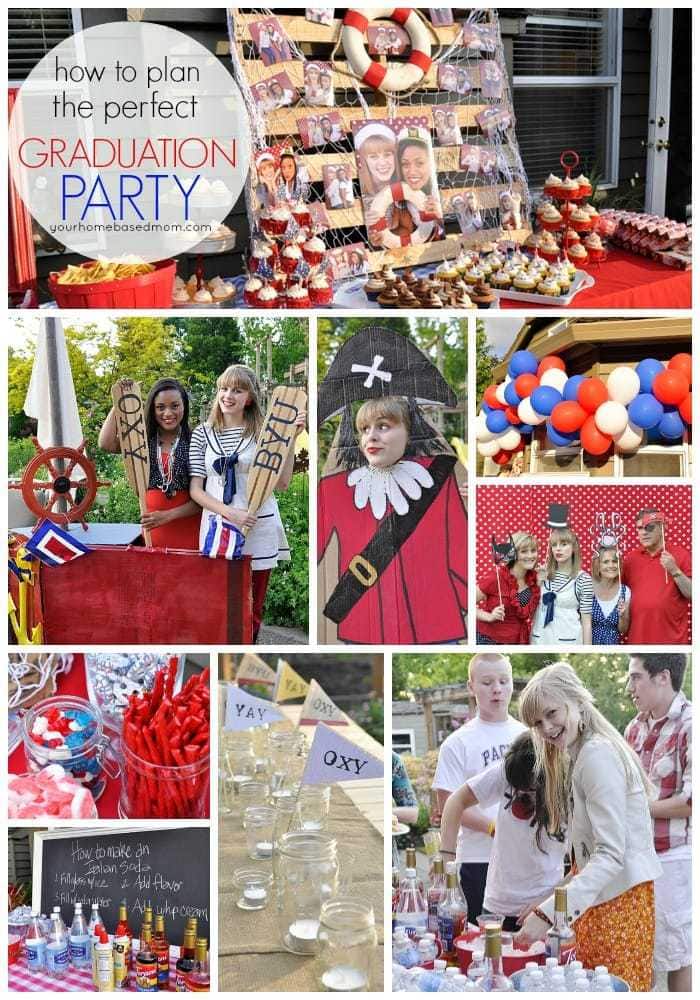 Graduation Party Decor Ideas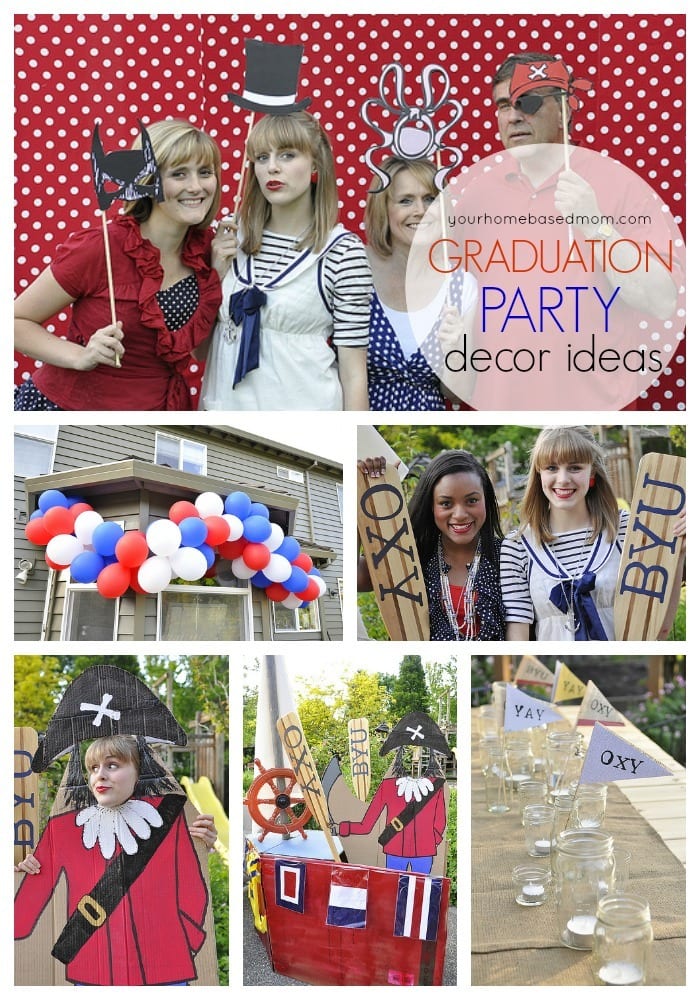 Smart Cookie Graduation Party Idea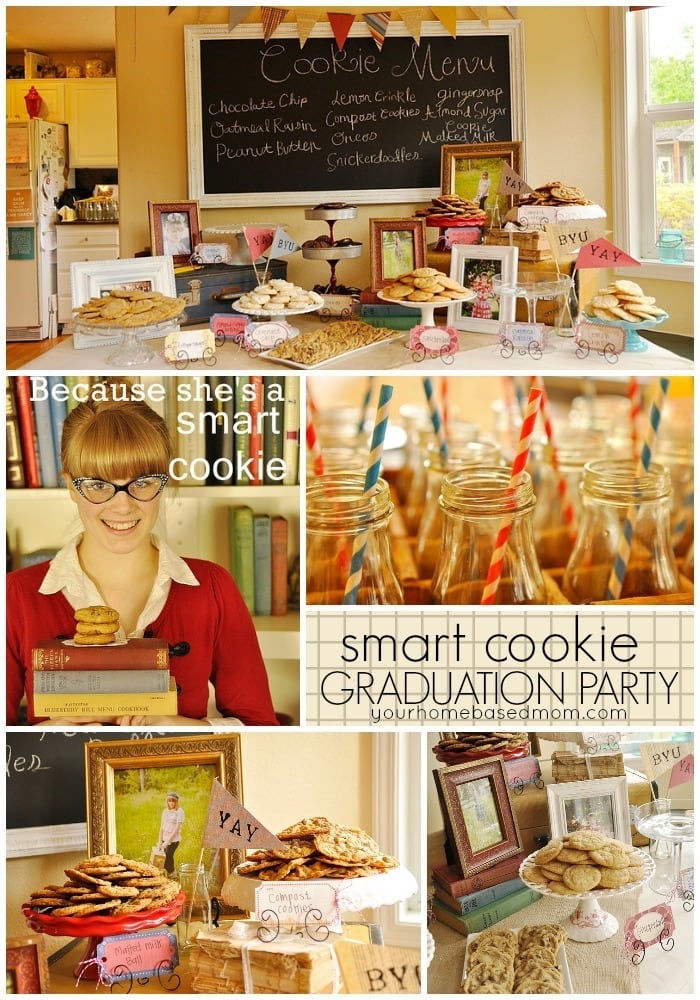 School Colors Chocolate Covered Oreos
Originally posted May 2012