Note:In case you missed it  I have a great giveaway going that also donates money to help plant more trees. Please enter the giveaway – every entry donates a $1.00 to plant a new tree!
Last week was a whirlwind!  Our daughter Cali graduated from Brigham Young University with her Bachelor's of Art!  How is it possible that I now have three children who have graduated from college.  We couldn't be more proud.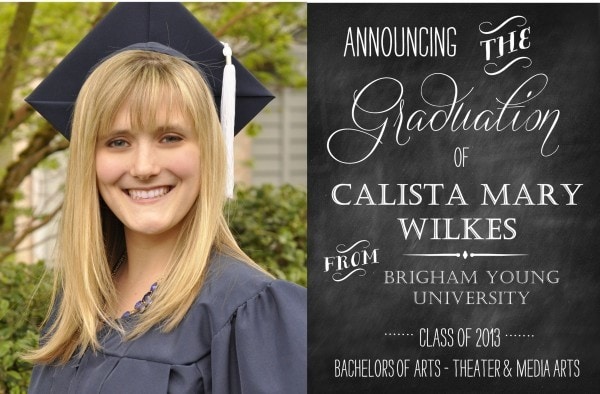 Cali is going to be an amazing theater education teacher.  There is some lucky high school or middle school that is going to be blessed to have Cali as one of their staff members.  The kid's she worked with during her student teaching adored her.  It is so gratifying and rewarding when your children  become who they were meant to be!
It seems like just yesterday she was that cute, spunky little girl (she is still that cute, spunky little girl) graduating from preschool!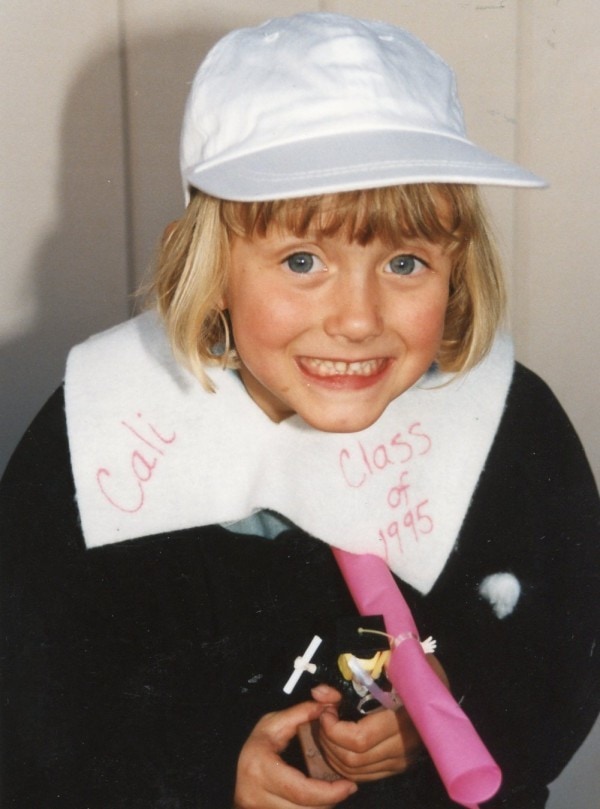 And waiting for the bus on her first day of Kindergarten with best friend Hannah.  They look a little nervous, don't they!?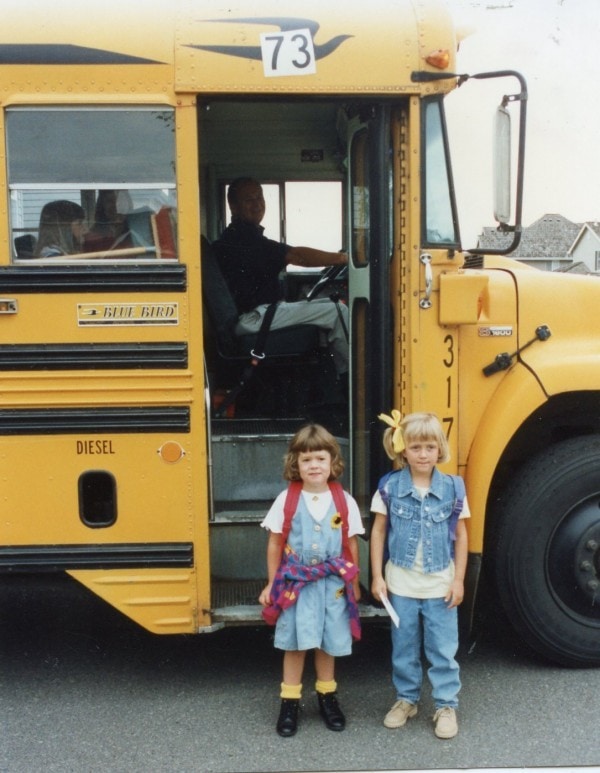 And those two best buddies graduated from high school together what seems like just yesterday!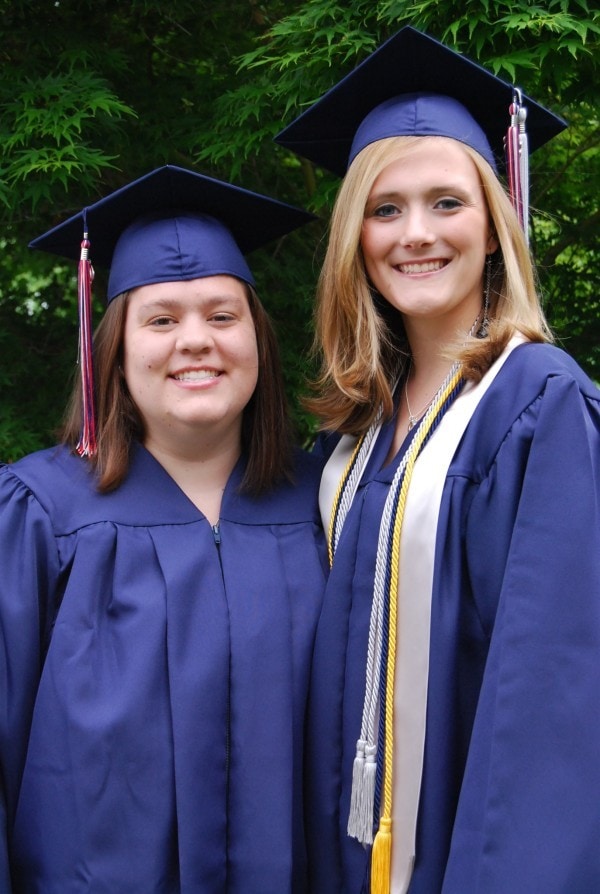 Hannah was able to go with us to graduation – here are the two best friends with 20 years of friendship.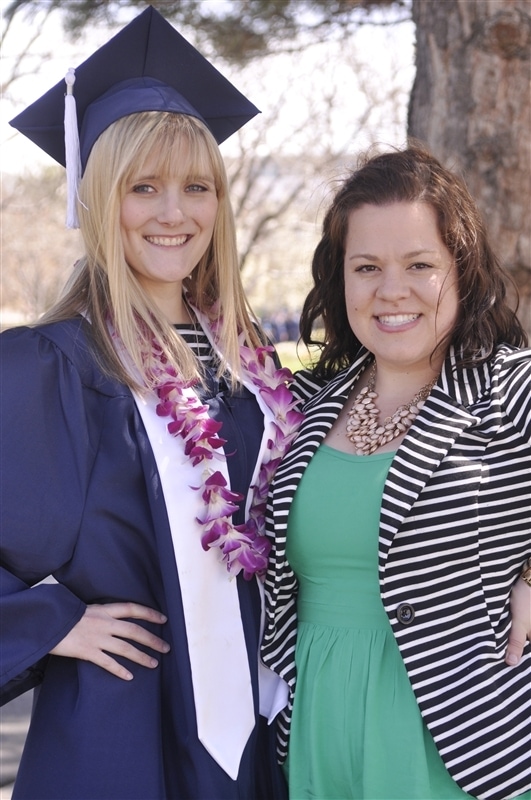 Our whole family and Hannah were able to be together in Provo for Cali's celebration.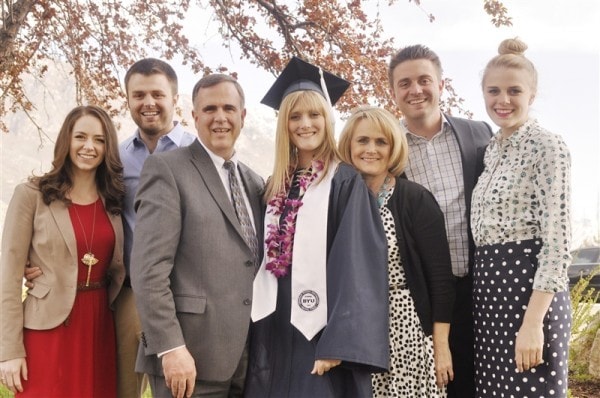 Since we were all together we even had a family photo taken on the BYU campus! Every member of our family bleeds blue and has graduated from BYU (Tessa will in two years), including both Clark and Jessica from BYU Law School too.   So we thought the BYU campus was a very appropriate place to have the picture taken.  I can't wait to share some of the photos with you.  Of course our color scheme was blue!
We are so proud of our Graduation Girl and all she has accomplished!  We can't wait to see what is in store for the next chapter of her life.  Things are never dull when Cali is around!!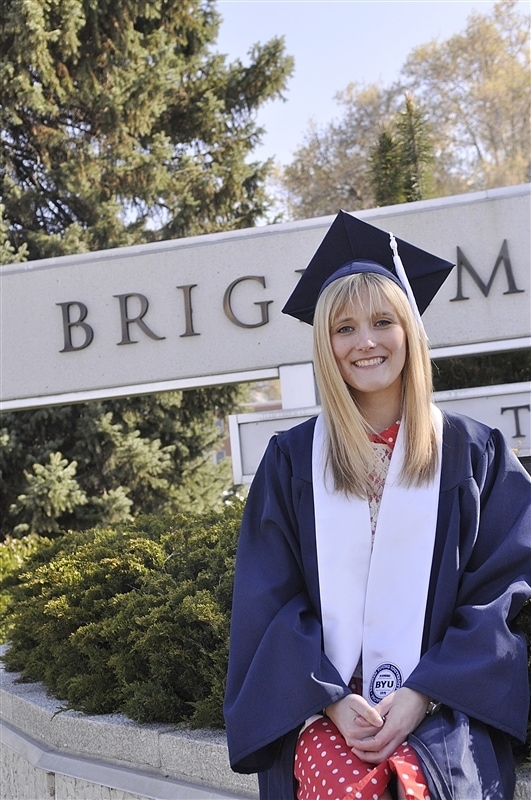 This photo got Cali front and center on BYU's Facebook page!  Guess the photographer liked her craziness on top of the rock!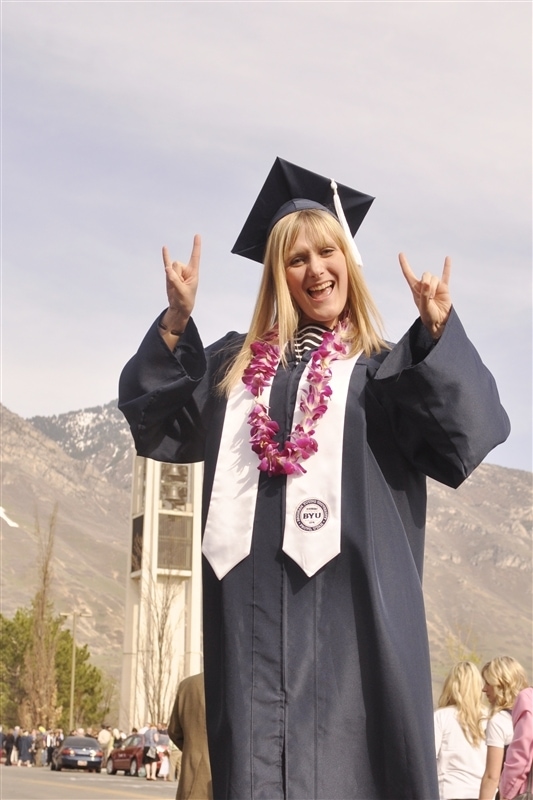 The day after graduation we drove 13 hours home and early the next morning flew out to enjoy 12 days in England and France.  Tessa will be staying in London to do a study abroad program through BYU.  Of course I'll be sharing a bit of our trip when I get back. If you'd like to follow along on our adventures be sure to follow me on Instagram.
A graduation tradition I started when my boys graduated from college is that I made each of them a "college quilt."  You can see the boy's college quilts here.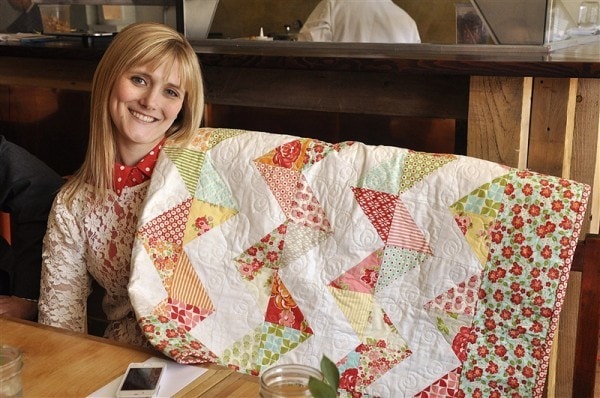 For the boy's quilts I just picked out the pattern and fabric but Cali picked out her own and I love it.  It is so reflective of Cali's personality – fun, bright and cheerful!   Good thing I had a 13 hour car ride to Utah before graduation so I could finish sewing on the binding!  I am totally in love with it and so is she.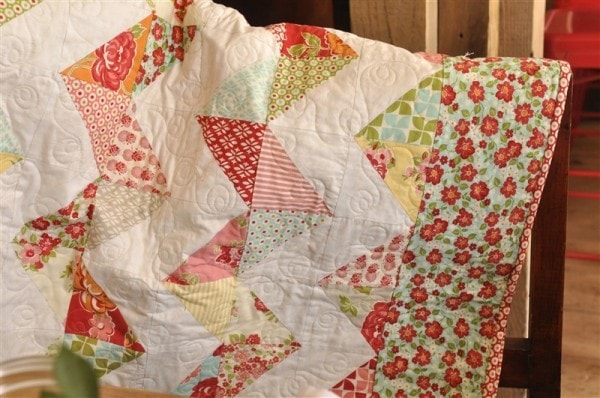 Since it is graduation time of year you may have someone you are looking for a special gift for.  I highly recommend White Lillie Design for a fun, personalized graduation gift.  I purchased this lovely and inspiring necklace for Tessa when she graduated from high school from White Lillie Designs.
And she personalized the one for Cali too for her college graduation.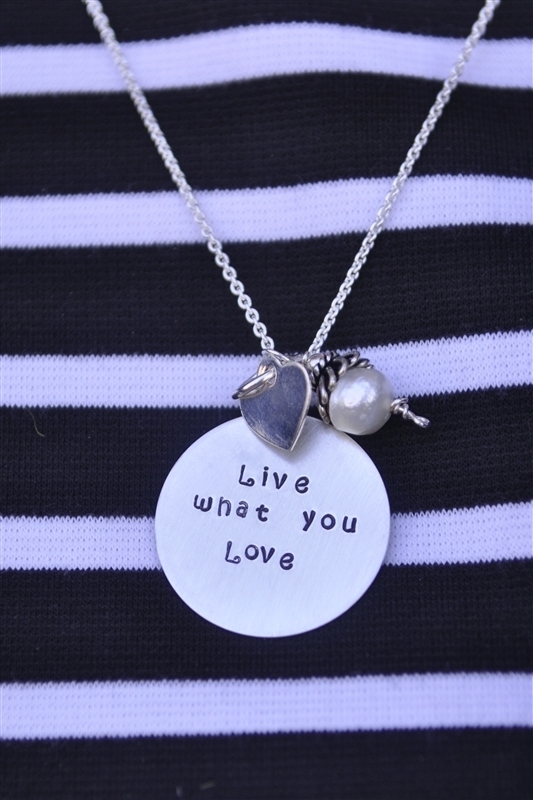 White Lilie Designs is offering all my readers a special 10% discount code.  She doesn't do this very often so be sure and take advantage of this opportunity to buy a gift for any graduate in your life.  She has lots of other pretty things too so be sure and check out her shop.  Just use the coupon code HOMEBASEDLOVE when you check.
 For other fun graduation gift and party ideas check out these:
Graduation Gifts and Announcements
Enjoy!
Leigh Anne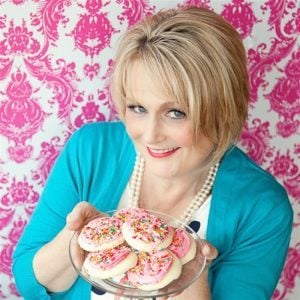 You can also visit me on Facebook, Pinterest, Twitter or Instagram.
For a list of where I Link Up each week go here.
Get my Weekly Menu Plan for FREE!
Receive my FREE "What's for Dinner?" Meal Planning Course, a copy of my FREE ebook that includes my most popular recipes and my FREE weekly Meal Plan.