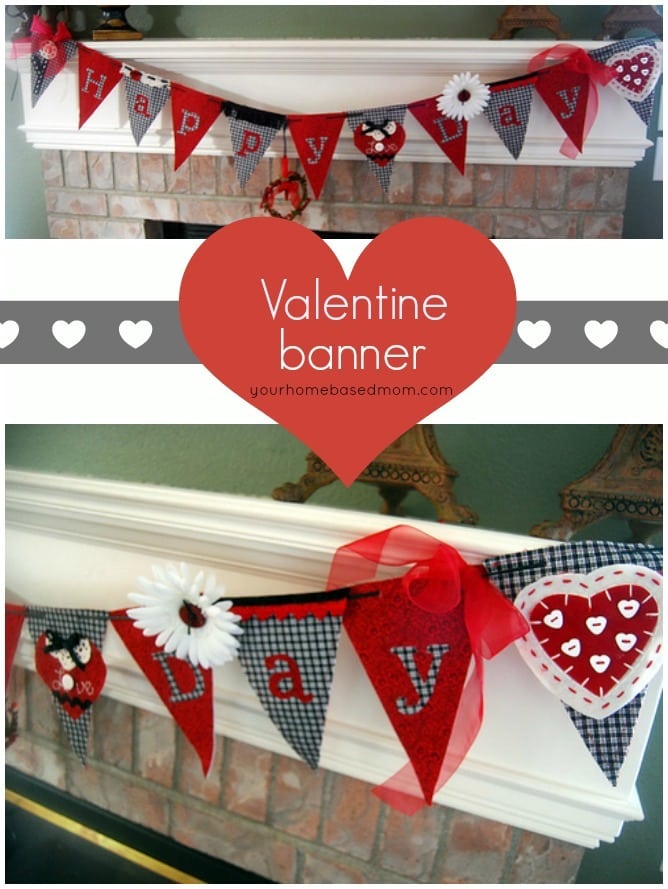 While my college daughter was home over the Thanksgiving break we made a fun banner for her to hang in her dorm room.  It was quick and easy to put together .  Check out my tutorial here.
Here's Cali's banner…
Cali and I had a fun time picking out fabric that would match her bedding.  It turned out so cute I was tempted to keep it for myself but being a good mother I let my daughter have it!
Our women's group at church sponsors monthly Enrichment Activities and this month one of their activities was this cute Valentine Banner.
I fell in love with it as soon as I saw it.  Unfortunately I had another meeting the night of the class but lucky for me the gal who was teaching the class had put together a great tutorial on her blog Make it with Meg.  Meg is also an amazing photographer so be sure and check out the link to her photography blog on the sidebar of her blog too!
I put together my banner all on my own just following Meg's step by step tutorial.
My banner is very similar to Meg's with just a few tweaks here and there.
Here's mine – I love it!
I picked up all the supplies for mine at Joanne's and Michael's.  Instead of making the cute little rag wreath like Meg did I bought a premade heart wreath at Michael's.  The button covered felt heart at the end was actually a stuffed heart I found at Joanne's for 40 percent off $2.99 that I just cut apart.
And I'm keeping this one for myself!!  What do you think – isn't it cute!?
Get my Weekly Menu Plan for FREE!
Receive my FREE "What's for Dinner?" Meal Planning Course, a copy of my FREE ebook that includes my most popular recipes and my FREE weekly Meal Plan.